Adam Payne, A. Payne Products: Quality Assured
25 October 2013
Adam Payne's first solo show opened at Bleecker Street Arts Club with a selection of artworks from his "product range." On display in the gallery are eggs, rolled cigarettes, engraved padocks, measuring tools, and vials, meticulously crafted and packaged by hand. We exchanged a few thoughts with the artist on the semantics of art, product, and craft. 
There is a difference between an object and a product. You refer to your works as "products." Can you elaborate?
I personally do not see the difference between an object and a product when it comes to art. I believe they are the same thing. Outside of the art world they can be two very different things. I enjoy how these terms can be interpreted differently and it is something I am conscious of.
You state that all your artworks are functioning objects. Do you have examples?
All the works in this show are functioning, meaning you could in fact smoke the cigarettes or use one of the Piperine Organic eggs to defend yourself. The art work is what it claims to be.  Once you take a closer look at all my work, like the Piperine Organic eggs, there is a reminder on the side of each box that they are for display purposes only.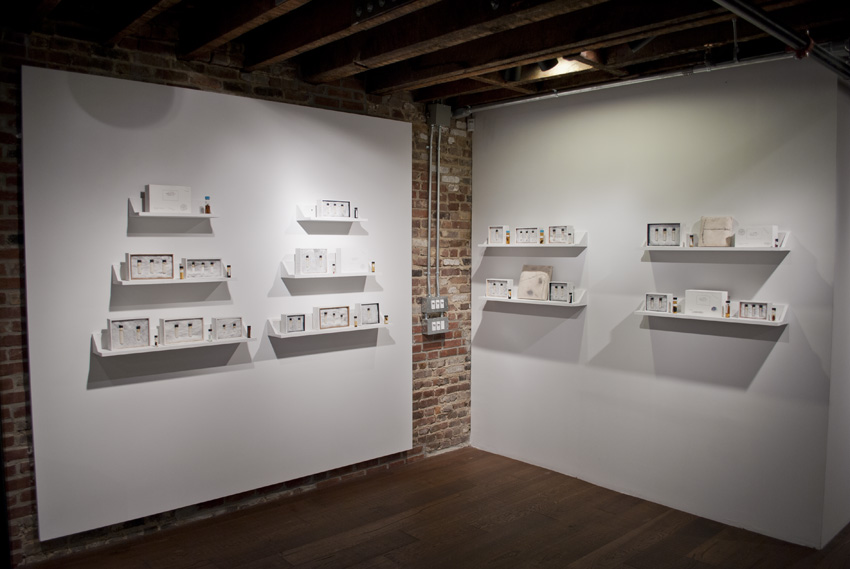 Above: installation of works from the Homeopathic Remedies series.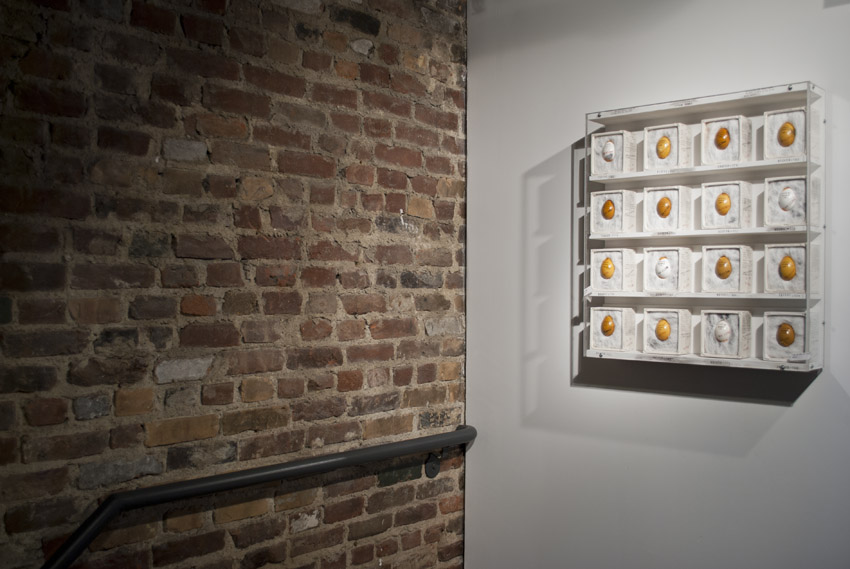 Above: Not For Human Consumption, 2013.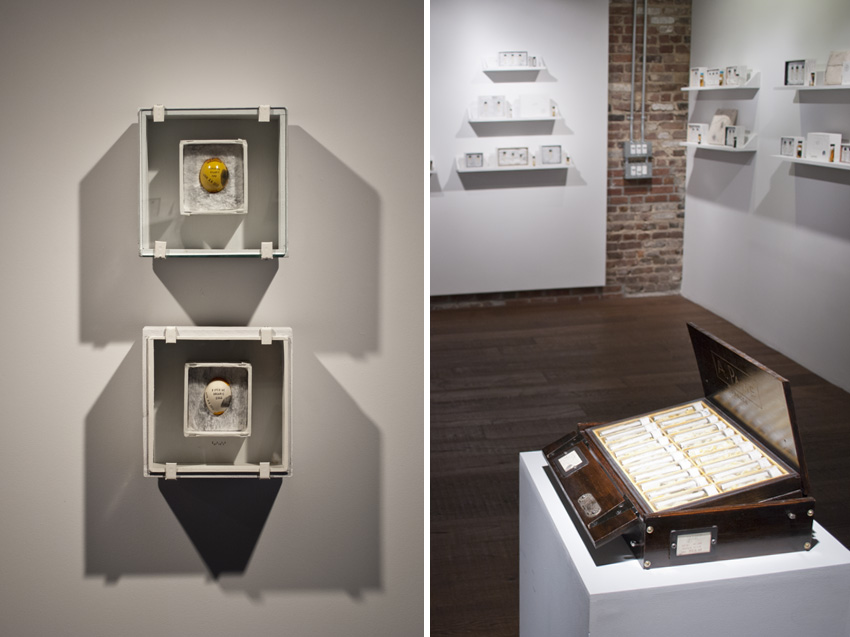 On the left: Piperine Organic, Product 01-073, 2013 (above) and Piperine Organic, Product 01-069, 2012 (below). On the right: Nicotiana Tabacum, The First, 2013.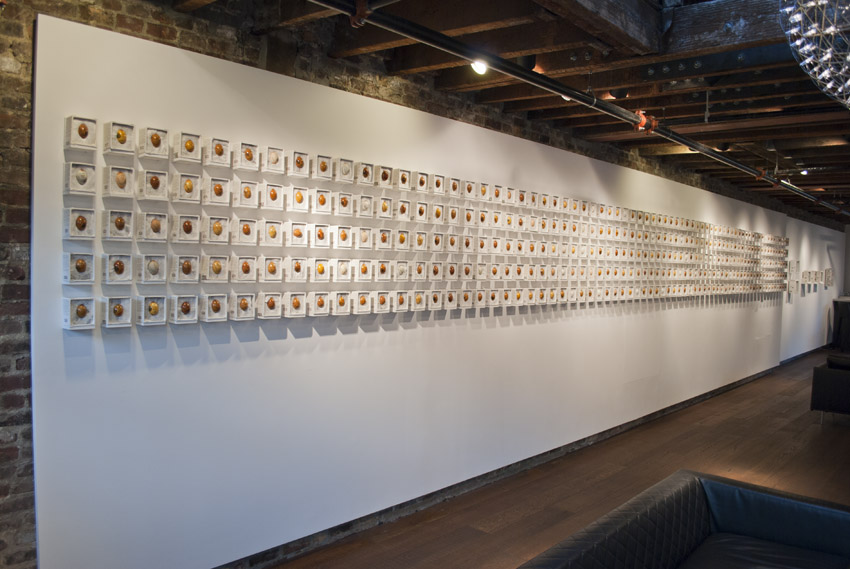 Above: installation of 350 Piperine Organic, individually numbered, 2013. 
Your "products" raise an inevitable question on the art vs. craft argument. Is there a difference between the two? When does a craft become art?
I believe almost any human endeavor, if done with sufficient enough skill, can be raised from common work or craft to an art form. Craft becomes art in the execution of the task and the purpose for which the action is eventually completed. 
A large and ongoing project is the Piperine Organic eggs. This show includes an impressive installation of 350 of them. Can you tell us more about this work?
The origin of the Piperine Organic egg wall started in 2008. I enjoy reading the history about everyday things and I found my inspiration when I was reading about pepper. At the time I was living alone in Brooklyn and one night in bed I thought I heard someone on my fire escape. I immediately thought of a book I had read about a ninja weapon of eggs filled with pepper used to blind people. I was scared and wished I had one of those ninja weapon eggs, so I got out of bed, filled a bowl with pepper, and decided that I would use these common goods as a weapon if someone came through the window. I got up the next day and made my first pepper egg.
I tried regular eggs but found the shells to be too thin, so I bought organic eggs and they were perfect. I realized I had stumbled on too my next art project. At first, I made something like 24 of them and thought I was done. Then I made 80, and then, over the last 7 years, my vision for them became bigger and bigger. 350 is the largest grouping to date. It has eggs that date back to my original installation in 2009.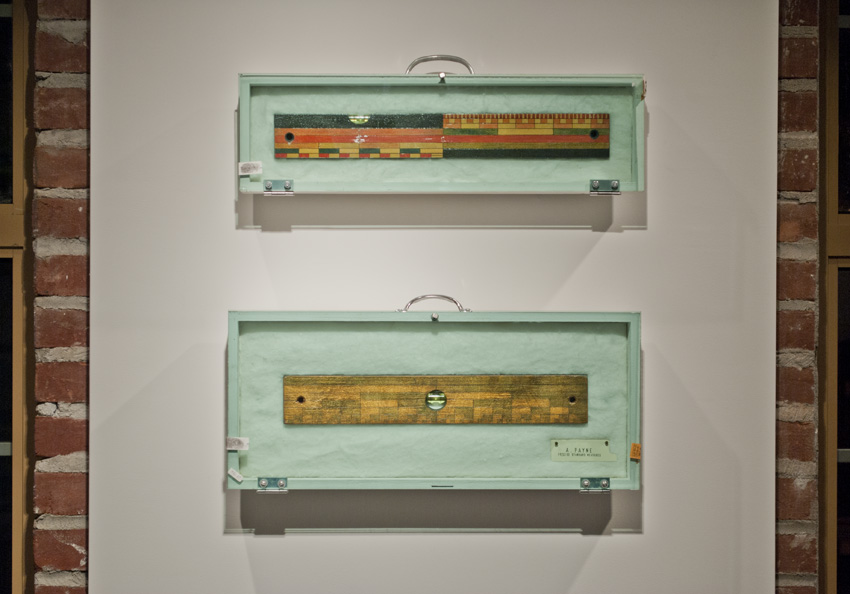 Above: Precise Standard Measure, Product 277, 2011 (above) and Precise Standard Measure, Product 1906, 2011 (below).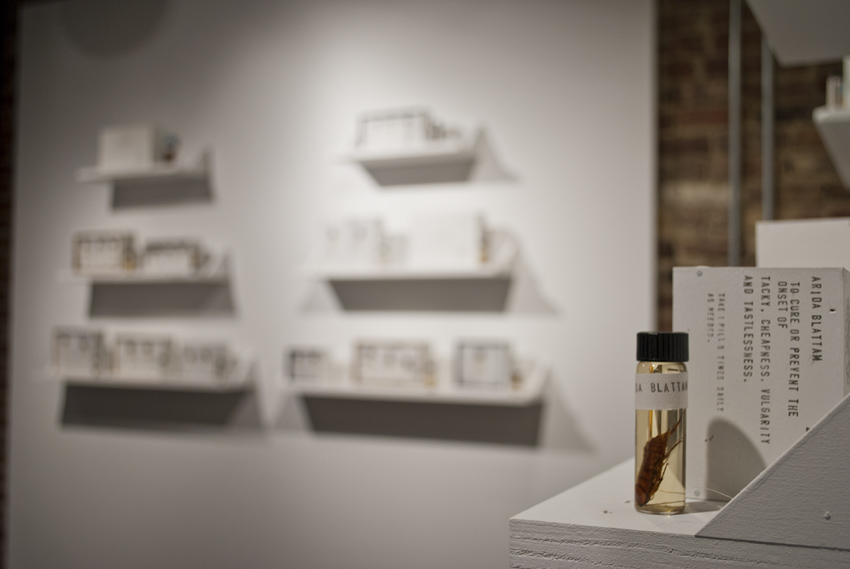 Above: detail of Homeopathic Remedies, Veteres Tellure Tar, Antiquis Canis, Arida Blattam, 2013. photography Sam Monaco
A. Payne Products: Quality Assured is on view though November 9, 2013.
Bleecker Street Arts Club is located at 305 Bleecker Street, New York.