A.I. ARTISANAL INTELLIGENCE – BODY FOR THE DRESS
21 February 2016
A fixture among the Alta Roma events, this installment of A.I.—the project curated by Clara Tosi Pamphili and Alessio de' Navasques—has found a magnificent backdrop inside the post-industrial walls of Rome's ancient Custom House, designed by rationalist architect Angioli Mazzoni.
The building has retained the energy of the past, with additional charm provided by the installations created by three artists— Thomas de Falco, Sasha Turchi, and Paolo Roberto D'Alia—called upon to for this edition's theme: "Body for the Dress."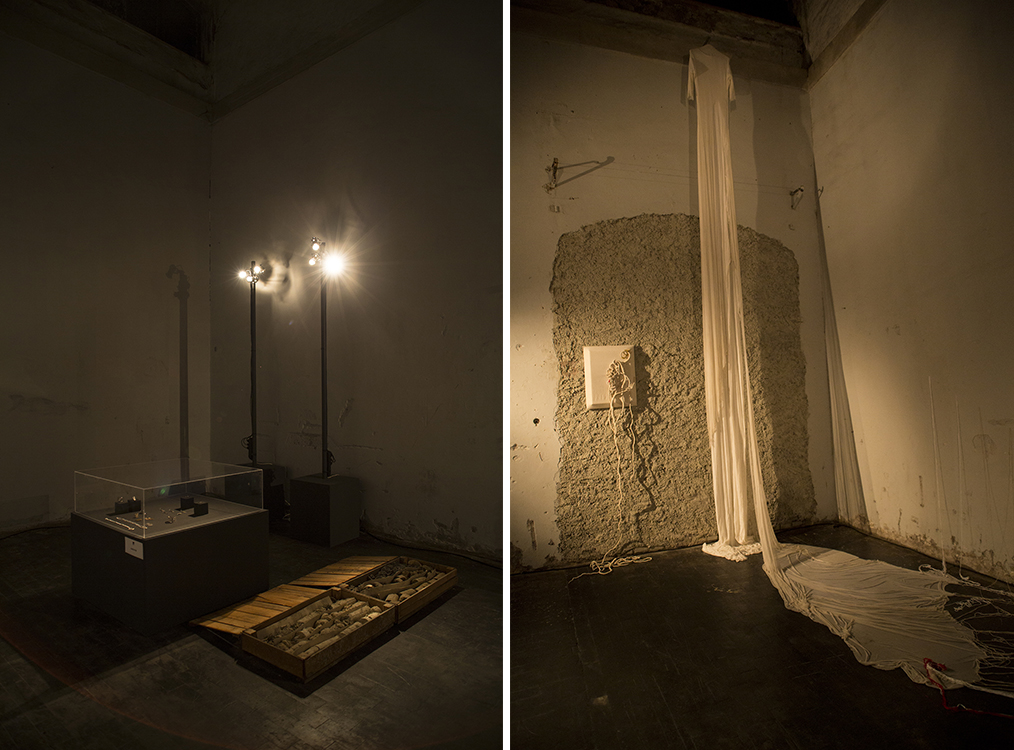 Above: The jewels by Ad Mater—a design duo made up of Lavinia Fuksas and Alessandro Grimoldieu—are shown like unearthed fossils on the left; on the right, the installation by artist Thomas de Falco called "Abito rosso_abito qui" plays with the semantics of a dress, balancing out its fragile shredding fabric with an oddly imposing height.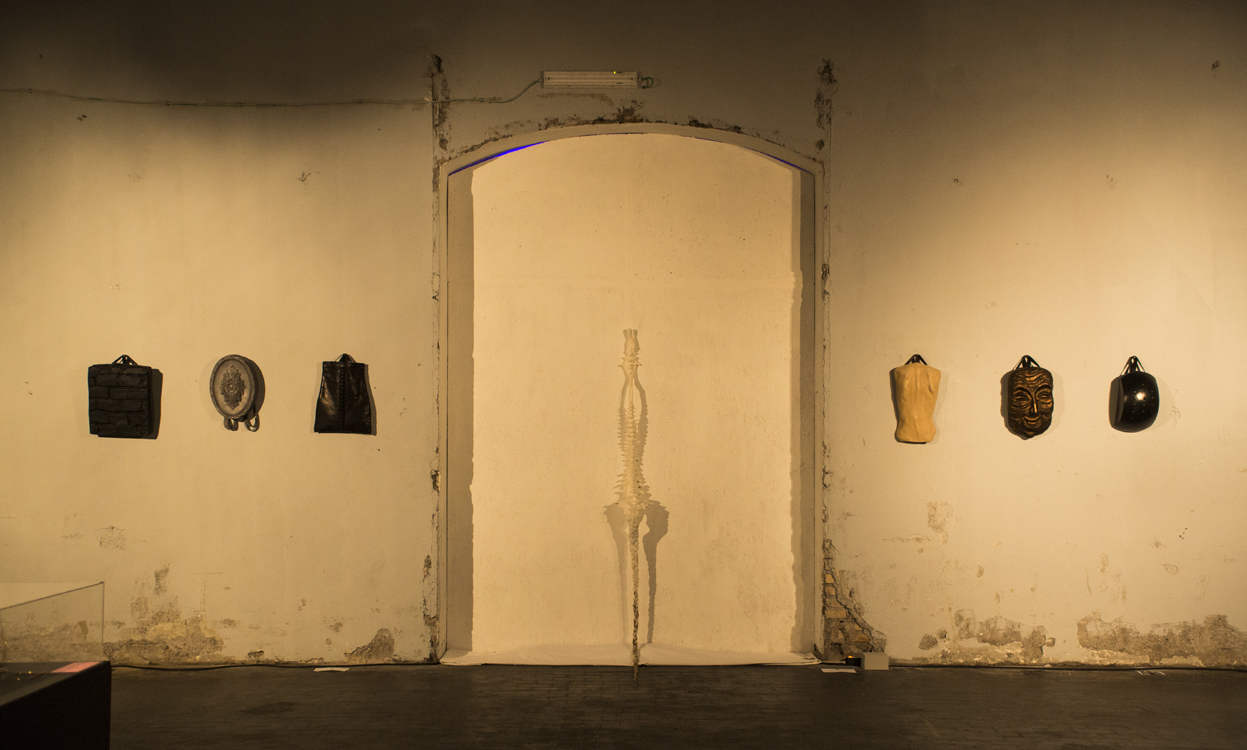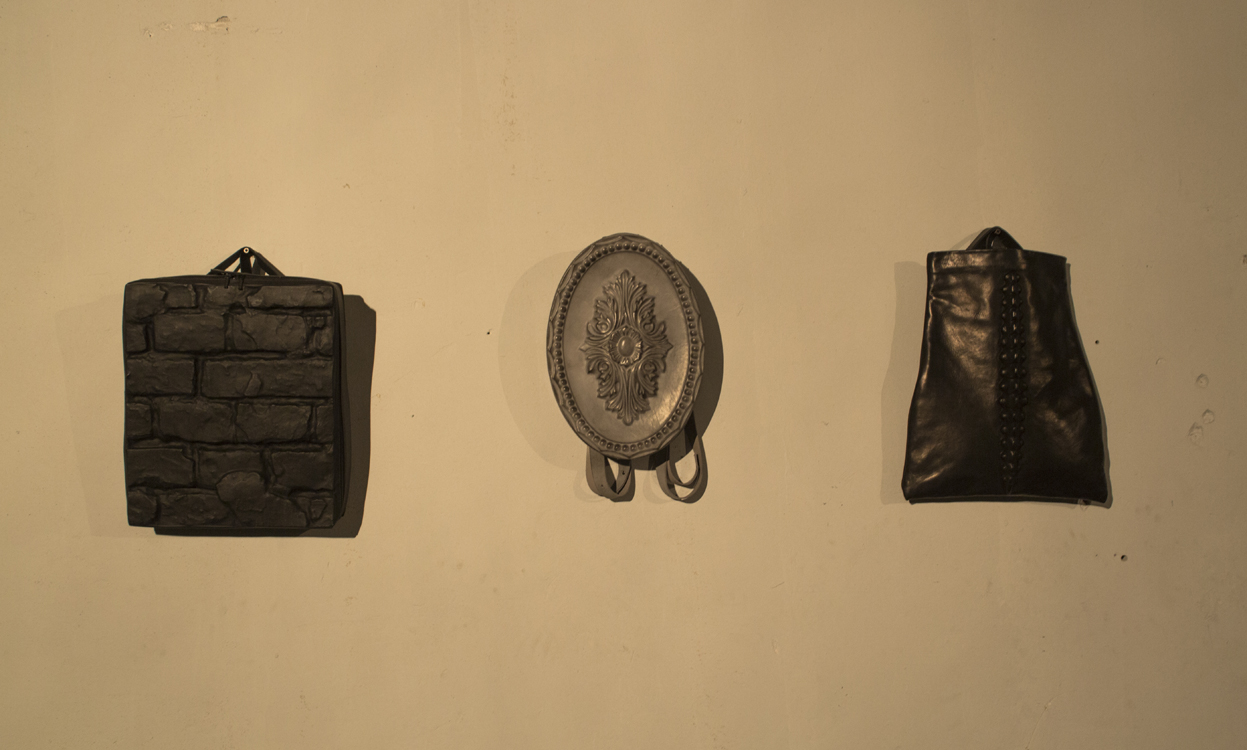 Above and previously: Frailty and strength intertwine in Sasha Turchi' s representation of the female body. In her installation called Bryonia, a human spine morphs into a braid, representing the female form in essence.  What initially looks like spooky hanging masks and sculptures, are instead raw leather bags pressed onto frames—all conceived and crafted by Kofta. Their ancestral shapes look at odds with the human body but their juxtaposition is at the very heart of Kofta' s research.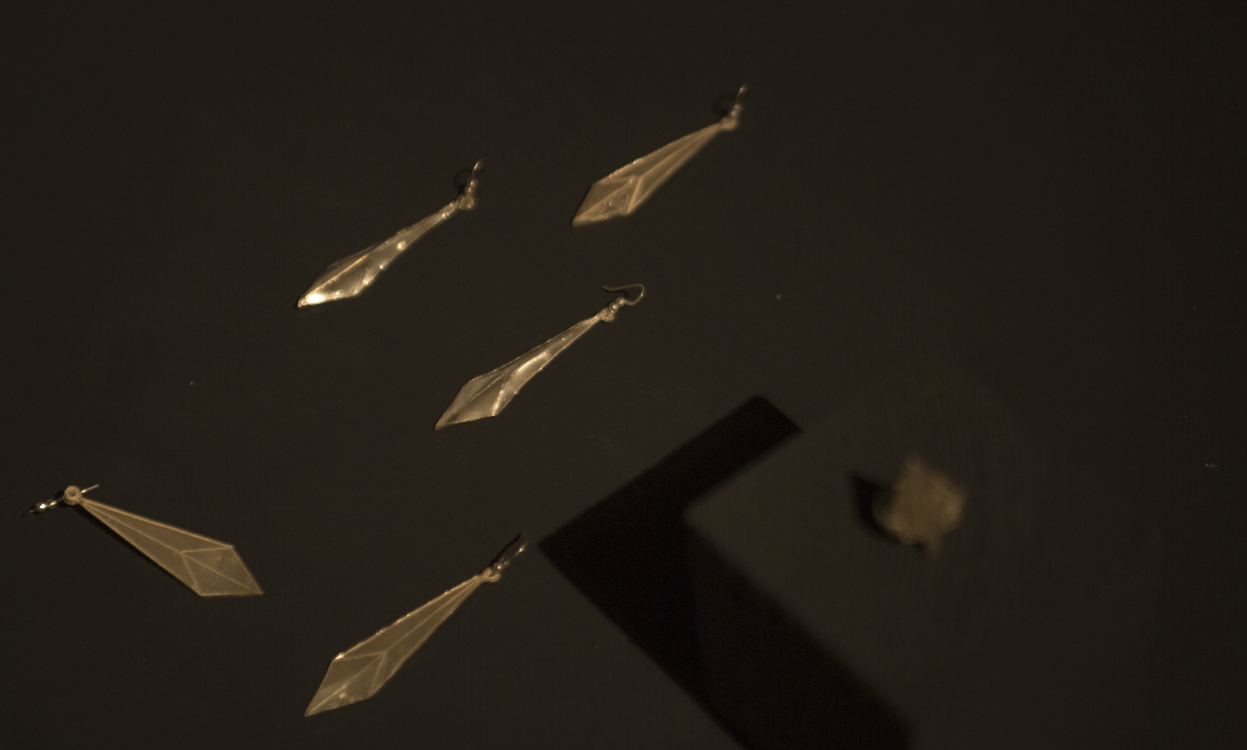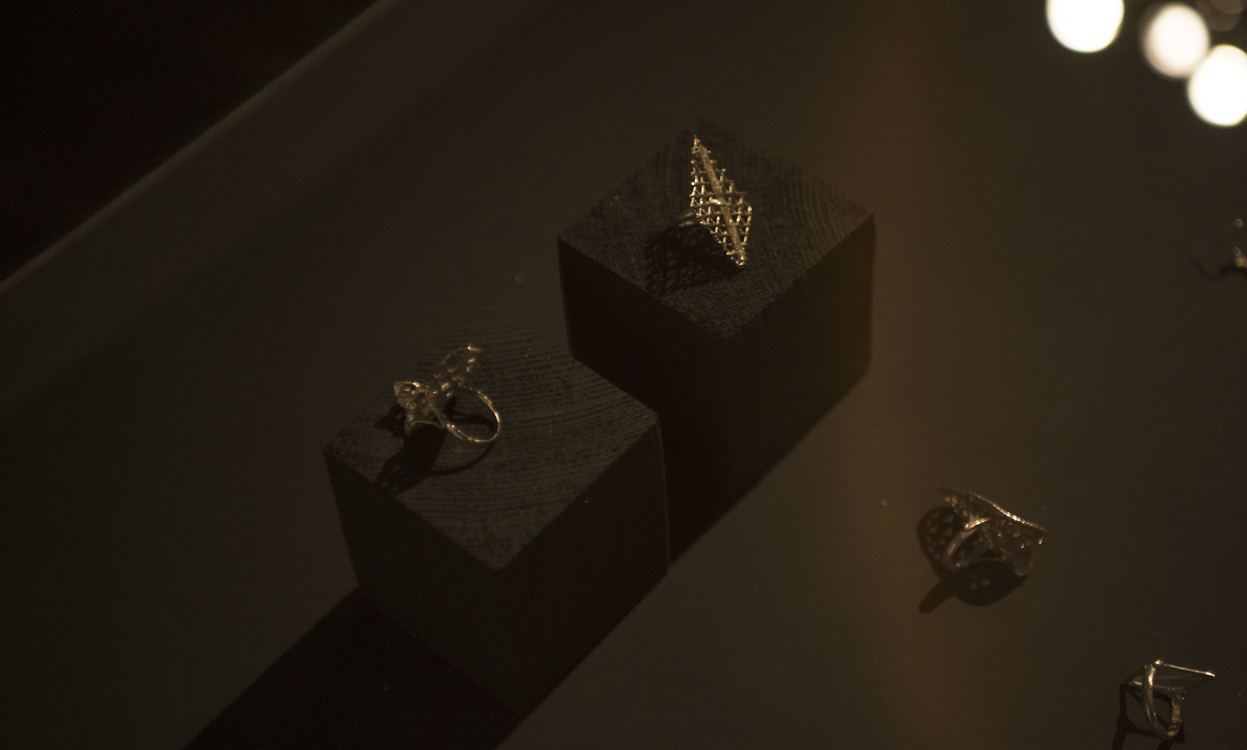 Above and previously: The almost immaterial thinness of the pink gold, silver and bronze pieces by Lavinia Fuksas and Alessandro Grimoldieu—who make up the Ad Mater duo— arises from the module of a triangle, assumed as a symbol of perfection and harmony to give way to a variety of different compositions.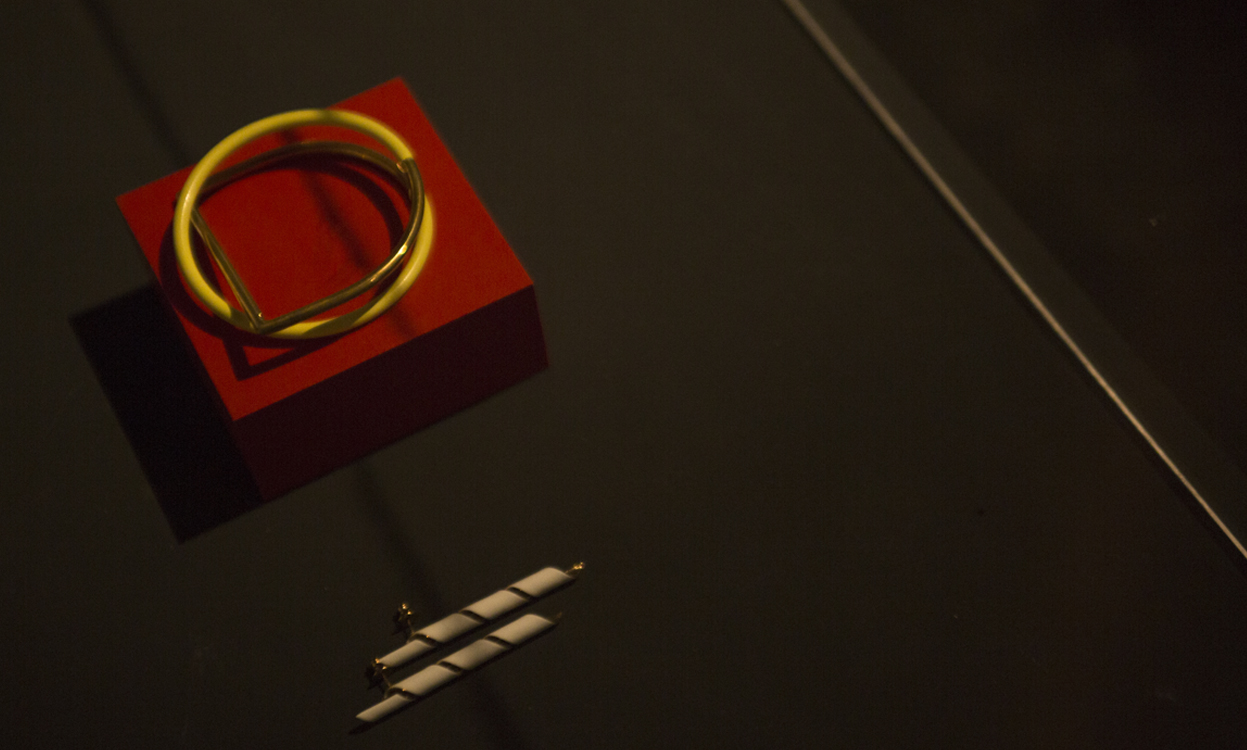 Above: Appearances deceive in the jewels by Uncommon Matters; their creator Amélie Riech focuses on well-designed essential shapes, enriched by the actual fragrances each piece of jewelry carries inside, doubling as a perfume holder.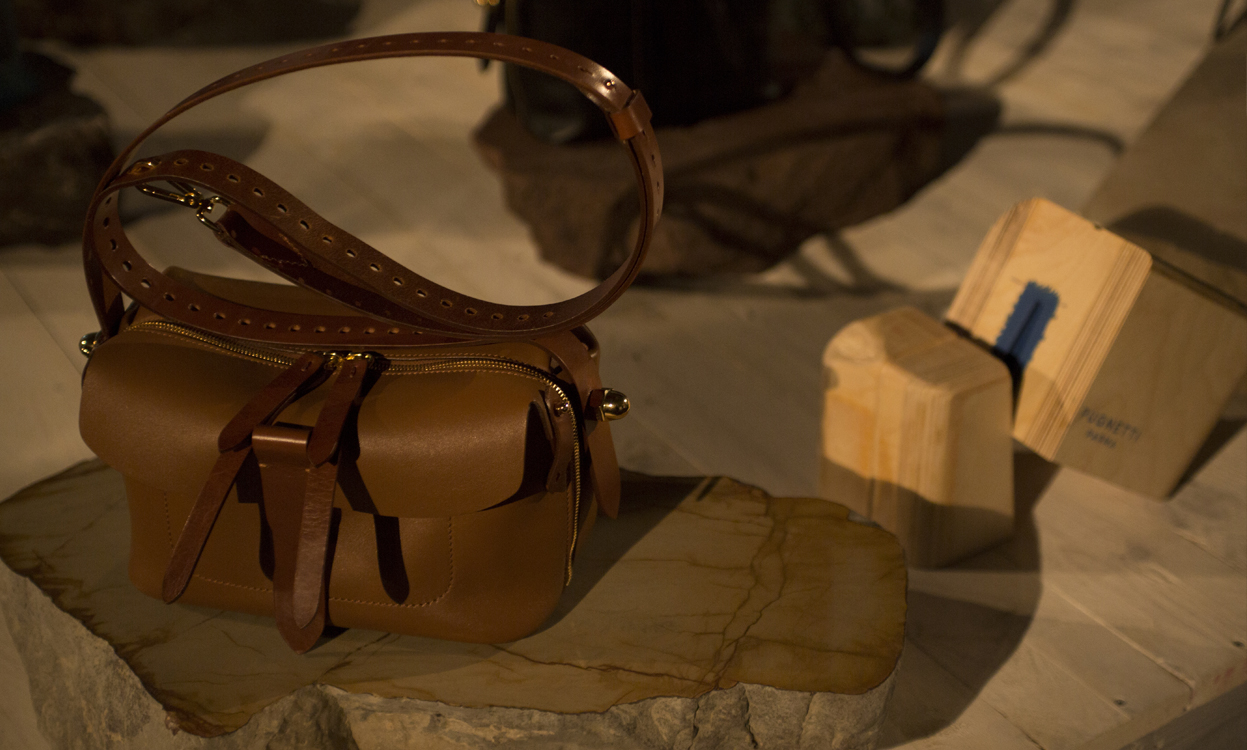 Above: At Pugnetti Parma time has crystalized a design process that has each new bag created by assembling cardboard patterns, keeping the refinement of traditional know-how in the creation of each new piece.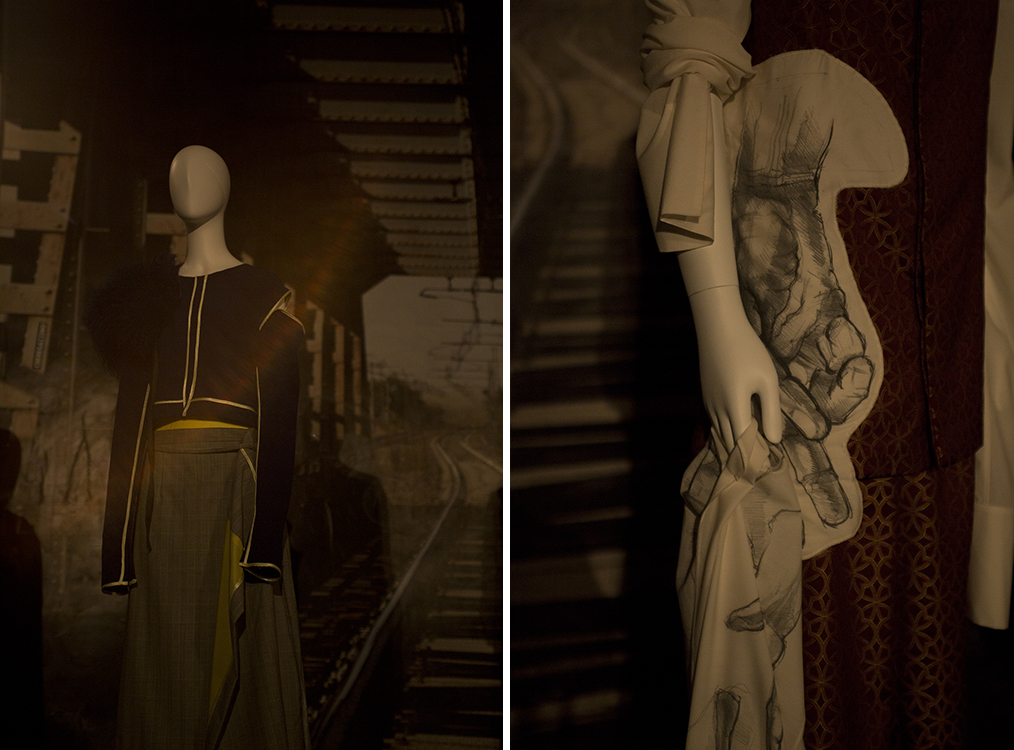 Above: Giulia Roman and Giacomo Frasson—on the left on the right, respectively—are the two students selected from IUAV Venezia offering their personal view on future experimental paths of the body/dress ménage, working with slightly off and freer proportions or applying illustration onto clothing in an innovative way.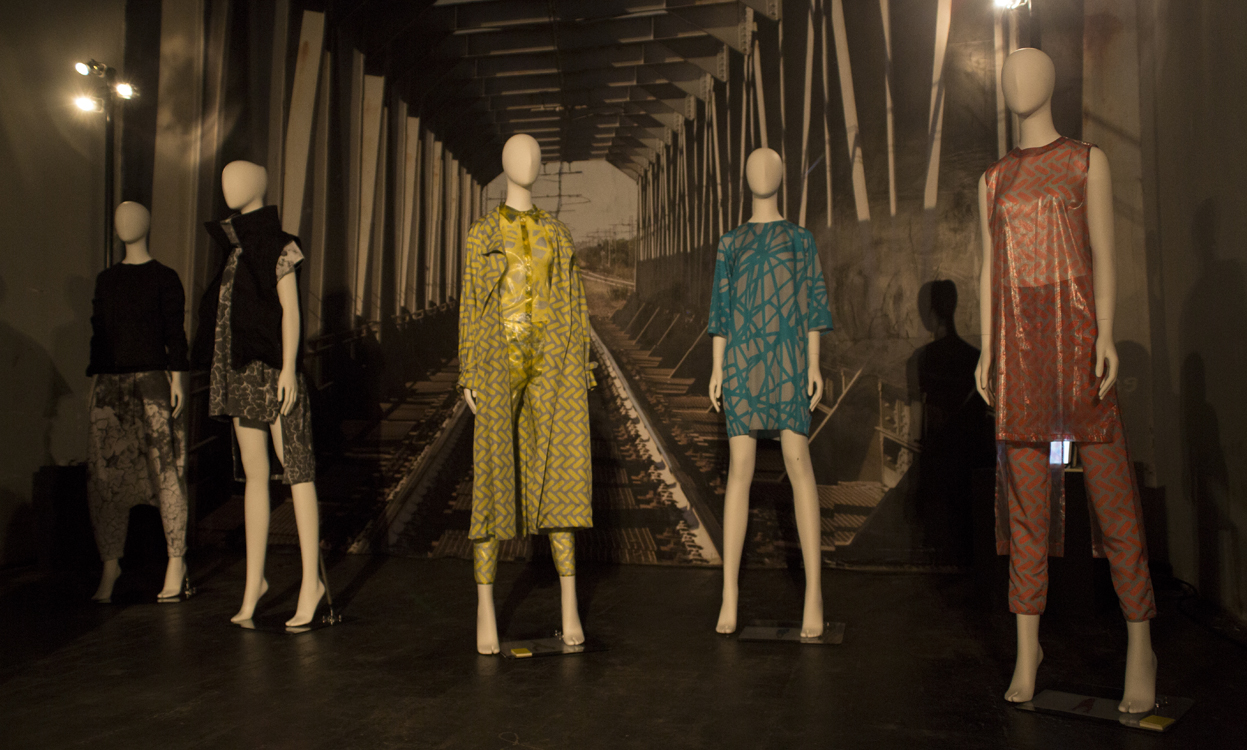 Above: Experimentation on juxtaposed transparent and opaque silk layers is at the heart of textile designer Ladina Steinegger's work; shown above with the free-rein creative pieces by Gall duo Justin and Chiara, a couple of globe-trotters who have freedom in mind for a collection that does not abide by any rules.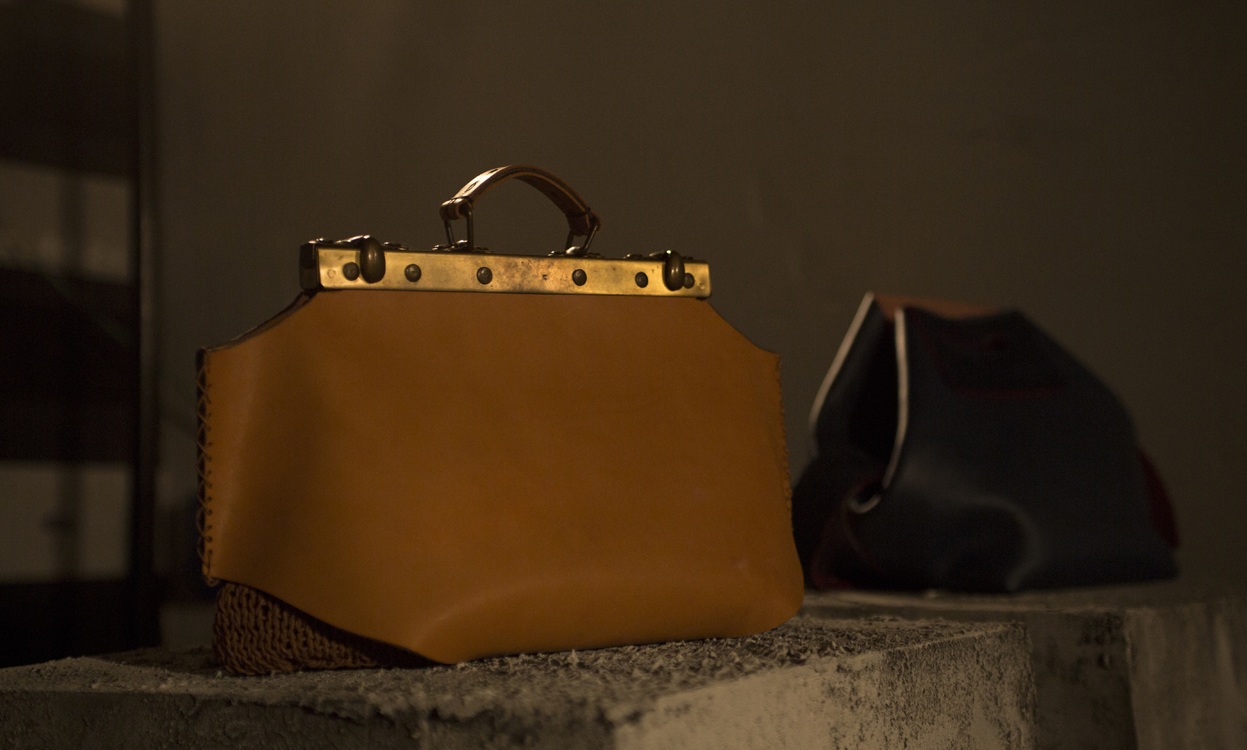 Above: Classic yet experimental, the bags handcrafted by Arnheiður Rós Óskardóttir, selected among the students of Accademia di Costume e Moda convey a reworked vintage feel that blends old movie glamour with a contemporary eye.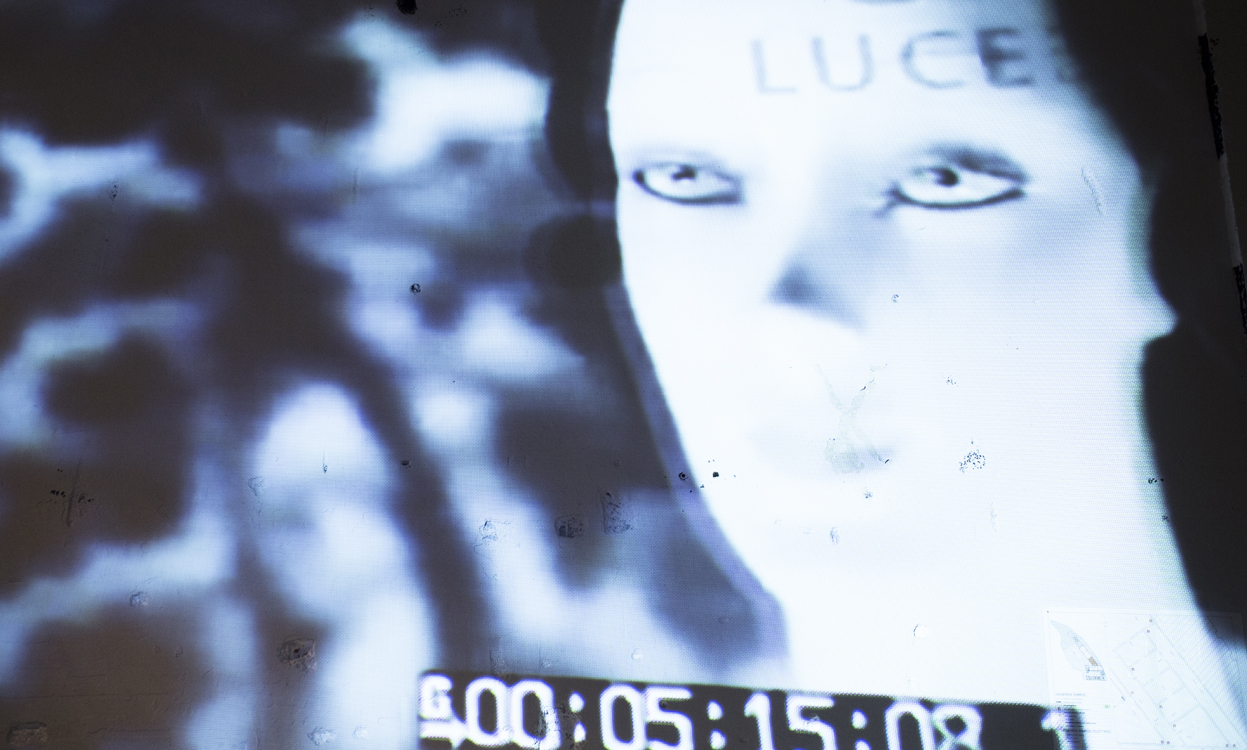 Above and previously: Making sure the link with the past is kept alive, a black and white 1941 documentary by Istituto Luce illustrates how mannequins were made at the time.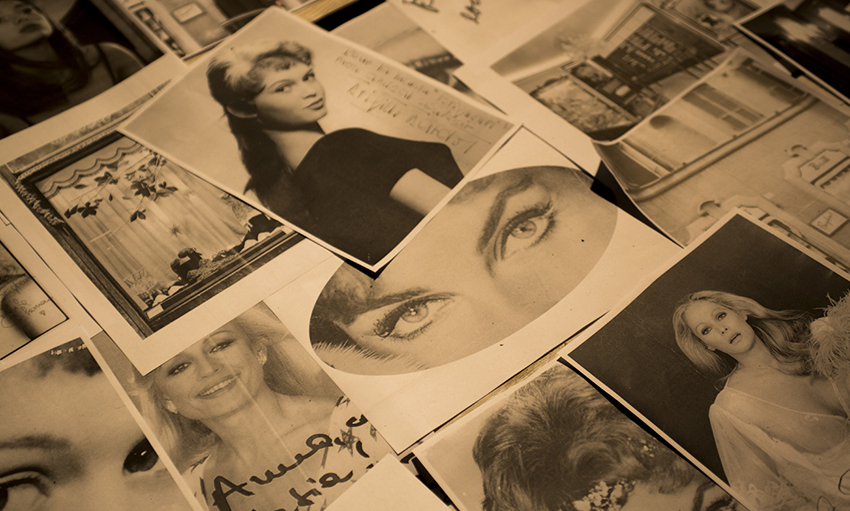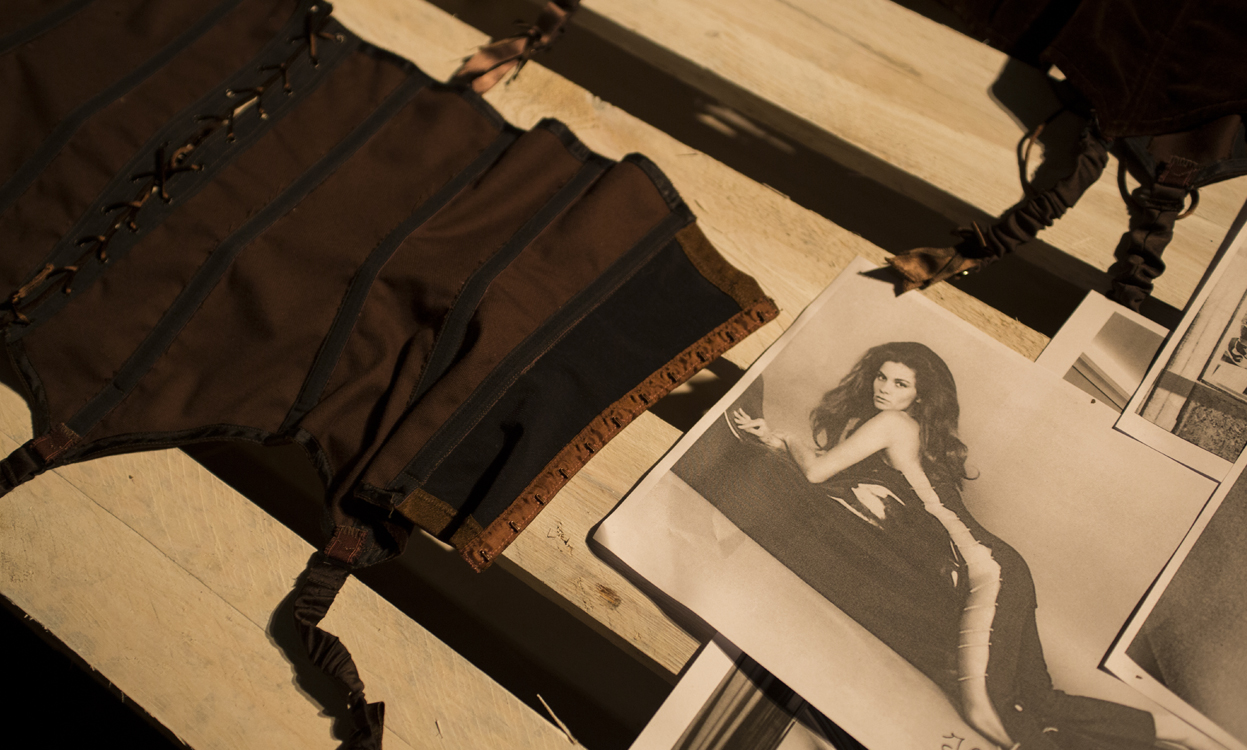 Above and previously: Not just a hotbed of precious vintage corsetry pieces, the archive of Brighenti—noted name in Roman lingerie production—also stores a sea of autographs and messages from international actresses and divas, who testify their love and affection for a brand that has left its mark on costume history.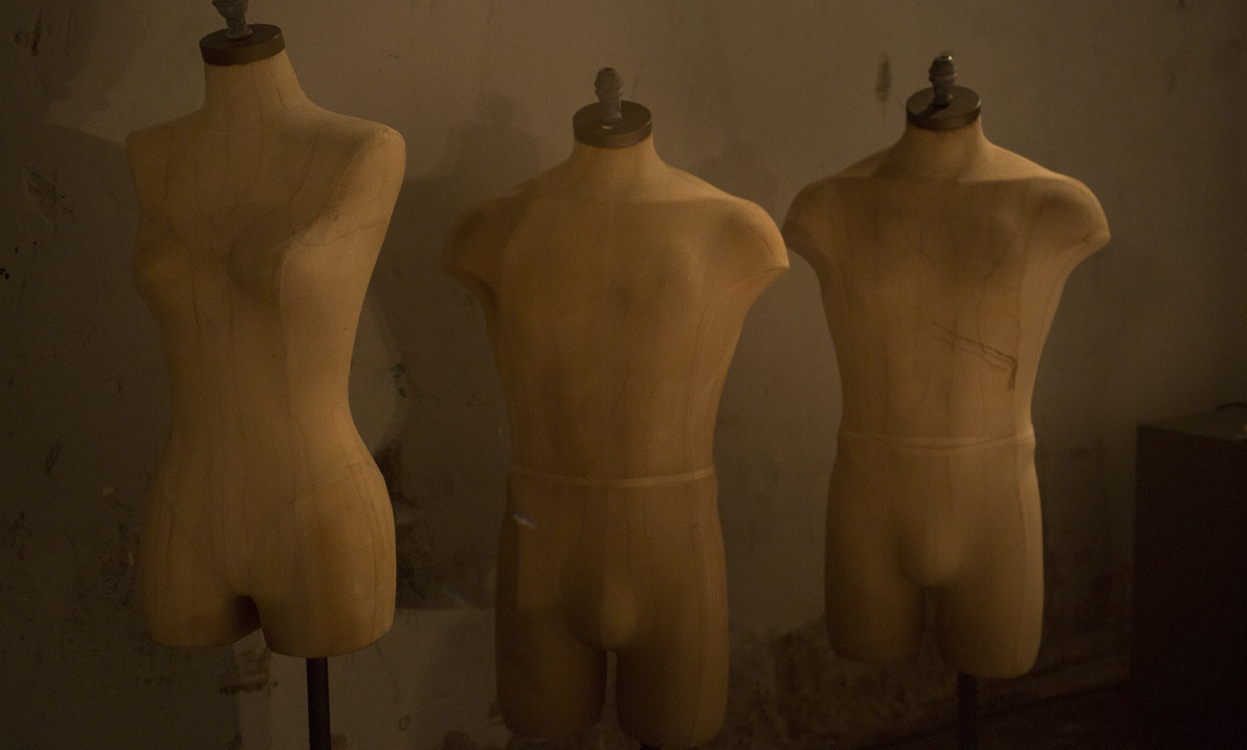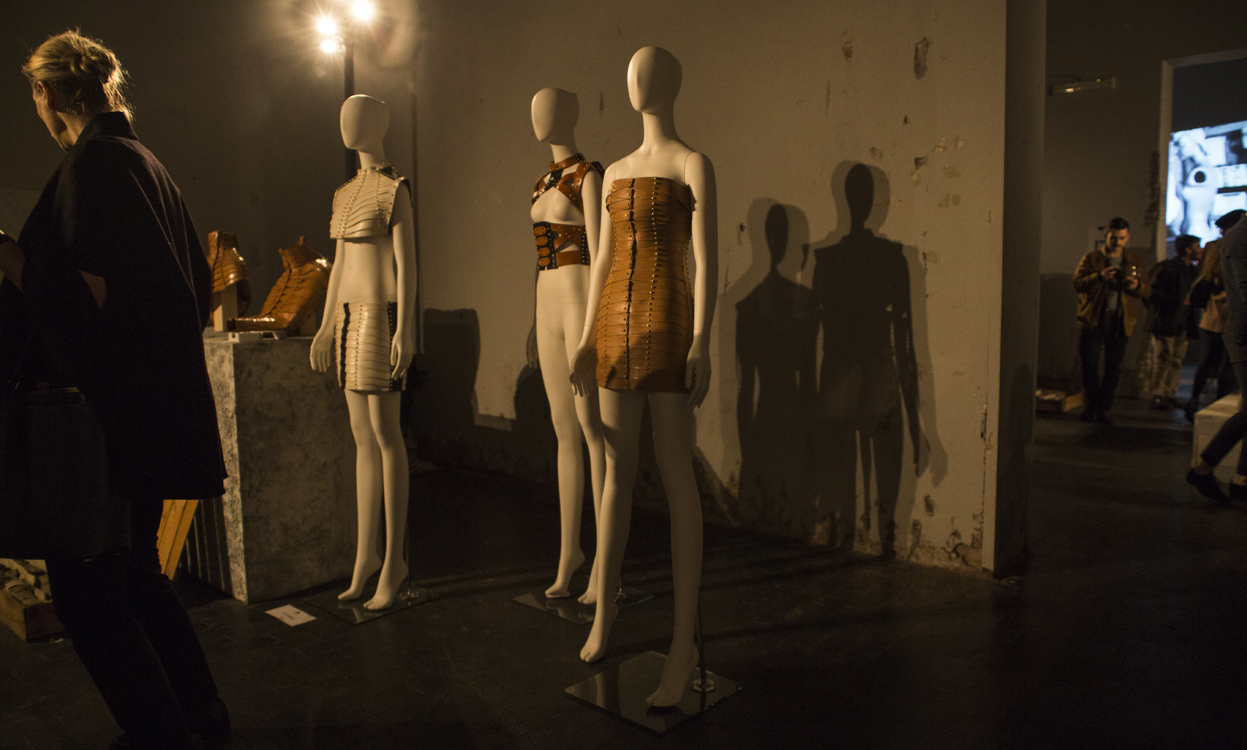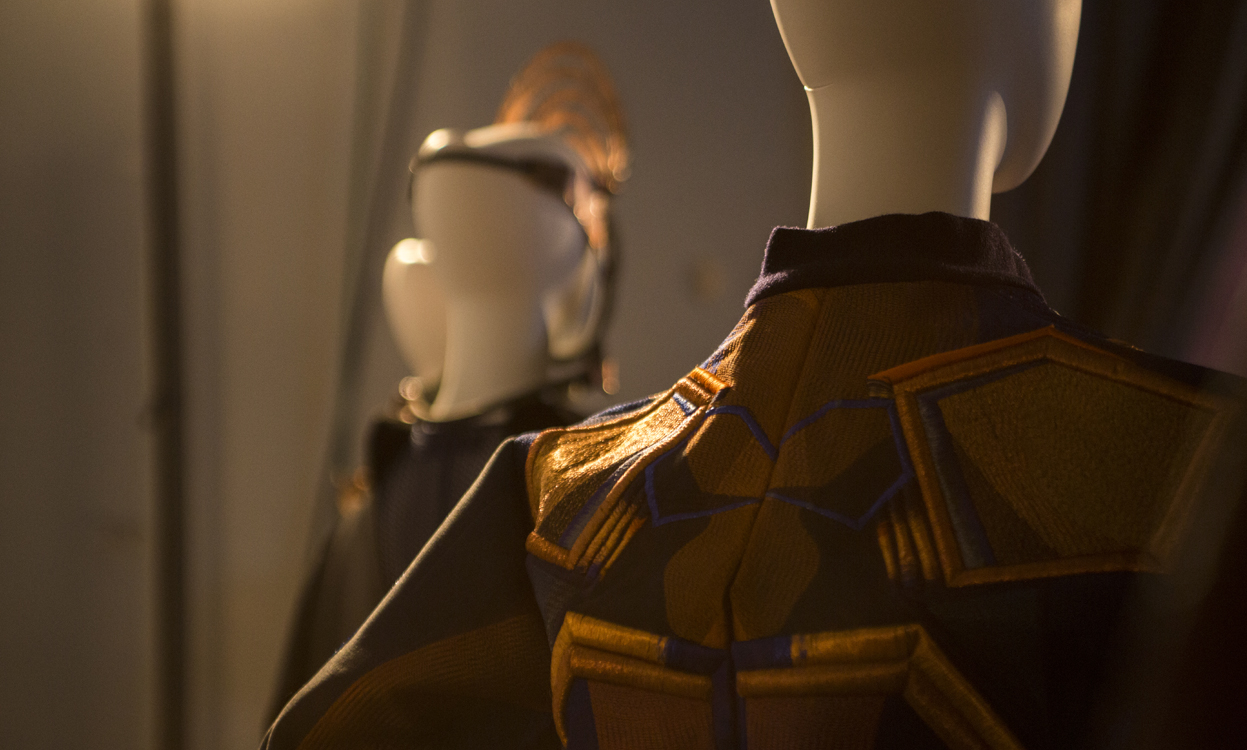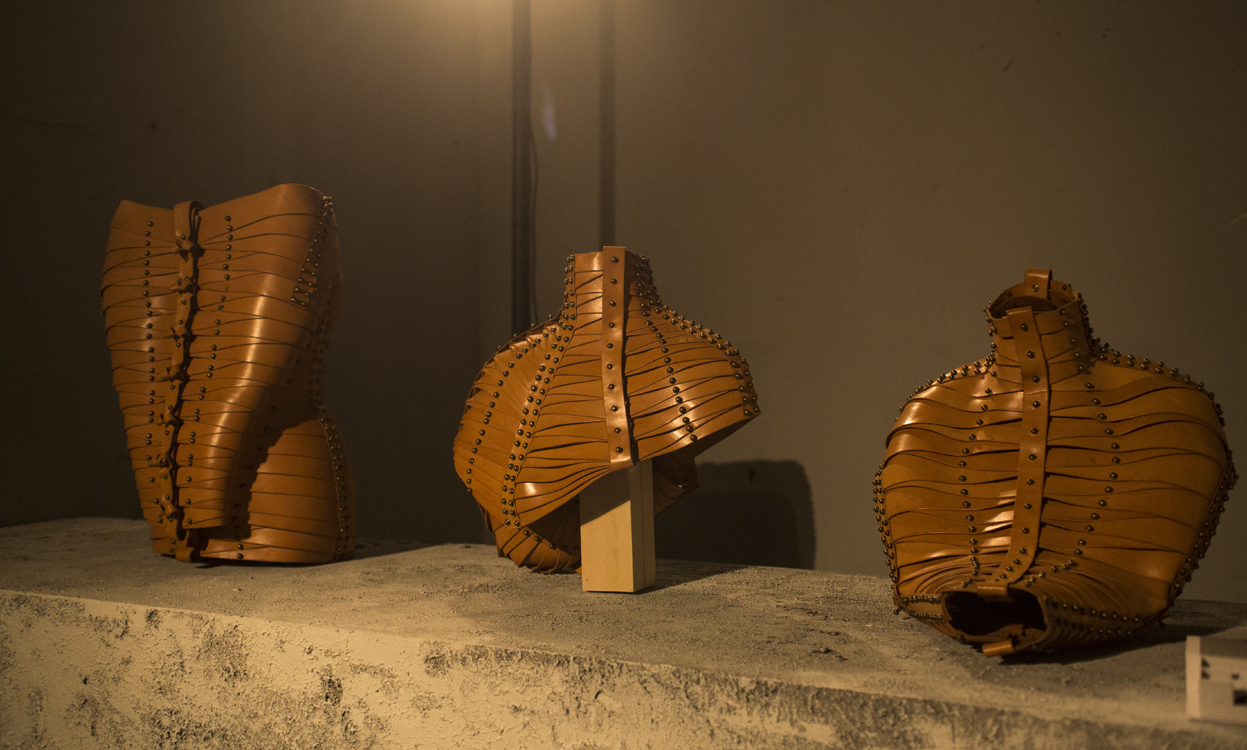 Above and previously: Architectural constructions assembled with geometrical expertise make the core of the leather bodices created by Úna Burke, while the geometric patterns in the rusty and purple-hued pieces, created by Sadie Clayton, draws on the natural shapes of crystals and stones to channel inner spirituality.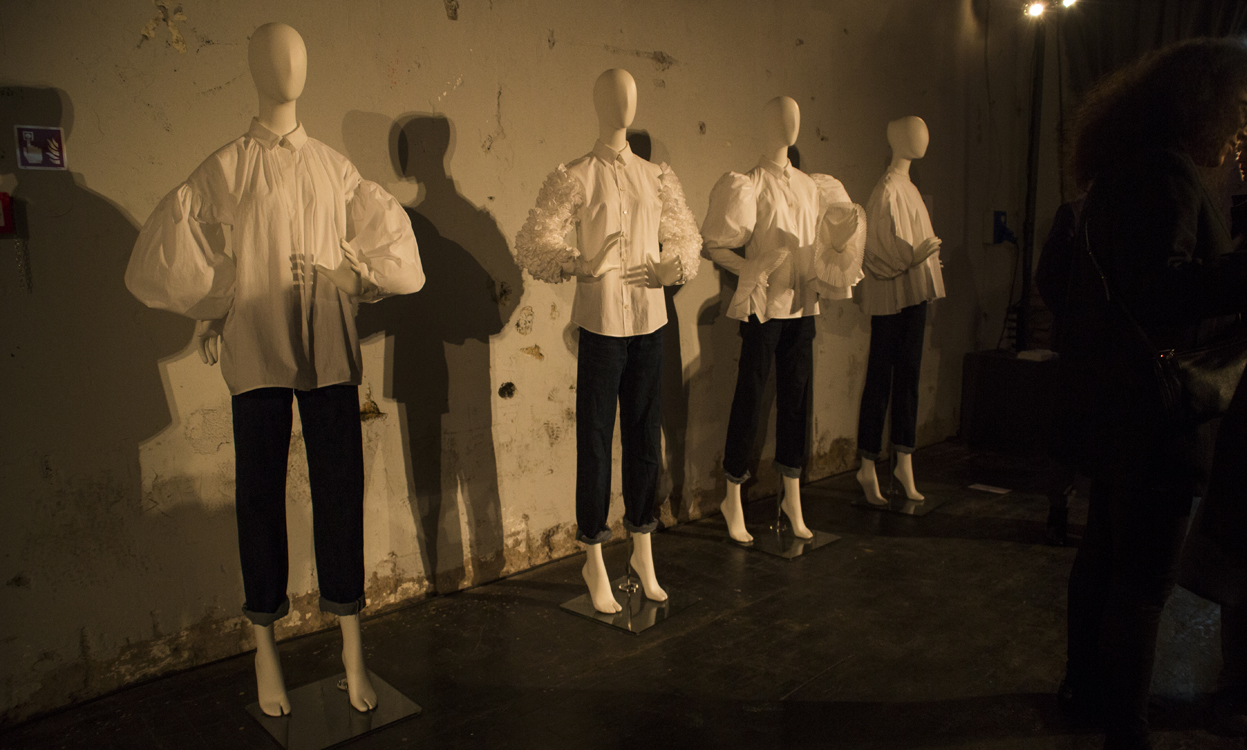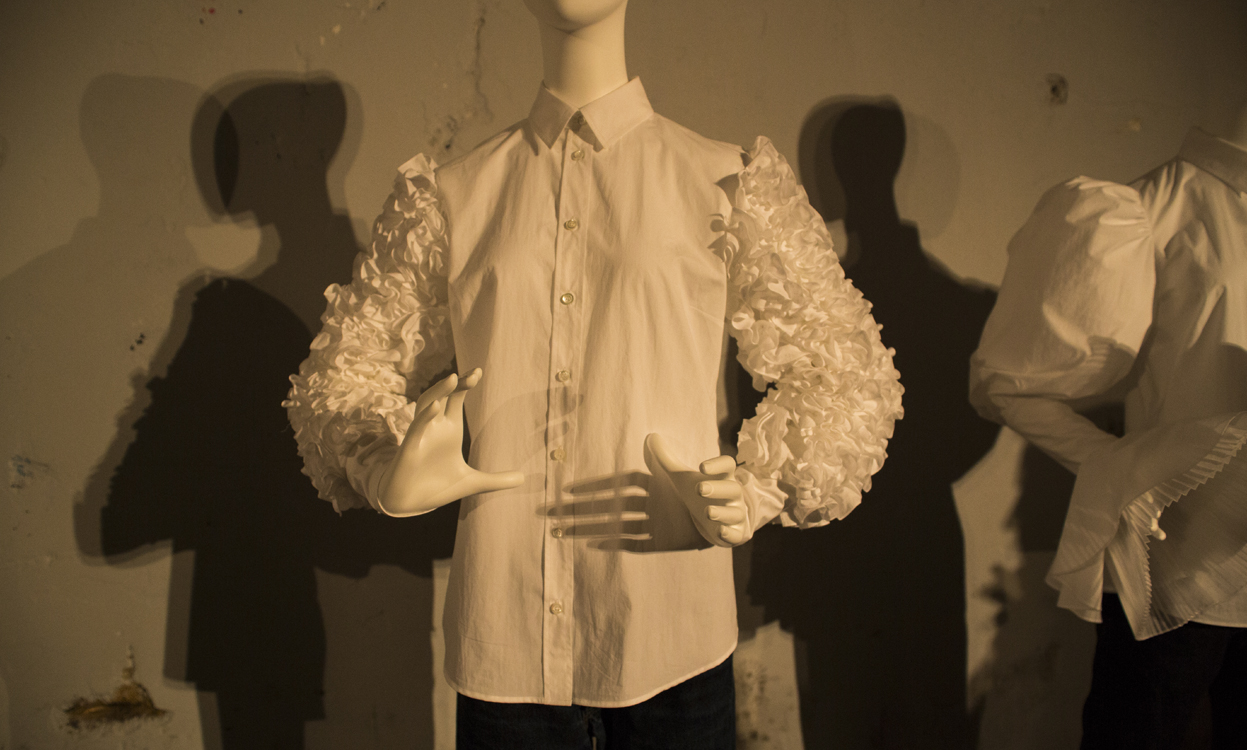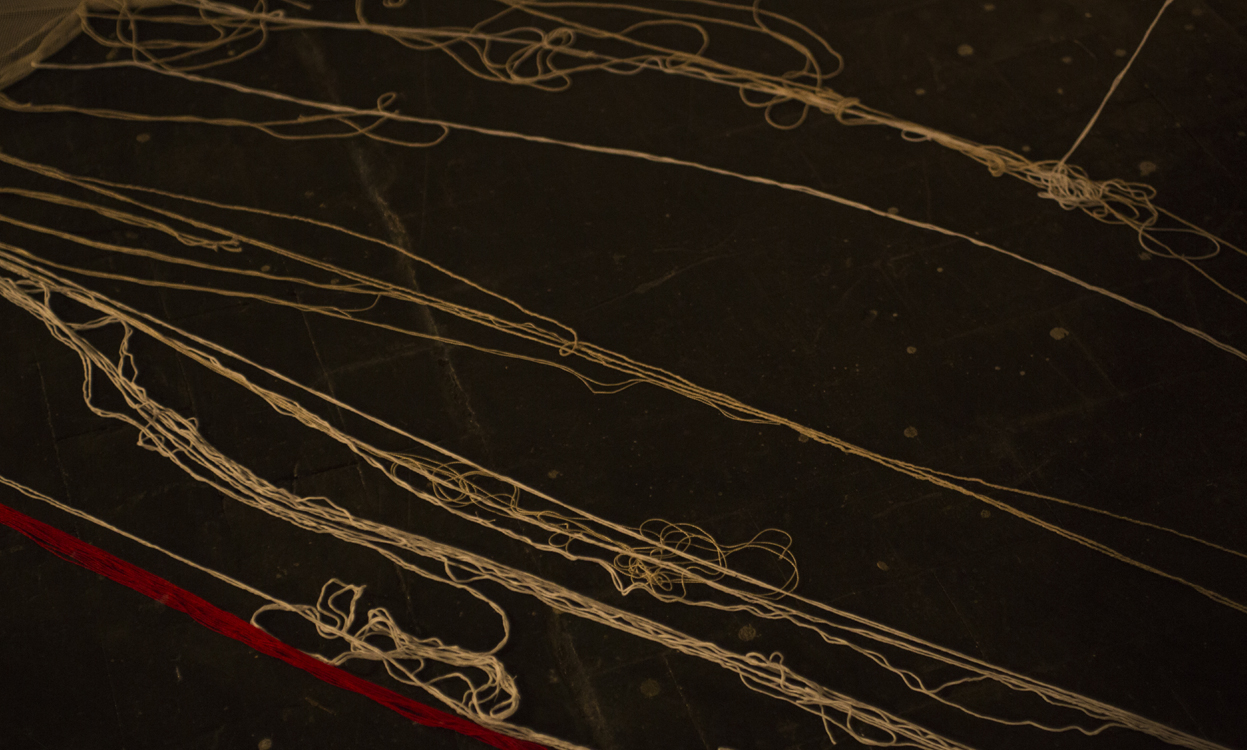 Above and previously: One of the most classic of clothing pieces, the white shirt, becomes a couture piece in its own right, thanks to the construction technique employed by Melampo—in the first two pictures above—that makes use of the origami tradition—to craft modern and cultured pieces with a link to historical costumes. The fraying edges of the dress created by Thomas De Falco (above) spreads out on the pavement like a creature metamorphosing.
A.I. Body for the Dress took place at Rome's Ex Dogana on January 29th 2016. ​