B Rant: Between a Rock and an Accent
8 May 2015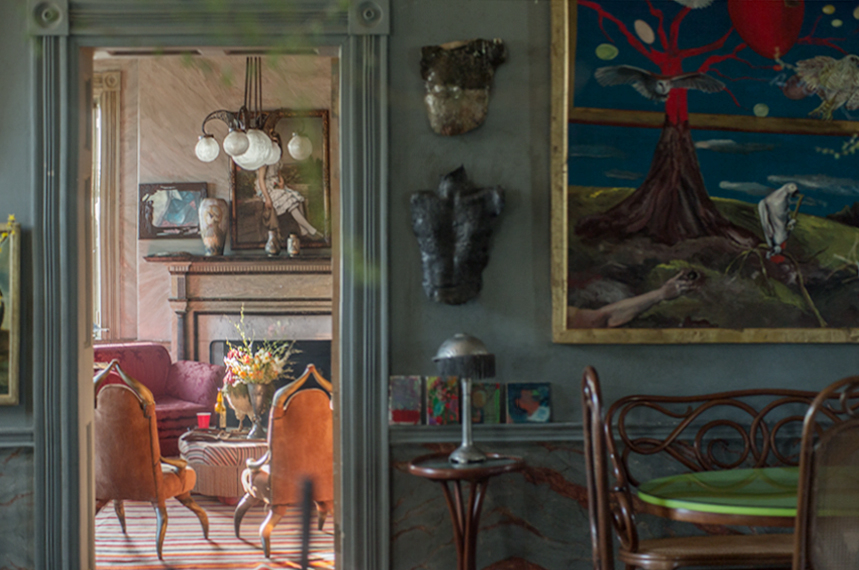 B = me 
Rant = declaim violently and with little sense; rave
NOBILITY ON LOAN
Aside from not being Italian and not being Noble and not being able to speak any language with stronzo airs I have for the past month or so fallen into—(if I squint my eyes just so)—the life of an Italian Noble. Which means in the push and pull, ebb and flow, heart attack e-meter bull-and-bear feast-famine relationship to having and having not I am again one big emoji for SENZA. Howohsoever ... I just finished swimming in the ocean after going for a jog laced with roll-your-own-(chain)-smoker-stops and am mad dogging the Atlantic while sipping (sure—sipping) rum solos from the balcony of my "stay as long as you want" amica's apartment with my shirt buttoned in the manner of a shipwrecked Neapolitan playing dominoes in the West Indies—unbuttoned. This after spending Easter at a friend's as close to Eden as this plane of existence allows farm in Virginia which I reached passed out in the back seat of another friend's BMW. Toss in some coulda been worse happenings at the ol' domicile and that emerging growl sounds like Lickety-Splat, New York I Ain't Never Coming Back. 
Ohhh ... but I am. Too soon. (Dog must live to tell tales of chasing money-tails.) So in anticipation of ornery moods, sales pitch! English, American renditions of mammone operas, sentientish beings in search of co-signors and screen- screen- and more screen-tappin' livin' ... a quick rant.
BASEBALL vs. BÉISBOL
Where would the art of sending up American pop culture be without Chris Rock? I'm always late to the "latest thing" and by the time I get there its relevance has usually collapsed under a faulty foundation, perpetuating my cycle of lo que sea, dude. Rock's comedy specials and interviews are exceptions: five years later, ten years later ... still on point! (Not unlike King George Carlin.) He recently taped a piece for HBO's Real Sports with Bryant Gumbel that asks "Why don't black people like baseball anymore?" Rock, a lifelong Mets fan, reminisces on the legendary '86 Mets, naming a few of the black players—Doc Gooden, Daryl Strawberry, Kevin Mitchell, Mookie Wilson—and letting us know that in 1986 Major League Baseball was "twenty percent African-American" and that last year only 8% of MLB "was black." He says he can no longer have a conversation with another black man about baseball. He goes on to say that "The Giants won it all without any black guys on the team." This may come as news to one of the most popular and valuable players on last year's Giants team (and World Series MVP in 2012)—Pablo "Kung Fu Panda" Sandoval. It may also come as news to Santiago Casilla, Jean Machi, Tony Abreu and Chris Dominguez—all of whom were on last year's Giants team.
Then again—who knows?—and who am I to say? In the latest version of Americana anyone can be whatever they want to be. All one must do is declare it: I'm a woman, I'm a man, I'm an artist, I'm a DJ, I'm spiritual, I'm born again, I'm a Democrat, I'm a Republican, I'm a foodie, I'm blah and blah. All one must do is ... feel it! 
Of course this "I'm ______" hasn't transferred to skin color just yet, as recent events have shown us. But, hey: give technology and political correctness a few years and who knows?!
The HBO piece goes on to show kids—black kids—playing baseball in the Dominican Republic while highlighting the reasons why the Caribbean style of baseball is exciting and appealing/hip to the youth in a way that basketball is stateside and futbol is in South America and Europe. I get it.
I also get the whole subterranean semantics of Rock's riff—"black" vs. "African-American" vs. "Afro-Caribbean"—and I'll leave that to whomever identifies (or doesn't) with those or any other readymade American labels. But since we're talking about baseball, there is but one question: Would Player X Have Been Allowed On A Major League Roster Pre Jackie Robinson?
It's interesting that basketball is now considered more international than baseball. In 2014, 26.3 percent of Major League Baseball opening day rosters were made up of players "born outside the 50 United States." In the NBA that number was 23.5 percent. I'll leave the implications of "international" vs. "foreign" for another day. 
As William Burroughs—more a fan of pistols, yagé and heroin than sports—might have said: We are arguing over words.
 add to the algorithm: follow me on: