B Rant: Guest Rant by Izzy
20 March 2015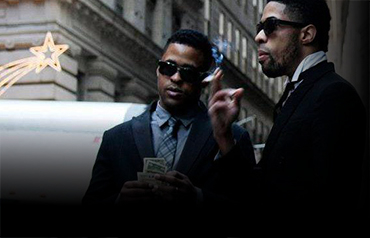 B = me 
Rant = declaim violently and with little sense; rave 
I'm turning over B Rants to Izzy: my East Village neighbor, old friend, great musician, and ranter par excellence. We became friends in that way pre-social-digiverse people in NYC used to become friends—who knows how? A few late nights and next thing you know you're 11, 12 years in (and having dinner together with your wives!). 
Izzy is performing tonight (March 20th) at Joe's Pub with his new group, Orchestra Holistic. The show is at midnight. If you're in New York, grab a ticket and swing by. I promise it is the best bang-for-your-buck in town. 
Orchestra Holistic is a collective of musicians established for symphonic excellence in the performance of Hip-Hop and R&B. The core of the group consist of famed hip-hop trio Holistic, renown French songstress Evaanz, with special guest appearances by up and coming urban pop artist Jenny Bapst. The composition of the music is a symphonic blend of production incorporating the classical spirit of the orchestra and the grittinesss of the boom bap. The foundation of musicians hailing from a wide array of experience and education lend to the fundamental execution of a brand new musical experience for the audience. The group will be debuting selections from midnight symphony Friday March, 20th at Joe's Pub. 
Tell me about Orchestra Holistic. How did this come together? Is this a natural evolution for you guys? Did this come out of running into walls elsewhere, outside suggestions, or just an overall "F It!" sorta thing?
Orchestra Holistic is a newly formed collective of musicians assembled for the live instrumentation and the advancement of our musical agenda. Essentially we are combining elements to push the envelope artistically and explore new realms in our live performance. To answer your question I would say it was a combination of all of the above. It was, in a way, a natural evolution of sorts when you consider our musical path. We come from a classical background: raised in the orchestra as string and horn players. The schools we attended are renown for performing arts and we were active participants. From that foundation alone it's only natural that we would revisit live instrumentation at some point. Running into walls has also been a catalyst in why we felt compelled to attempt something of this nature. When you been actively pursuing a career in hip-hop for nearly 20 years …. you might want to ease up on all the trappings of being a purist. Two turntables and a mic is the essence of hip-hop, but unless you are KRS-One that formula can have some shortcomings after you've been adhering to that year after year and show after show. When you've been performing in New York City as a group for over a decade, do your audience a favor and diversify the program. You know people will probably claim they've been telling me for years to get a live band. This is true to an extent, but the real truth is nobody can bring those elements together if the time isn't right. I believed that everything truly aligned how it was meant to be. Everything is a work in progress and everything we have been involved in musically really brought us to this point. The "F It" factor is real … if in December we didn't say "fuck it, let's try and see" we wouldn't be speaking about this now. We said lets do an Orchestra and we held an audition. We had the audition … and it was a success because we found everyone at that first casting. I knew what type of venue we wanted so we was like "F It" lets get Joe's Pub. There was a bunch of that going on, which is a huge when taking on something like this. Everything came together very naturally.
In the piece you wrote for Grey—"Don't Be A Follower"—you address the now ubiquitous (and "evolved") terms Hater, Like and Follower. I think you had some amazing insight on all three, especially Hater. The way that term is now used is similar to the advanced weapons employed by occupiers over the oppressed. Or our government over us. Although I don't think these created pop/social-media ding-dongs are aware of what they're doing—playing the role of frontrunner—it appears to me they are influencing future political dialogue. How long is it before our government invades a country or increases spying ... and when We The Citizens complain, the call us Haters from the Senate Floor?
Shit … I mean it is deeper than a cultural war because that's where the real war is raging. If you want to shape and mold public perception you get a couple of buffoons to shuck and jive their way into 12 to 17 year-old hearts. When you say are they trying to influence future political policy … I say absolutely. In the blatantly popular realm you almost have to be retarded to embrace the agenda they are promoting. Let's face it when you get "likes" you have some influence in this world. It's political in nature. How do you win the Presidency? You get enough votes from the Electoral College from people essentially "like"-ing you. We do it all the time. I hear people saying "he/she didn't "like" my post, they are a hater!" So what happens when that post becomes a bill introduce on the floor of the Senate? It's the same high school mentality that you spoke of on your rant on nepotism. 
I no longer keep up with the latest hip-hop this or that like I used to. But it seems some of these new artists play the role of Early Adopter, name-dropping whatever artist/designer/etc is trendy in the NY scene. Which, in a way, I "get": but, I feel like I'm missing the point a bit?
I guess you can say that's a part of the scene we come to experience in this day and age. Everybody wants to be cool with the next man and collaborate and big up everybody and they momma. You take a picture or retweet a celebrity or designer … you might get some followers off that son. So you have a lot cats who are just down with dudes based off trying to shine off somebody else's shine. You have cats in the hip-hop game talking about "Jeremy Scott is my Nigga" … whaaaaaaat? Just think about that line for a second … "Alexander Wang is my Nigga" double whaaaaaaat? "Eating brunch with Anna Wintour" …  triple whaaaaaaat? This is what people are actually saying in rap songs. To put it short it has become trendy for rappers to be emotional and it is a reflection of the feminization of society. And I'm gonna leave it at that.
What's your overall opinion on NYC? Would you tell your younger self to come here today, in 2015?
My overall opinion of NYC doesn't really matter. Of course we can say that "the rent is too high, the city ain't what it used to be" if we want to keep with the cliche. But our opinions of New York are forever changing … that's the beauty of this place. I can tell you one thing for certain, that with this orchestra shit, we couldn't have pulled it off in any other city. Somehow when things materialize here they can materialize fast. We spend all these years "grinding" and just doing mad things over the years to be able to do things of this nature. We are forever adapting to this place which is a unique existence … and as long as you continue to adapt to this place maybe one day New York City will throw you a bone. I would tell my younger self to come here in 2015, but my younger self would definitely have to roll up in the scene with just as much intensity that we had when we arrived.
tickets for the Orchestra Holistic show