B Rant: Guest Rant by Izzy #2
3 September 2015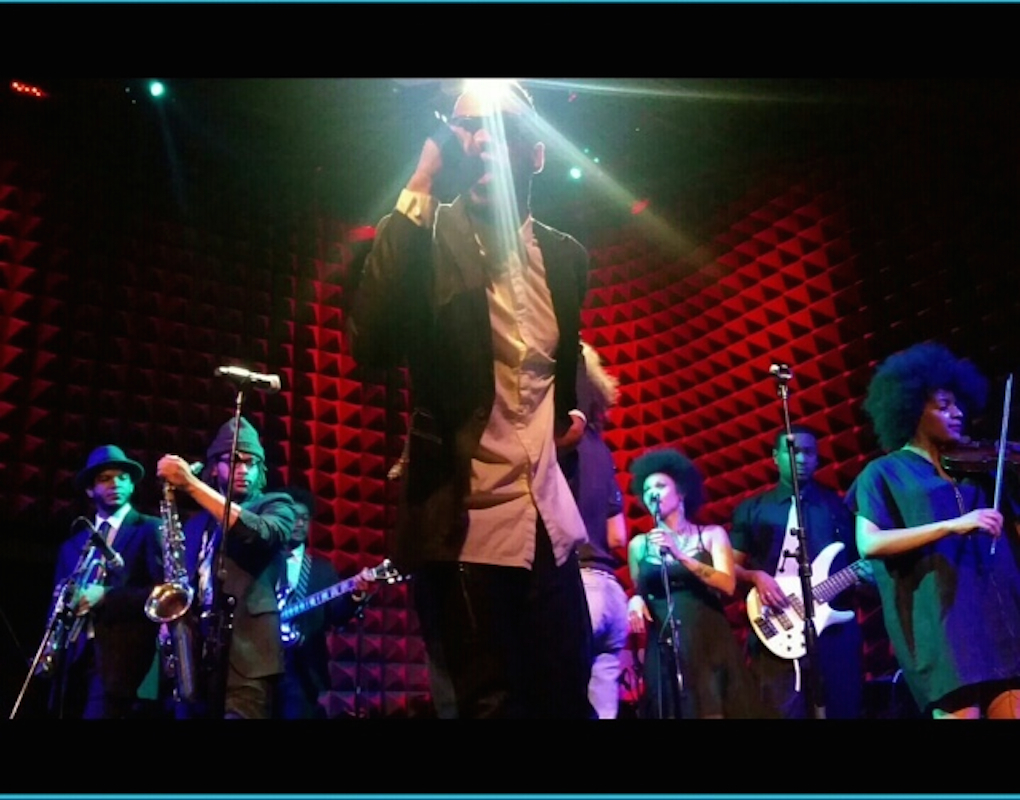 I caught up with Izzy—my friend, neighbor, and lover of all things RANT—to get his thoughts on Orchestra Holistic's upcoming show at Brooklyn Bowl, violence in America, and the NFL. 
The last we spoke you were about to do your first show with Orchestra Holistic at Joe's Pub. I was there. It was great. I haven't seen the ensuing shows. How has it evolved? Have you added players?
What's up B, thanks for having me back again to do our occasional rant ... something I enjoy. Well the first gig that you are speaking of at Joe's was around 6 months ago or so. A debut is a funny thing man … everything is brand spanking new so you're just working towards execution of the game plan. The thing about is … that at the very least let's look like we know what we are doing, we are rehearsed, we look good, and we're tight.  If that is accomplished you can get some respect for your efforts alone, which is the foundation for anything progressive. We've had a few more big shows to build on and naturally you begin to open up the bag of tricks. It's been a real learning process on how to function as a unit and to maximize everyone's time, talent, and potential. With musicians its a sensitive thing to have something going on with everyone on board. You have to keep shoveling that coal in the engine, cause if that train slows down people start to jump off. We've been fortunate in the opportunities that have come our way, which in turn has allowed us some stability with the unit. We've added some players and others have left but the core has remained intact. Over time we get to learn everyone's strength and the instrumentalists gain a greater understanding of the music. We're still learning but I expect nothing short of excellence with this group. 
You're playing at Brooklyn Bowl on September 15th. How is that venue different from Joe's Pub? Have you written new music for this performance?
Yeah man this will be our second time at Brooklyn Bowl. I think it's a dope venue. We opened up for DJ Premier (Houston bred) in June and it's a completely different dynamic than Joe's pub. You get the best of both worlds as far as New York venues are concerned. Joe's is good for that intimate 150 person show that's very personal with everyone seated. You know most of the people in the audience and people appreciate that it's still really old school New York and still really special to play there. Brooklyn Bowl is like the new school New York but in a positive way. There are 600-700 cats in the crowd that are pretty familiar with Williamsburg and the surrounding neighborhoods. There are a bunch of heads you don't know and they are into what you're doing. People feel inspired to dance and express their inward desire to communicate to you that they are enjoying themselves. Both venues are good with me because they treat you like a professional and they are on point with sound engineering. That's the key … choosing the right venues and booking the right shows if you play regularly in the city. It is also essential to introduce new music every show to keep things interesting. We've never performed the same show twice and we plan to keep it up as long as we can. This show will be no different, we plan to introduce four new songs. We are recording those new joints next week at Converse Rubber Tracks which is really one of the illest studios I've seen. Those songs will make their way into the repertoire for the show. 
There's been some dramatic doings in your personal life over the past few months—both losses and additions. How has that effected the music? How is it effecting you?
Boy … I'm feeling like Buddy Miles out here talking bout "My mind is going through them chaaaaanges." Life is strange man you never know what things will transpire and the timing of it all. "Life Events" happen and I could tell you that I never really understood what that term meant until recently. A "life event" is something that happens that's equivalent of someone taking your brain out and placing it in a blender. Slowly they begin to press the buttons that range from chop to purée. It takes sometime to get to purée but when it does and your brain is poured back into your head you notice the consistency is different. That is what it is like seeing someone so dear to you suffer through illness and the process that ensues until they are no longer in their earthly form. Take that coupled with a contrasting event of a life growing that is in some respects equally as dear to you in a different context. It's heavy so it effects you in a multitude of ways. You are aware of this but you still don't know the extent of what the F is going on in your noodle. Music wise I would say that I've never been an artist that blatantly pulls from my emotional state in the creative process. I believe those things are underlying at the core because music is an emotional expression.  The only thing in relation to music I can say that has begged a question is "how important is this shit" to you? Which is a really tough question to ask yourself in regards to something that I have been actively pursuing since I was in my teens. That question was easily answered upon attending rehearsal and our most recent performance. I came to the conclusion that life is unpredictable and you should live a meaningful life. You should seek knowledge, spread knowledge, do charitable acts, keep ties of family close, and build something that will benefit humanity after you depart. These principles are necessary for me when it comes to the making music as of now. You should enjoy it, which I do and is also of utmost importance.
Violence in America. We're both American and about the same age, so we understand that this is nothing new. In fact, although the murder rate is higher this year than last year, violence is much less now than in the 80s or 90s.  I wonder sometimes what our country would look like if there were camera phones 20 years ago?
I always had a theory that the same crazy stuff has been going on since the dawn of time, only now we have the connectivity to really see how messed up the world is. At the same time some people believe that when we landed on the moon it was done in a movie studio. Certain agendas are being communicated through trickery. There are certain people who want gun control so all of a sudden there is a video of people getting shot and broadcasted. You want people to believe that black people are ignorant … tune into Worldstar. Violence is out of control … watch this viral video! That's why I stay away from viral videos man. I think they are just made to program your brain and zap all remnants of an independent thinking mind. They act as if black people just started getting shot by cops … Noooooooooo … It's been that way since law enforcement agencies have been established in this country. I'm sure that my great great great grandfather probably felt the same way I feel when approached by these fine courtesans of the law.  If we had camera phones in the 80s and 90s that would have been dope. You would have had a multitude of crackhead footage in the 80s. In the 90s you would have had so many dope freestyle sessions and hip-hop related jewels caught on video … Maybe a little gang violence here and there. 
You're a huge Indianapolis Colts fan. How's your team gonna do this year? And … what are your thoughts on Deflategate?
Them Colts are coming for ya! My expectations are the same this year as they are every year for the Horse: they're gonna win the Super Bowl. I think we did some things in the off-season that has me very optimistic about the team we are putting out on the field.  We got some strong veterans in Andre Johnson and Frank Gore joining the ranks. I love those pickups and I was surprised that Andre Johnson left the Texans to play with a divisional rival. I'll take him of course, I'm not complaining, but it sucks for the Texans fans. The same situation with Reggie Wayne going to join the Pats. I'm not gonna act like I'm not upset over that move. My favorite Colt of all time going to play for that scumbag franchise. I hate everything about the New England Patriots, their uniforms, the mascot, the fan base, the coach and his players  Tom Brady is a wuss, and a crybaby. He's the same to me as Christian Bale in American Psycho. Looks the role but is probably deeply disturbed. Deflategate didn't shock me in the least bit. I knew those fuckers been cheating for years. I think he should have gotten a longer suspension. I was pleased they upheld it from the NFL standpoint, but he should rot on the sidelines for longer. Football is a game of inches and any advantage for one team can easily tip that scale. You can't let cats slide too easily when they are blatantly cheating. F the Patriots.