Beatrix Ost - "The Philosopher's Style"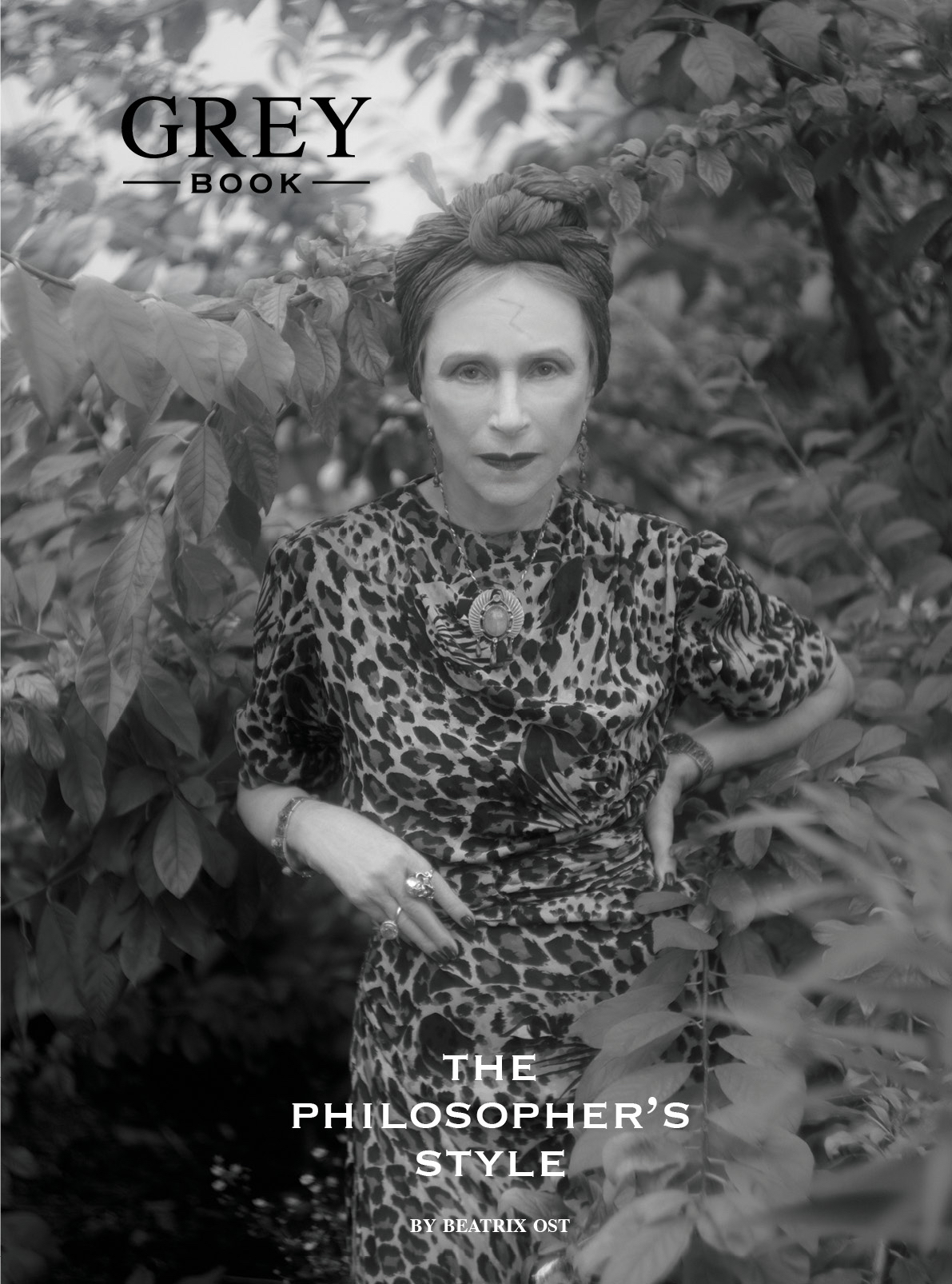 purchase GREYBOOK III: "The Philosopher's Style" by Beatrix Ost
This special edition of GREYBOOK—"The Philosopher's Style" by
 Beatrix Ost—is nothing less than a curious and unique life of wisdom 
and art beautifully transmogrified into a book. Beatrix is a self-declared "Ambassador of Peace." To that, Valentina Ilardi Martin, the Editor-in-Chief of GREYBOOK adds: "Beatrix is a Philosopher first; then an Author, an Artist, a Designer, a Decorator, a Stylist, a Mother, a Sister, a Lover and a Muse. A friend to many and an enemy of none." 
"The Philosopher's Style" presents 80 new and unpublished short
 stories and interviews that Beatrix has composed over the years. The short stories are philosophical and fantastical, nostalgic and sharp. The interview subjects represent the range of humanity that is the intrepid and empathetic web that Beatrix spins. As in life, Beatrix provides 
a cosmic space for others to share themselves. The prose of "The Philosopher's Style" was given room to evolve into "textual painting": creating a synesthetic quality for the reader. The images of the book span decades and include her archival photos, sketches, paintings, sculptures, and a new photo shoot by Ari Seth Cohen from Advanced Style. 
This book is both a lifetime in the making and just another adventure from one of the most unique women to roam amongst us. It is truly a gift. 
The Foreword from GREYBOOK Editor, Brantly Martin: 
Rare is the gift of Space in 2016. While the digital and nefarious cast their two-dimensional accusatory spells and streamline their incessant school-of-brainwashed-tadpole programming one must constantly seek (or surrender) this precarious, codified—and increasingly commodified—basic human need. As our planet's population explodes in seeming accordance with hypnotizing screens, having Space to hold is becoming—piano piano (and not so piano)—rare. Short of the cataclysmic, we humans will number 10 billion in 2050: What will our screen counterparts number? Or, more to the point: What will their A.I. offspring (no doubt sneering at their ludditic screen! progenitors) number? 

While water will be hoarded and air will be taxed, I believe Space can only be held. In doing this—living in held Space—Beatrix assumes the role of nomadic scholar and reluctant mystic. What I'm saying is: Beatrix holds Space in such abundance that she has plenty to give. And she does, often and freely. One can accept it or not. One can see it or not. This gift arrives in laughter, conversation, silence—and advice that is never unsolicited. 

It also arrives in German-to-English bursts of refined tales placed upon the circuitous road to a book. Here, Brantly: some thoughts, stories and dreams dropped into words. Take them and proceed however you please. Really? Thanks, Trix, but ya sure you wanna tell me that? Ja, Brantly, have fun. And like that I was given a little Space to hold and meditate inside of. Of course, in this case, I had to bring something to the prosaic table—turn Space into Ceremony into a more permanent three- dimensional mirror upon which our peers may peer. 

Creation is best served without exposition.