Christopher Wool at Solomon R. Guggenheim Museum
21 November 2013
Born in Chicago and based between New York and Marfa, Texas, artist Christopher Wool has been influencial in defining the language of contemporary painting. His attraction to this artistic medium stood out in constrast to the 70s general progression towards more experimental practices.
For the recently opened self-titled exhibition, the Solomon R. Guggenheim rotunda hosts circa 90 artworks, from Wool's early text-based paintings to a newly found interest in sculpture. Although not often associated with his artistic identity, photography is, in this occasion, presented as a relevant and influencial medium in Wool's artistic investigation.
Below, the curator of the show and Guggenheim's associate curator, Katherine Brinson, tells us more about the exhibition and the role of photography in Wool's practice. 
Why was it important to present Christopher Wool with a solo exhibition at the Guggenheim at this moment, and what drove this decision?
It's obviously very difficult to pick only a number of exhibitions per year for the rotunda and it's not taken lightly. We consider it very carefully, but we really felt that Christopher was pursuing one the most revoting, inspirational picture-making of his generation. He's also been extremely influential to younger generations of artists, particularly those exploring the medium of painting, and the way he continually reinvents what it means to paint today is really, I think, the reason why we thought he deserved a full investigation of his practice.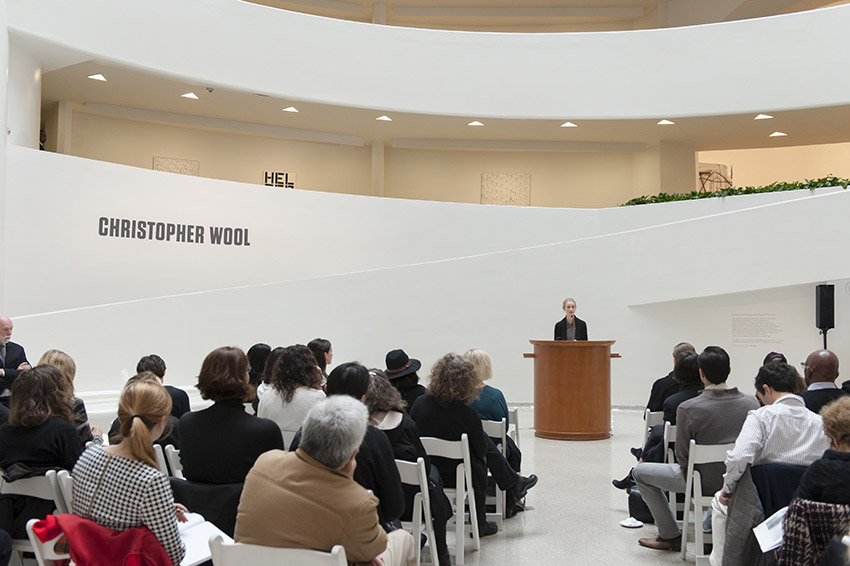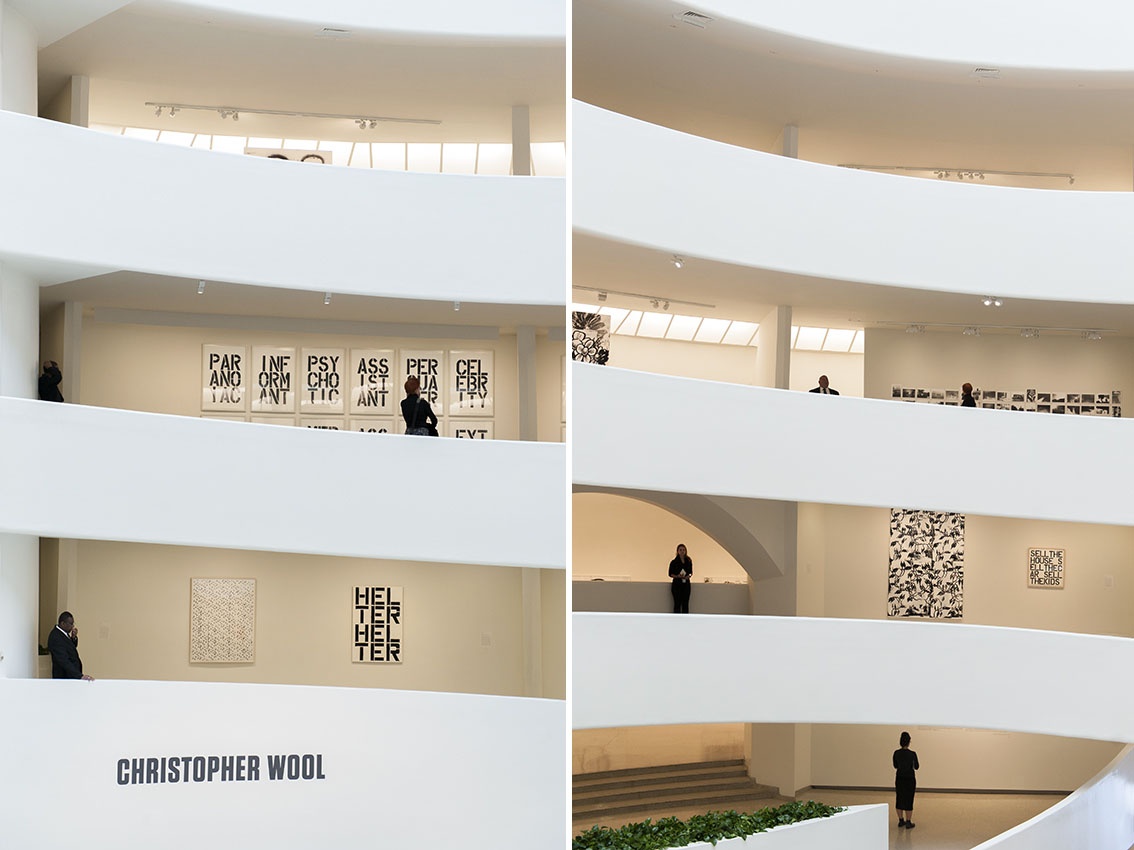 Although his work mostly revolves around painting, photography played a very crucial role in his practice. Can you expand on that, and provide some examples in the show that are particularly pertinent in illustrating this point?
There are two ways in which photography plays a pivotal role in Wool's practice. On the one hand you have the discreet photographic series which, as you see the exhibition, are largely serial iterative groups of small black and white images, which often he'll compose. They look like casual snapshots—there is often the horseshoe of a flash—so these grainy compositions almost break down into abstraction. You often notice resonances between Wool's painting practice in the photography, so he'll often focus quite literally on text or patterns. Take Minor Mishap - there is actually a black and white photograph of a white paint splotch on a wall, which you can see resonates in quiet an interesting way with the work.
There are 3 different series of photographs: one is called Absent Without Leave which was taken during travels, mainly in Europe; the second, called East Broadway Breakdown, documents Wool's journey between his East Village studio and his Chinatown loft, a cyclical journey, night after night, through these rather desolate city parts of downtown New York—which of course was quiet different in the early 1990s from the more gentrified area we are familiar with today; and the final series, called Incident on 9th Street, documents a terrible fire that took place in Wool's studio in 1996. You can see why it appealed to Wool to turn those photographs—which were originally just his documentation for his insurance company—into art works. 
So much of his image making is about degradation, and subjecting images to these quiet violent processes so they can come back to life in new form. These images of his actual, literal artworks in a state of damage were really riveting for him. There is one more photograph in the exhibition, a collaborative work with Robert Grober, which is a very hunting, enigmatic image that shows a dress which the two artists created, decorating it with one of the roller in the exhibition. It's just a dress hanging from a tree in a wooden landscape, but you have the impression that something violent might have happened just off stage, there's a pronounced sense of absence. That is a very interesting singular photograph, it is the only truly discreet photographic work in the exhibition. 
I think in general people don't associate Christopher Wool with photography, and we have a very generous showing of the photography in this exhibition, so I hope people take down board.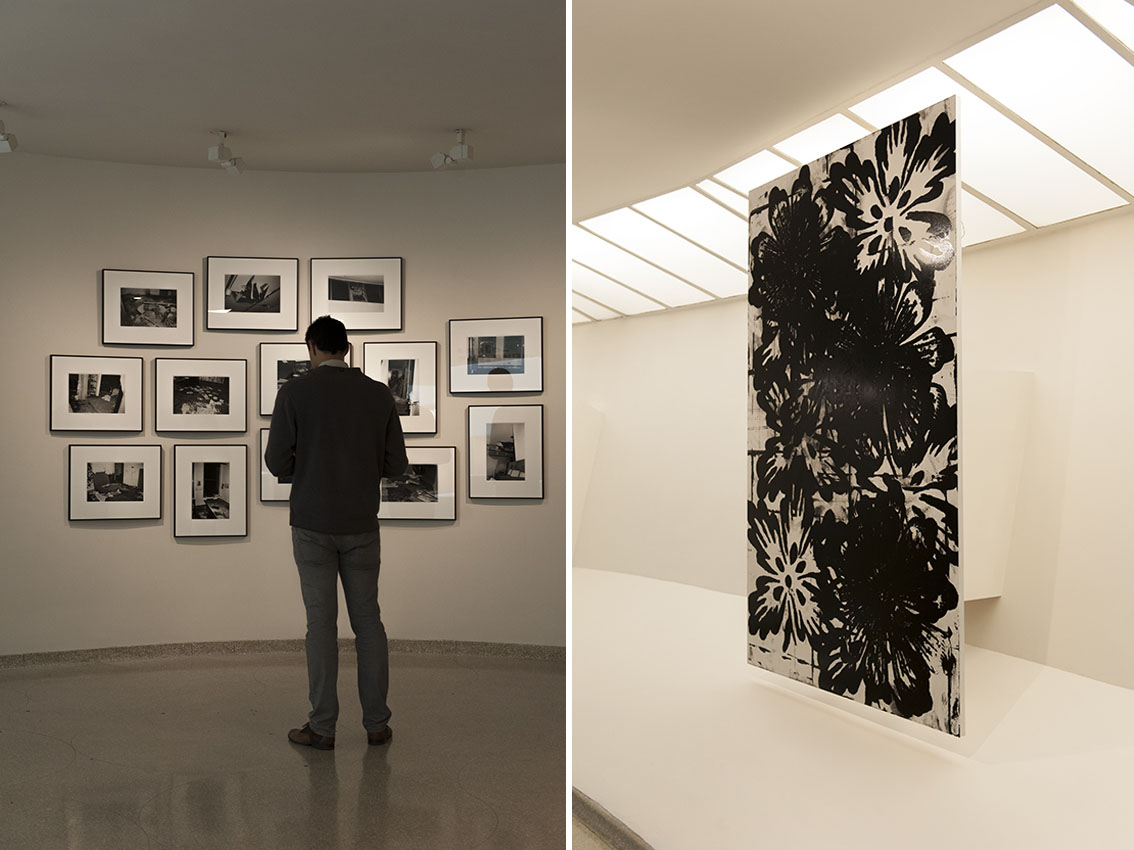 On the left: Incident on 9th Street, 1997. On the right: Untitled, 1993.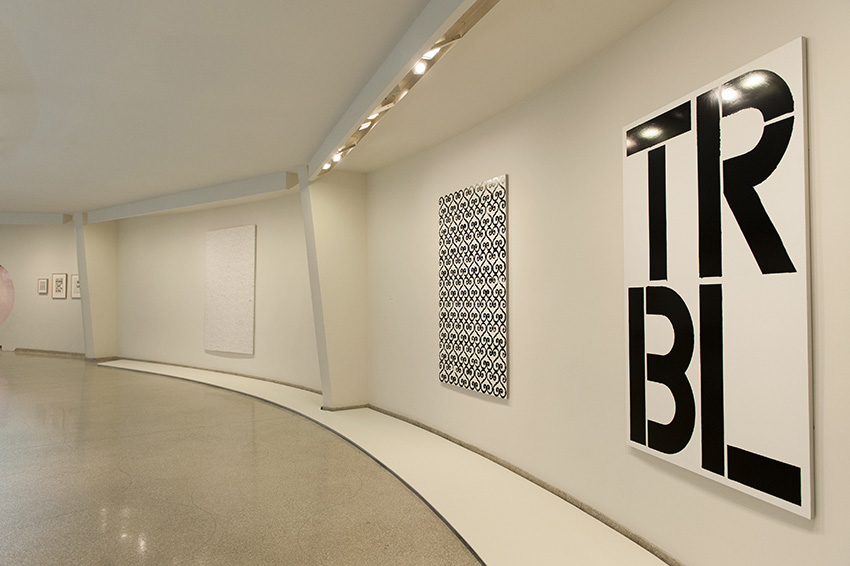 There are two special projects that are presented for the first time in this exhibition.
Yes, absolutely. The one used for the book cover was literally created for that purpose. It was a new work, a new direction in his work. It is picking up on one of Wool's earliest bodies of work, which is of course the letters and text, and then there are scribbled lines, which you'll see resonating in a lot of the abstract work, and then geometric forms. Obviously this was all done on a computer so there is no texture here...
Is the use of a computer program a new addition to his practice?
He's been using the computer to manipulate images that have originated in hand painting, but in this case there is no hand painting that is the original source. It's diving straight into composition on the computer screen which is indeed a departure. He uses what's called a half-tone screen, where the image is made of different sizes of black and white dots. This is something which you'll see used over the past decade in Wool's painting practice, and that on this work is given a slightly different inflection.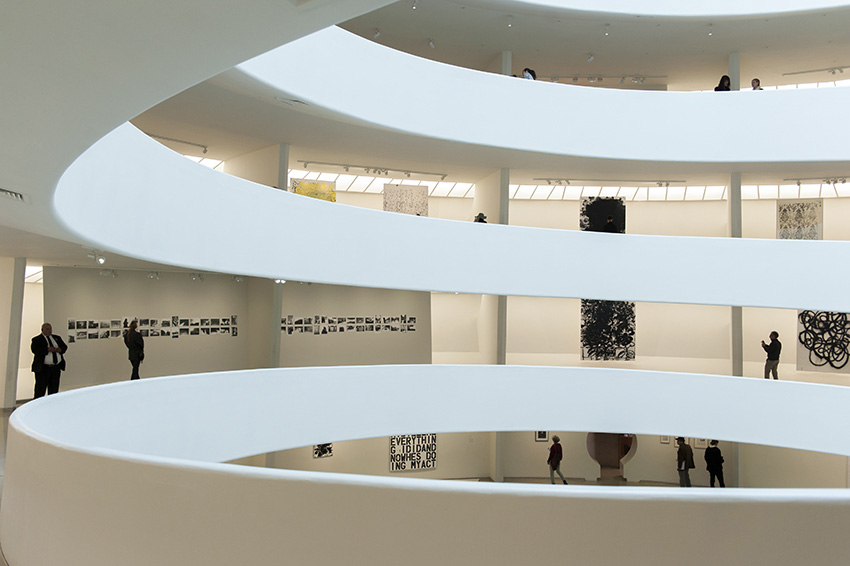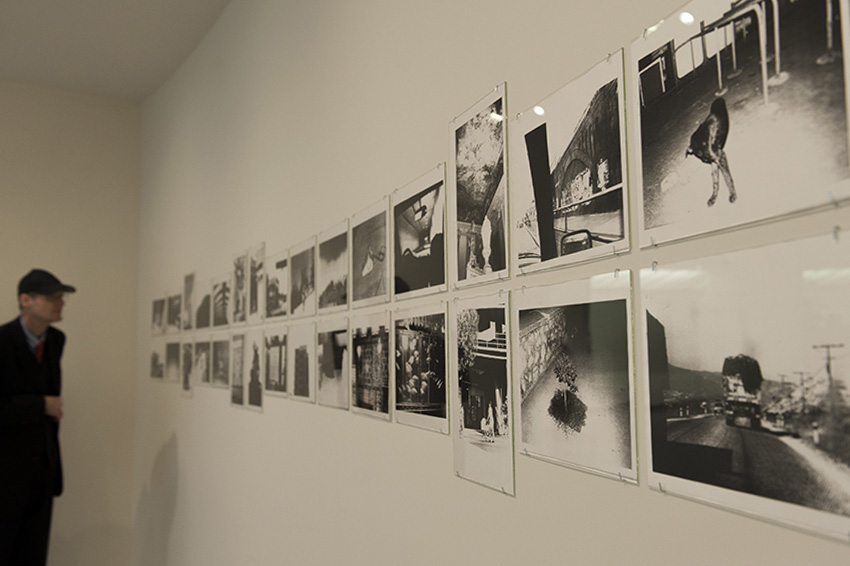 Above: Absent Without Leave, 1993.
What about the bronze sculpture installed outside the Guggenheim's entrance?
It is having its debut—it was actually finished a couple of weeks ago. Wool became interested in sculpture since he established a home and studio in Marfa, Texas, in 2007. He still has New York as his primary base, but he spends a lot of time in this desert landscape of West Texas which, as I said, inspired a new interest in sculpture. The initial departure point for this work were bundles of rancid wire that he was discovering on the ground of his property, which took these tangled linear forms. It really picks up and expands on existing interests in his practice, primarily the use of linear composition.
Can you tell us about the writers that contributed to the exhibition's book?
The book is introduced with the photography essays that we were just discussing, there is Absent Without Leave in the front and East Broadway Breakdown at the back. Christopher Wool was heavily involved in designing the book. He's a famous book maker, and artist's books have been always a very important part of his practice. I wrote an introductory overview for the book. Then, Susan Hudson, a brilliant, young art historian, wrote a more historical piece about the state of painting in the early 80s. James Rondeau, chief curator of the Art Institute of Chicago, wrote a piece focusing on Wool's photography, and then Richard Prince, who is also a close peer and friend of Christopher, wrote a wonderful piece which is what Richard likes to call 'wild history'—part fact, part fiction, part memories, part criticism. It's really wonderful, I recommend it.
Will the exhibition travel after this location?
Yes, just to Chicago. Wool's two hometowns: New York and Chicago.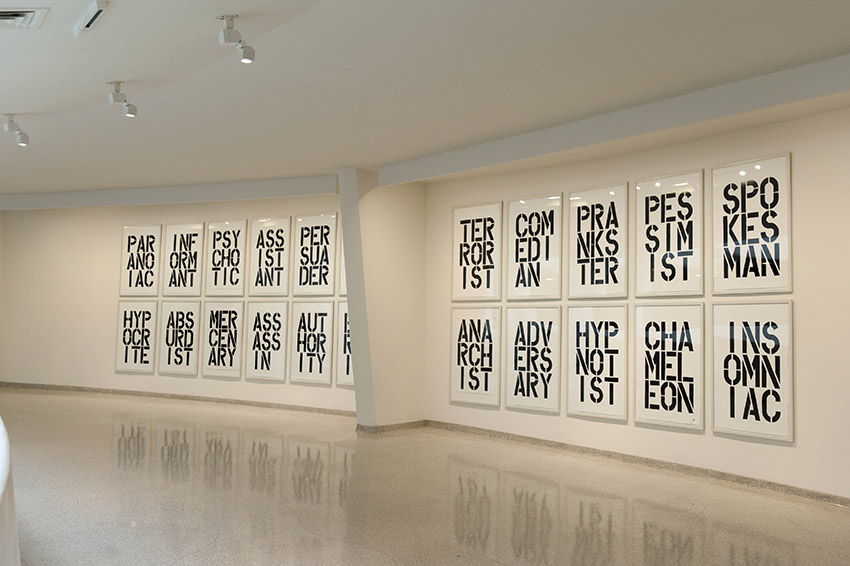 Christopher Wool is on view through January 22, 2014.
The Solomon R. Guggenheim Museum is located at 1071 Fifth Avenue, New York.