Il Était Une Fois L'Orient Express
Sitting on the left bank of Paris, the Institute du Monde Arab dedicated its latest exhibition to the legendary Orient Express.
Marking the beginning of a new era at the end of the 19th century, the train directly connected Paris and Istanbul in only two days and three nights. The Orient Express's origins are deeply entrenched in Arabic culture as the train's path included Baghdad, Tripoli and Cairo. The original train wagons and its interiors have been restored for the exhibition, and placed in front of the museum entrance.
Georges Nagelmackers, creator and forerunning businessman of the Orient Express, first brought the American "Pullman" train wagons to Europe, readapting them into a more cozy yet refined "wheeled hotel." By improving comfort and intimacy, the trains responded to the traveling standards of wealthy madames. With the Orient Express, his aim was to conciliate the western growing taste for Oriental culture with his existing train business. The train's inaugural trip on September 4th, 1883 gathered almost twenty people, among them journalists, writers, and royal personalities—a true debut for the time, which contributed to the growing myth around the train. Its elegant opulence even had an influence on the cities the train passed by, where luxury hotels started blossoming.
In revisiting the finest French art de vivre consecrated by the Orient Express, the Institute du Monde Arab also restored the restaurant wagon, which hosts dinner service for the duration of the show.
The Orient Express redefined the concept of traveling, combining comfort and pomp in a decor still unparalleled today.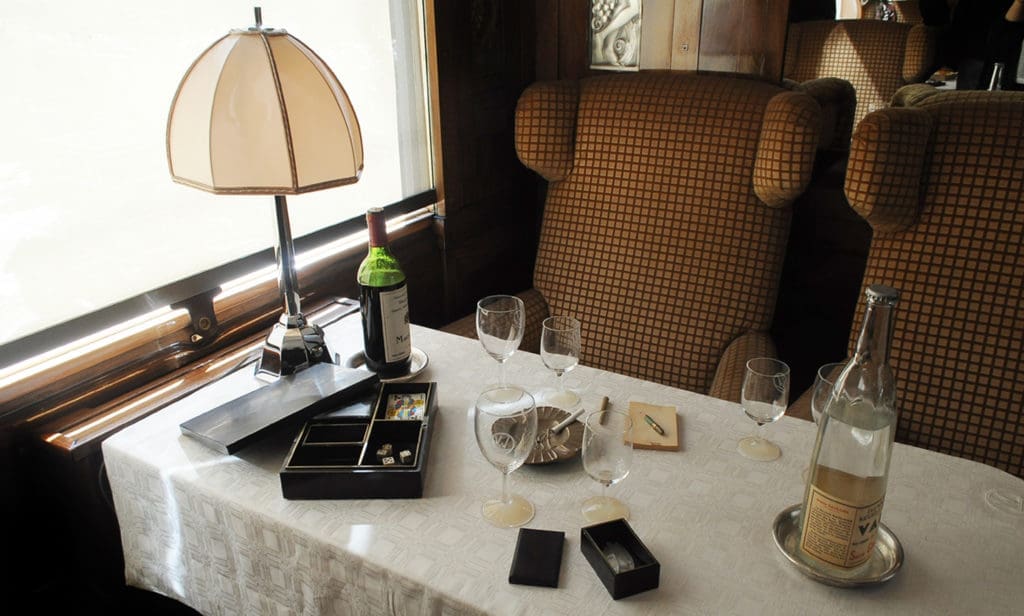 Il était une fois l'Orient Express is on view till the 31 of August.
Institute du Monde Arab is located at 1 rue des Fossés Saint-Bernard Place Mohammed, 75005 Paris.