Dichteralbträume: "Background Music"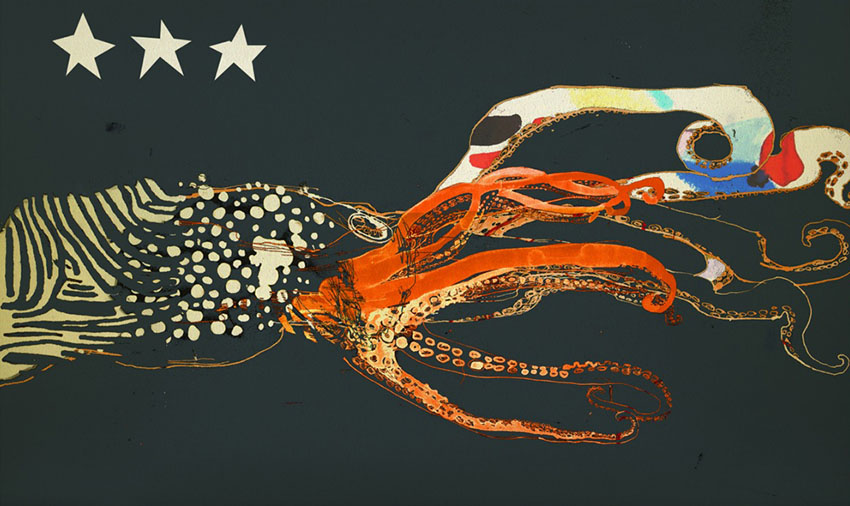 BACKGROUND MUSIC
My reading at a small unfamiliar town near Salzburg was not, as I had assumed, in the evening; it began at 2 PM, which I first learned when I received a brief call shortly after lunch, an agitated female voice asking where I was. Two o'clock on a weekday afternoon was a highly unusual time, ridiculous, it seemed to me. I quickly gathered up my books and manuscripts, left the hotel and made my way to the town hall, where the reading was to be held. In the courtyard I was met by a young woman, waving cheerfully. I greeted her, shook her hand and began to excuse myself for being late but she stopped me short. I was talking to the wrong person she said, as she led me into a small room furnished like a classroom where several guests were already seated, she was not the organizer, she was only responsible for facilitation on the day. Was the arrangement of the tables OK like this, was the light bright enough, did I prefer mineral water or tap water and, oh yes she handed me several forms and a pen—she needed a couple of signatures from me. She was sure the event would be wonderful, she continued, while I signed the forms, she was looking forward to it, and a good number of guests had come (I counted eleven people, including her), would I like to start now. "Sure," I said, "as soon as you've switched the radio off." Pop music, presented by a male speaker and broken up by adverts, was blasting from every speaker in the room. The woman looked astonished and said that was impossible; even if she wanted to, she would not be allowed. The only thing she could do would be to turn it down a little. She went to the mixing desk and did indeed turn it down, but the difference was barely perceptible. The music was still so loud it must have been clear to anyone that even if I had yelled my texts and the audience had listened incredibly hard I would never have been able to make myself understood.
Furious, I packed my books and manuscripts back into my bag and shouted at the woman that there was no way I would read under these conditions, I would not be treated like this, would she please fetch the organizer. A slightly older man in the front row immediately made himself known—were we in a school after all?—and said he didn't understand what my problem was, he had been holding these readings for over ten years now, countless famous Austrian writers had appeared—Gerhard Roth, he shouted, Olga Flor!—and there had never been any complaints. There was nothing he could do about "the radio thing"—this was exactly how he put it, "the radio thing." Obviously the radio had to be on, everyone knew that. His readings were subsidized by the town council and their budget was dependent on developments in the financial markets. The council, or rather the council's money, was directly connected to the markets "via the radio," so of course it could never be switched off. If it was, the connection to the markets would be interrupted, the council's money would no longer be working, losses would be unavoidable, budget cuts would ensue, probably total bankruptcy; the first victim of such a development would in any case be his readings.
HINTERGRUNDMUSIK
Die Lesung in der mir unbekannten Kleinstadt im Salzburgischen begann nicht, wie ich angenommen hatte, am Abend, sondern bereits um vierzehn Uhr, wovon ich allerdings erst durch einen Anruf kurz nach dem Mittagessen – eine Frauenstimme fragte aufgeregt, wo ich denn bliebe – in Kenntnis gesetzt wurde, um vierzehn Uhr an einem Werktag, eine höchst ungewöhnliche, ja, wie mir schien, unzumutbare Beginnzeit. Rasch packte ich Bücher und Manuskripte zusammen, verließ das Hotel und machte mich auf den Weg ins Rathaus, wo die Lesung stattfinden sollte. Im Innenhof erwartete mich, freudig winkend, eine junge Frau. Ich begrüßte sie, reichte ihr die Hand und begann mich zu entschuldigen für meine Verspätung, aber sie wehrte ab. Da sei ich an der Falschen, sagte sie, während sie mich in einen wie eine Schulklasse eingerichteten kleinen Raum führte, in dem schon einige Besucher saßen, sie sei nicht die Veranstalterin, sondern nur für den Ablauf zuständig. Ob die Anordnung der Tische so recht sei, das Licht hell genug, ob ich Mineral- oder Leitungswasser vorzöge, und, ach ja – sie hielt mir mehrere Formulare und einen Stift hin –, einige Unterschriften brauche sie noch. Die Veranstaltung werde sicher großartig werden, fuhr sie fort, während ich unterschrieb, sie freue sich schon sehr darauf, es seien ja auch erfreulich viele Besucher gekommen – ich zählte, sie eingeschlossen, elf Personen –, ob ich jetzt anfangen könne. "Gern", sagte ich, "sobald Sie das Radio abgestellt haben", denn aus allen Lautsprecher tönte, mit beträchtlicher Lautstärke, ein von einer Männerstimme heiter moderiertes und von Werbeeinschaltungen unterbrochenes Unterhaltungsmusikprogramm. Die Frau sah mich verwundert an und sagte, das sei unmöglich, selbst wenn sie es wollte, das dürfe sie nicht, das einzige, was sie tun könne, sei, es ein wenig leiser drehen. Sie ging zur Tonanlage und drehte tatsächlich leiser, allerdings kaum merklich, immer noch war die Musik so laut, dass jedem klar sein musste, dass ich mich, auch wenn ich meine Texte brüllte und die Besucher mit größter Aufmerksamkeit lauschten, unmöglich würde verständlich mache können.
Wütend packte ich Bücher und Manuskripte wieder ein und schrie die Frau an, unter diesen Umständen würde ich keinesfalls auftreten, so ließe ich mit mir nicht umgehen, sie möge den Veranstalter holen. Sofort zeigte ein älterer Herr in der ersten Reihe auf – waren wir tatsächlich in einer Schule? – und sagte, er verstehe nicht, was ich hätte, er veranstalte diese Lesereihe nun schon seit über zehn Jahren, unzählige berühmte österreichische Autoren seien bei ihm zu Gast gewesen – Gerhard Roth, rief er aus, Olga Flor! –, und niemals hätte es Beschwerden gegeben. "Wegen den Radio" – er sagte es genau so, "wegen den Radio" – könne er nichts machen, es sei doch allgemein bekannt, dass "der Radio" immer angestellt sein müsse. Seine Lesereihe werde von der Stadtgemeinde subventioniert, und deren Budget sei abhängig von den Entwicklungen auf dem Finanzmarkt, die Stadtgemeinde oder besser das Geld der Stadtgemeinde sei "über den Radio" direkt mit dem Finanzmarkt verbunden, deswegen dürfe niemals abgeschaltet werden. Schaltete man ab, wäre die Verbindung zu den Märkten unterbrochen, das Geld der Gemeinde würde aufhören zu arbeiten, Verluste wären unvermeidlich, Budgetkürzungen die Folge, womöglich der totale Bankrott, das erste Opfer einer solchen Entwicklung wäre aber jedenfalls seine Lesereihe.
translated from the German by
Steph Morris 
 
Dichteralbträume

—"a poet's nightmare"

—is a cycle of


short stories 

published in GREY IX.