Food: A Convivial Chaos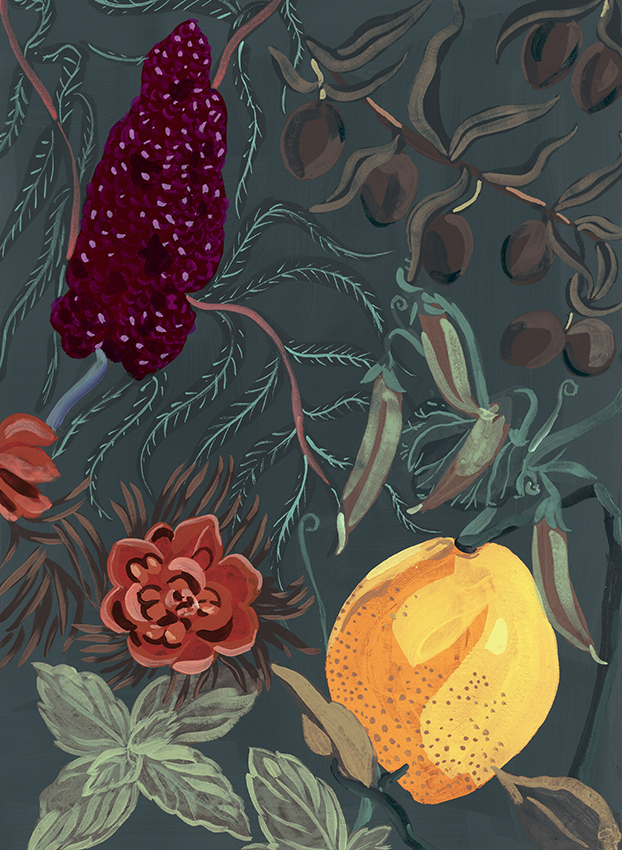 Five years ago, I came across an image of the Beirut Sporting Club in an American magazine. Deep bronze voluptuous bodies slicked with oil beneath citrus-hued umbrellas. Enormous sunglasses and vibrant bikinis. Headscarves, pedicures, and condensation on glasses of cold beer. I could almost hear the gossip between the chaises lounges: Arabic and French flowing like a stream punctuated by the occasional ker-plunk of a sweaty diver rinsing off in the Mediterranean. I could nearly catch the whiff of dangling cigarettes—the smoke vanishing instantly in the sea spray. That one image conveyed a city lost in time: a lingering nostalgia for its heyday in the 1960s when, before a 15-year civil war, it was a permissive playground for Hollywood stars and the international jet set. I vowed to someday go to this seedy, unequivocally chic city beach club . . . in July, I had my excuse.

I flew to Beirut to meet Kamal Mouzawak, the Lebanese chef who founded the country's first farmers' market, Souk el Tayeb, in 2004. From the moment I touched down, I was under the city's spell. The milk chocolate-cheeked customs officer at the airport raised his gaze to meet mine: his eyes were a dark blue, practically violet, and though the hair on his head was black and slick as a comic book hero's, his plentiful moustache was golden. I was bewitched. When I told him I was there to write about the food, he rolled his eyes and stamped my welcome.

I joined my friend, chef Gioconda Scott, and her musician brother, Jackson. Our first stop was Tawlet ("Table" in Arabic), the restaurant in the Mar Mikhaël district that Mouzawak created in 2009. Every day at Tawlet a different non-professional cook takes over the kitchen and cooks in a style expressive of their corner of the country. The scent of spices and fresh herbs revived my senses. Arabic coffee, as intense and brooding as a young Omar Sharif, quickened my pulse, and the prismatic buffet made my mouth water.

Conceptually, it's simple: celebrate the commonality of harnessing the land to grow produce and the joy of congregating around a table. Whether Maronite or Druze, a Palestinian refugee, Sunni or Shiite, from a mountain village or a coastal town . . . the kitchen becomes theirs and the bounty they create overshadows the differences between their backgrounds and those of the patrons. Though what we eat may differ depending on our personal history, our location and the rules of our religion, everyone seems to agree that there is joy in food. Good food makes proud cooks and grateful eaters. This solidarity may be fleeting, but the opportunity for this togetherness keeps coming up—after all, we must eat each and every day. This daily routine contains a subtle but radical implication: peace is possible.

A miraculous and beautiful chaos is manifested each day at Tawlet, when a novel spread of mezze (small plates that together make up a traditional Lebanese meal) is overseen by a "guest chef." Mouzawak explains the kaleidoscopic array in his new book, Lebanese Home Cooking:

It's a sacred procession that starts with tabbouleh and/or fattoush; followed by cold mezze (small dishes, not to say appetizers, as the meal is not built around appetizers and mains, but rather around a succession of different small dishes), such as thyme salad, hummus, moutabal (eggplant dip) and white bean salad; followed by raw meat (filet pieces, kibbeh, or kofte); followed by hot mezze, such as fried potatoes with coriander, fried kibbeh, and pies; and ending with skewers of either barbecued meat, chicken, kofte, and so on, or grilled fish and other seafood.

Desserts await: halva, date cake; pistachio-garnished walnut cake; baklava of paper thin sheets of pastry; cookies with rose-petal jelly; and Turkish Delight, a gift retained from the long Ottoman rule of Lebanon. Rose and orange-blossom waters infuse many of the confections, pomegranate seeds adorn them like crown jewels. Tawlet was my first experience of the strange melting pot of Lebanon into which I had hurled myself, and it was the perfect transition: peaceful and quiet at the late afternoon lull, with the calm energy of satisfied cooks.

"Help yourself to a little, then go back for another round," my friend tells me sotto voce as we walk up to the counter and a woman begins to fill our plates. "Never finish everything on your plate; it's a signal to your host that you're still hungry and that they have not fed you adequately. I gained a stone," she claims, referring to the nine months she lived there cooking with Mouzawak.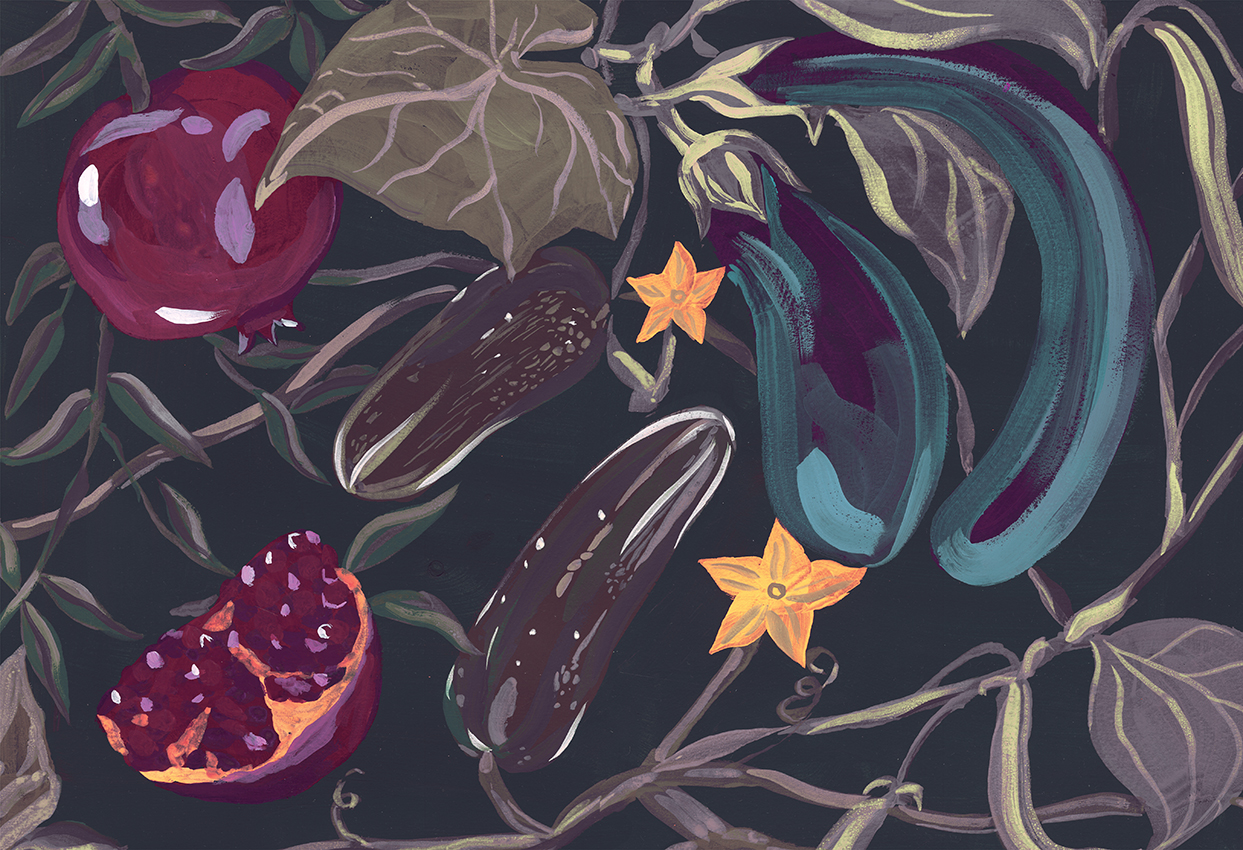 It's the opposite of how we approach eating. We Westerners lean toward enormous portions, are taught to finish everything on our plate, and still wind up wasting much of our surfeit in the process because it isn't a perfect specimen. In Lebanon, pandemonium is a near constant state, yet there's a growing appreciation per capita for sustainable agriculture. Hosts are endlessly generous, whether they can afford to be or not, and you show your appreciation by eating slowly and leaving some behind as a sign that you've been offered more than you can eat. That you are satiated.

One night I join Gioconda, Jackson and Ernesto Chahoud, a central figure in the Beirut music scene, in a small, unassuming restaurant in the Manara district called Abou Hassan. It feels like a rough and tumble tavern, where the regulars all know each other and the staff pause a 20-year-old card game to run a plate from the kitchen. Unforgiving fluorescent lights illuminate the simple room and its timeworn corners, which likely have seen a few fistfights. To a foreigner, the spread of dishes—fried sausages, liver, makloubeh (fried eggplant), raw lamb kibbeh, sheep's brain sautéed with garlic and lemon, amid a half dozen others—seems chaotic. How does one navigate so many options at once and not make oneself ill? The answer, the locals keep reminding me, is to slow down. Drink the Arabic coffee (qahweh arabi) and lots of arak, the Levantine anise liquor mixed with water, throughout the meal. Converse. Argue. Smoke. Nibble. Never pile high and try to "work through the heap." The goal is not to finish but to remain at the table, engaged in the sacred and profane place of togetherness . . . and of squabbles. Use pita as your utensil—or lee'meh (shovel)—and scoop some bright parsley tabbouleh. As Mouzawak admonishes in his book as well as in person: "One never uses his or her own fork, spoon, or fingers to eat from a communal dish!" There's etiquette that might be unrecognizable to a Westerner, but it's no less essential as our mothers' prevalent warning: Don't talk with your mouth full. Take a shovel here of grilled fish and tahini. Have another arak. Argue some more. Laugh. Drink.

How does one make sense of a city of such dissonance? In Beirut, barelegged girls in stilettos carry designer handbags, smoke hookahs and dance in nightclubs. Yet five times a day, the Islamic calls to prayer reverberate through the city like warm summer thunder. It's a city where Hezbollah militants are accepted, and at times appreciated, for their ability to maintain peace more effectively than the government. How does one navigate a place where at dinner on a luxurious veranda in the hills above Batroun, the tinkle of wine glasses and antique silverware on porcelain is interrupted by bombs and gunshots echoing off the rocky landscape?

Bordering countries and the disputes that rumble within them are never that far away in a nation roughly the size of Connecticut—a nation that contains 18 recognized religions. The place itself is a beautiful but cacophonous composition. Trying to make sense of it is like trying to force π into a simple fraction: it never forms a pattern and never ends. Lebanon is irrational, incomprehensible and beguiling.

Lebanon's lush land on the edge of the Mediterranean makes it desirable, and its permissiveness—its ability to embrace so many different heartbeats—makes it attractive to the point of combustion. Imagine if several million people suddenly moved en masse to Connecticut, as is the case with Syrian refugees in Lebanon. How does a tenuous infrastructure that has been the backdrop for so much political and religious mayhem absorb that many more hungry mouths? It defies logic, and perhaps because of this ability to stretch and embrace, it is mesmerizing.

In the morning the edible procession begins anew. On a trip to see some of the city's hidden treasures—a graveyard of abandoned antique chairs, a man who specializes in making feather dusters, a fishmonger whose storefront beckons like Arabic Pop Art, a hundred-year-old bakery with shelves and shelves of kaak—we stop at Al Soussi, a hole in the wall off an alley in the Mar Elias neighborhood. There, seventy-something Soussi himself whips up foul, the rich fava bean stew that fills a Lebanese belly for a long day's work. Fatteh, a blend of cold laban yogurt and cooked chickpeas with pine nuts; sautéed chicken livers with pomegranate seeds; a loose omelet with cubes of mysterious meat; along with bright pink pickled turnips and a salad of fresh greens are spread over our table like a quilt. It costs about $19 total for all five of us.

Lastly, there's the celebratory home meal, a private parade performed for loved ones. Mouzawak and his partner, the women's fashion designer, Rabih Kayrouz, christened their new home in Douma, north of Beirut, and invited 200 guests to join them. As the partygoers arrive, they begin to pick from amuse-bouches: nuts and crudités. Mona El Dorr, a baker who has worked at Tawlet and Souk el Tayeb for over a decade, serves mini man'ousheh—the Levantine baked dough with herbs, cheese or ground meat—directly from a domed mud oven that she built that day on the terrace. Suzanne Douaihy sits on an ancient stone step in the garden with an enormous mortar and pestle between her knees, making kibbeh nayyeh, a classic dish of raw lamb, onion, herbs and bulgur wheat. She forms the tartare into torpedo-shaped crescents and, with a wide smile, hands them to eager guests.

Dinner is a buffet of traditional dishes and those made by some of Mouzawak's chef friends. French country pâté. Gaucho-Style roasted chicken, hanging long and slow over a row of flames. Curry and rice from local restaurateur Wael Lazkani of Jaï sends Far East spice scents wafting down the hillside. As its captain, Mouzawak steers the meal the same way he does everything: embracing differences in cuisine and practice, placing these incongruous elements together to make an unexpected symphony, just as he does with the varied chefs who cook at Tawlet. It's a thriving, fragrant hodgepodge of dishes that the guests swarm like incensed wasps, tempted by the scents, the promise of dancing and the hunger of the new night. It's a meal as diverse, surprising and enticing as Lebanon itself, reinforcing that primal fact: for all the hedonism and convivial celebration that may occur at it, the ritual performed at the table remains a sacred one.