Gender Studies
1 June 2015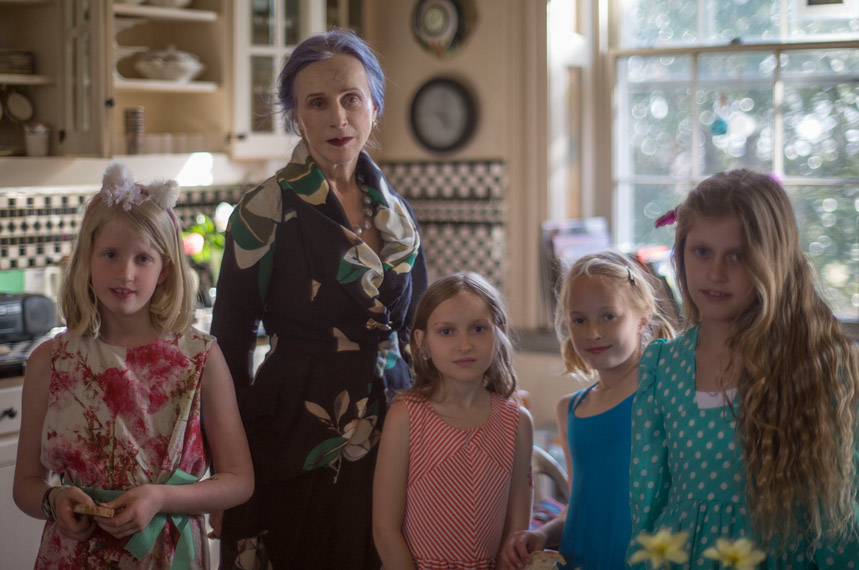 The woman who pretended to be who she was
They sit together like mermaids, legs crossed. They are modeling themselves just for the evening. They are not on a date, not listening to a lecture. They look at each other as if into a mirror. They play with their identities.
Each one arrives to the applause accorded rarity. The air is filled with unusual excellence. There is a lightness of being among the assembled, almost a skillful gift-giving.
The table fills up. If someone excuses herself, it is greeted with transcendent unity. All understand.
She just texted: Oh, my daughter has fever.
We just had it too, really high. Peter had to miss school.
It is the women's night out. It did not exist. Or did it always? Was it gone for a long time? Now it is back.
Restaurant tables under the sky, lit with candles. Populated by women only. Or by men only. It is a signal of complete independence. They tribe together, like lionesses. You could ask them anything. They plot.
Some cannot keep their secrets. Their codes of allegiance are tossed aside. They divulge the notes.
Don't tell anyone, but ...
All worthy of concealment, but only for so long. The sisterhood is strong, like an alliance of players. The horse whisperers. Secrets. Not a single word is misplaced, every detail taken into account. It can be delivered in slow motion, or spit out like vomit.
They can run a firm, a farm, a whole empire. They unmask every secret, even the most carefully forgotten detail.
They are generous with laughter. It breaks like ice, into pure silence. They unburden themselves. Even if only for those completely independent hours, those moments of illusion are true, like the professional confidentiality oaths of psychiatrists and assassins.
There is a behind-the-scenes obsession, a starfuck with each other. They are the detectives and the plotters, at work simultaneously. Their every mimicry is an act of art.
There are things exalted into something more worthy. Others reveal the existence of obsessions.
There are also tables with men only. What do they talk about, besides what they talk about? Do they reveal secrets they ought to keep for themselves? Divulge recipes for love? For sex? Other than that, what makes them tick?
Men are easy to decipher; women are more opaque to the opposite sex. Once I was sitting with friends in a place downtown I had never been to.
We could not really speak, it was too loud, but pleasant all the same.
I take my powder and lipstick out of the purse. When I am done, I look around.
A young man smiles. A broad, frank mouth. I turn away, and back. He still looks on with joyful recognition.
On our way out, he jumps from his seat, holds me by both shoulders: You have no idea what just happened.
No, I laugh.
Outside, the light has faded. The sky is neon. Valentina says: Give him your card.
Lukas reaches for a cigarette, I'm going inside. Take a picture, the man waves to his companions. A scene within scenes. It's only us.
I could be your mother.
I do not care.
Instagram caption: You have no idea how amazing it is to live in the 5th dimension! I fell in love with this woman from a photo I saw a few years ago. She is the essence of everything beautiful. Tonight the universe brought us together in the most magical way! Thank you, UNIVERSE!!
I laugh, speechless. I look up Fifth Dimension. I am delighted, yet uneasy, not sure what to think.
Then an email arrives: I don't get excited by many women, but you are rare and unique, the essence of everything beautiful. You have an incredible presence. I'm sorry, I couldn't really take my eyes off you the other night ...
It was sheer bliss being with this man. I called him Zabardast. It means Exalted Joy. It was beyond all promises. No code to decipher. We were centuries apart, and so very close, like stars colliding.
I see him stroll off, a matador, very elegant, very slim, so tender, a man of gold.
Lover. Friend. Son. Demigod.
What happened at the men-only table? What were they talking about? Music? About forgetting allegiances, the mutilations of love? Not sports, I suspect.