Grey Flannel: Seclusion, in a Bottle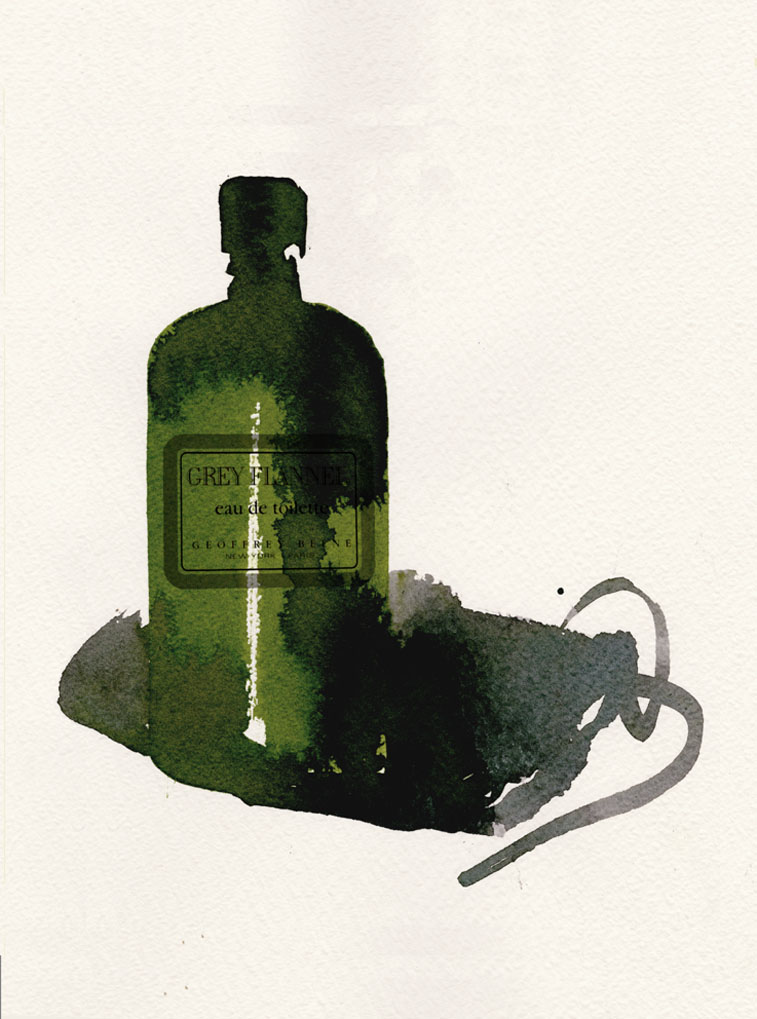 Does splendid isolation have a smell? I bet it does. It has many, I can tell you, depending on personal views of both solitude and splendor. 
       Me, I dream of shutting myself away from reality. I dream it all the time, hunted by monastic ghosts, overpowered by my bearish nature. I want to be alone, but I want a five-star-L tag attached to my solitude; a certain grandness, so to speak. Does it make sense? It does. To me, at least. 
       I want to be a monk, trapped in a cellar lavishly upholstered in jacquard silk, paisley cashmere shawls thrown over brocade sofas, passementerie and tassels everywhere, decaying flowers in crystal vases, fragrant wood filling the air. I'd inhabit my tiny hole far from the maddening crowd wrapped in layers and layers of vicuña, velvet, cashmere, flannel and silk tied with velvet ropes. A maharaja, a caveman, a hermit? Perhaps all of the above. An ascetic of the rococo school of thinking, I fantasize changing robes as the mood swings, avoiding not only contact with other humans, but also underwear, fussy clothing and all things unnecessary. I'm longing for opulent severity; for days spent thinking and dreaming, surrounded by the serendipitous grace of glistening luxe. 
       Sound slightly familiar? Des Esseintes, oh yeah!
       Of late, the fantasy has turned into an addiction. I escape into it as soon and as often as I can, searching relief from a dreary working routine. I don't need to pop a pill to enjoy the trip, though, and not even to lick a stamp or the proverbial frog. I need perfume. I need one perfume. An olfactory experience was my door to a parallel dimension of utterly elegant solitude, and now I am not able to come back. Funnily enough, the trip comes reasonably priced: 68 euros for 120 milliliters of olive green liquid poured into 127 millimeters of malachite grey glass wrapped in a grey flannel satchel. That's it. I am in love with Grey Flannel, the eternally non-hip fragrance conceived by the visionary Geoffrey Beene back in 1976, when men were still men and not prissy metrosexuals. This old-fashioned yet unpredictable eau de toilette caught my nose and my heart at the peak of a rather solitary winter, and now I am trapped. Persistent without being overbearing, subtle without being silent, masculine without a hint of macho, Grey Flannel made a junkie out of me. I love everything about it: the stark and severe bottle with the silver-lined white label on the front, reminiscent of those potions seen in medical cabinets; the imposing and unforgiving name. Grey flannel, apparently, was Mr. Beene's favorite fabric, but using it as a name for a perfume creates an almost psychedelic convergence. Does a color have a smell? Does a fabric have an odor? Is grey flannel something that you can spray on your body? Grey Flannel promises all of the above, and I love it.  
       Cheap semiology apart, Grey Flannel is essentially a splendid vector for lonesome thoughts. It makes me think of hours spent writing notes with a fountain pen at a tiny desk; of a quiet trip to the tailor to select fabrics for a new bespoke suit. This is how decadence and dignity, how silence and grace must smell, I guess. Maybe it is the musky, cozy bottom notes coming after the raucous, citrusy opening. Maybe it is the flowery, embracing heart. Who knows. I am not well-versed in the language of olfactory pyramids, nor want to be. Grey Flannel belongs to another era, when manners had a meaning, and appearance and substance matched. Everything about it speaks of good times gone, of nostalgia and melancholy. There is no such other perfume that makes me want to be on my own, so elegantly. The more I use it, the less I go out. The more I use it, the stricter my dress code gets. Sometimes, the urgency to obey becomes unbearable. This is the magic of olfactory trips, after all: they take you in the most absurd directions, disclosing truth and unexpected meaning along the way.
        After months and months of using it, I now feel like I am in danger of vanishing for good into a fragrant whiff of bergamot, violet and tonka beans. I feel like a traveler on a sea of fog, ready for a quantum leap into the most stylish of voids. 
       Not a good feeling, all considering. Maybe I need to detox, and adopt a modicum of parsimony. Maybe I just need to stop using Grey Flannel once and for good. 
       I love isolation, in fact, just as much as I hate it. It's a constant tension. 
       But hey, I just can't get enough of the way it smells.