In conversation with Andrea Dezsö
1 November 2013
The following conversation with visual artist and illustrator Andrea Deszö took place via email, following her solo exhibition, Without Myself, at Nancy Margolis Gallery in New York.
Scale: how does your approach differ from your larger pieces to, say, an illustration meant for a magazine? Does either allow for less precision?
I work in a range of scales. Sometimes small work turns into large scale work. My small cut paper tunnel books were precursors to my large, multi-layered installations. The originals for my permanent public art are small drawings. 
In smaller works visual elements are close in scale to each other. For example in an 8 x 10 " piece of work every visual element is between 0.5 and 10 inches, a small difference in sizes compared to a 40 x 25 x 20' installation where visual components range from tiny, quarter inch elements through half-foot size components to full architectural scale. Visual richness, which is very important to me, is achieved in different ways at these different scales. I can't just scale up a small piece and create a large piece from it without considering how to translate the richness found in the small piece into the large one. Merely scaling up most often doesn't translate but more elements have to be added to stretch the range of sizes from miniature to monumental. 
In the case of my large public art mosaics I have been using color pencils to draw the originals at a half inch to a foot scale. Whatever is a half inch size on the paper will become 12 inches on the wall. The pencil marks are scaled up, then translated into individual mosaic tiles which will be viewed on a large wall. When the viewer looks at the wall up close they see the individual richness and beauty of the mosaic tiles, the monumental size image breaks up into fields of color, shape and texture. When viewed from afar the many small tiles resolve into a cohesive image, they blend, creating shapes and transitions, recognizable figures. If there is a mistake in the small drawing that mistake will be amplified on the large wall.
The approach to precision depends on what I envision as the final visual experience of the work and so far I have been working equally precisely indifferent of the scale.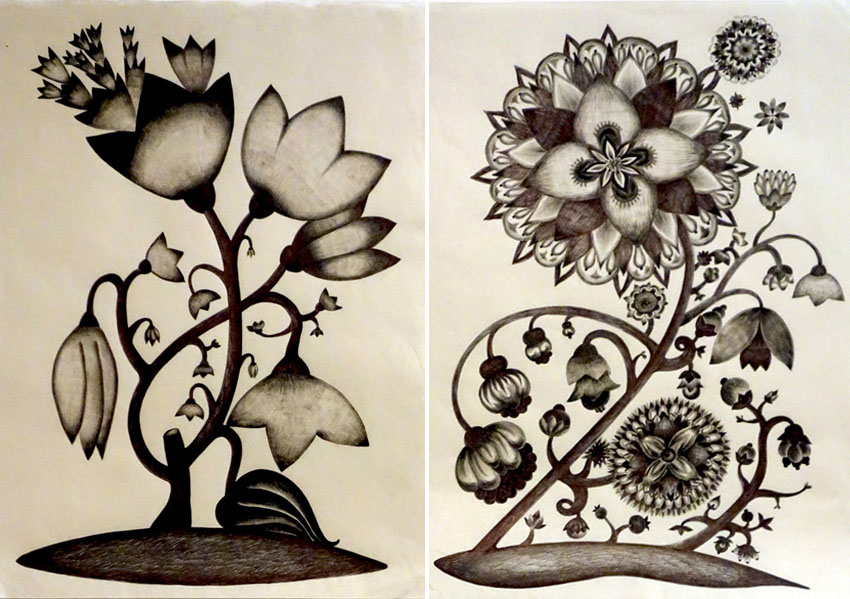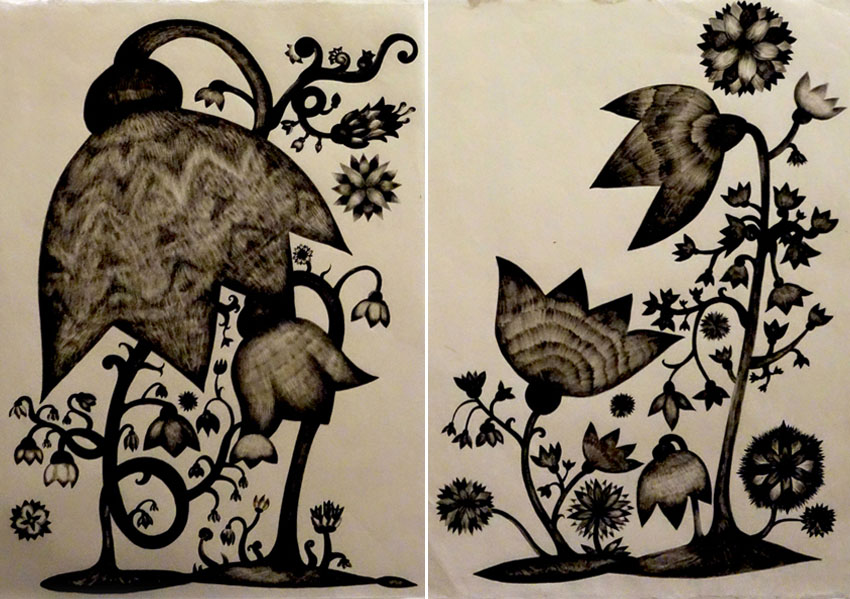 Above: Winter, Summer, Autumn, Spring, brush marker drawing on Japanese gampi paper, 2013.
How does the reaction to your work differ geographically within the United States? Let's think specifically of an exhibition in a Chelsea gallery compared to your installation at Rice University in Houston.
Reactions to my work may differ geographically and not only within the US but through the world, however I can only really gauge true differences if I consider the reception of the same body of work shown in different places. The work I have shown at Rice Gallery was a large scale site-specific installation while the work I have recently shown in Chelsea was small and medium scale drawings, paintings and tunnel books. 
However, my embroidery series Lessons From My Mother, that deals with superstitions and false beliefs about health, family and gender roles from my native Transylvania, has shown in many different places and got their fair share of publicity in the media and on the internet. I was delighted to see the many different kinds of reactions it got in different regions of the world. Most Americans thought these were outlandish and often very funny beliefs. Many told me they remembered their grandparents who emigrated to the US from the "Old Country" also held on to some strange superstitions. Eastern Europeans did not think these were superstitions at all. Many in fact did not know that folks in other countries don't know that if a woman sits down on a cold surface she will get the dreaded "Female Cold." In Korea viewers were very respectful.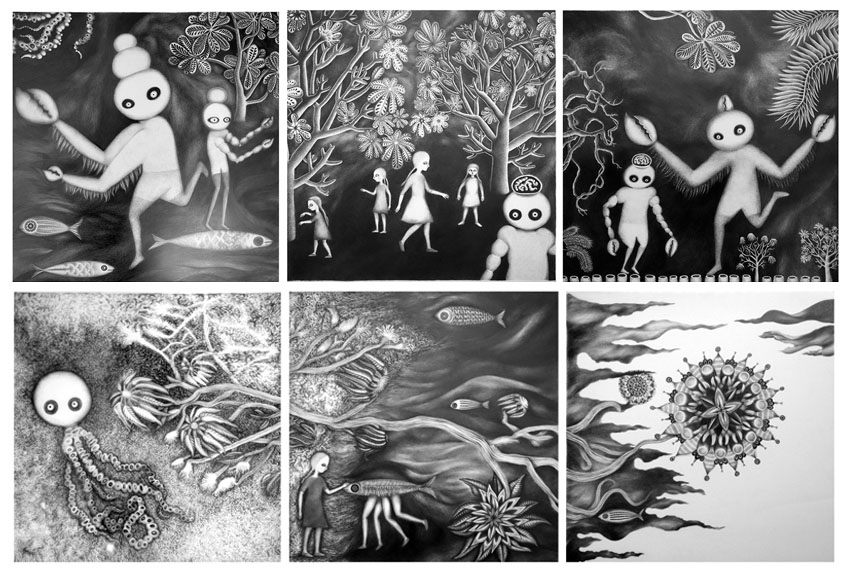 Above: At Night, graphite on mylar, 2013.
You mention space travel as an inspiration. Is this something that manifested itself solely as a child's mental escape from an insulated and communist Romania? Or was your imagination aided by Science Fiction books or films?
Yes, it was mostly a mental escape, fueled by seventies space race imagery found on stamps, propaganda illustrations and postcards. I didn't have access to science fiction films and literature, many of which were considered veiled critiques of authoritarian regimes and banned in Romania.
The piece you contributed to GREY, Mexico Sketchbook, is somewhat specific and grounded. When you travel are your inspirations more rooted in the immediate?
When I travel I like to go to remote places where I can disconnect from the demands of daily life at home and have more time, more space, a slower pace. In this slowed-down way of living I can pay closer attention to my immediate experience and the rich details of the world around me. I can spend an afternoon drawing a desiccated leaf; I can spend hours sitting at a table in a cafe on a square just looking, with no agenda at all, observing what is going on all around. It inspires me and fuels my imagination. Many works I have created in my studio have started during my travels.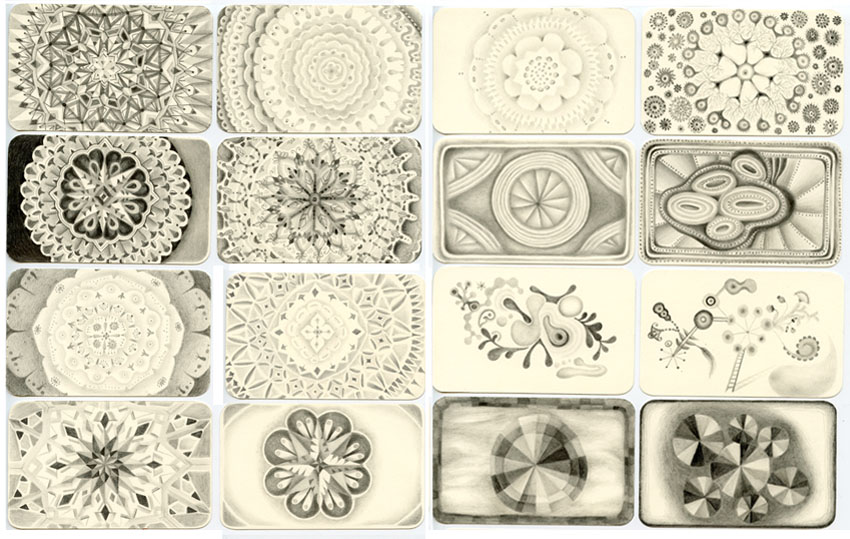 Above: a selection from the Meeting & Waiting drawings, graphite on paper, 2013. 
What's next?
I am looking forward to my first Sabbatical starting in December 2013. I hope to travel, explore, read, look and create some new work along the way. I did not plan a lot of activities for the upcoming months so that I have lots of space for unstructured contemplation and a slowed down way of being and making. The idea of slowness is very appealing to me these days. Also the idea of living disconnected from the internet and social media. 
My newest and so far largest piece of permanent public art comprised of 6 mosaics, the largest of which will be over 78 feet tall, are scheduled to be installed in the North and South Atriums of the City University of New York, Borough of Manhattan Community College's beautifully re-built Fiterman Hall in January 2014. This building was a 9/11 casualty and as a New Yorker who was around during that difficult time I cherish the opportunity to inspire and uplift the spirits of the people who pass through the area.