by RICKY LEE
photography PEPPE TORTORA
ISSUE X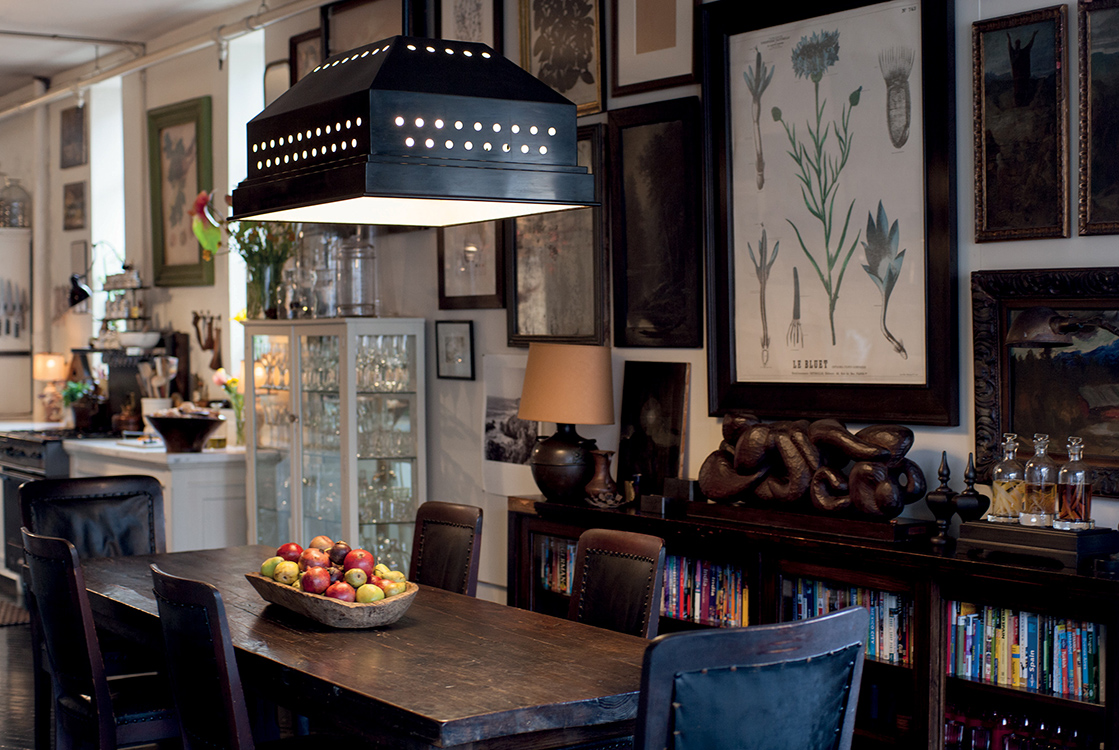 There is an East Coast meets West Coast vibe to what we do," says Steven Alesch, a Wisconsin-born, L.A.-trained, surf-loving architect who—along with his wife, Robin Standefer, a former Hollywood production designer raised in New York—makes up one half of the in demand and critically acclaimed design duo Roman and Williams.
The couple, on this rainy winter day sitting in their sprawling loft, located in Manhattan's NoHo district, reminiscing about things past, met in 1993 when Standefer was an hour late for a meeting with Alesch. While waiting he fell in love with the natural beauty of her office. When she finally walked in, he fell in love with her as well.
"We were working on a film called The New Age," says Alesch. "Michael Tolkien directed it. It was kind of a small film. She was in from New York. I lived in L.A. at the time. A mutual friend in the industry introduced us, for me to help Robin with some sketches on the film. She was production designing and I popped in the office to sketch and we hit it off, one thing led to another … to today."
Standefer, who had previously done production design for Martin Scorsese's Age of Innocence and Goodfellas, continues her partner's thought. "Here we are," she says, smiling. "Steven did these incredible drawings. We were both working in design and film. I came from a background that was primarily fine art and curation of objects and Steven had a background in architecture, so we were starting to work as production designers, these kind of big sets, and I needed some muscle and someone who understood how things really went together, and also could communicate by hand, because I communicated with color and objects and at that moment, and still in design and film, people really want to see into the soul of an idea. Steven has an incredible ability of drawing with his hand to express an idea, so together we had such a kind of creative camaraderie about ideas. He would draw and he actually had another job at the time, so he would come at night, so it was good start to a romance. I would stay late and we would just work on drawings and work on designs." She glances at her husband. "You should tell the story about loving my office. It's so sweet."
"Oh, yeah," Alesch remembers. "Well, I didn't meet Robin first, I met her office first. I just walked into this office that was decorated so beautifully: lamps, books, objects everywhere. This is beautiful, I thought, and I just sat there for an hour flicking through these magazines, World of Interiors, which is a magazine that we both still love. It was the first time I had ever seen it, so I kind of fell in love with the magazine during that one hour. Then she walks in, so cute, and that's sort of just the spark, you know?"
That instant attraction lead to, if not instant, then consistent success, working together on such films as Addicted to Love, The Pallbearers, and Zoolander.  The couple founded Roman and Williams, named after their grandfathers, in 2002. How does their work in film differ from their design? Standefer explains: "In film you make it and break it down, make it and break it down, and that's incredible but you want to see something really age." Furthermore, the nature of set design, a process whereby one invests so much in creating something only to destroy it, urged the duo to create something more permanent such as buildings and structures that could stand the test of time.
The couple's awe-inspiring re-creation of a Brooklyn brownstone for the set of the 2003 film Duplex prompted the film's star Ben Stiller to remark that the construction looked more beautiful than his own home. Stiller was so inspired that he hired them to design and build his new L.A. home, which has led to commissions from A-list clients.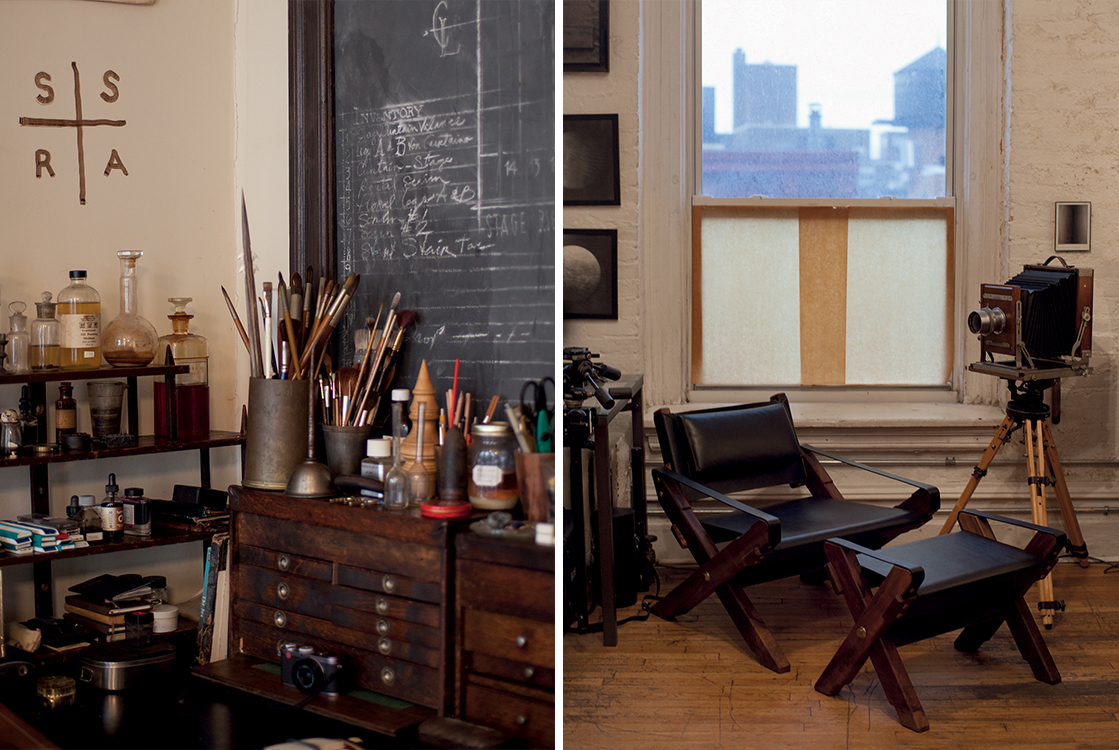 From the beginning, Roman and Williams has held a somewhat spiritual philosophy and placed a huge focus on artistic authenticity, which challenges the standard design paradigm. Standefer attributed their background in the film industry, citing their rejection of traditional design techniques, which they consider contrived and outdated. Instead, they implement a unique approach, which involves a particularly eclectic ordering of several aesthetics in a novel way. The firm strives to create a feeling or sense of "is-ness" in its work, says Alesch. But what exactly is is-ness?
"Nothing, for us, destroys a sense of is-ness more than design," explains Alesch. "Design just sort of shatters it and it's so much about ego and this creative genius and is-ness comes from just things that fell out of the sky, that's what we love you know…"
Perhaps …
Standefer explains: "Is-ness is something that has no creativity, has no ego. It's a mountain, a tree … a pile of dog shit on the street, an old table, just the trials of life that sort of collects around a person naturally, from things they love to things they've stolen, found. This is is-ness. Design is the most contrived, artificial kind of thing that happens to someone and is-ness comes from someone you know, comes from us."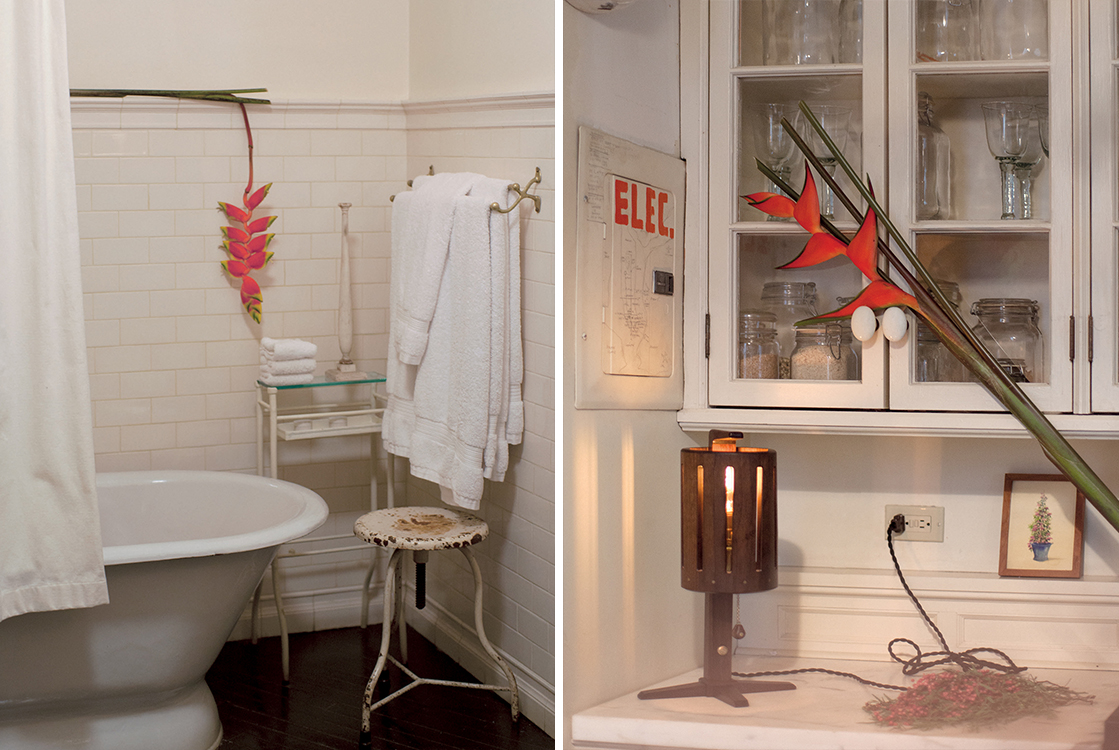 Roman and Williams have always implemented their signature style and business sense in the work they produce together. Their creative work is typically done at night, which Alesch calls the "psychic quietest" time of the day. Working from their residences in Manhattan and Montauk, respectively, they consider their creative marriage a very critical aspect of their success.
Standefer remarks: "In our relationship and us working together, we sometimes contradict each other and contrast and there's voltage between us and it creates sometimes a sense of authenticity because it's not just about branding or marketing. It's just about a sense of truth and what you love." She went on to say, "I see other couples and I think, okay, what do they talk about, because we're always talking about that third thing, which is that thing we're making in Roman and Williams … life and art for us are one kind of cycle together."
The name Roman and Williams comes from Alesch and Standefer's grandparents and is nostalgic of the calmer perspective that generation had. They deliberately shied away from naming the firm after themselves, considering it too pretentious and self-inflated, attributes they resolved to reject as much as possible. The appreciation for things that have aged and stood the test of time is something Roman and Williams strive to demonstrate in their work, avoiding the pitfalls of fads and trends that tend to be fleeting, preferring a classic and timeless aesthetic instead.
In addition to the work that they have produced for Hollywood clients, Standefer and Alesch have also created a number of well known commercial projects, including the renowned Ace Hotel, which features two successful restaurants, as well as Stumptown Coffee, the Royalton Hotel, and the Standard Hotel.
Other projects include restaurants—The Dutch, located in SoHo, and The Lafayette in NoHo, both of which opened in 2013—the Facebook Campus Design in Palo Alto, and The Huffington Post Live studio set and offices in New York City. The award-winning residential building at 211 Elizabeth Street has been widely lauded and is, according to Standefer, one of their favorite projects. They have also begun a product design division that is still in development, and intends to focus on their most renowned design products and furniture that echo the mentality of their firm. Current projects will see works completed in San Antonio, Miami and Chicago, with plans to expand internationally.
Alesch and Standefer continue to stay true to their principals and can be skeptical of corporate clients who do not immediately respect their vision. They are very selective of who they choose to work with; the key being their joint vision of wanting to create something great and original. In honor of their 10th anniversary, Roman and Williams have released a book chronicling a decade's worth of work and achievements. The book, published by Rizzoli, is entitled Things We Love, a mantra often used by the pair, showing just how important their personal touch is in all of the work they produce.
What's their working process and where do they find the exquisite materials? "We create a background of architecture and careful fundamentals of structure, then we work against it with invasions and disruptions," says Alesch. "We design most of it, shop for vintage for the balance and purchase little to nothing new. We do not trust any object that is less than forty years old other than phones, planes and cars," he says. "Our sources are secrets." Standefer: "Everyone races to chase the hottest, trendiest vintage. We simply look for what is missed and overlooked. We do not want what others want. The way we keep moving and changing is simply to follow that rule, we learn to find what others are not interested in, to insure we can have things we love that are not hogged by the greedy. 'Grow where others cannot' is our favorite saying. Learn to grow in places where others cannot reach you. This is the mission of vigilant plants and it's our biological compass also. We simply follow it to where it takes us."