Jason Rhoades, Four Roads
14 November 2013
The Institute of Contemporary Art in Philadelphia presents the first major US exhibition of deceased Californian artist Jason Rhoades. The artist left behind a large body of work, most of which are large scale installations. 
The show, Jason Rhoades, Four Roads, is curated by ICA's chief curator Ingrid Schaffner and features four large installations. We spoke with Schaffner and Amy Sadao, director of the institution, on the curatorial process for the show and the challenges of installing and preserving the complex installations featured.
During the press conference you mentioned the museum's aim to present artists that have been overlooked. Can you elaborate on that, specifically in the case of Jason Rhoades?

Sadao: That's always been the decision. Since early on in the founding of ICA in 1963, it was decided that the institution would not collect, so we are not technically a museum—we don't have a collection and we've maintained that. I think we were one of the earlier American institutions to take up this position. In that, we are relieving ourselves of creating a history and creating a collection, and also relieving ourselves of the resources necessary to research and maintain a collection. We've always worked in the contemporary and I think the unusual structure of this institution has been connected to—but not in any way beholden to—the needs of the Iy League institutions that we are part of. And our proximity to New York, but not being in New York—we don't have to do the shows that everyone else is doing. It also has a lot to do with the leadership of who Ingrid Schaffner is. As the chief curator who's been here for 12 years, she's really probing and has built a curatorial department where we have the priviledge of deep reaserch while giving the curators time to do that, to really seek out something that we feel is urgent but that hasn't really been taken up enough, presenting it to create more critical responses to it. Artists know Jason Rhoades, we all know his name, but we haven't seen the work and I definitely think that there's not enough critical writing around it either. That's always in our curatorial process, those are the kind of question—is this urgent? has this been done?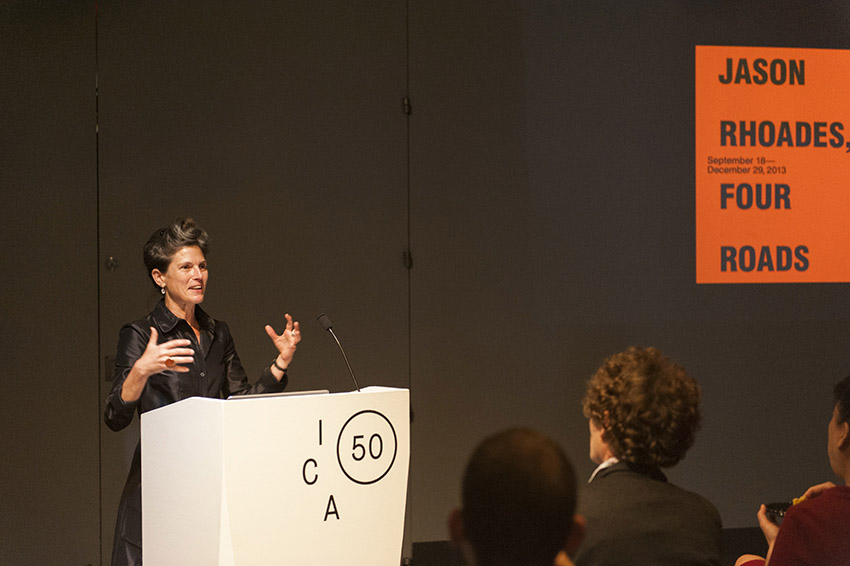 Above: chief curator Ingrid Schaffner at the show's press conference.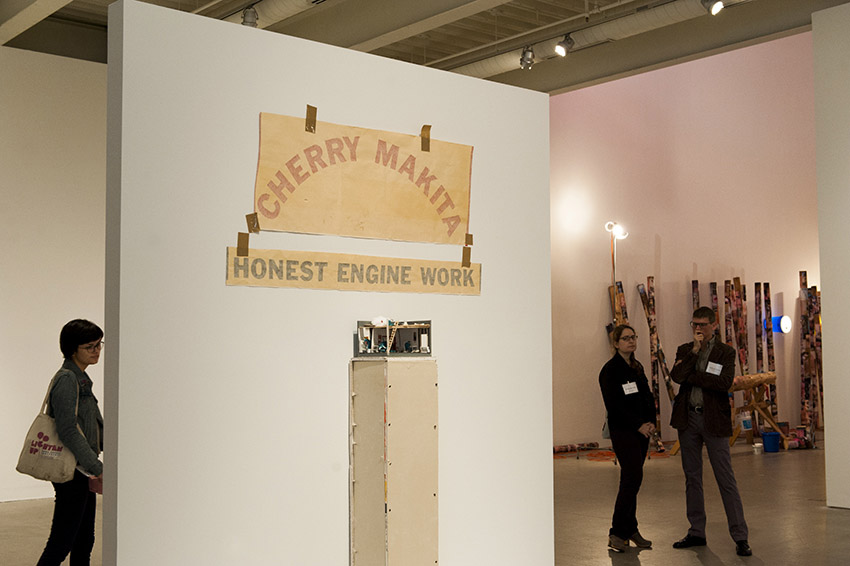 Every installation in the show is extremely complicated, and includes a myriad of objects, scraps, tools, photographs… stuff. How are artworks like this stored, preserved and then installed for a show?

Sadao: Some of them are better stored, it depends on whose care they were and what the provenance of the work is. I think the original owner of CHERRY Makita stored it in a barn at first, and that's how you can see there's water marks on the plaster boards on the side of the garage. The estate really felt like it was fine, and we didn't need to replace the plaster boards. On the other hand, with The Creation Myth, the registrars were having an existential crisis. They're unpacking balls of bubblewrap that say 'This is not art,' and inside the ball of bubblewrap there's a ball of bubblewrap that is the art. 
Does every component of the work require specific storage? 

Sadao: Yes. Because of our space, The Creation Myth was installed first largely because the largest part of this installation was simply unpacking. CHERRY Makita was the last one to be installed, so we could use that entire ground space to unpack and make an inventory of everything.
Rhoades did leave instructions for the installation of his work, though.

Sadao: Exactly, in the Zurich installation of The Creation Myth they started to document the process. A book documenting the installation process now lives with the piece.
The idea is to leave not only a trace of the installation process, but making a taxidermy of the work, including parts of old installations as well.

Sadao: And including the studio in the space, including the studio and the process in the work.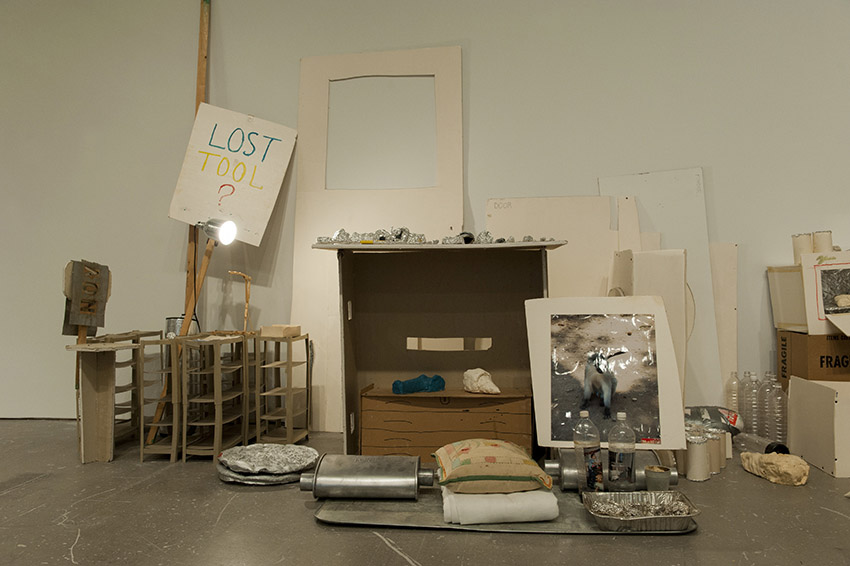 Above: a view of Garage Renovation New York (CHERRY Makita), 1993.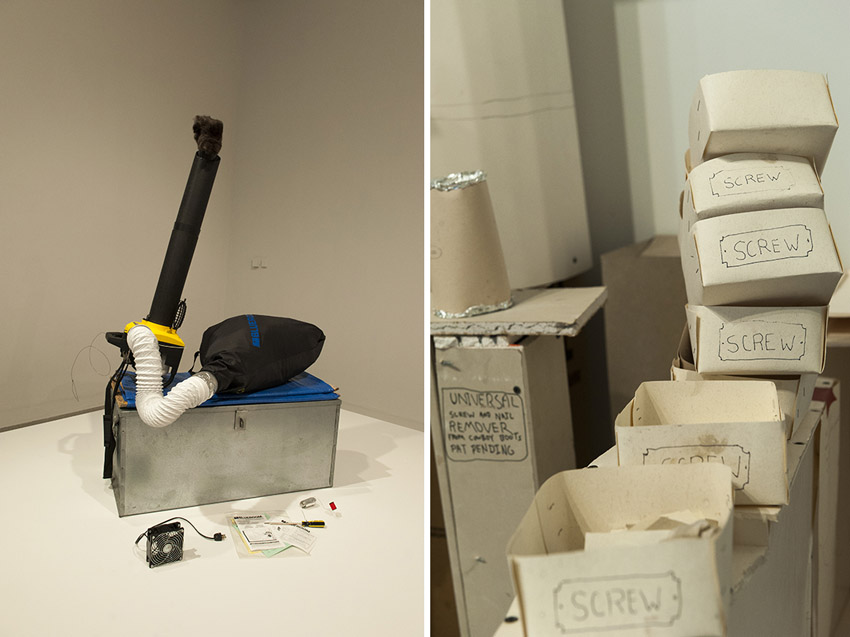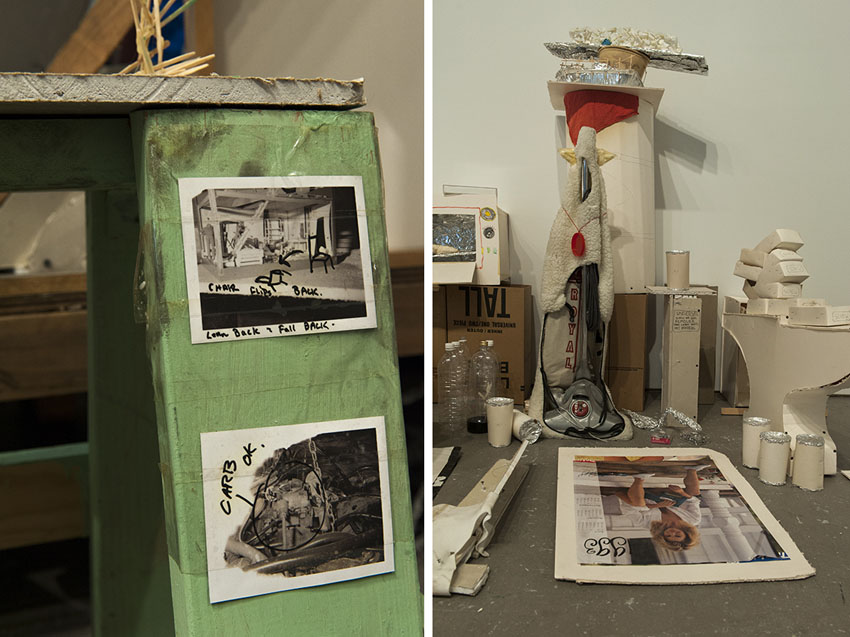 How long did it take to put the show together, including the time devoted to research?

Sadao: Ingrid was working on the show maybe four years ago, since 2009. In that time she also curated additional shows. The installation process itself was about 5 weeks.
Was the architecture of the space adjusted to fit this show? 

Sadao: Yes, and that is something else we really try to commit to. Since there's no permanent collection we really try and recreate the space as much as possible. In this case, we opened up the terrace so you can see the top of this installation, The Creation Myth, as well as see parts of the Untitled (from My Madinah: In pursuit of my ermitage…) up there. We have an extremely resourceful and talented installation team. The chief preparator is an artist, our director of curatorial affairs is an artist, and we are trying to make the artists who come here happy. In the case of an estate, it's about just having the integrity of the works and giving them the placement that the curator has a vision for—so we arrange the entire museum.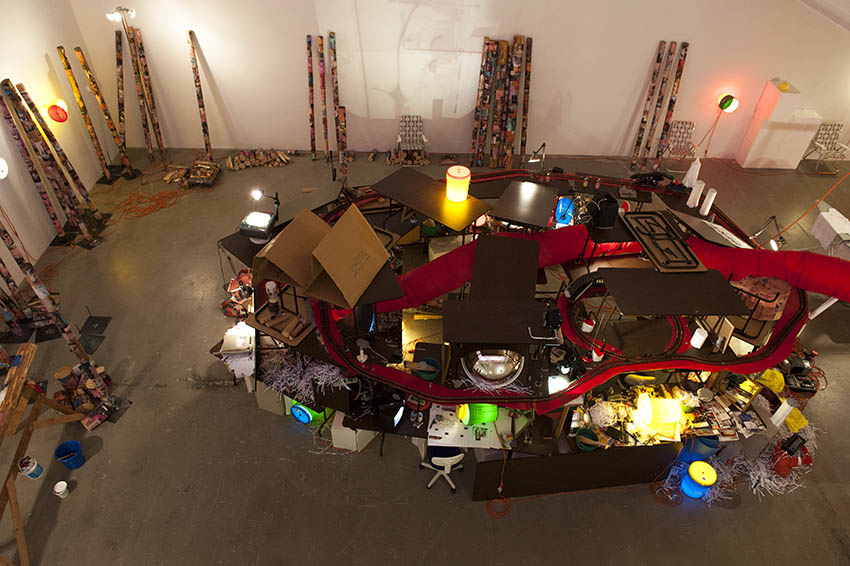 Above: a view of The Creation Myth, 1998.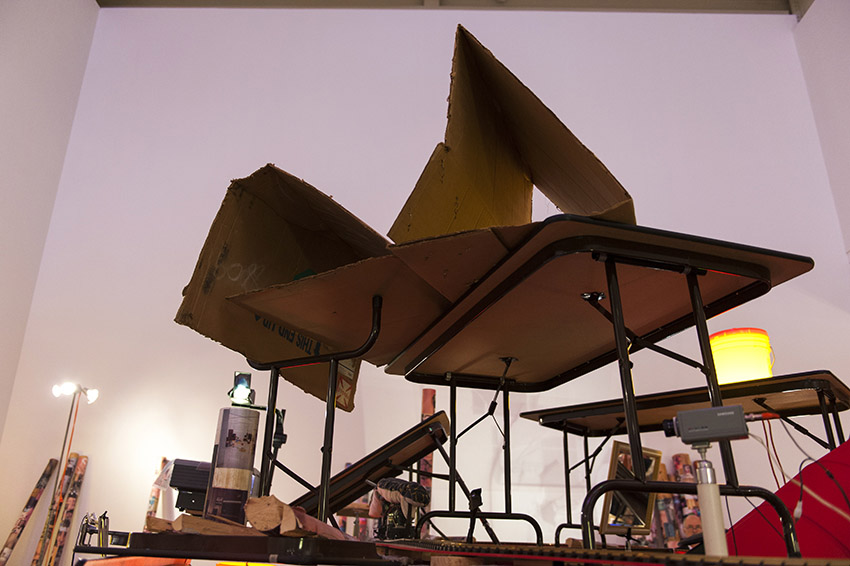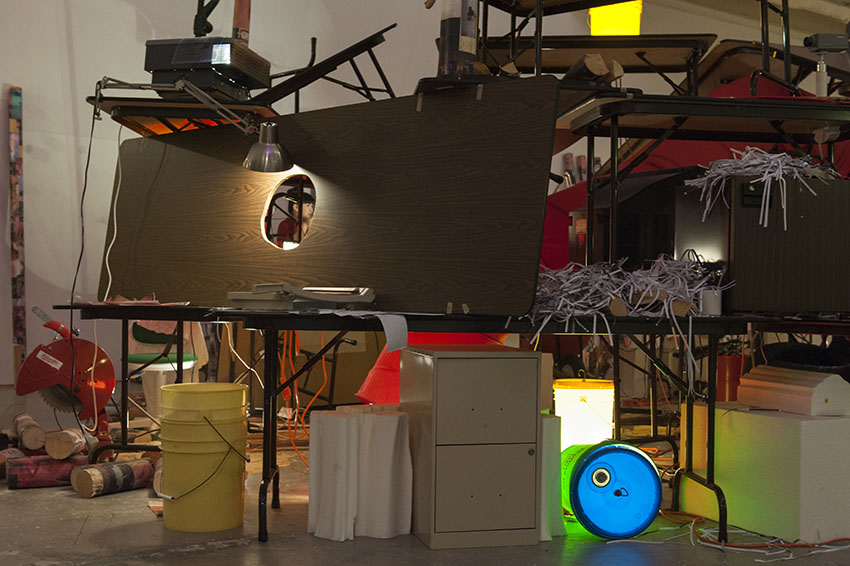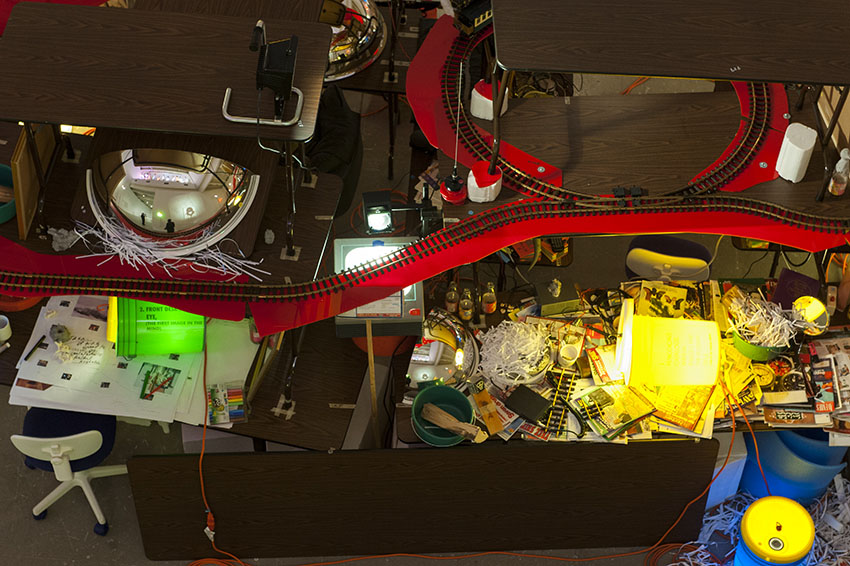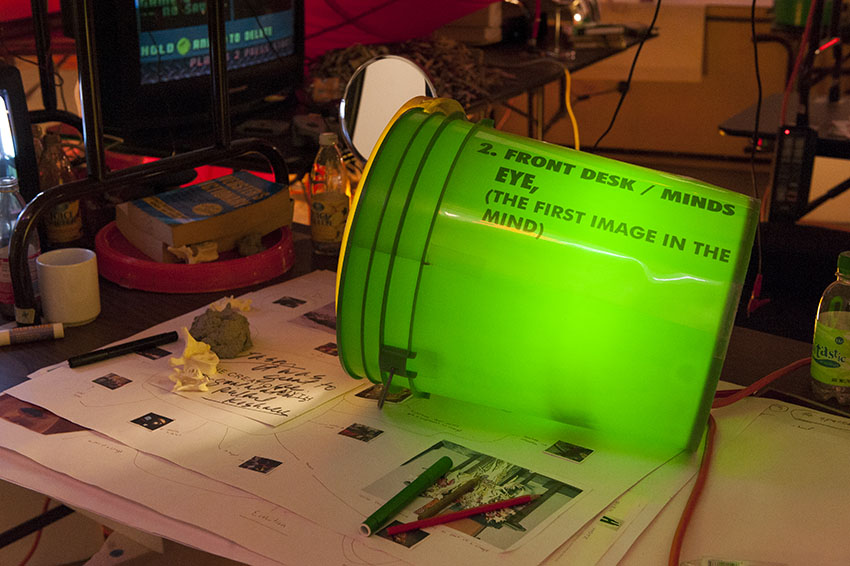 The technology available to Rhoades to realize some of his works is obviosuly dated by now, but it too becomes an integral part of the artwork, it grows old with it. 

Schaffner: He loved the computer—random and logical, I guess. 
Throughout Rhoades' lifetime, he had larger recognition in Europe. Was that because of curators and galleries he was associate with, or do you attribute it to a different sensibility over there?

Schaffner: Part of it was that in the 90s museums in America didn't have contemporary curators, departments, people working with artists to make the work happen. In Europe, you always had the Kunsthalle, spaces which facilitate artists to make their work while they're alive. It was just a more conducive system for Jason to work in. All of these pieces were in response to a request to make a work someplace. There were more resources too. 
Less market driven, maybe? 

Schaffner: Yes, it was more about believing in the artist. Here, there's less belief in the artist. It always goes, can I see your checklist? can you tell me what it's gonna be? and that's not Jason's work. His is just kind of excessive, and he wanted people to commit and let him do what he wanted. Committ to the resources, the space…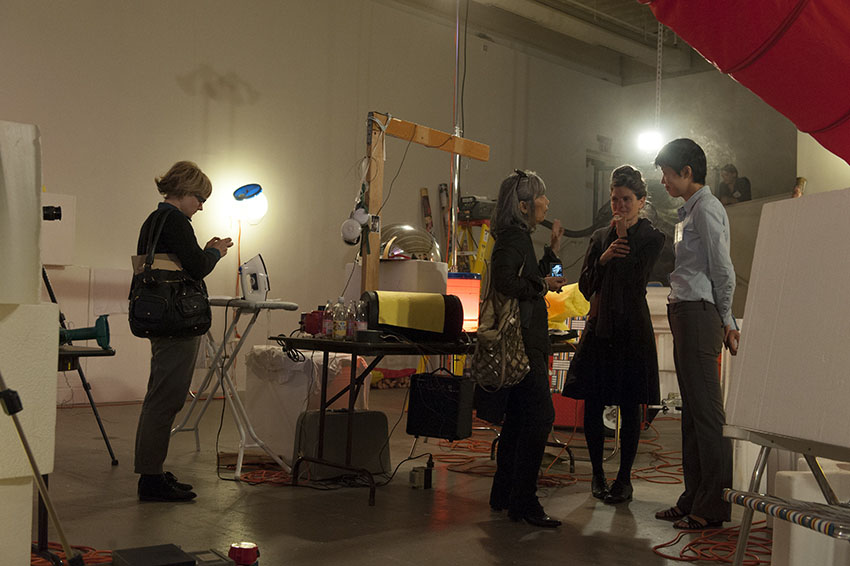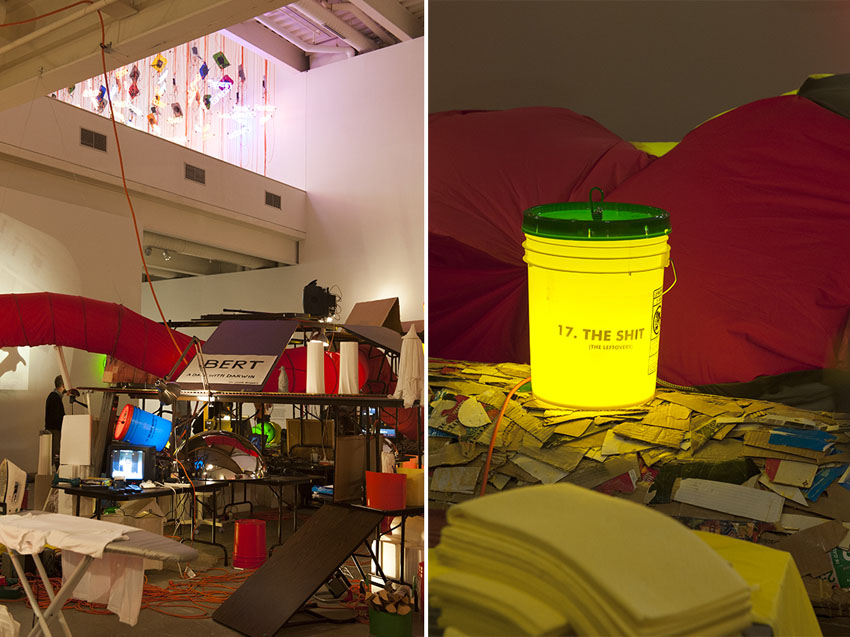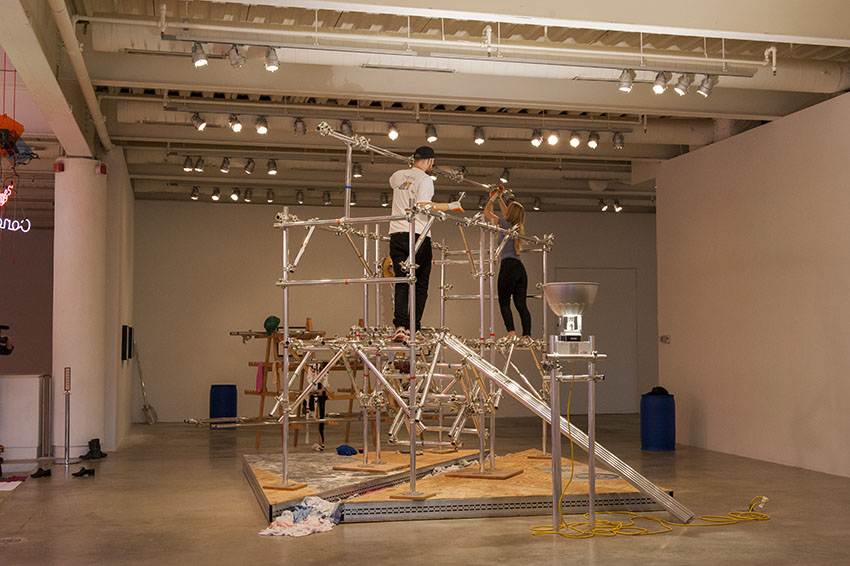 Above: Sutter's Mill, 2000, which is regularly installed and deinstalled throughout the duration of the show.
There's a strong participatory aspect in both the installation of his pieces and in the way in which they engage the audience. How did you chose the works in this show? Are they the most representative of his career?
 
Scheffner: I chose four because they would fit good in the space. I wanted them to be at different stages of his work. I wanted the garage because I feel like that's the first work, for me anyway that is his first work I ever saw. Then, The Creation Myth relates to a work that Jason showed at the Whitney Biannual—so in America we've seen that, but nobody's seen this one. Obviously I wasn't gonna have The Perfect World—it doesn't exist anymore—but Sutter's Mill comes right after that. And then, I wanted to represent his last body of work with the neons. 
The neons exist in groups of 44, and Jason would either make a chandelier or a sculpture… or you can install it like we did. 
How did the installation of the pieces change over time? 

Schaffner: Well, initially Jason would insist on installing things himself, but of course there's more works, and he can't be everywhere at once—he doesn't wanna be everywhere at once. The work becomes also more institutionalized, so there's binders, and photos, and people who are trained. For this show, we had four technicians here for three weeks, and one guy for whom Rhoades is a specialty.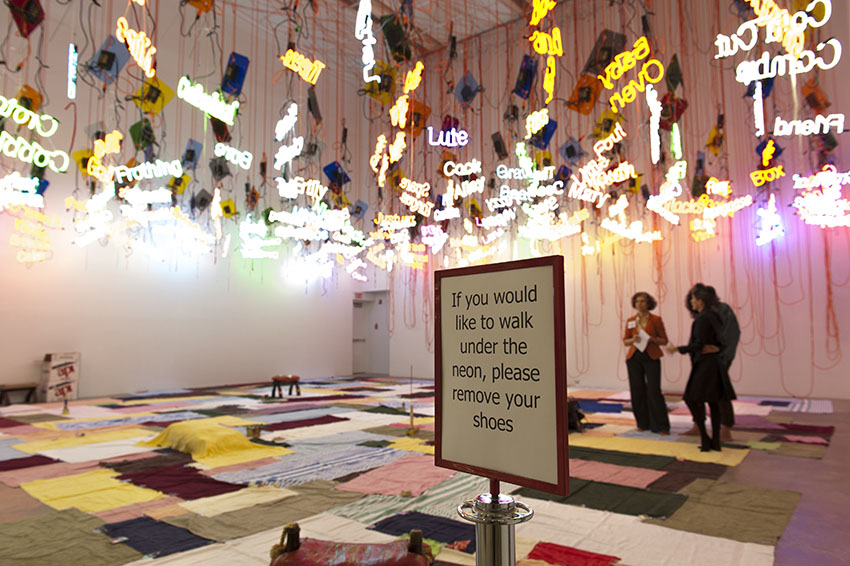 Above: Untitled (from My Madinah: In pursuit of my ermitage...), 2004-13.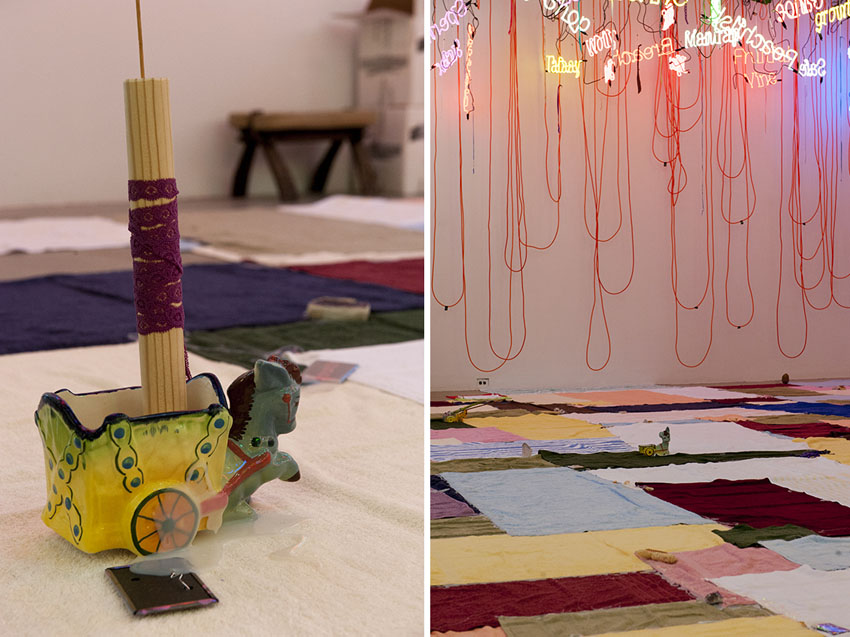 Let's have a look at Untitled (from My Madinah: In pursuit of my ermitage…).

Schaffner: Look how beautiful the electrical cords are, it's like a drawing or like an all-over painting… it's very specific, but the preparator who worked with Jason said that if it looks like a pattern than it's wrong. It has to both look random and specific. 
Randomness is very difficult to achieve. Unconsciosly, there's always going to be a pattern.

Schaffner: That's a good observation, it's true.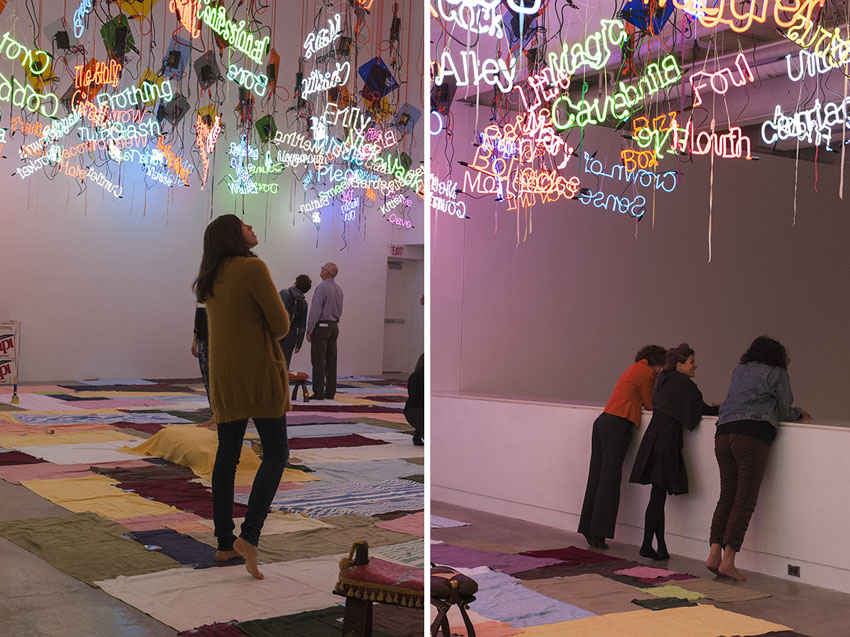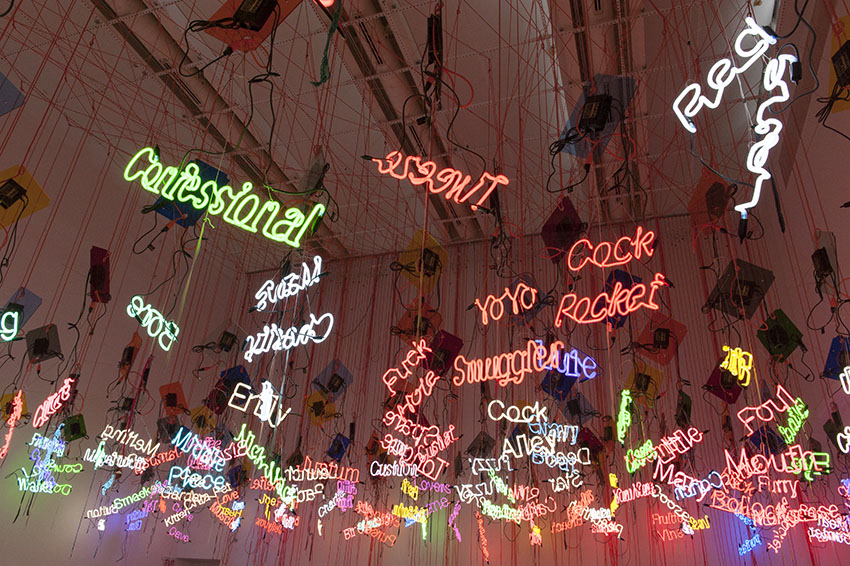 The humor in the piece lies in combining an expressive reference to a mosque, a spiritual place, and at the same time have hanging neon signs of terms referring to the female sexual organ. I don't think I would have immediately realized that.

Schaffner: You might never get there! 
Are the ones on the floor fresh towels?

Schaffner: Yes, for every installation we crack open another batch of towels, and they get pinned together using the original photographs as a reference. It's the mosque, it's the bazaar, a pussy mosque. The strings hanging down are panties elastics. Then his parents raised miniature donkeys, and the stones laying around are the ones used for meditation—you put them on your chakras points for drawing energy, both things all over the place. Kind of new age California.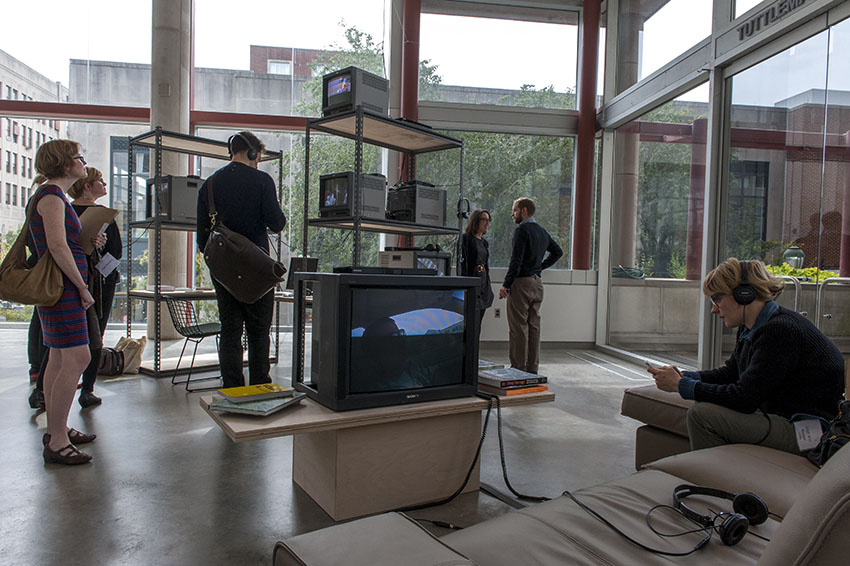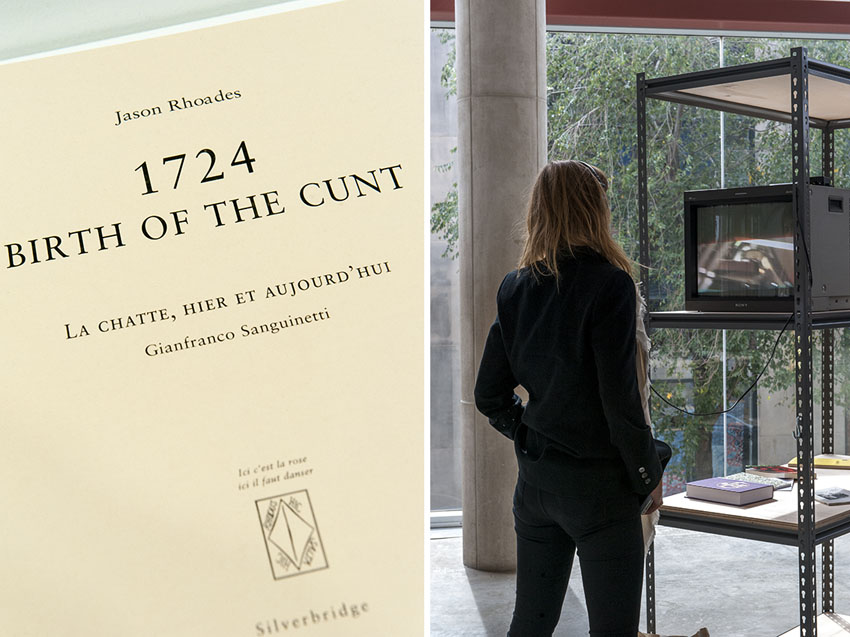 Special thanks to David Zwirner gallery.
Jason Rhoades, Four Roads is on view through December 29, 2013. 
ICA is located at 118 S. 36th Street, Philadelphia.