Jihae
It's the beginning of May and Jihae is the co-headliner of the annual Global Health Forum at the United Nations headquarters. The platform is tailor-made for the socially conscious artist. The special invitees. The gala room. the dimmed lights aimed at the floor-level stage projecting just brightly enough to highlight the Korean-born singer's chiseled cheeks and wavy black hair. Bangs encase her gloomy dark-brown eyes. The striking beauty stands center stage, a guitarist and drummer nearby, and starts to saunter back and forth. She stops and in seconds the baseline to Sam Cooke's classic song "A Change is Gonna Come" begins. 
Jihae eases into the first verse with one hand over her stomach, the other gripping the mic: "I was born by the river, in a little tent. And just like that river I've been running ever since." As the song picks up, her voice grows more potent with each note. By the time she hits the chorus, she's singing with the kind of feeling one can't fake. "It's been a long time coming, but oh yes change is gonna come, oh yes it is." For those few minutes, it's as if Sam Cooke himself has returned from the dead and possessed her. By the end of the song, the room is on their feet.
Long before she was channeling Sam Cooke and captivating the masses on stage, Jihae was a child being shuttled all over the world. Born in South Korea, she lived for a time in Sweden, Nigeria, the U.K. and the United States. From her diplomat father and opera-trained mother, Jihae inherited a combination of radical thinking and powerful vocals. Her desire to help others lead her, at first, to follow in her father's career path. She attended Emory University in Georgia and graduated with a degree in Political Science. After college, however, her mother's influence became more evident. Eventually Jihae turned to music, rerouting to New York City.
Since then, Jihae has recorded with Eurythmics' other half, Dave Stewart, co-created a rock opera with Pulitzer-prize winning playwright (and Academy-award winning director) John Patrick Shanley, co-written the song "It Just Feels" with Leonard Cohen, and founded her own budding media empire in the form of the socially conscious, industry-independent music label Septem. And that's just the tip of a prolific iceberg that includes collaborations across several media, with such luminaries as Michel Gondry, Lenny Kravitz, and Christopher Doyle .
These days the slender artist is very much unlike the multitudes of musicians who treat politics as anathema. In fact, she's found a way to make music that is at once popular and politically astute. We spoke to the high-minded rocker about recording, politics, love, and her latest album, Illusion of You.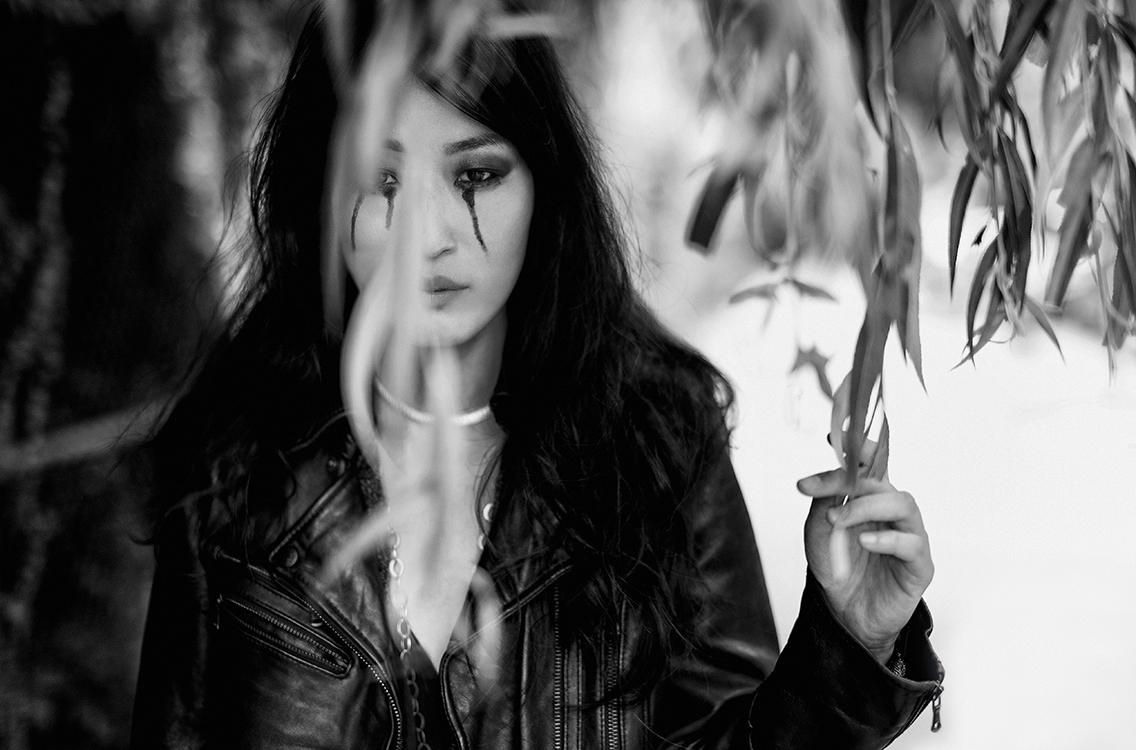 Above: Jihae wears a leather jacket from her own collection, created for the release of her album Illusion of You, and her own jewelry throughout the editorial.
hair YUSUKE KATSUKI at AGENT OLIVER
makeup AYAMI NISHIMURA using CHANEL MAKEUP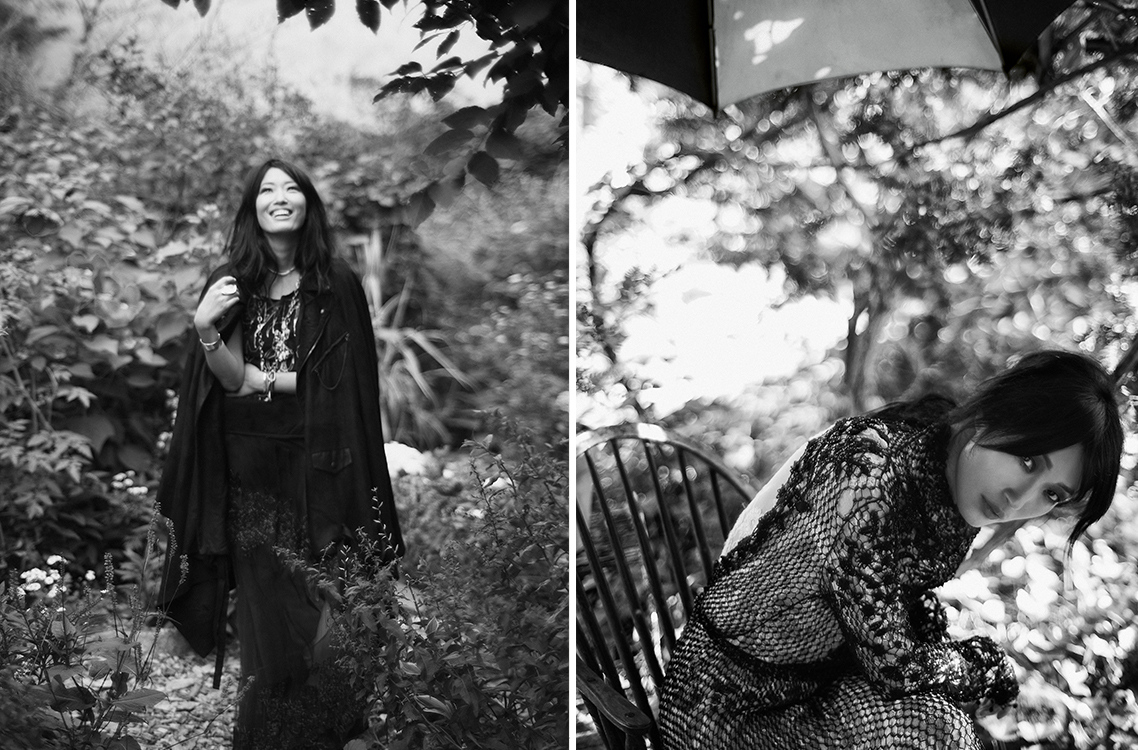 On the left: The long black leather parka worn over a printed t-shirt belongs to the NUMBER (N)INE archive. The military green embroidered tulle skirt is chosen from the JASON WU pre-fall 2014 collection. The look is styled with Jihae's own black boots. On the right and following photo: A dramatic embroidered net gown falls over its ivory lace underlay and is designed by MARCHESA.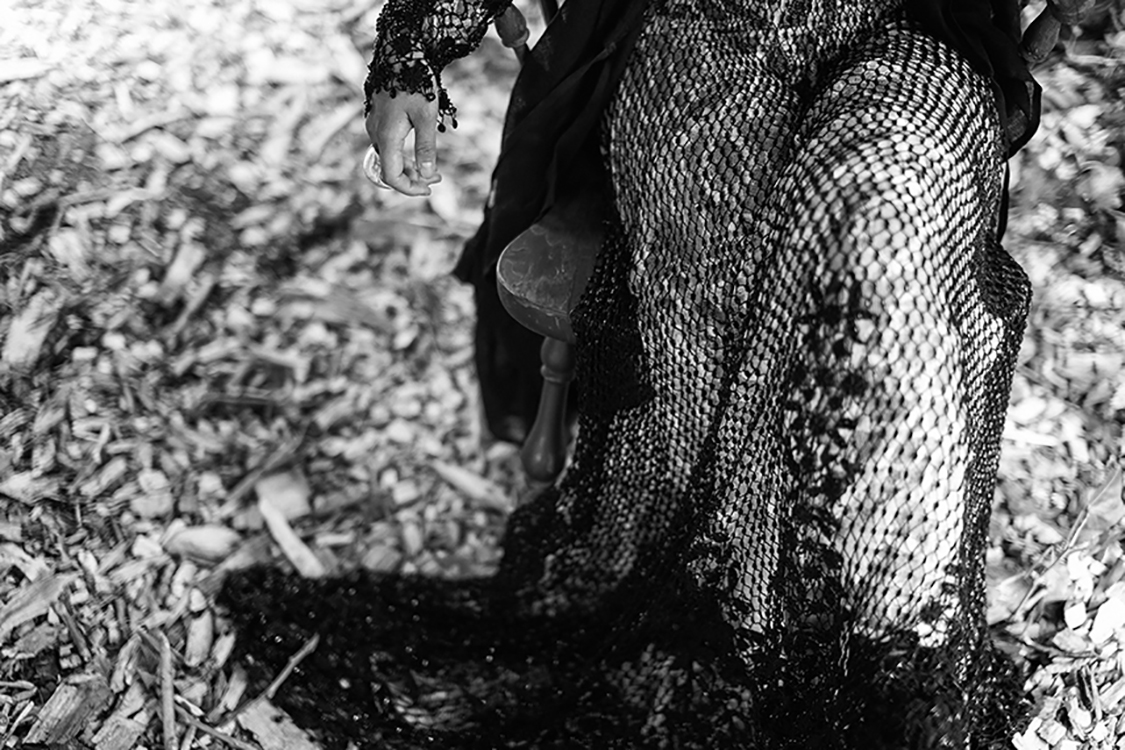 As an artist, do you feel that creating illusions of ourselves is necessary to make art? Or is making art a process of disillusionment or dispelling of those illusions?
Art is expression of concept, in my opinion. I don't think creating illusions is necessary to make art. Some artists create characters or caricatures of themselves and some create based on what inspires. Perhaps we can dispel illusions through creating, but we could easily add one on all the same.
Illusion of You is based on the reality that we live neck-deep in so many layers of illusions as individuals and as societies. After contemplating, writing about and researching various illusions that influence the growing divide in the world, I came across one of my favorite books by Carl Jung: Memories, Dreams and Reflections. He says that if we care to even begin to know how to solve problems of evil in the world, it's essential that we must first get deep insight into ourselves and know how much good we can do versus what crimes we are capable of. This statement brought me back full circle. Only with deep self-awareness can we begin to shed the illusions and lies we live in, before we can begin to solve the problems in the world.
Can you think of a moment in your past that felt like an identity crisis? How did you go about resolving it? 
I had identity crises continually as a kid, going to ten different schools by age thirteen. At the time, I was trying to figure out how I fit in, within the confinements of new environments, cultures, and languages. Having to adapt a lot turns you into a bit of a chameleon and you learn quickly to be comfortable in your own skin. I think people define identity in different ways. My definition of identity is who I am at my core, what moves, shakes, warms and breaks my heart more than my brain. I think we will be questioning our identity until we know what matters to us the most as individuals and as members of a troubled human race.
You got credit for putting a Leonard Cohen/Dave Stewart poem to music. Have you ever followed that up and asked Mr. Cohen to perform on one of your songs?
I've corresponded with Leonard a few times via email and we are meant to have tea one day. I've not asked him to perform my songs. Not sure if I ever will. I prefer to write another song with him and perform together.
Do you have a dream producer or artist collaboration? (Two suggestions to put on your list, if I may be so bold: Nicolas Jaar and Chris Coady.) 
Great suggestions! You are the second person who thinks I'd make good music with Nicolas Jaar. I dig them both and would love to work with them. I'd also like to collaborate with Nick Cave one day.
Do you own an instrument that you're particularly attached to, that helps you compose or connect to your imagination? 
I usually write on acoustic guitar and rarely on keys, until I started to lease a piano last year. I own a few instruments. I wrote "Leaving NYC" on my Kalamazoo white bass that I found at 30th Street Guitars. I recently had to exchange my '66 Gibson acoustic that I wrote most of the new album on, as it kept breaking down on me. I went back to Ritchie's Guitar Shop and exchanged it for a '70s Japanese Yamaha and a cheap no-name guitar. I named the no-name guitar Bertha as she came with me last week to the beach during the Tropical Storm Bertha. I've written two new songs so far on Bertha. The Yamaha is called Kou. I named it in Japanese since it's made in Japan. (Japanese unisex Kou means 1. happiness, 2. light, or 3. peace.)
Do you like the process of being in the studio? The experimental and technically adventurous aspect of your music leads me to wonder whether you've ever considered being on the other side of the console, as an engineer or producer. 
I do enjoy the studio part. It can get tedious but I've always felt the need to be there for every part of the way, including mixing. You can get so deep with the details and it's a matter of choice, but one can truly tweak forever. Knowing when to quit is an art form in itself. I like to produce and I'd be happy to spend time producing material that inspires me. After spending a year and a half in the studio for this album, I have to say I'm over making intricate albums for the time being. The next one I plan to keep as simple and as raw as possible, and record live with little to no overdubs.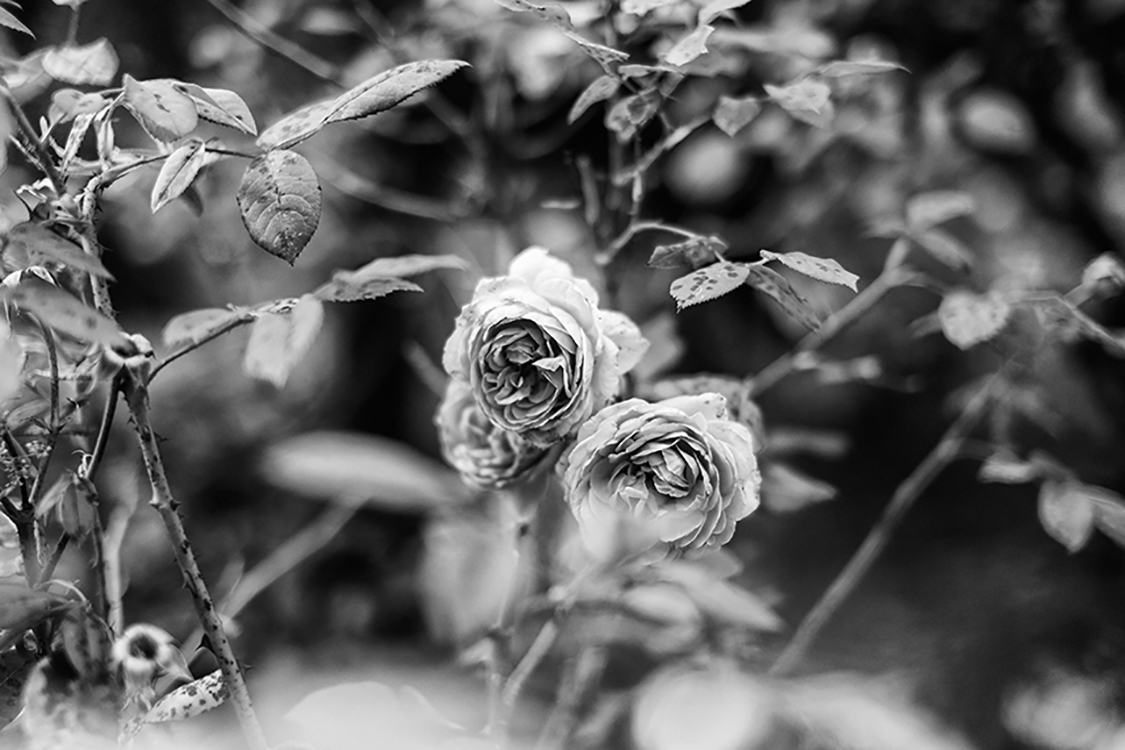 There is an interesting backstory to your new album, Illusion of You. Can you share the synopsis? 
Well, making this album was full of surprises and unexpected events. I had begun writing material for this album when [Eurythmics'] Dave Stewart and I scheduled to write together for the first time in 2012. We co-wrote a couple songs and I would send some demos to him via email to get his opinion. It wasn't until I was prepared to go to one place to finish the album that he arranged for me to come to Los Angeles for two weeks to make final touches with him and mix with Scott Campbell.
The plan was to finish most of the songs before leaving. Jean-Luc Sinclair (co-producer) and I found out the vintage Neumann mic we were planning to use for final vocals needed repairs that would take a couple weeks, which was the time I had to finish recording before going to L.A. After calling some local studios only to find unaffordable rates, I called Lenny Kravitz to see if I could use his studio in the city. He mentioned that he let Edison Studio go but I could use his studio in the Bahamas. It worked out cheaper to fly there on miles than to rent a studio in New York, so I went there to do final vocals.
After making albums in home studios all these years, recording at Lenny's studio on a Helios board with my vox going through a Fairchild amp was such a big treat. I was also excited to work with renowned engineer T Bone Edmonds [Isley Brothers, Patti Smith, Meat Loaf]. Recording final vocals of 11 songs in three days was ambitious to begin with, but Bone got a terrible stomach flu the day after we started, and once we got going on a few songs the mic broke. I ended up extending one day and scrambling to finish. I laugh about the situation now but at the time it was so daunting.  
I love your cover of Annette Peacock's "The Succubus" and how you changed it from Italian to French at the end. Can you tell me about how that came about—how you discovered her music and what made you want to cover that song in particular? 
[Fine artist] Spencer Sweeney introduced me to Annette Peacock's music. He played me a few songs from his giant vinyl collection one day, and I was blown away. I went online to find her music and only found a few songs on Youtube. "The Succubus" stood out to me so I decided to cover it. I spoke the Italian part in French only because I thought I'd do better on the accent.
Do you feel that the race issue should be a moot point—that if anything, discussing race is perpetuating our racial divides? Or do you think that the fact that you're an Asian woman, wielding a guitar on a stage, singing in a soulful voice, is a powerful message of change, and a celebration of diversity? 
Gender and race issues exist in every industry. Sometimes you are lucky to be surrounded by open-minded people who see heart and not just your color, face and body. There was an instance when I first started where a drunken music executive of a major label I had a demo deal with called me "Wingchungchungwingwong!" at his label party. I almost threw the beer bottle over his head the third time he said this (initially I was baffled in front of this educated bigot who held the cards to my immediate future) but it was not worth the consequences and I don't believe in violence. We come across dogs and pigs in every industry and yes they are more prevalent in male dominated industries such as music. I don't get hung up on things I can't control; I just create.
Your father is a diplomat. Did you see for yourself how diplomacy as a job could affect the world (or not) as you were growing up? Did your proximity to your dad's work make you more hopeful or more despairing about the world's problems?
My mother is not a shy woman but her English was shy so I went to diplomatic receptions and dinners in her place since I was 14 years old, for a few years. Even in my teens I noticed diplomats, politicians and dukes mingling, asking intelligence questions and setting up meetings to exchange information, all while sipping champagne and nibbling on caviar. If international politics included a moral stance or a firm mandate for peace, equal rights and freedom for everyone, then there could be hope in diplomacy. But politics is embedded in economics as a priority in almost every sovereign state, and until politics become more than a game of monopoly, I see little hope.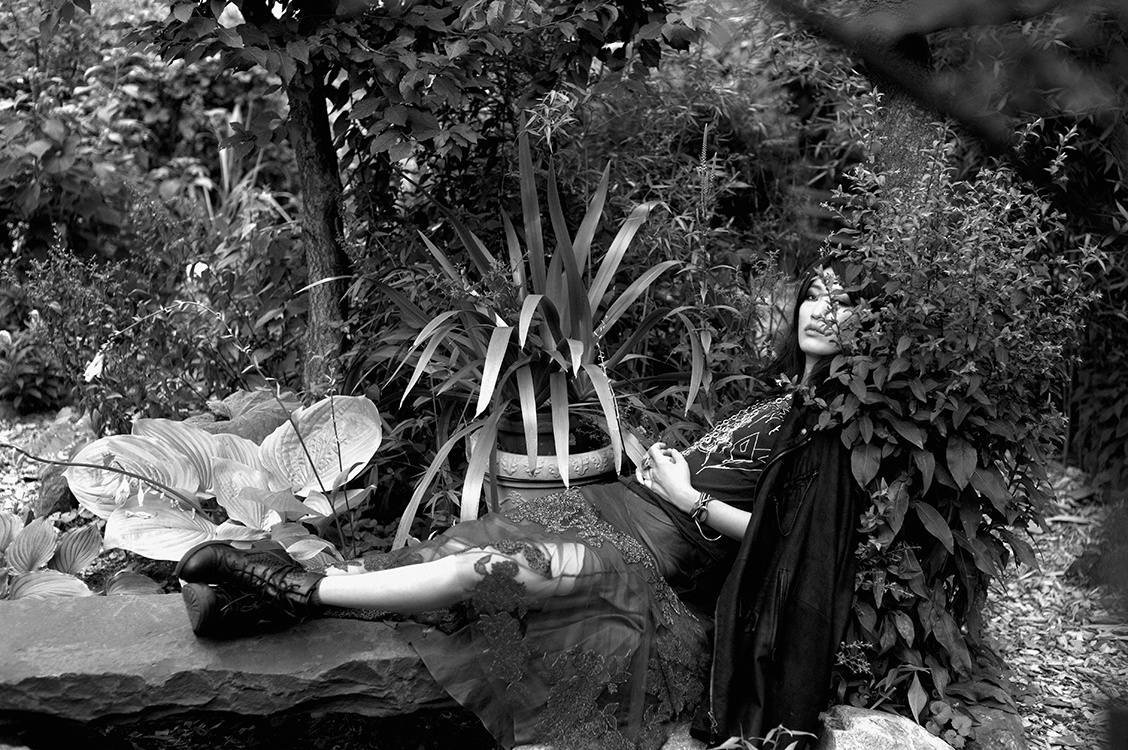 Above: The long black leather parka worn over a printed t-shirt belongs to the NUMBER (N)INE archive. The military green embroidered tulle skirt is chosen from the JASON WU pre-fall 2014 collection. The look is styled with Jihae's own black boots.