Lafayette House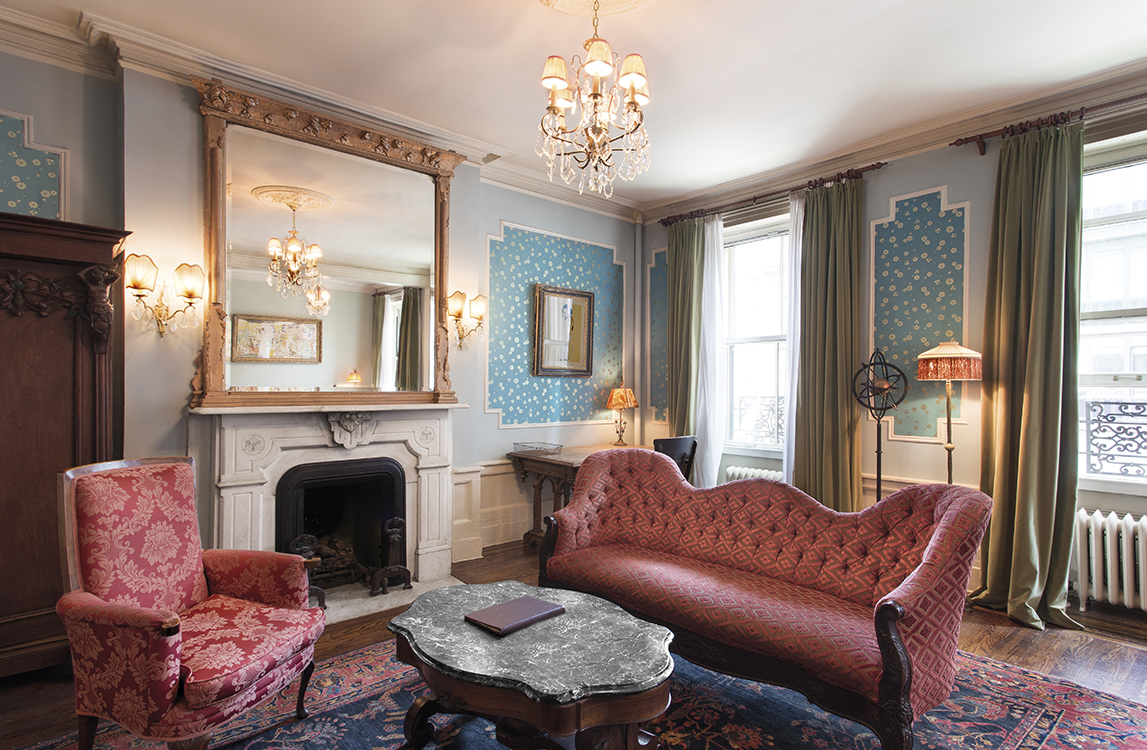 I turn the corner on a normal New York street off the Bowery. I'm expecting to see cobblestones and wrought iron fences, the roots of old trees pushing up the sidewalk and refracting the light—something a little more Bank Street, à la the Waverley Inn. I'm looking for a somewhat secret lodging, an old house that, from the photos I've seen of the interior, should be conspicuously quaint for this area. But the nondescript building turns out to be nestled between a bar and a restaurant, up a staircase I know for a fact I've overlooked on the many times I've walked this street. There's no indication that I will soon be stepping into what feels like a place forgotten by time.
Approaching the door I see a panel of apartment buzzers, but instead of penciled-in names on slanted labels, there are simply numbers, one through fifteen, each with a corresponding round white button. I buzz. I am welcomed into the space by a woman who is much more casual than the usual concierge—she shows me around the way one might be shown to the guest room. Her name is as sweet and direct as her face: Suzi.
The hallway is narrow and very dark and lined with painted portraits whose eyes seem to follow us. The floors are covered in coordinately clashing patterned rugs. We enter the first room of my visit: #4. 
I'm greeted with a musky, almost floral scent—more homey than an antique store but with some of that aged, powdery quality. A flash of jade green bathroom tiles winks as we pass. In the entry way a small cooking area has been nestled where one might expect a mini-bar, complete with a shining copper kettle, a few pots and glassware in twos. In the main room, a bookshelf is lined with copies of National Geographic and one rogue novel (left by someone?), a faded green velvet couch and a low table are encircled by two mix-matched chairs.
Tucked into the corner a massive dark wooden wardrobe welcomes the sensibilities of someone like myself, who has, on more than one occasion, been mocked for unpacking all of her belongings into the drawers of a hotel room, just for one night. (Of course, that experience wouldn't even be a concern at Lafayette House, where the minimum stay is 30 days.)
In fact there is very little in this abode to suggest the hospitality it offers—daily housekeeping, room service from sister businesses the B Bar and the Bowery Hotel, concierge service—because the room creates a very real sense of being lived in, and of being a part of a very lived-in larger home. A balcony with a small table overlooks a garden area belonging to the guest room below. (There's a disproportionately large number of private outdoor spaces at Lafayette House, for such a small number of rooms—another understated luxury in an otherwise overbuilt city.)
Suzi takes me to the second room—#5. This is my room. This is where I will write my novel. From the moment I enter this room, I feel that I could live there. She shows me the features of the room—turns on the fireplace, reveals the unfamiliar brass workings of a shower that hovers over the deepest tub I've ever seen. It occurs to me that you could stack people in this tub and still have them covered in water. Before I know it, I am left in this room—my room—looking out through the ceiling-high olive green drapes, past a row of red-orange light bulbs strung over the terrace one floor below, where an array of empty bottles, spray paint cans, a shirt over a planter, a few palettes with paint, and a used ashtray intimate the workings of the guest below me.
The art on the walls (some of which is rumored to be collector-grade), the grey bedside notepad and the bedspread embroidered with the house name in pink cursive—everything hovers between the feeling that one is home, yet also that one is a guest, permitted to enter that space of mind one gains during the anonymity of travel, where we can be whomever we choose to be, free to fill in the blanks, to enter those mysterious doors lining the streets of the New York we read about in novels and see in old films. 
There is something literary, even cinematographic, about the Lafayette House. I was not surprised to find the space is popular for photo shoots and interviews, and of course is frequently inhabited by artists of one lot or another. "We definitely get people taking rooms to find isolation to work on projects of all kinds," says General Manager David Partee. "At least half of our tenants have backgrounds in art [publication, and other facets of the art world]—if they're not creating, then they're showing or maybe just drawing from the space itself."
On the mantel I pick up a pink box of matches which reveals the most perfect cadmium red-tipped matchsticks. On the box is a drawing of the Lafayette House, free-standing with nothing around it. It is that mystery and timelessness, however intentional or constructed, that drew me into this hidden world, where the staff functions as a part of the house itself, and where each room belongs to you, takes on the feeling of whatever life you are living while you inhabit it.