Music: Chinawoman
hair KARIM BELGHIRAN at ARTLIST
makeup KHELA at CALLMYAGENT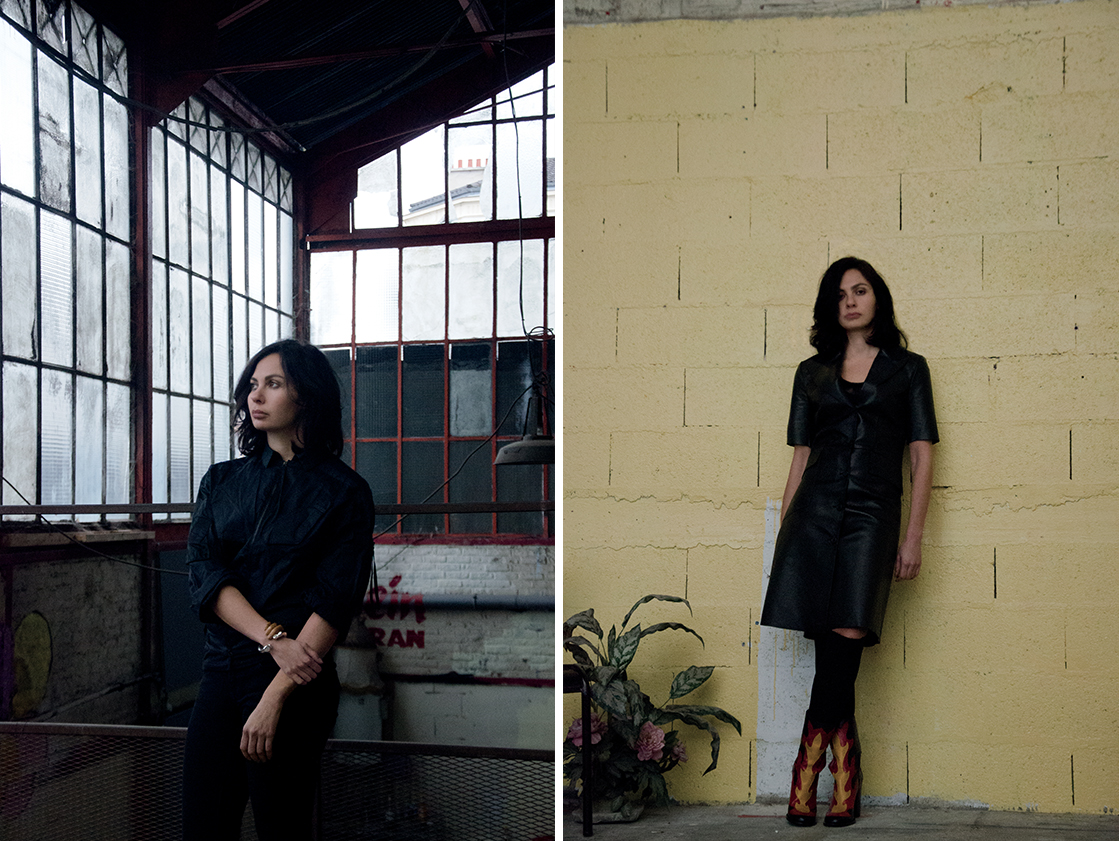 Above, left: Michelle wears a high-tech bomber jacket by A.F. VANDEVORST, together with a pair of ACNE STUDIOS jeans. From the depths of darkness a third bony hand grabs her wrist, designed with brown stone, olive wood, and sterling silver, by DELFINA DELETTREZ. Above, right: Standing atop a concrete Yellowstone vulcano, Michelle wears a black calf leather robe manteau by YANG LI, complemented by an ERES black slip. The high flames of the LAURENCE DACADE boots set the knee-length socks by FALKE on fire.
In December 2014, at the close of what was, by most informal measures, a rotten, violent year for the world, the independent Russian-Canadian songwriter known as Chinawoman played her first show in Paris, a sold-out night at the intimate Pigalle venue Le Divan du Monde. Ticket sales had been buoyed by the exposure she'd received in France from the release of the celebrated Marie Amachoukeli film Party Girl, which took as title, inspiration, and soundtrack a darkly satirical song Chinawoman had self-released seven years earlier.  "In the back of a car," goes one inadvertently prophetic line from that song, "I just met them tonight, and I feel like such a star."

Chinawoman, whose real name is Michelle Gurevich, has a way with foreign audiences, particularly those of Eastern Europe. Her songs, mostly recorded in English, are darkly intimate, well-enunciated turns of bedroom cabaret, in which her deadpan voice and wry lyricism take center stage above a homemade orchestra of keyboard presets. Imagine if PJ Harvey had been born with Luke Haines' wit and limited musicianship, somewhere in the Eastern Bloc. Her melodies often straddle Eastern and Western songwriting traditions, evoking after-hours at a particularly exotic post-war saloon, but her subject matter—the temporal dislocations inherent in the immigrant experience—is all her own, and very much of its time.

Gurevich herself was born in Toronto to Russian immigrants, and it's hard to overlook a certain fatalist heritage in her lyrics. In one of her more propulsive, band-driven compositions—a song about her mother, "Russian Ballerina"—she notes:

Things change
You live your life for the stage
Till your kidney floats away
Throw in a car accident
Gurevich herself didn't turn to the stage until later in life. She worked in film production in Toronto for a decade before deciding it was cheaper and more fulfilling to make music. In one of those curiously literary instances of biographical accident, her travels have reversed those of her parents: Gurevich has lived for the past few years in Berlin, from where she can more easily access the Eastern European touring circuit. Audiences there, and in Russia in particular, have long responded to the persona of Chinawoman. There could be myriad superficial reasons why, ranging from Gurevich's cosmopolitan Slavic pout to the reassuring legibility of her English lyrics. But her rising profile in Western Europe attests to something deeper at work. 2014 was the year that an internal Russian disquiet went international. It was the year of Malasia Airlines Flight 17 and the annexation of Crimea, the year that lent greater urgency to a Chinawoman chorus like that of "Keep In Mind":

So when we touch let's keep in mind
This flesh is rotting all the time
And when we make love be advised
Tomorrow we could both be vaporized

Gurevich delivers these lines in her trademark close-mic'ed style, communicating not only the age-old global threat, but the warmth and humour required to live with it.

How did your recent tour go?
I'm quite happy with our last string of shows. The venues and audiences have gotten bigger and better, and the addition of the best songs from the new album have made the show stronger. I've been feeling more expressive onstage, and less distracted by things like nervousness and self-doubt.

What brought you to Berlin?
I had been living in Toronto but getting a lot more interest from press and promoters in Europe. Also I had heard of course that Berlin was all the rage, a city to which a lot of creative liberal types were relocating. So I decided to go spend three months there and see if there might be a music career waiting for me in Europe. There was.

Do you speak German? Have you found it easy to get acclimatized there?
I speak very little German, enough to order a taxi and a sandwich. Thank god for Google Translate, it's how I do most of my accounting. Berlin felt instantly familiar as it is similar to Toronto in being an international city. The typical Torontonian is an immigrant: from Europe, Asia, India, the Caribbean, the Middle East. . . .  Berlin is not quite as diverse but still has something similar going on at the moment.

How is your work received in Berlin?
While it's true that I am based in Berlin, I don't perform there more than I perform anywhere else in Europe—once a year tops. Berlin has a long-standing love for music that is dark, experimental, electronic, and their winters are long and grey which is conducive to introspection, so my style suits them fine.

All your music has so far been self-released. Was that a conscious decision? Have you experienced interest from labels since you began releasing music in 2007?
I've had several decent labels approach me over the years. I am quite happy with the way things have been going with my independent setup, so I'm not desperate to say that I am part of a label. To me it's a very practical matter: if a label is going to take half of my earnings, they must double my returns for me to break even, and more to make it worthwhile. So far I haven't encountered a situation that felt entirely compelling, so I haven't pursued one, however I'm open if and when the right partnership may arise.

A lot of your recordings have a distinctly intimate, close-mic'ed, bedroom pop sound, even the more overtly cinematic songs. Have you ever had difficulty translating them to a live setting?
The live show definitely offers an alternative interpretation of the songs—my lonely synth becomes a haunted electric guitar and the solitary experience instead becomes a communal celebration of that solitary experience. I always travel with my own sound engineer to ensure that we get the specific quality of the vocals, which always sit on top of the music. Some have even said that they prefer the sound of the live show, so I may release a live album at some point.

At what age did you begin playing instruments? How many and which instruments do you play?
Growing up I played the Kimball organ in my parents' house, which is where I developed my love for auto-chord. Then I'd tinker on the piano at my mother's ballet school between classes, played trumpet in the school band, and learned a few chords on guitar as a teenager. However I never did and still haven't excelled at any instrument in particular. On my recordings I play synths and piano, classical and electrical guitar, create percussive elements and handle overall production. Often good melodies consist of accidents and the simple but memorable juxtaposition of just three notes, so one need not be a virtuoso to write a strong melody.

Canada has always had an outsize influence on western pop, at least relative to population size. I'm thinking of Neil Young, The Band, Joni Mitchell, Leonard Cohen, etc. But in the last decade Canadian artists have become ubiquitous—everyone from Drake to The Arcade Fire. Some credit the nation's comparatively robust support for arts education programs. Did you benefit from such programs when you were a kid?
Music was one of our subjects in junior-high school, and I also participated in school band. I guess it's true that most Canadian children of my generation have had at least some exposure to playing music: they know what a quarter note is and played clarinet or trumpet for a few years in school. I'd also say that the general prosperity and ease of Canadian life, combined with the self-effacing and modest nature of the typical Canadian (we are known for constantly apologizing and for making fun of ourselves) has made good breeding grounds for songwriting.

Do you find your Russian heritage influences your music? How is your music received there?
I grew up listening to a lot of Soviet pop, and I definitely absorbed elements of chord progressions, vocal style, grandiose choruses, a feeling for drama, and themes that combine the fatalistic and celebratory. I've performed in both St. Petersburg and Moscow yearly for the last 4 years, and it's the only place in the world where I'm showered with bouquets after every concert. Russia has been my supporter from the beginning and I am grateful to them.