GREY: MUSIC presents VALERIE JUNE
27 October 2017
Pink dust wafts around Studio A, as palpable as the history of memorable recordings which have been recorded here since 1970 - the year Jimi Hendrix founded legendary Electric Lady Studios, inside the remainings of a Greenwich Village nightclub. We meet here with singer-songwriter and multi-instrumentalist Valerie June, from Memphis, TN, whose honey-infused voice might take you to far out places and eras, from the soil of the Deep South to the glowing layers above Earth. Eluding any genre definition, her songs live in a place of trascendence.
Between vintage recording gear and psychedelic murals, we talk about the journey towards her new record 'The Order of Time'.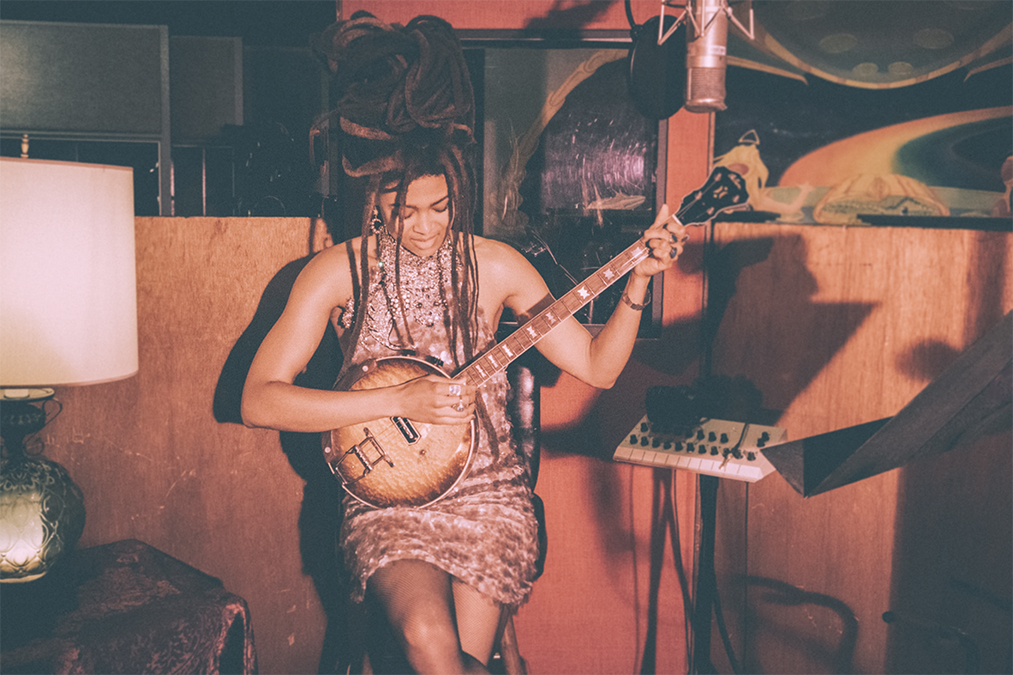 Above: Valerie gently strums one of her 'babies'. She's embraced in a sequined minidress embroidered with crystals by MIU MIU, complemented by JUDY GEIB opal earrings, opal ring from YOSHIMI SILVER, turquoise rings and silver bracelet from the vintage selection at SPACE COWBOY BOOTS, NYC, and artist's own rings. The stylist's own black fishnets are worn throughout the editorial.
The first song on your album 'The Order of Time' is 'Long Lonely Road', which talks about hitting the road and working hard in order to find the 'grass that's greener' - a theme that was also present in your first CD 'Pushing Against a Stone'. Could you tell us about your own path to reach the greener side of life? 
They say we should start each day as if it were a blank sheet of paper. We are designers of each day. If that's true, and I believe it is, then each day we have a choice to find the greener side of every moment. My path to the greener side is very present. It's constant. Each moment could be sweet, even the bitter ones... with a little perspective, the greener side is always there. 
How were you first introduced to music?
I remember being given sticks in music class as a child (maybe kindergarden). I had no rhythm. I think that class made me afraid to pick up an instrument until I got into my early twenties.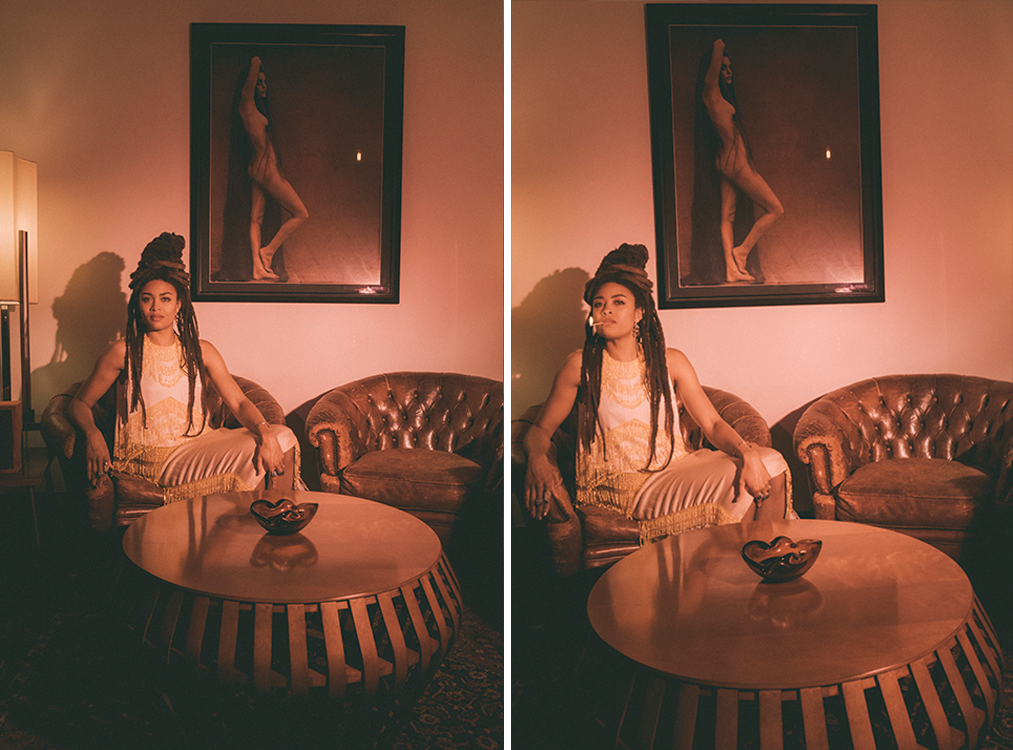 Did your parents ever encourage a career in music?
They did not encourage me towards music, but they supported me once they knew I was serious about it. 
From your first to your second album, there is a change in elements - you are elevating yourself from the ground to the iridescence of the stratosphere. Tell us about this evolution.
Wow! That is really the truth. I've always lived in a spiritual place, but I am on earth. It was just as important to have those grounding years represented in my music as it is to have these years of embracing my iridescence!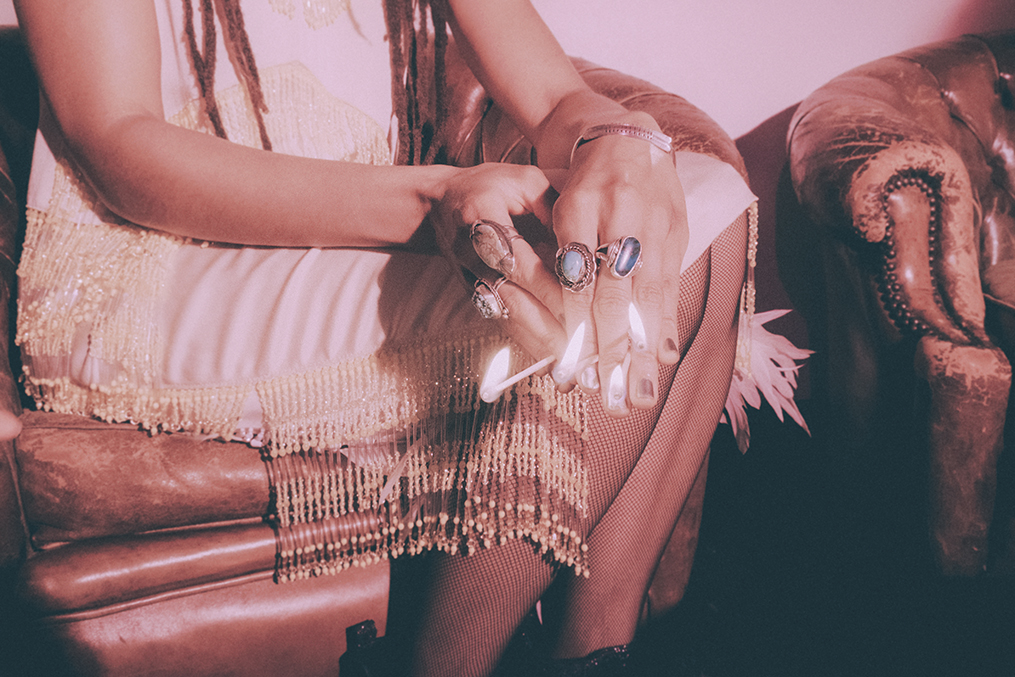 Above and previous picture: Firing up the artist's lounge, Valerie wears a feathered top and skirt ensamble with beaded fringes from PRADA, with sparkling black boots by MODERN VICE. Her hands are glowing with elegance with rings by YOSHIMI SILVER (first two from left and first from the right) and from the jewelry selection at SPACE COWBOY BOOTS, NYC - while a silver cuff by YOSHIMI SILVER and earrings by JUDY GEIB secure the look. 
Is this evolution related to a particular mindset?
Most things are... but I like to think of it as mind over matter.
Did you ever had moments of doubts about your career in music?
Every path towards a dream has daily doubts. Doubts are guides that help us strenghten the core of our dreams. That is - if we are able to develop a practice of using them in our favor.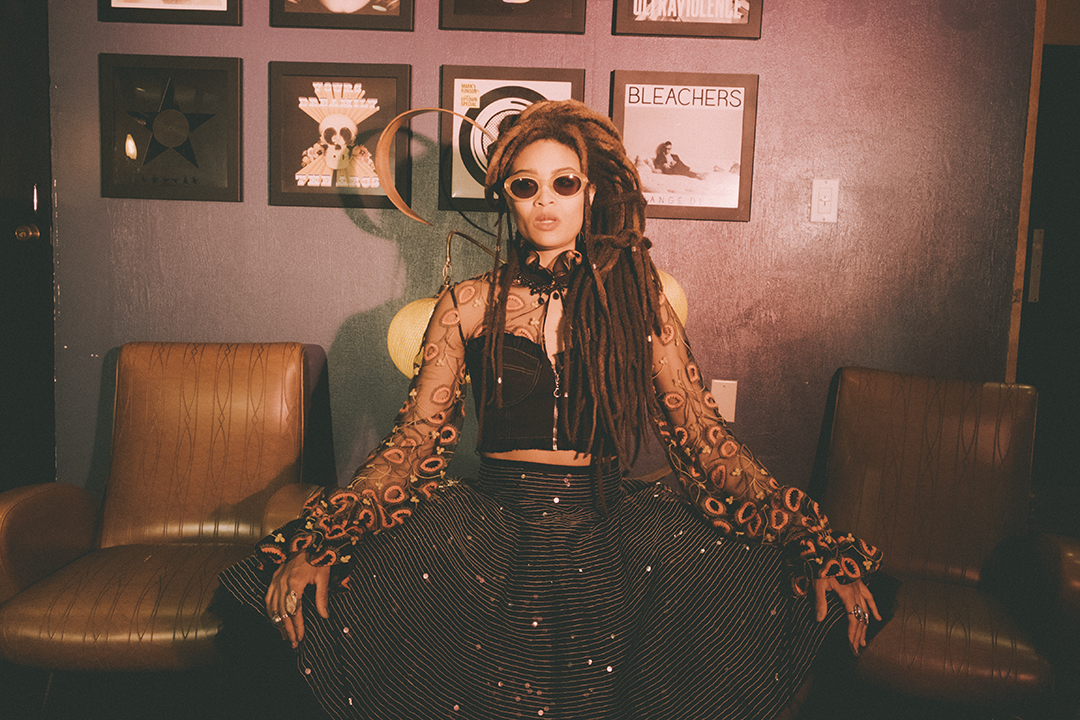 Above and last picture: She's really a firecracker with the poise of an Egyptian Queen, in a shirt by sustainable fashion brand ÖHLIN/D and vintage sequined skirt from the ASHISH archives. Sunglasses and sparkles are a style signature for Valerie, here pictured in a pair of polarized 'Murillo' by ABSURDA, and an asymmetrical necklace by IOSSELLIANI.  
Do you enjoy life on the road?
Most days.
How often do you escape to Tennessee? 
With each season.
Your album closes with 'Got Soul', which tells us a bit about your choice of freeing yourself from any genre definition. Would you agree with that? How would you define (or not define!) yourself in music?
I really like your description : 
The iridescence of the stratosphere ✩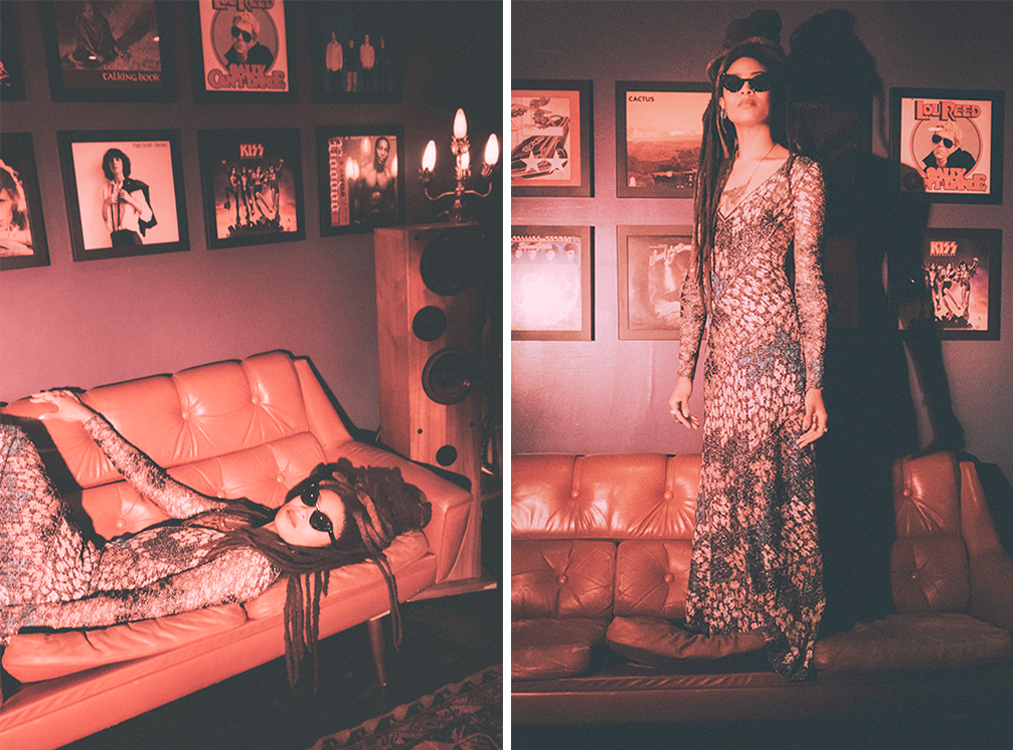 Above: Some iconic voices have reverberated in this studio, as the record covers on the walls recount. Unabashed, Valerie dominates the sofa in the guests' lounge in a dress by MISSONI, while her sonic visions are framed by GREY ANT cateye sunglasses, combined with vintage Native-American earrings and necklace from SPACE COWBOY BOOTS, NYC.  
In some songs, like 'Two Hearts', you describe a strong, independent woman falling in love. There is affection but there is also a desire to preserve freedom. Would you consider the balancing of these opposites one of the great challenges of being a woman nowadays?
They are the great challenges of being a true lover. It's the acknowledgment that in time all things must pass.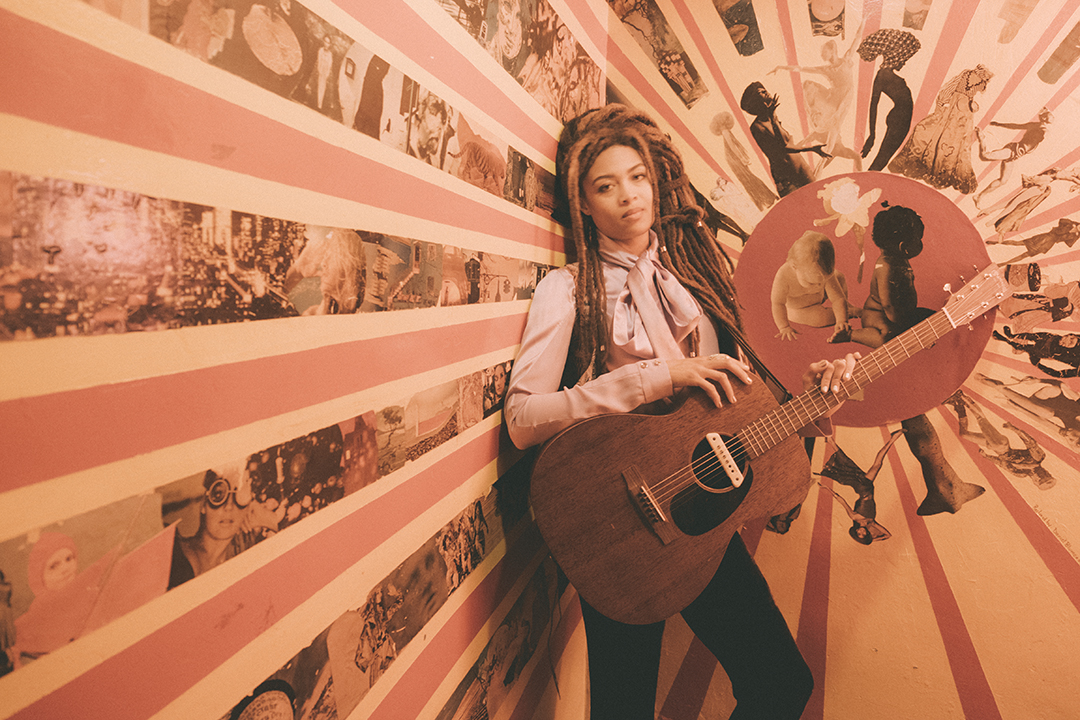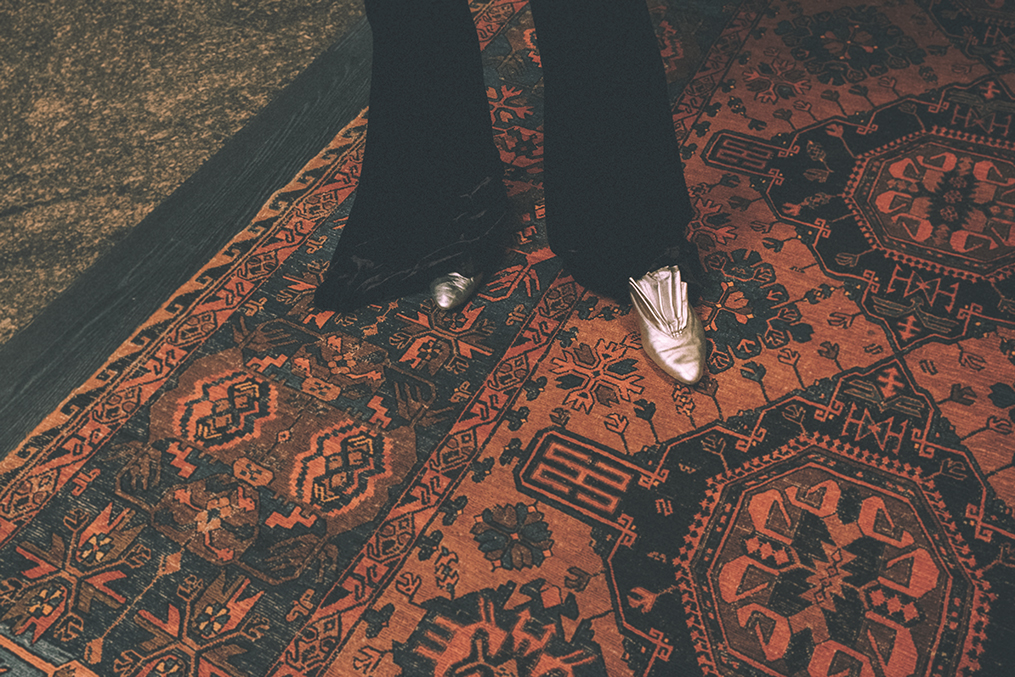 Above: Decorated walls stand here fiercely since 1970, when manager Daniel Blumenau would spend his night shifts cutting and pasting on them icons of the flower generation. Posing with one of her babies in a ÖHLIN/D shirt, MISSONI vest and SAMUJI bell-bottoms over GRAY MATTERS silver flats, Valerie channels that end-of-60s rock-n-roll glamorous flamboyance.  
What about your current and future plans? 
I have just perfomed at Farm Aid with some of my favorite songwriters -- Willie Nelson and Neil Young! I've beeing touring Australia! We started off October at the Austin City Limits Festival, followed by November/December dates in the US [and in Japan, editor's note]. So many great things to come! 
How do songs come to you? Do you compose with a specific instrument or do words come to you first? 
Different ways, but usually it starts with hearing a voice.
Watch Valerie June perform at Electric Lady Studios for us here.  
makeup ANDREW COLVIN using DIOR MAKEUP, hair ILLY LUSSIANO
Special thanks to SARI DELMAR and JOEL AMSTERDAM at CONCORD MUSIC GROUP, LEE FOSTER and IRIS SOFIA and the incredible STAFF at ELECTRIC LADY STUDIOS - NYC, KALEIDOSCOPE PR - NYC, MODE PR - NYC, KRUPP GROUP - NYC, our Editor-in-Chief VALENTINA ILARDI, our Editor-at-large DANIEL AREA WAKAHISA and SOFIA ROSENZWEIG