Nirbhaya
11 May 2015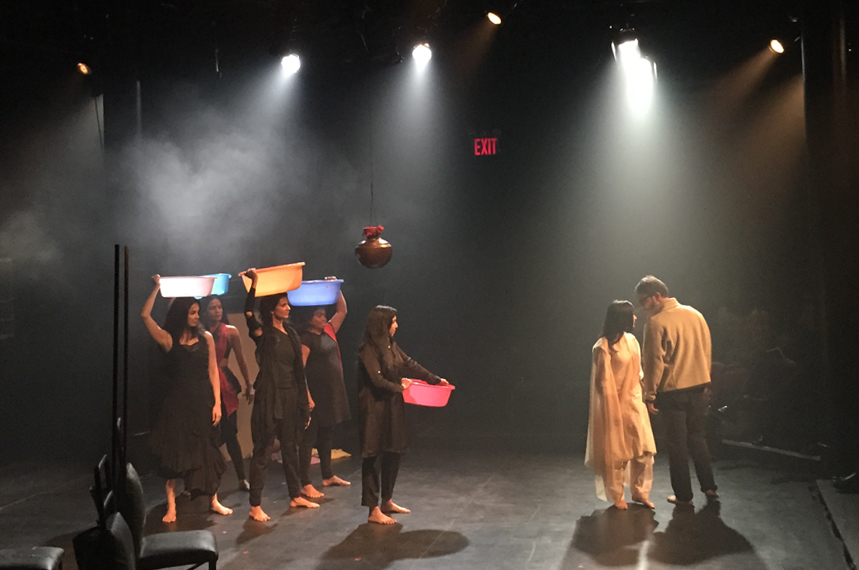 There is a truth that breaks stones
Nirbhaya. The fearless one. I have heard of her. She shook India out of a terrible secret.
The streets of New Delhi, as crowded as they always are, filled not only with more and more people. They overflowed with an outcry of unimaginable proportions. Thousands of hands raised high, three fingers, shouting Nirbhaya!
I am in line to go into the small theater, the place in memory of Lynn Redgrave. The Culture Project. I go to this theater to be informed. Yes, I have cried at this place, and stood up clapping, screaming Bravo! Bravo!
I am inside now, a group of friends with me, among them three males. The stage is right in front of us, metal bars suggesting bus windows. A small box to one side, from which smoke arises: an altar, really. We sit down with our programs, reading, looking, and mostly silent, settling in.
A young woman comes onstage. She sings to herself, walking in circles, walking in circles, crowned by smoke. The burning of her body, the ritual which follows death. There is very little light, only her white dress, innocent silk.
The actors appear, one man among many females. The story: the rape of a woman in a bus in New Delhi. December 16, 2012. She is Nirbhaya. She died for all women who have experienced actual violence. She burns throughout the hours, while other women tell the violent history of their existence. Like a match lit, we all burn with them. Their bodies are ours.
One actress's face is disfigured by flames. I want to bathe her in milk. The dark of New Delhi's streets. The houses drenched in Indian splendor of design, of symbols, of opulence. Rooms of imprisonment.
The silent cries of small girls violated by huge members, a silence of despair. Large eyes telling unsung horror. Agents provocateurs, double agents, everywhere. Lies drowning the truth. It is told to us by those women who survived.
I become obsessed with discovery. I want to divulge the secrets of the origins, the fears of men overwhelmed by women's powers. They bleed, they give birth. Men needed to slaughter animals and give the blood to wrathful gods. Women just exist within, no mutilation. But what we see here are the facts, all over the world. The truth is trod upon like debris, swept aside to clean the road of lies. Negligence, really, to brutally discharge responsibility.
Like beads, the stories lie on the dark floor. We walk outside numb.
There is a get-together later. I take Sneha's face in both hands, to kiss her burnt skin. I hold Priyanka in my arms. I speak to Yael Farber, the woman who wrote and staged this reality. I am honored to be listened to. I want to dip my hand in red, and raise three fingers into the world we live in, to point at the corpse of the lies, to the truth of stone.
Nirbhaya in the New York Times - Critic's Pick by Ben Brantley