Paz de la Huerta
hair CLAY NIELSEN
makeup ALLIE SMITH at SARAH LAIRD & GOOD COMPANY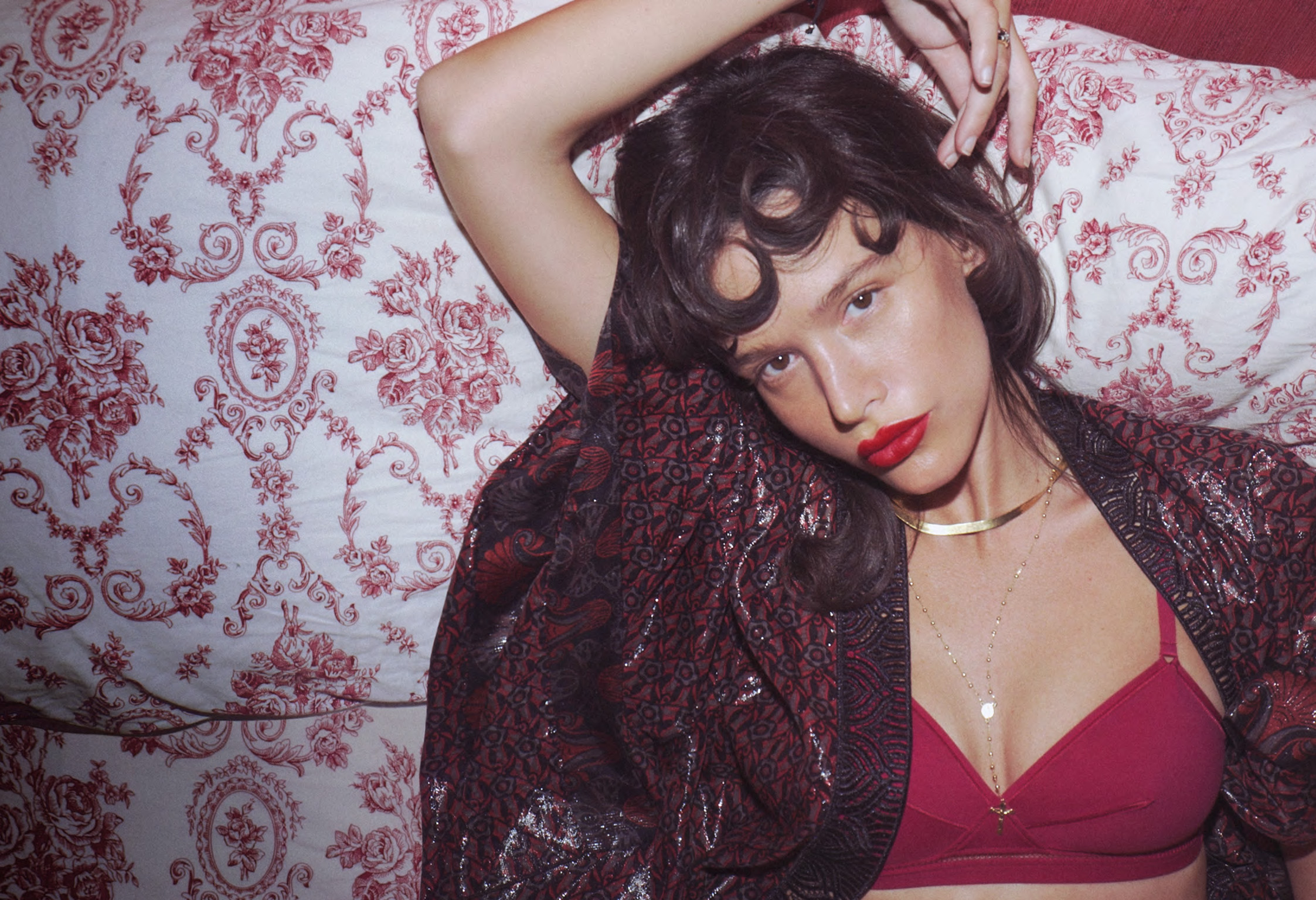 Above: Never shy in front of the camera, Paz wears a printed Kimono by ANNA SUI over a red jersey bra from ERES'  "Lumière collection." The jewels worn throughout the editorial belong to Paz.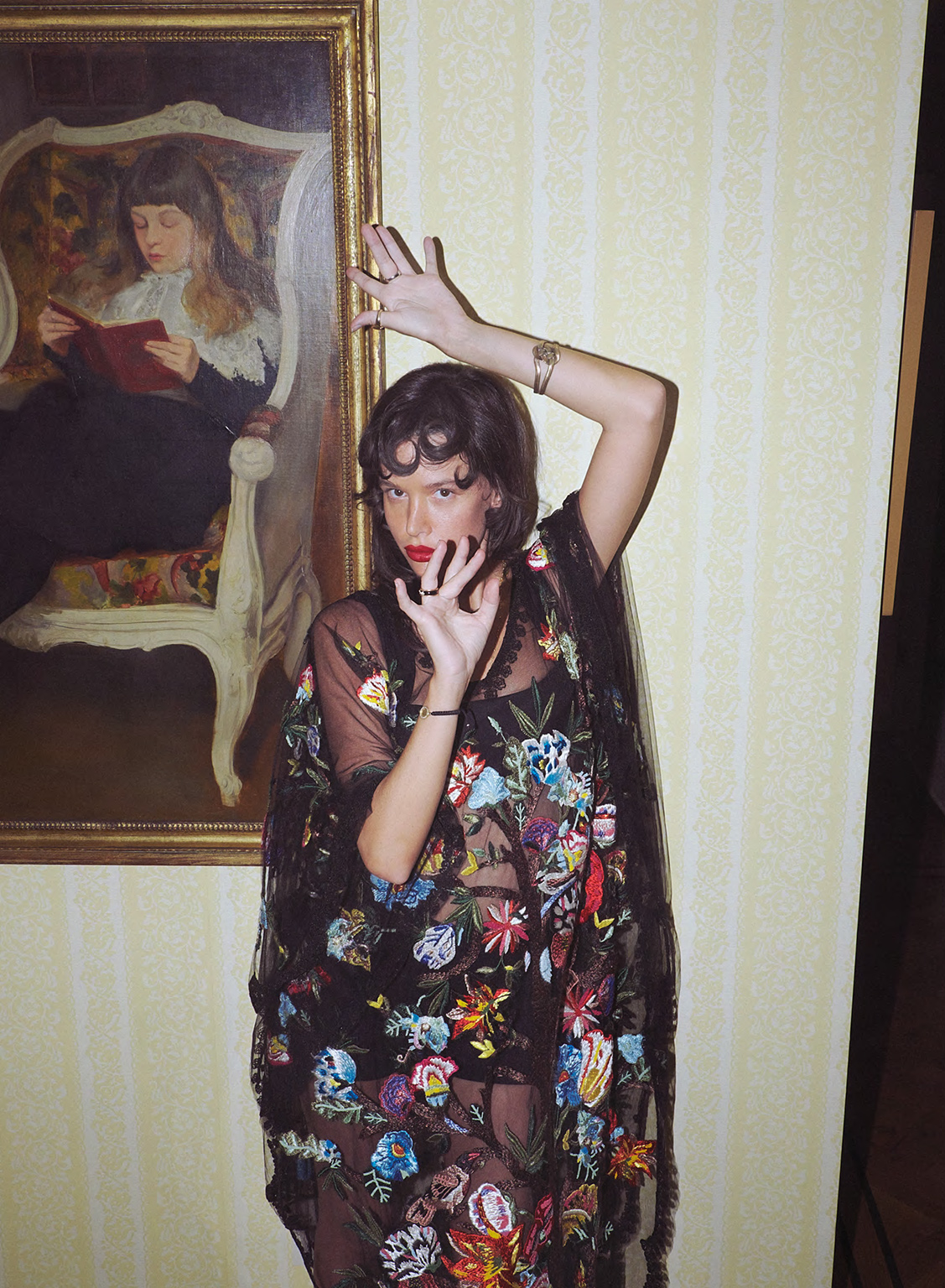 Above: A cascade of embroidered flowers inspired by Mexican textiles adorns this tulle maxi-poncho gown worn with modesty over matching crêpe top and shorts. All by VALENTINO.
Paz de la Huerta has a way—or at least, has had, for the last decade and a half of her career—to irritate the irritable, rub it  ("it" being whatever chip they may have on their shoulder that day) in people's faces, and generally piss the prisses off. To the shallow, she is shallow. To the uptight, she is vulgar. To the hateful, she is just another starlet/nymphet/misogynistic epithet of your choice. To the deaf, she's a mute.  But before you call her a victim, it's always been clear to me that she is anything but, and seemed to be very much the mastermind behind her beautiful yet self-destructive journey all along. She calls it "making myself a martyr";  one could also call it learning about yourself the hard way.
     This is an important distinction because, whereas other actresses of her caliber and intelligence would hide their psychological conflicts behind high, smooth walls of calculated personas, Paz has that one weakness—which we will alternatively call a strength, because it's both—of being uncontrollably transparent. Without a shield over her heart, or a silencer on her automatic bullshit detector of a mouth, you're going to see and hear whatever she's going through—as the interview below so eloquently attests. And if you can't handle it, chances are that transparency is working exactly as it should be, detecting and reflecting not just her own frailties, but yours too.
     I'll never forget the first time I saw Paz de la Huerta. Before she was an actress and a favorite subject of tabloids, she was just another kid at a piercing parlor on St. Mark's Place. Except this kid gave me that eerie flash of clarity that feels like a sighting of one's own timeline on earth: I knew I would never forget this moment, because I would never forget her. Granted, I had also just read George Plimpton's memoir compendium about Edie Sedgwick, so I was primed. Here, it seemed, was Edie's reincarnate, perhaps her successor: a young girl, maybe thirteen, in a leopard-print dress that looked like it had been cut very short by an angry gardener's blunt sheers, her marionette legs secured to the ground with giant army boots, her upper body completely still, set in a severe, improbably controlled posture for someone so young. All of it—by it I mean the performance, as well as the person—was crowned with a tuft of bleached hair that gave her the haloed, fairytale look of the Little Prince.
     When I saw her again only a few months later, it was in a magazine. No surprise there. It was also no surprise that she was embarking on an acting career (though, back then, I would've put my money on music), nor that her father was some Spanish duke and her mom was a feminist, world-traveling social worker. Paz was the literal, urchin offspring of an '80s SoHo art world that I'd only experienced as a glorified myth. With a debut in Lasse Hallström's Cider House Rules, she confirmed my hunch that, next to even the biggest stars like Charlize Theron, Paz had something to offer that transcended entertainment, or even art. She had soul—that haunting, other-worldly quality that I'd seen hints of in performers like Frances Farmer, Anna Magnani, Nico, and of course, the Saint Joan of them all, Edie.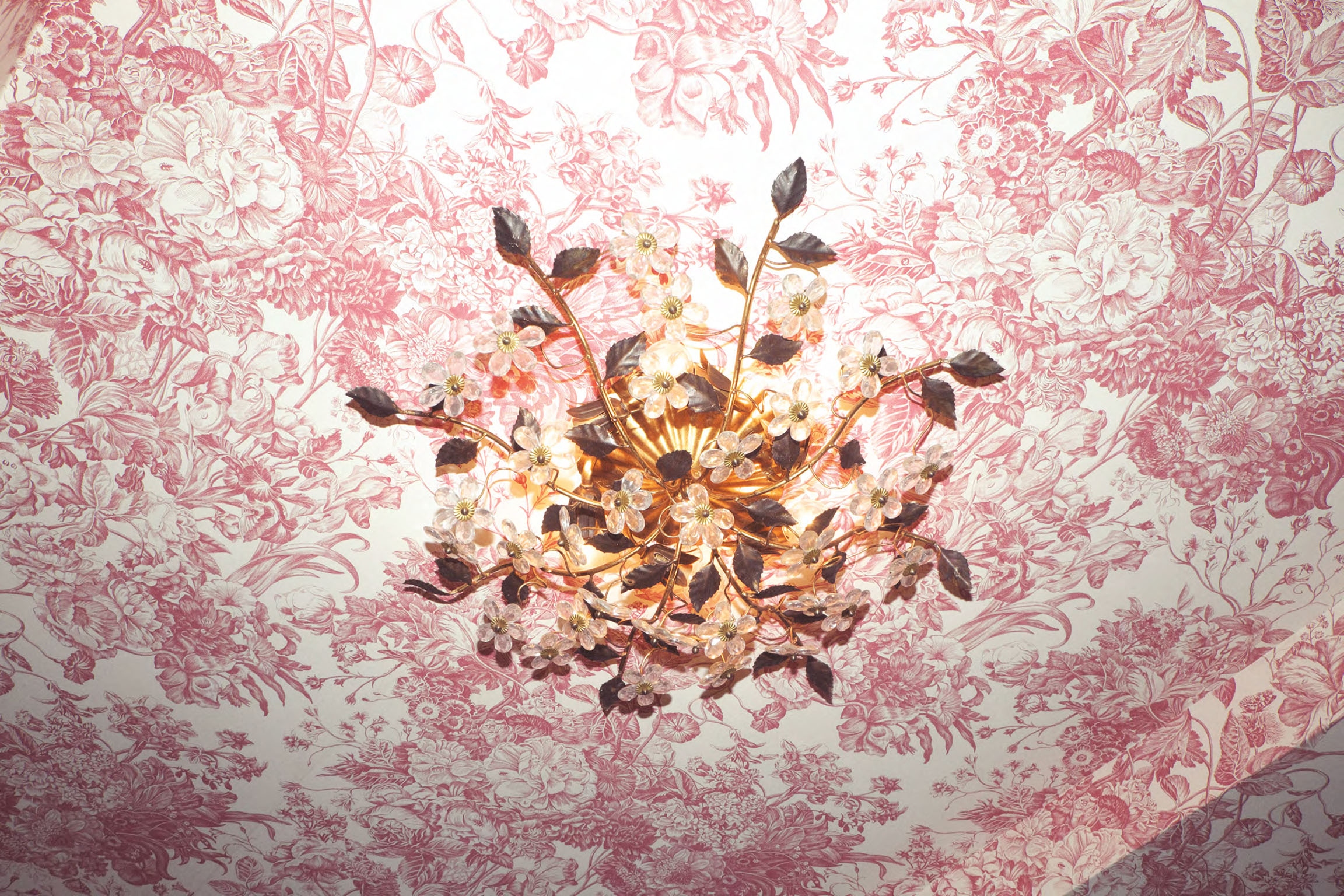 Since then, I gradually lost sight of that soul—or maybe, she stopped wanting to show it, instead protecting it with her sensational body, which became the focus of attention in many of her performances as well as in the media circus surrounding her private life.
     Then one lucky day—the fortune of which was only revealed, through much pain, later—her body finally quit. The circumstances are as epic as one could expect from her life's trajectory. On the set of Nurse 3D, a film she'd had a premonition would kill her, a stuntman had to drive a speeding vehicle past her at dangerous proximity. Against her protests that he was getting too close with each take, the truck finally slammed into her. As if the universe wanted to make sure that the message would not be lost on her, at the time of her near-death, she was dressed as a nurse, and was hit by an ambulance. The accident almost killed her—physically. But in so doing, it also gave her back that other, hidden part of her life. The next three years have been a painful journey of recovery—she endured a 20-hour life-threatening surgery, and most recently lost a pregnancy while shooting a film and financially. But it has also been a rebirth, as Paz frequently refers to her experience.
     A woman who has had far too few of the kinds of film roles that only she is capable of fulfilling (for instance, in Gaspar Noé's Enter the Void, Jim Jarmusch's The Limits of Control, and, perhaps most famously, in the role of Lucy Danziger, which she all but channeled for the HBO show Boardwalk Empire), Paz is part of a tradition of women who are at once too smart and too beautiful to get away with it. Each of those qualities, separately, can get your ass kicked, but the combination makes you extra uncomfortable for the status quo. For every list of tragic beauties, however, there's another, of women who conquer the world, and in so doing, change it. The Hollywood game changer Mae West comes to mind, but also unsung radicals such as Zoë Tamerlis Lund, who wrote films with the cult director Abel Ferrara. If anyone can fill shoes that large and relentlessly daring, it's Paz.
     With that said, it must be pointed out that Paz de la Huerta is also, necessarily, a style icon. Her huge collection of vintage Ossie Clark, Azzedine Alaïa, Vivienne Westwood and YSL alone would make her a fashion heroine. But we profile her not just for her untamed, completely personal taste in clothing, but also, more importantly perhaps, for her sensual ability to make clothing about something other than fashion.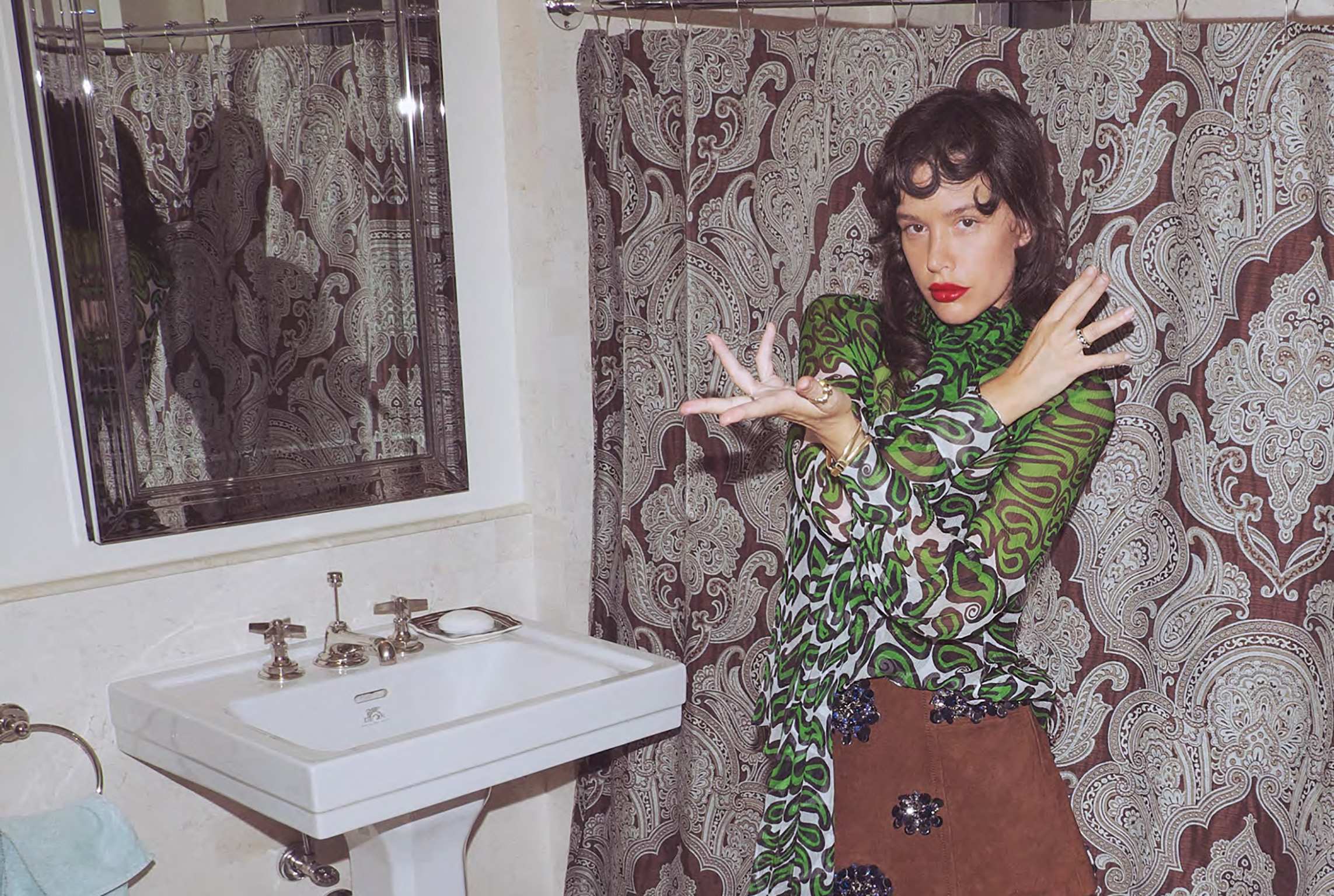 Above: In front of the mirror Paz interprets the psychedelic effect created by the green-as-grass paisley motif printed on this chiffon shirt. A sophisticate cocoa suede skirt with embroidered crystals supports the improvised act. All by MIU MIU.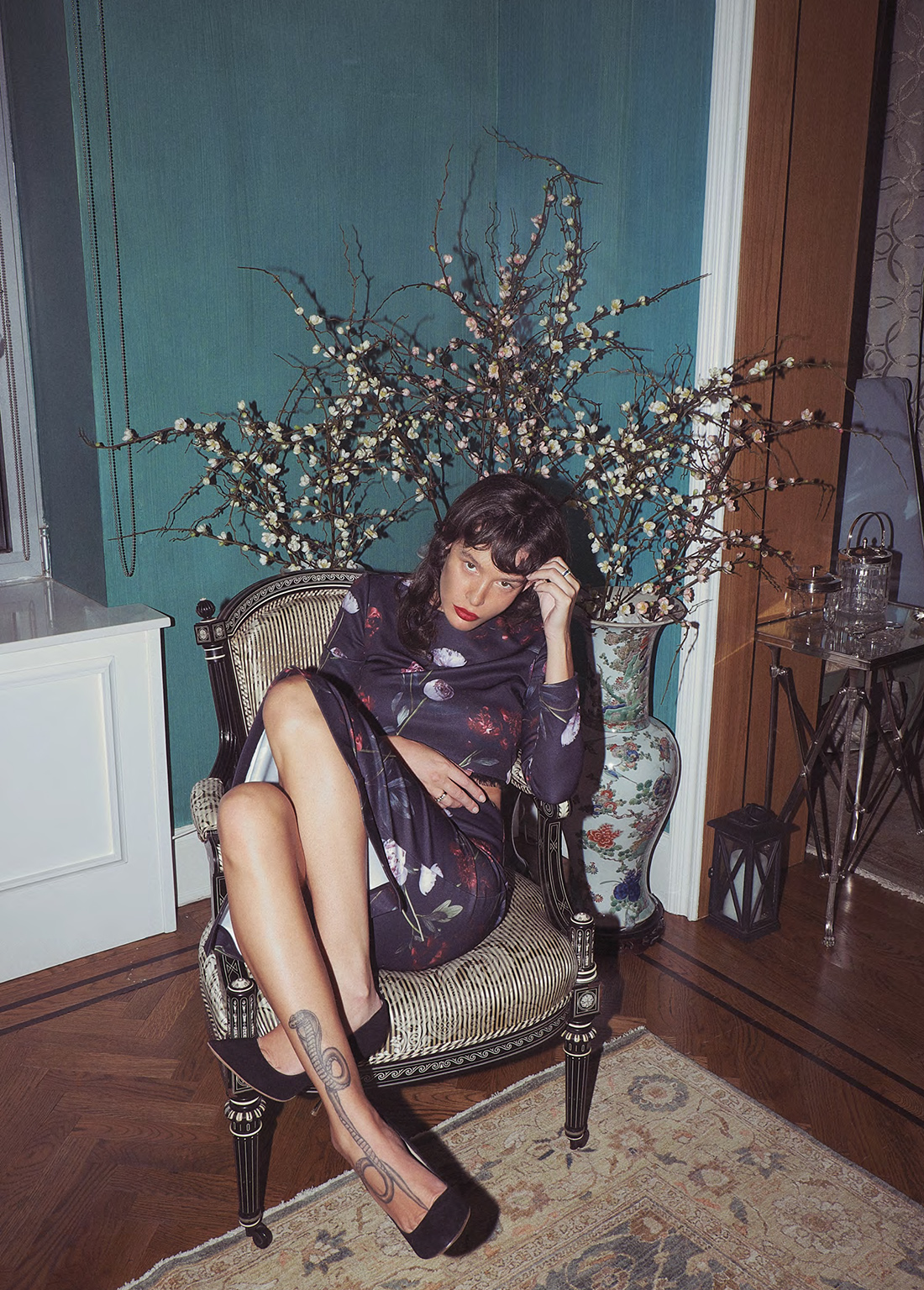 Above: Small cherry blossoms frame Paz, styled with blooming peonies printed on this midnight-blue ensemble by ERIN FETHERSTON. Off the ground, the NICHOLAS KIRKWOOD black suede pumps complement the Naja naja tattoo.

The contrast between your being a renowned starlet or an actress, and how intelligent you are—how difficult must that be for you to deal with? Do you ever find yourself being treated like you're supposed to be dumber than you are?
It's interesting that you talk about that because it's something that I've had to deal with my whole entire life. When I was young, I didn't feel beautiful at all. I was born with a lymphatic problem. I have a huge scar that went around my back. But I was approached by Katie Ford and got paid to wear women's clothes at a young age.
     I was also getting the chemistry award and the library award because I spent the most time in the library doing my homework. And I'll never forget when I went to pick up my chemistry award, how horrifically I was booed and tortured by these horrible, evil, jealous girls. In school the bullying really got bad in fourth grade, so bad that I couldn't go to recess because they would back me into the jungle gym and beat the shit out of me, pull my hair and call me names. The teachers didn't do anything about it. My family life was destructive. And my birth mother made a huge mistake. I'm sure her intentions were good, but she would call the school every day about what episode had happened the night before. So I was always being called out by the school therapist.
     You know, after living on this Indian Reservation—I've been living on this Indian Reservation for the past two weeks, the Seminoles—they taught me a lot. Because I saw a lot of crows here, and you know, crows are the most judgmental animals in the world, and every now and then there's a crow with a white stripe, and the black crows will just pick pick pick pick at that one with the white stripe, because they don't understand why it's different, they don't want it to be different. So I'm like that crow with the white stripe. I always have been. Or how they've broken it down for me, with animals, there's three types of people—there's sheep, shepherds and wolves. And I choose to travel with other wolves. It's taken me forever. I mean I used to purposely not take care of myself and I was very very self destructive to appease people in high school or in my business, even other actresses that wanted to destroy me, that were jealous of me. You know, that energy—when that energy is directed toward you, negative or bad, it's energy and you have to try turning that negative energy into positive energy and using it in a good way and not letting yourself be affected by the negative energy. It wasn't really until I had my rebirth, till I was basically killed and reborn again, till I actually loved myself. I fought so fervently and tenaciously for my life.
     This is when I was hit by that stunt driver on the film set of that film that I didn't want to do—it's called Nurse 3D. I was told I could rewrite the script. I spent three months rewriting it. I'd been used to working with auteurs. The managers, the agents, they get greedy and I wanted out. But I was blackmailed into doing it. I'm quite psychic so I saw, even before, the stunt driver hit me and how bad it was going to be for my health, no matter what. I literally said "this movie is not worth my life" two weeks before filming and I tried desperately to get out but they wouldn't let me. And I can't say much about that because I'm in a big law suit right now.

That sort of answers my question about being a really smart woman in a business that expects you to be dumb. Sometimes you just totally shock them.
I really do. It's pretty amazing because I'm at a point now in my life, I'm ready to become a mother, I'm doing the whole three-sixty. The reason I came to this Indian reservation was to clear my womb and to get ready to be a mother, and to make sure that I don't put any of this shit that I've been through onto my child. Make sure that it's a clean, healthy place. Because my birth mother, bless her, she was the worst thing—she's poison for me.

Is there a reason why you want to become a mother, other than having a kid? Is there any other feeling in you—
It's so funny, because I was doing a film which you can mention, I'm very proud of this film, its gonna be at Sundance this year, it's called Bare. And the director—I had decided to move to Europe, which I still am doing, but I had decided, I said look, "What is an elegant way for a woman to gracefully grow older?" as I was nearing my 30th birthday. I had always admired flamenco dancers—I remembered as a child Luis Buñuel's That Obscure Object of Desire, Conchita especially, Angela Molina—I was just like DAMN, it just encompasses everything that I love: singing, dancing, sensuality. Yet there is—before the sensuality can be exposed, there's intense, intense training—I mean, I won't be able to dance publicly probably for three years. But I started studying—my godmother has an incredible school in Sevilla, it's called Cristina de Heeren Flamenco Foundation, it's all in support of maintaining this sacred art, which is becoming a more and more lost art, and to make sure that it's taught right and that it's taught well, and to keep it alive; and little did I know, while I was dancing, I was pregnant.

Reminds me of that T-Rex song.
"I was dancing right out the womb." That's a great song. I lost a very very very close friend of mine this past May. And I'd finally given up on love entirely, I was ready to settle down with a guy I wasn't in love with and just have affairs. And he passed away, a week before I was gonna meet him in Paris and our plans were to start a family. I had the ticket and everything, he was gonna pick me up from the airport. A week before I go, I get the news.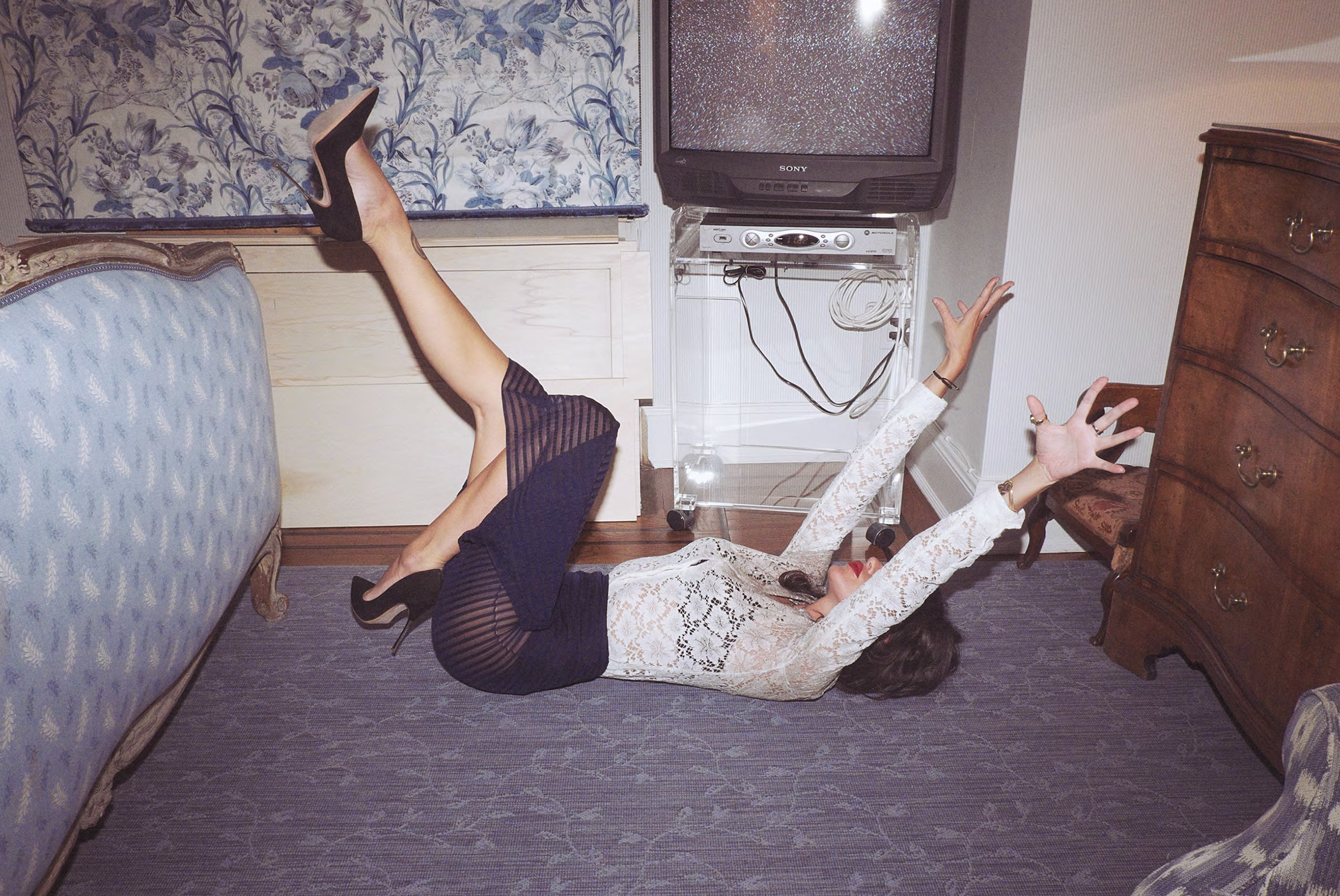 Above: Lying down on the carpet, Paz stares at the ceiling wearing a candid ivory lace shirt and striped chiffon pencil skirt, worn over the high-waisted crêpe de chine culotte, all by BURBERRY PRORSUM. On closer inspection she also wears a black bra by CLARA. The black suede pumps with platinum stilettos by NICHOLAS KIRKWOOD complete the horizontal roller-coaster.

Where were you and where was he?
This is what kills me the most. I wrote a song. Me and Michael Pitt, who was on Boardwalk Empire. I went to his house one night. I've been wanting to sing more and more. John, my friend who passed away, was an incredible musician and he produced all of the films that I directed.

Where was he?
It kills me. I had no idea he was in New York the week before, and I was too, but I was on 102nd and Fifth Avenue, and he was in some shit hole on the Lower East Side.
     I wrote this song, it's called "Ode to Johnny." And Michael sings on it and I sing on it. It just kind of organically happened. I went over to Michael's house, he has a recording studio there. Michael's very sensitive and very talented. It was like Johnny's spirit was there in the room with us, and this was after my pregnancy, after the film, after I decided that I would find love, that Johnny wouldn't want me to not find love, but in the lyrics—and I'll send it to you—it says "Where was I when you had nowhere to go?" and then at a certain point Michael, playing the role of Johnny, is going "Where was I"/"Where was I"—so it's really about two lost souls trying to find one another.
     I've lost a lot of friends in my life but this was one of those things where it was an accident, it was just not supposed to happen, he had so much unfinished business in this world. The day of his memorial was the day I had my ticket to go to Paris to meet him. And I still got on the plane to Paris. I was completely grief-stricken. I hadn't seen my father in five years, and he picked me up from the airport in full military regalia—he was in the French Foreign Legion—with HIS family and his ten dogs, Jack Russells.

What was it like to show up in Paris that day?
It was grief, but I felt like a feather in a windy city. I felt I was lost. And I know that Johnny sent this man to take care of me. My father certainly is incapable of taking care of me. I love my father. My dad lives in Normandy so it was difficult for him too to pick me up. Mind you, during the five years that I hadn't seen my dad, I had had the accident, I'd been in the hospital fighting for my life for over a year and a half. I had finally had the surgery to save my life, so he was very nervous, and he didn't know how to deal with his emotions well.

But he showed up.
Yes. He still showed up. He still showed up, in full military regalia, with very loud French Foreign Legion music [laughs]. And I knew I had to go [to Paris], and I knew Johnny would have wanted me to go, because I have a film I can't yet talk about with a French director that I'm going to be preparing the next six months for, overseas. I had been contacted by this director last March, and I couldn't believe it because if there's any director in the world that can push me farther as an actress—farther, period . . . I don't call myself an actress, I call myself an emoter. I hate that word actress. I'm not fucking acting. Every emotion, every moment that gives me feeling, I'm really feeling.
     I'm much more understood in Europe. After I had my rebirth, I promised myself I would go back to my roots of working with auteurs, because that's how I work the best.

You said that Johnny brought someone to your life, besides your dad, who was that?
It's a man. It was a strong man, and someone that was able to take care of me. And I still had this role  [to audition for] that I didn't know every actress in fucking Europe wanted, you know, and they auditioned in French, and, no, I don't wanna jinx it, but I was able to—you know, I was exhausted, I was living on people's couches, and I know Johnny sent me this very strong, stable man to take care of me. And I got pregnant. I got pregnant right away. And then I left Paris, and I went to Sevilla—that's when I started to feel myself getting my power back, because really for me, mothering—it's your solar plexus and I had felt, and it had been a fact, that my mother had robbed my power. I recently did this film about colors with this director where a lot of the old Warhol people interviewed me about colors and how they affect me, and I had never realized how yellow really fucked me up. I was tortured a lot in a yellow room as a child, and yellow is the color of your solar plexus and your power shakra.
     I kind of ramble but you know everything is so cyclical. I'll send you the song that I wrote, my ode to my friend that passed, and once you have seen the light, which I have—when I was hit by that truck my spirit left my body I saw my body below—everything is just intertwined and you know it's like no moment . . . moments like these can NEVER die. It's about getting in touch with the unseen realm, the non-physical world. That's what I've been able to achieve, living in those other realms.

One of the first lines in Enter the Void is "I'd be scared of dying, I guess. Falling into the void."  Do you feel like, before your rebirth, do you feel like death and the fear of dying were prevalent in your life? Did you have a sense of it in your life?
I'm definitely not afraid at all of death now. But before, like I said, with your first question being, has it been hard being talented and smart and outspoken and all that, I was killing myself. I was on such a self-destructive path because I wanted to make other people happy. I was martyring myself in my work, and other ways.