Pinup
10 March 2015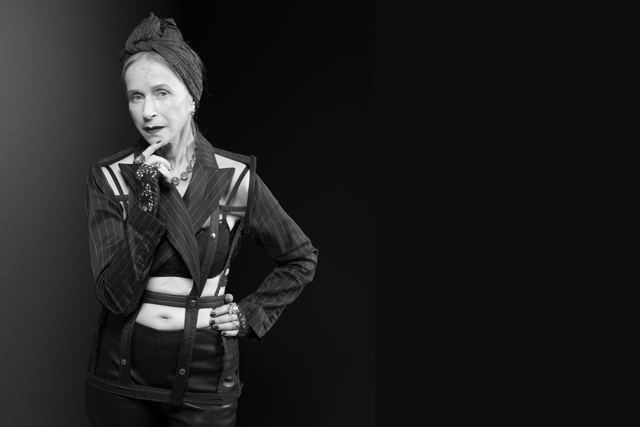 Be the flame, not the moth.
They were always there. Surely Cleopatra was one. Marilyn Monroe had a plan. She had to outmaneuver the other starlets. Her promiscuity was more businesslike. She made it to the top of the heap: just—hmm, her heart was too fine. That's costly. She was brave. She didn't care for convention. Hmm ... she was one of the ones who got burned.
I'm in Santa Monica. We drive north. A bit of highway and suddenly the exit to the left, where the ocean awaits. Dos Pueblos orchid farm. An alley with ancient Morton Bay Fig trees. Giants, really. Three dinosaurs.
When we have passed them, I turn in my seat to look back as they shrink into normalcy and then vanish, like an oversized unreality. Something whose existence one made up. And there are the abandoned greenhouses, once an orchid grower's delight.
We get out of two cars. My granddaughters, Viva and Luna, model themselves on the 40s. As they walk by the glass walls, their identity is effortless. Heels and red lips. They are as tall as their tall mother.
I'm sitting inside a jungle with Micheline Pitt. She looks up from her hands. Her hair is in a 40s wave. A small feathered hat sits on one side like a tease. Her suit is blue, very blue, and as if fastened to her body. Her features are strong, set in porcelain skin. One wants to keep her.
I'm in her kitchen. She holds a knife in her hand, cutting onions. — No, I'm imagining all this.
She bends down to open the stove, to check on the roast. She is wearing high heels, a leather skirt, very tight. A blouse, open so I can see the anatomy of a heart tattoo atop her decollete, on that soft valley of breast. She checks out the set table, counts the glasses.
We are eight, honey? she asks. Don't overdo it, darling.
It is an ordinary household, celebrated in her care of herself, the way she moves. She wears rubber gloves, like a surgeon.
There is a culture in all of that, a culture of joy and ease. I'm sure she is not always happy. But then she knows why not. The rest is about herself. The image of her body, floating by a shop window. That delight of self-creation, recognizing what you've got. When you know it, everybody knows.
I notice all pinups are very concerned about their bodies, as we all should be.
They are true feminists. You can borrow lipstick from them. They look to one another for inspiration. Flagbearers. They love parades.
I see ice blocks swimming on the Hudson. No kidding. It is romantic, something out of Dostoyevsky. Smoke frozen above roofs.
I knew a pinup in the 70s, here in New York. She was the lover of a department store owner. Her pink mink decollete was cut in the form of a heart.
Luna and Viva, Michelline and myself are strolling among the glass houses. Clouds rush along their panes. Our reality changes with the light of the moment. We stand still to be photographed. Our solidarity is not interchangeable. We soldier our individuality.
Luna is 13. She likes herself in wide sailor pants. Viva's hair is pink. We don't confide in one another. No, we're just solitary. Feminists. We are individually united. It is about generosity of heart. We are transparent, like the glass house, like the sky, the eye of a fish. It is a primitive skill, understanding one another.
We are pinup warriors, with the vulnerability of a good fighter. Pinups are considered good luck charms for the troops.