Space Cowboy - New York
23 April 2013
Space Cowboy brings a slice of the Wild West to downtown New York. The store rose from the ashes of Buffalo Chips, opened in 1989 by Paul Greyshock, where those in the know went for their boots and chaps. A spike in rent and a Vegas misadventure brought "Pauly" to close the doors in 2004. 
Then Jaylin Ramer came along, a former real estate agent who quit her job for her passion: cowboy boots. The duo opened Space Cowboy in 2011, carefully selecting high-end cowboy gear for their clientele. In addition to their curated selection, Paul and Jaylin design boots that are handmade in Texas for their own line, Planet Cowboy.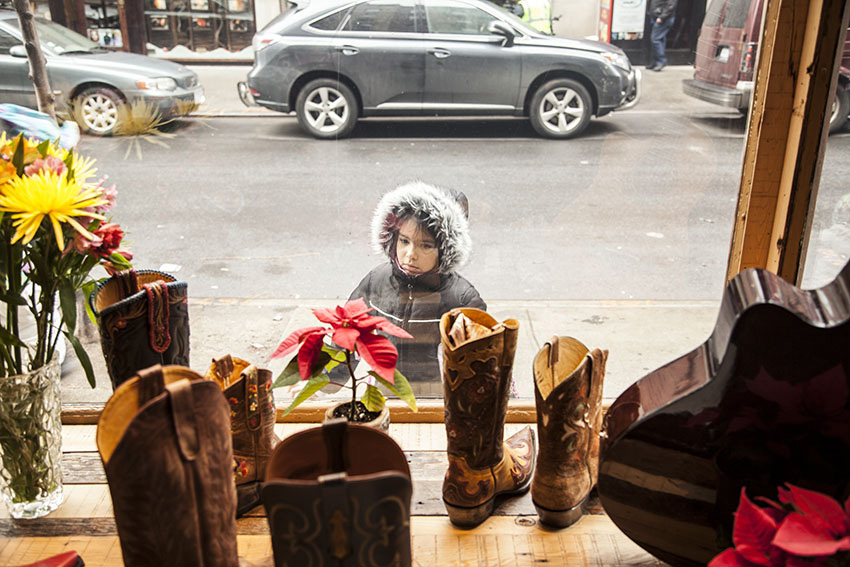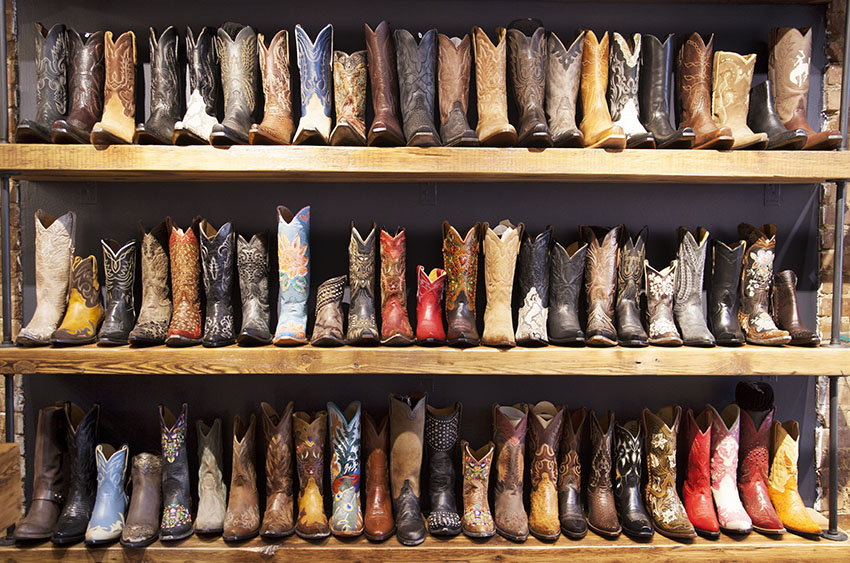 The store carries more than 120 styles, for men and women. All the boots are either made in Texas or Mexico.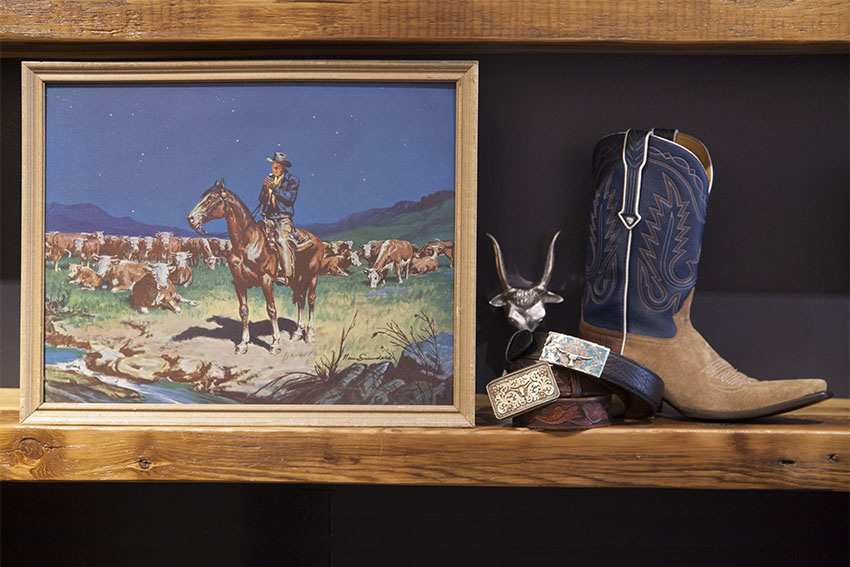 An Old Gringo boot jack stands behind two vintage long horn buckles and a "JA Roughout" Liberty Boot. The buckle below is a Harry Hudson in silver and gold on a vintage leather belt. The one above it has turquoise inlaid in vintage silver, and is mounted on an American Buffalo black belt.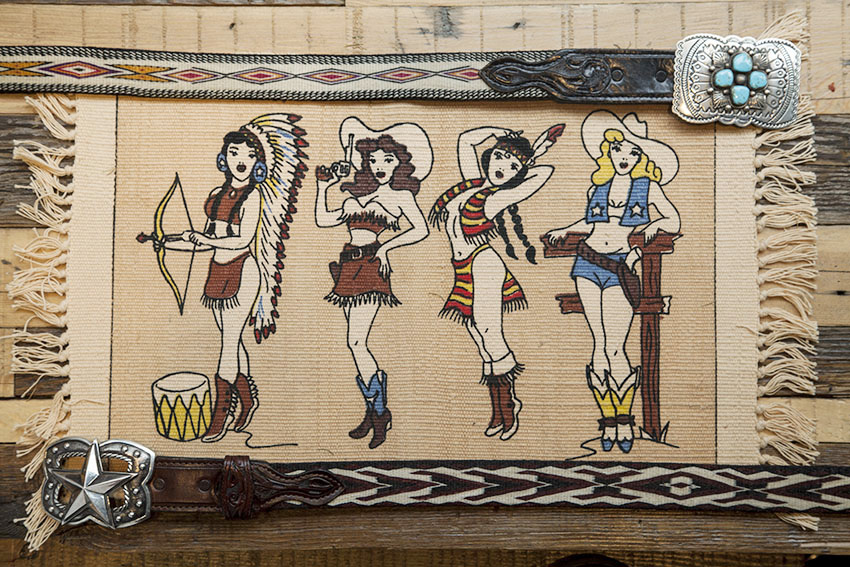 Two hitched horse hair belts lay on a small decorative rug. The one above is complemented by a sterling silver and tourquoise Native American buckle, while the one below has a Jeff Deegan "Sterling Star Trophy" buckle.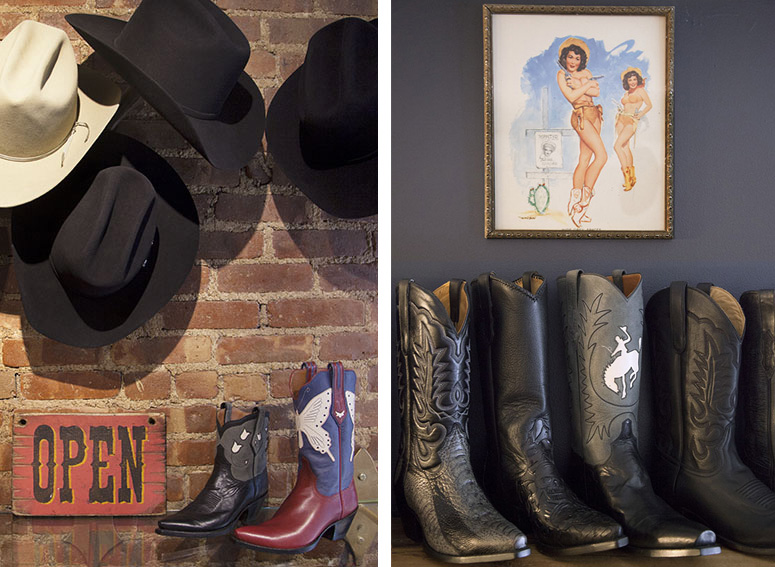 On the left: Made of beaver fur felt with satin and leather lining, the hats are all handmade in Texas by American Hat Co. The "Pee Wee" style boots below are handmade by J. B. Hill. On the right: A selection of men's black boots. From the left, Planet Cowboy Mex with ostrich leg, Liberty Boot "42 Muertos" with carved skulls, J.B. Hill Kangaroo snub toe with inlay bronc rider, and Planet Cowboy Mex Ranch Hand.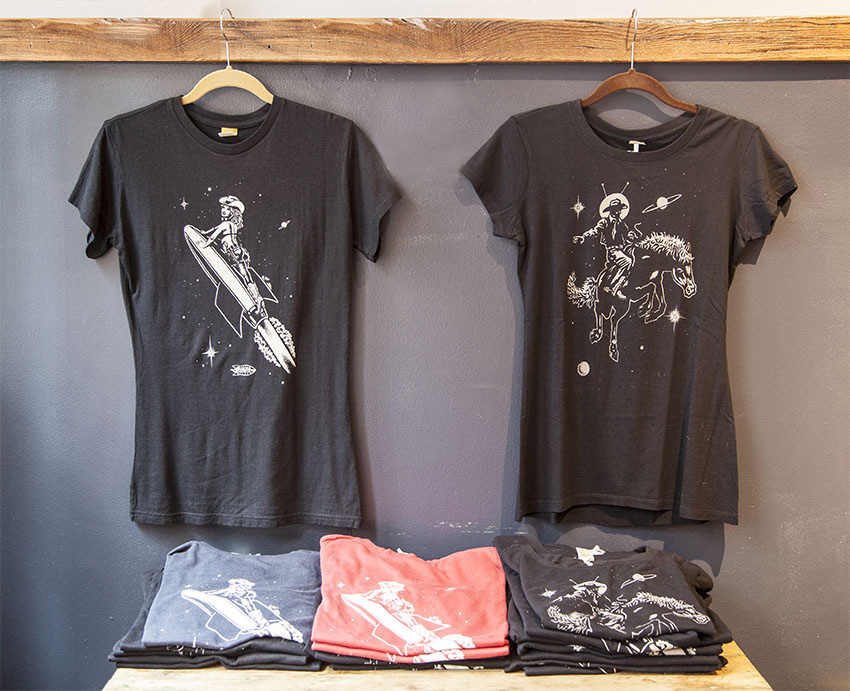 Planet Cowboy organic bamboo tees, with two designs by local artist, Zito.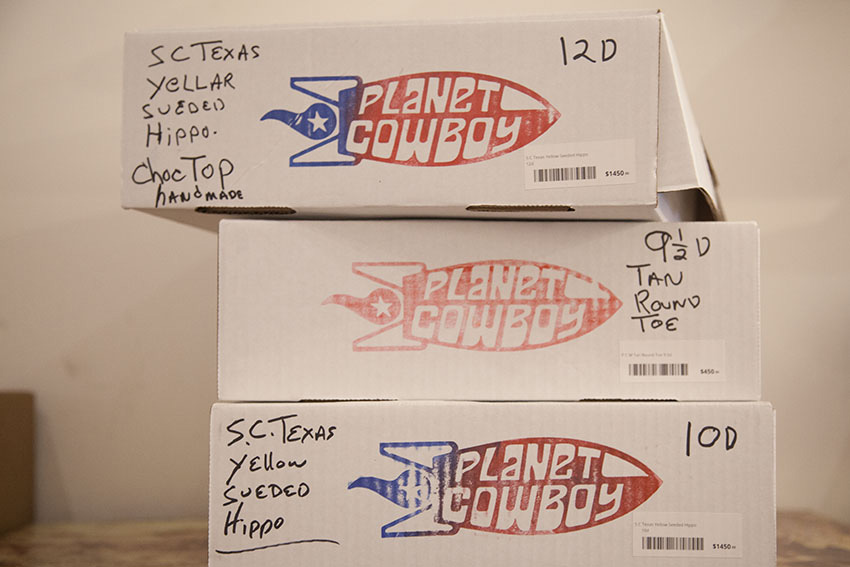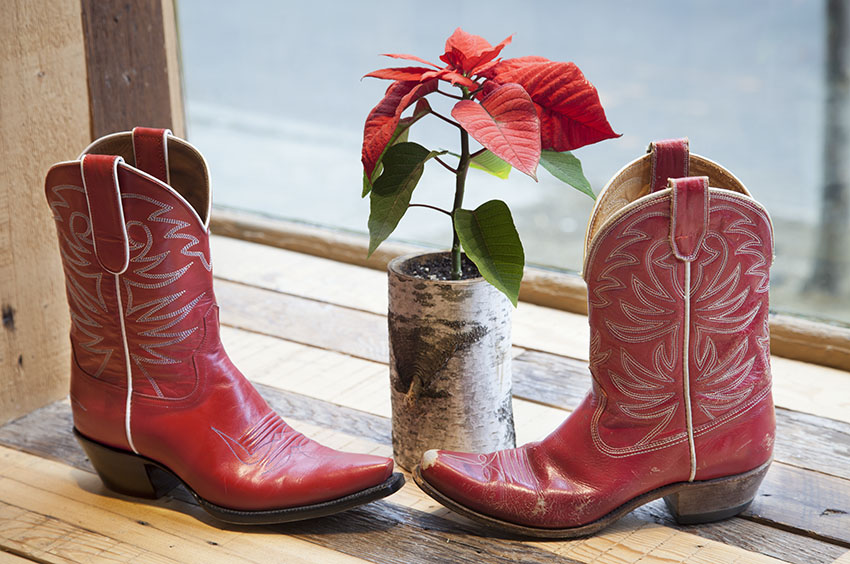 On the left: A Planet Cowboy Tex remake of the 1950's red boot on the right. Handmade in Texas.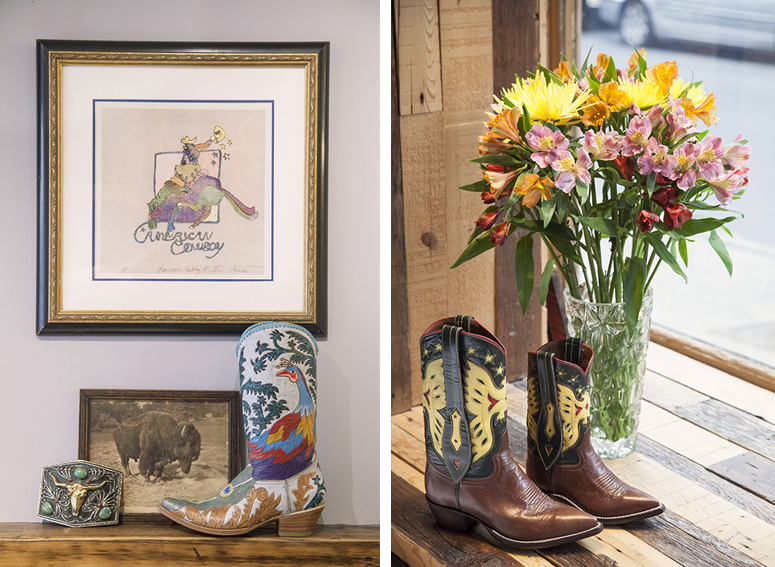 On the left: In front of a 1908 photo of an American Bison stands the made to order Cock of the Walk "Peacock Boot" with a large vintage trophy buckle. Above is a print by the American artist Malcolm Furlow. On the right: Old Eagle brown boots with green top and a yellow eagle overlay, in their version for toddlers and children.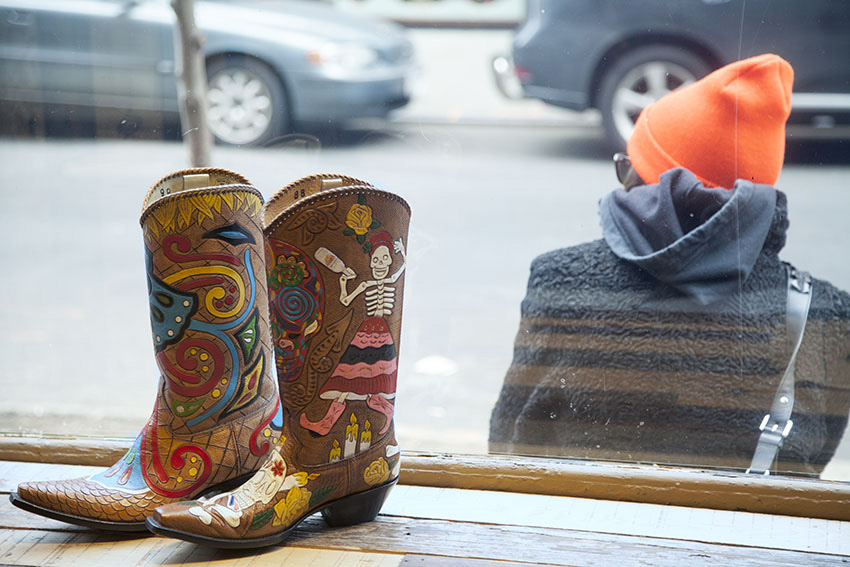 Two Cock of the Walk boots."Indian Head Dress" on the right and "Day of the Dead" on the left.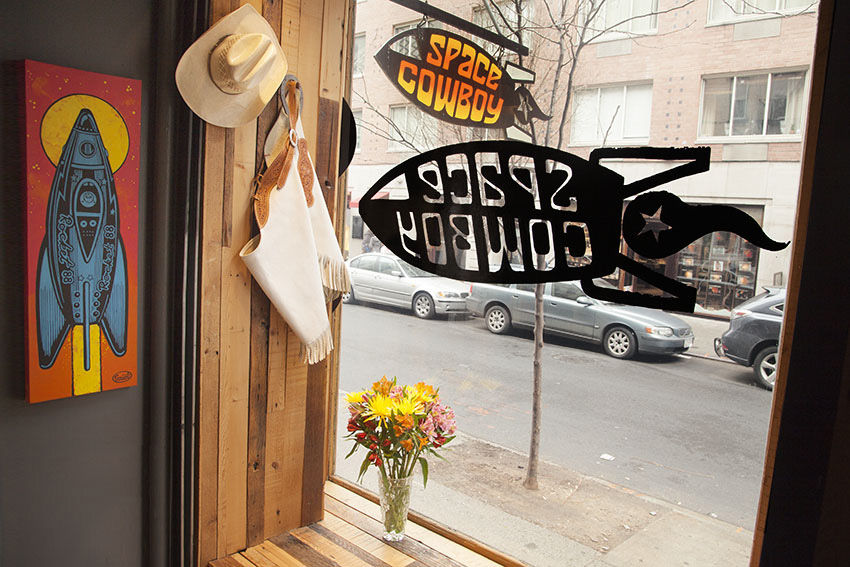 An American Hat Co. Straw hat hangs in the shop's window with a pair of women's riding chinks, hand-tooled with white fringed deer skin.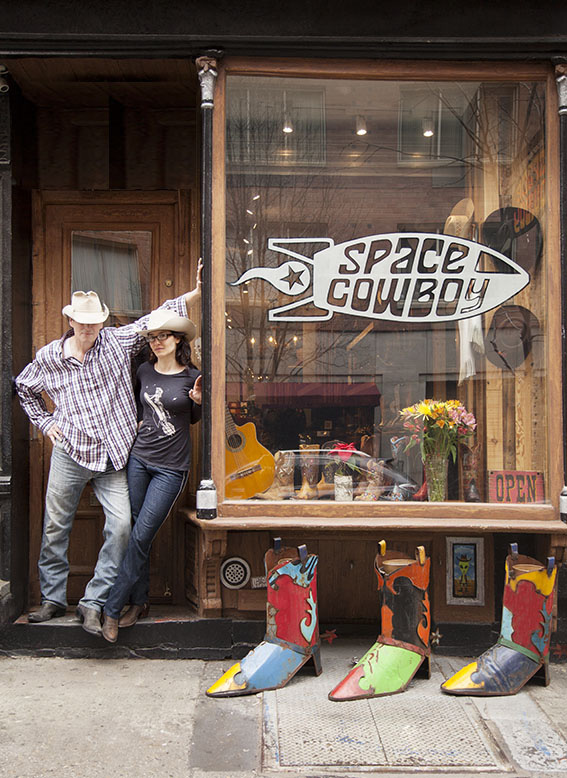 Owners Paul "Pauly" Greyshock and Jaylin Ramer stand in front of their shop.
Space Cowboy is located at 234 Mulberry Street, New York.