Spring Awakening
31 March 2015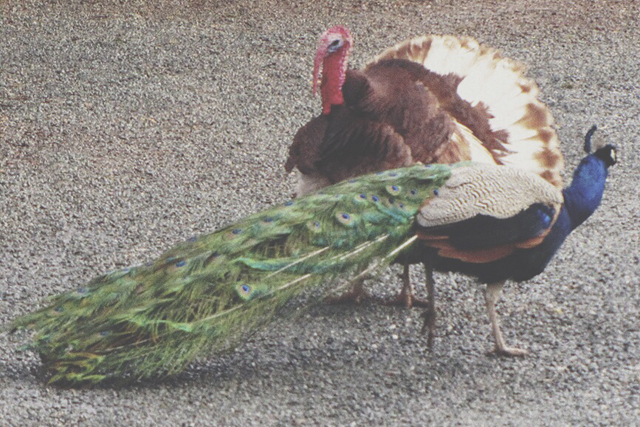 What one wants to get rid of, the other needs
They make gardens an apothecary's delight. Everything is there to see, lined up by season. White, yellow, purple is spring's first curiosity.
And there it is: that feeling, the center of everything. Life is a crumpled piece of paper. The return of a season you so vividly remember.
Shit, it was just last year.
Today is a day of blooms, like happenings. Years stepping on one another. Banalities stay fresh within your travel logbook. Events become banal, like a pretzel bought from a street vendor. Or stick out like black swans.
Stella walks me through the garden. Like a premonition, the summer plants are already pushing up. Tiny greens, with that strength of knowledge. Crocus petals fine as organza don't mind a night frost.
See? Often the frail ones surprise you.
I am in Prague. This is a northern spring. It comes hesitantly, beaten back too often by frost and a sudden, irascible snowfall.
Shock is not always negative. In an instant you can go from death of winter to rebirth of spring. It turns out life had not expired after all.
Nature says: What is banal? What is significant? She too has been keeping abreast of technology, running simulations of her own. Her video games imitate the ultimate reality. The eternal recurrence. The theology of beauty.
T.S. Eliot said:
April is the cruelest month,
Breeding lilacs out of the dead land,
Mixing memory and desire,

Stirring dull roots with spring rain.
It is unpredictable, like the shadow of a bird in flight. Spring is a double agent. It's on two sides. The cold of winter it has just left behind. The
warmth of summer it has not yet tasted. Like a dish in the making, like a thought carrying destruction or resurrection. Like a petticoat.
Prague is an ancient town. You can easily feel the cold stench of the plague striding through its narrow alleyways. And then the other side, the city of three emperors, the wide avenidas of pomp and circumstance.
Am Grunde der Moldau wandern die Steine

Es liegen drei Kaiser begraben in Prag.

Das Grosse bleibt gross nicht, und klein nicht das Kleine.
Die Nacht hat zwölf Stunden, dann kommt schon der Tag.
That Brecht song I love to sing.
Prague is a city every architect has to visit. Just as you cannot skip spring. Prague was never destroyed by a modern war. It is as old as a sigh in the history of man. It reveals its past in hidden bites. You become obsessed with discovery, fascinated as you would be with the secret worthiness of the person you have fallen in love with. It reveals itself as different sides of a coin spun between the fingers. It does not divulge its sources. You have to be the eyes' detective.
I was invited to Prague when Vaslav Havel was a young president, just after the liberation. There we were his guests. The food was catered from Germany. I lost my suitcase and had nothing to wear for those festive four days but my travel suit. Even for the gala. I hadn't found a replacement. I stuck a red rose into my lapel for a change. I was the guest with no clothes.
Nowadays you can buy things in Prague, but not back then. Literally nothing. The Prague of today is so very worth the trip of discovery.
I am back in the US, in my domicile near the Blue Ridge Mountains of Virginia. Here Spring is immediate. The sun is borrowed from Morocco. The daffodils cannot wait. Huge trees are cloaked in pink veils. The days are impatient. Crocuses open in slow motion for you to witness. A divorce: the winter is forgotten, like it never was. Turkeys, peacocks, forget it all. They pull up their frocks for the girls to see muscle. It's not cruel, this southern spring. It's ready for sex. Just feeling high. Spring is a drug. It needs no invitation, just take it.
I'm a rooster, can't you see, says the fat turkey.
Hourly the colors change. The mood is like an espresso, strong, concentrated for the moment. Who cares?!
I take off my clothes just to feel.
Everything starts in spring. Even Monica Lewinsky is back from hibernation, with a litany of explanations.
Yes, spring is the time you invite a lover. Be at ease, he's waiting too.
Jessica took spring vacation in Greece, the Greece of a while ago. When she fell in love with a tall, handsome man there, a perfect specimen in flesh and bone, she had little time to get to know him. See, it was springtime. She asked his maid about his habits.
Oh, said Elvie. He always eats spaghetti. An act of wisdom.
The clock's hand jumps. The time is running on time. Spring is the diving board. Spring possesses the dreams. It is the chance for resurrection. There is something about procreation in the air. People are shouting.
Go for it!