Steven Gambrel
There are homes to be lived in and others to be contemplated. The latter, no matter how bright and well-equipped with all forms of comfort, decorated with rare furnishings and paintings worthy of a museum, often lack life: like beautiful boxes without soul. The same happens with the food recipes described by Roland Barthes in Myth Today: visually perfect on the pages of a glossy magazine but not very inviting in terms of everyday life. It's rare to find living structures which fuse modernity, timelessness, elegance and livability. Those conceived by Steven Gambrel manage to combine all these elements. His spaces are the result of a masterly orchestration of varius components. And above all, they are always hospitable, human. Gambrel is one of the most sought after interior designers in New York and his name can be placed next to those of great American interior designers such as Elsie de Wolfe, Dorothy Draper and Tony Duquette. Be it a flat in the West Village or a country house surrounded by trees, the principle he applies is always the same: a home has to reflect in "real time" the lifestyle of the owner rather than his aspirations.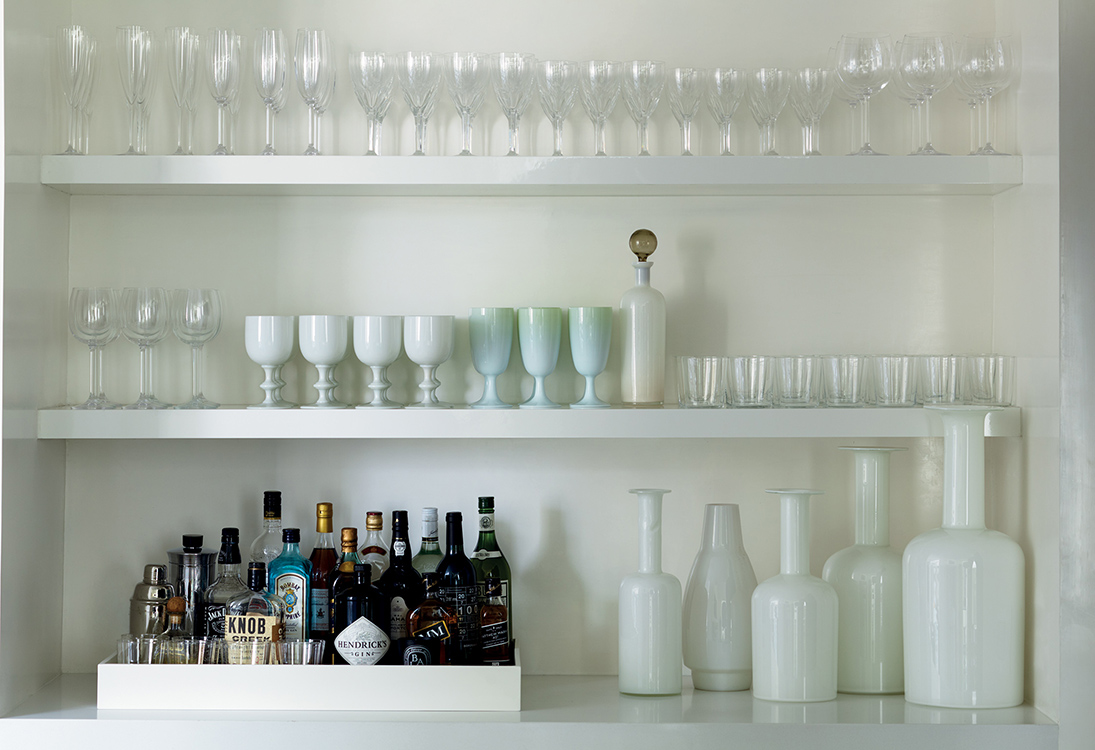 Authoritative, with a penchant for Brunello Cucinelli cashmere jackets and shirts by Lord Willy's, his approach is the opposite of classicist or Jeffersonian. The decor is impactful yet comfortable, amalgamated with unconventional details—paintings by Belgian masters of the twentieth century, Murano glass—often purchased at The End of History. "I enjoy to travel searching for unique and antique pieces," explains Gambrel, "but when I'm in New York Deringhall is the place to find original products, created by talented designers." His declarations on style are incisive, masculine, bold and sensual. The knowledgeable use of colors, including a preference for glacial tonalities (and a weakness for Benjamin Moore's iceberg #2122-50), admits intentional chromatic twists. Lanterns and aluminum appliqués, glass and brass, all contribute to a solid and functional geometry. "I cannot imagine how someone who hasn't studied architecture can decorate a house." But aesthetics count little unless combined with functionality. "If you're someone organized, life can be spontaneous: you meet eight friends at a horse race one Saturday afternoon and in the evening you can invite them for dinner because you know exactly where to find everything you need." According to Gambrel, the process is not only creative, but also communicative, sometimes psychological. It regards an understanding for the interlocutor, and a profound comprehension of his lifestyle in order to give shape to an environment that responds to his requirements. "I observe the manner which the family members interact with each other, and above all else, how they wish they lived. The design of the space is developed from these considerations." It's as if Gambrel sneaked into the private lives of others utilizing a strategy of temporary espionage in order to increase his knowledge of his client's secrets. "The owners are lovers of art and needs a suitable place to exhibit their collection," he explains, referring to an apartment inside The Setai Fifth Avenue. Here, a few easels wield abstract glass paintings, recreating the atmosphere of a studio. The couches, re-upholstered with agave blue mohair silk, are uplifted with embroidered cushions and other paintings from the fifties. Gambrel is not afraid of tonality shock: the wall of the small room is painted blood red while the main space makes use of natural beiges framing a bed in equestrian style. On the other hand, The Kaplan House, shown in these pictures, is composed of three units, "With multiple views of Manhattan's Upper East Side, the planimetry is open and designed to accommodate the increasing necessities of a family and an art collection," he explains. Icy tones dissolving into shades of blue predominate, almost like the continuation of the skies seen outside. The furniture has a modernist cut but the cold impression is damped by the insertion of neutral nuances and warm materials, such as velvet on the couches. Spatiality is accentuated by the large photographs of landscapes hanging on the walls, such as those of Candida Höfer and projects by Christo. Like a stalactite, an enormous Murano lamp hangs above the conversation corner. Altogether the result is coherent, narrative. "It's important to remain loyal to one specific leitmotiv," affirms Gambrel, "and avoid the deception of anything under the same roof. It's necessary to have the final destination clear in your head in order to draw it according to specific parameters."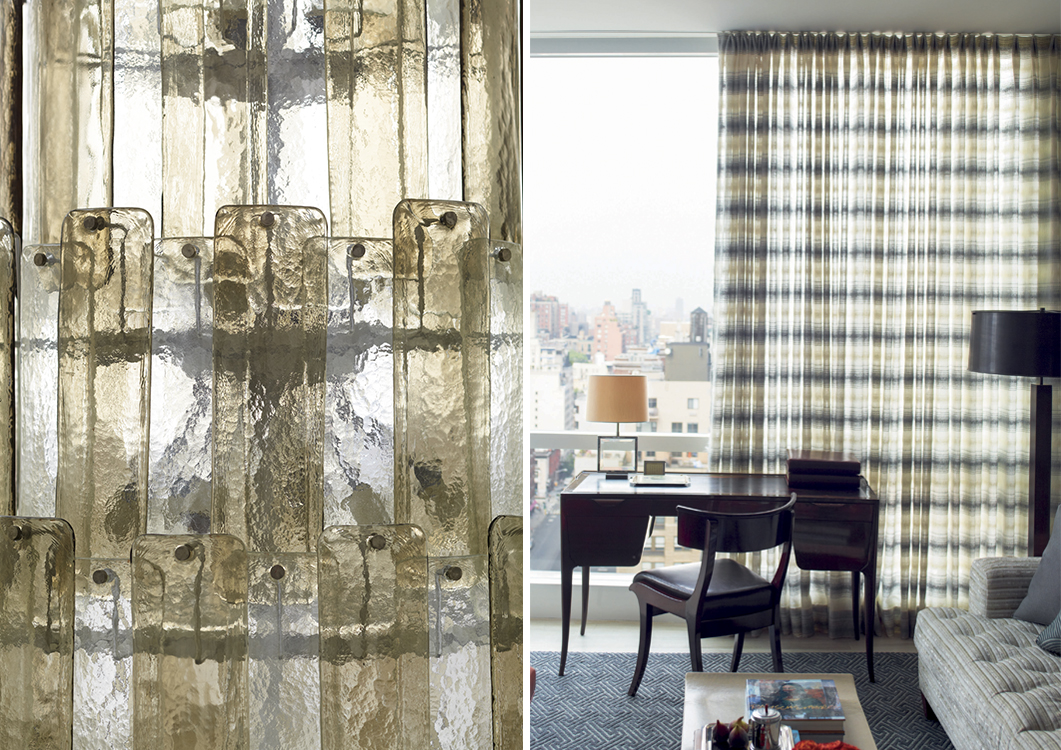 On the right: The living room of the triplex featured in this story, looking over the Upper East Side of Manhattan, features a customized "Midocean" sofa with light tufting and dark satin walnut legs. The sofa, designed by Steven Gambrel, was manufactured by DUNE.
In the dedication which appears in Time and Place (Abrams, 2012), the tome devoted to his creations, Gambrel thanks his parents for "a childhood spent between art lessons, secondhand markets, domestic planning, and excursions to the discovery of historic villages and abandoned buildings." In this sense, Gambrel is not only a designer but somehow also an archeologist who investigates the history of the homes he comes across in order to inject new life. However, there are times when the most expert interior designers can find a separation between realization and pretense, between a completed opera and the legitimate proprietor: "I've decorated houses supplying the necessary background but if the person who lives there is not in peace with himself, the positive energy is dispersed." These are isolated episodes which rarely occur to Gambrel. Nonetheless, they prove how the walls of our homes are nothing but an extension of ourselves, of our desires and whims. Business cards, so to speak, that must hold our name and not the one of a perfect stranger, no matter how high-sounding.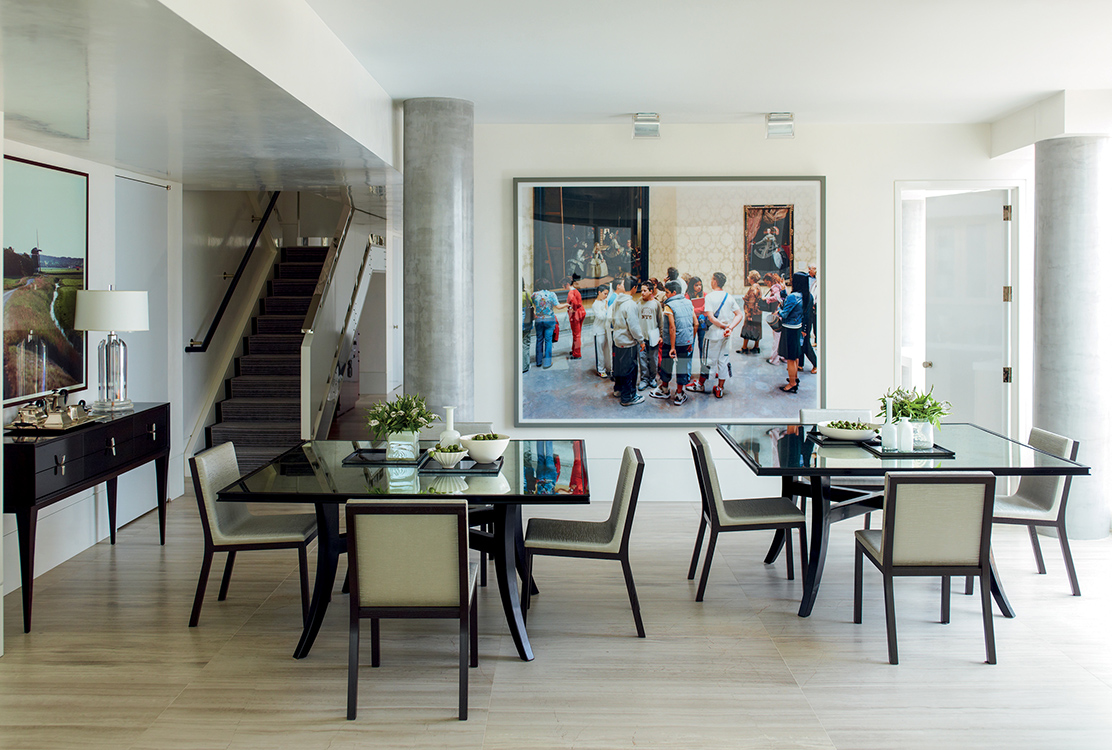 Above: This alternative dining room features two smaller custom designed dining tables instead of the traditional single larger one. The tables, designed by Steven Gambrel for this residence, are made of cerused oak wood with inlaid mercury glass panels, and were manufactured by CHAPEAU FURNITURE.
translated from the Italian by Daniel Area Wakahisa