Teresa Cos for Stella McCartney
15 April 2013
Artist Teresa Cos realized a site-specific installation for Stella McCartney's Milan boutique in occasion of the furniture and design fair Salone del Mobile. London based Cos took photos of Milan's landmarks and used them as wallpaper in the store.
The photographs are blown up and folded around the walls. What was the intent behind the creation of a site-specific installation, and what is your relationship with the size of your work?
Immediately after seeing some images of the shop I felt like designing some kind of wallpaper made of life-size photographs. I wanted both the visitors and Stella's clothes to be immersed in a parallel world, which ended up being a simulacrum of Milan. It "had to be big" in order to physically create the sense of entering a dreamscape, to make people stand and turn 360 degrees and get lost, leaving everything else behind. Playing with sizes and perspective means thinking about our relationship to the world. We can look at it through a magnifying lens, that gives apparently small and useless things a new meaning; we can mirror ourselves in it, as in the case of life-size images, and discover that a mirror always reproduces a distorted reality; or we can be demanded attention and intimacy as in the case of very small images.

You seem to play a lot with the form of your images as well as the way they are installed. In the exhibition "Enten-Eller"—at Galleria Massimodeluca—photographs hang on the wall, lean against the wall, and lay on the floor. Some are framed and some are not. Some are overlapping. Why is the tension between subject matter and form important to your work?
In that exhibition I was trying to communicate a particular state of anxiety I had gone through, when every choice was perceived as a matter of life and death, leading to a frozen state where there was no choice at all! In this sense, both the audio installation and the different size, framing and hanging solutions were supposed to represent the complexity of elaboration our brain has to deal with. Our thoughts and emotions are definitely not always the same size, they do overlap quite often, sometimes small meaningless ones are perceived as huge and vital, whilst the really important ones get lost in the sea of small unframed thinking, some we forget they could make much more sense if seen upside-down. Same thing with reality, sometimes it looks better when seen from the wrong corner.

The feeling of being a tourist in your own country appears to have influenced your choice of Milan as a subject. Is the notion of "souvenir" something you have investigated while working on this project?
The choice of Milan was more linked to one of the main threads of my artistic research, which is about finding means to question our awareness of reality and explore alternative ways to perceive, describe and react to the society we live in. The challenge has been to go and photograph some of the most iconic places, that thousands of people photograph every day, (Theatre La Scala, Duomo, San Lorenzo...), places that we take for granted, that we perceive as familiar all the times, that we think we know so well because they belong and are impressed in a collective imaginary, in a way that questions our securities and invites us to keep on looking, even when everything looks like "the same old story." On a more personal level it has been an attempt to reconnect with my home country by trying to see it as if I was seeing it for the first time. I am not sure whether that has worked out or not.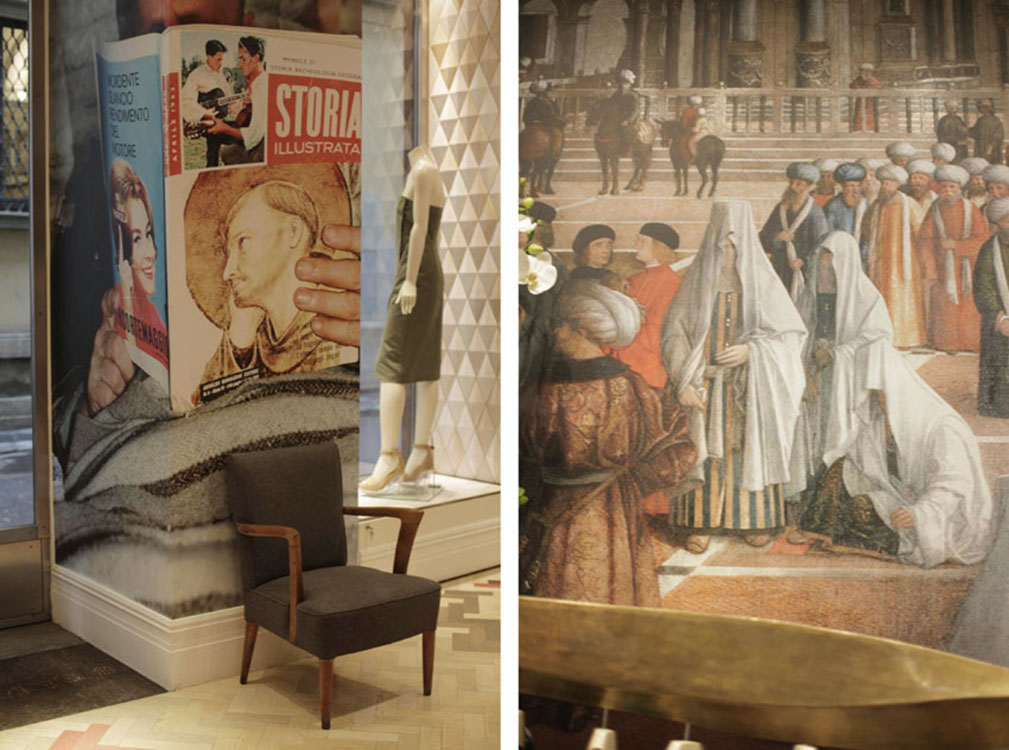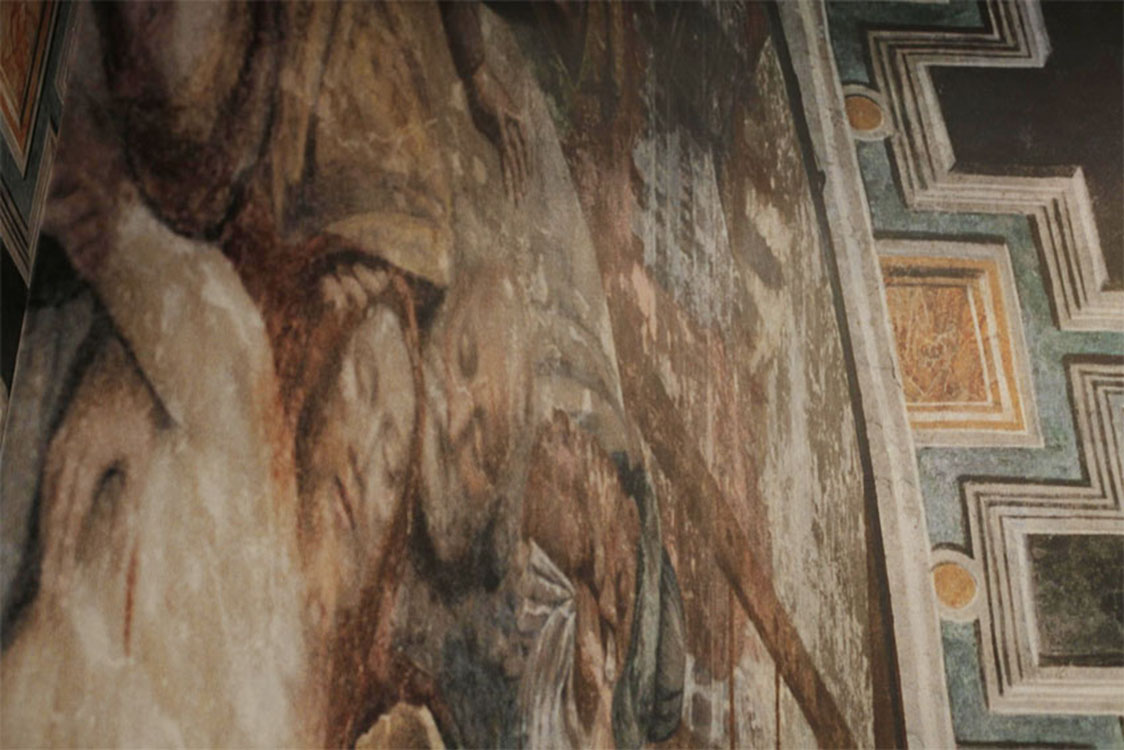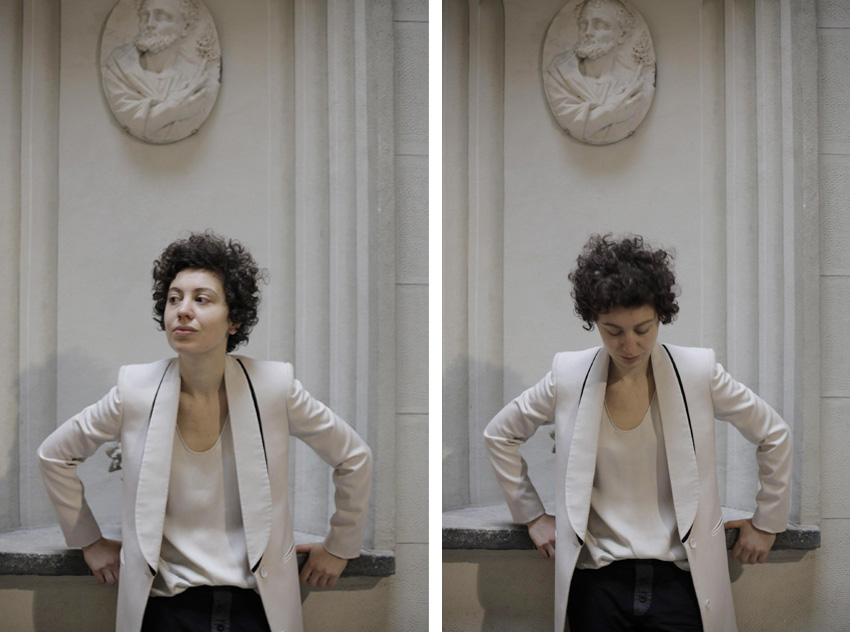 In your project "We Are What We Wear" (2010) you explore the notion of identity through apparel. Does the collaboration with Stella McCartney add a new layer to this investigation?
I wouldn't say there is a direct relation between the two projects. Before starting to work on the installation for Stella I studied her collection, the type of fabrics she uses, the colors, the textures, as well as the design of the shop itself, where I had to relate with the beautiful wooden floor and the sculptures from which the clothes hang. All these features were partially going to cover the wall space I could use. So maybe here is where another and more practical reason for the wallpaper choice comes out. Eventually it was not a matter of showing each picture for what it was, but to create a single big picture of Milan and give it to the visitor as a visual experience and to the collection as a theatrical background. In this sense I think it is really interesting to see how both the art and the collection influenced each other, especially in terms of enhancing some of each other main features.

How do you interpret the negotiation that happens between art and fashion when they cohabitate?
For this installation the main challenge has been to take a space—which is not normally used as an exhibition space—and transform it into an opportunity to experiment with an unusual setting, and create a unique experience for the visitor. Art and fashion have long been collaborating and I think it is always a potential blast, as long as there is freedom of expression and the artist is treated as such and not as an interior decorator. And this has certainly been the case. Fashion done in a certain way is an art form in itself and as such of certain inspiration. The way I look at fashion is the way I look at art: the good one is that capable to express the zeitgeist of a generation or, even better, the one being the propeller for a change.