The Hoarder, XXXJ
21 April 2015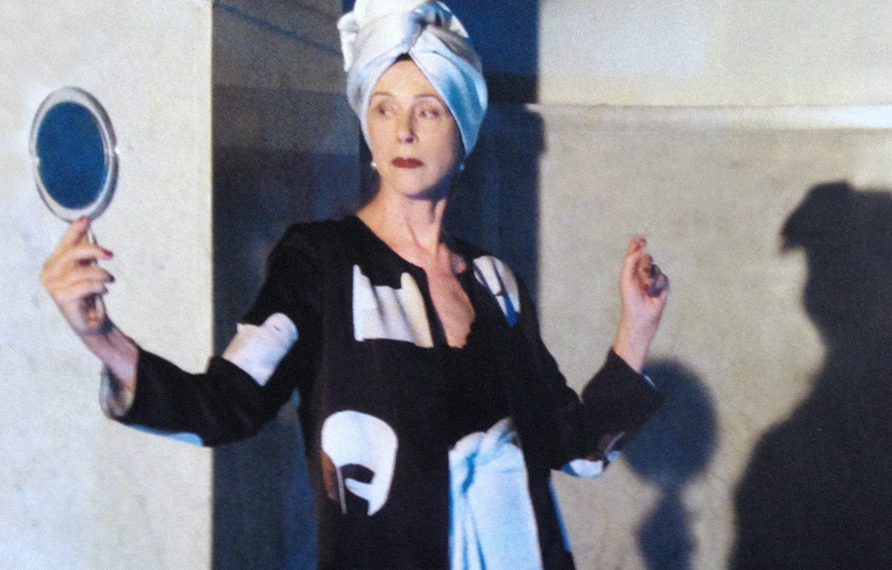 I am a writer and would like to write you a long letter. But since you will not read it, the only thing that would make sense would be for me to read it to you. But that would make the letter obsolete.
Nice day

-Beatrix

If it is less than 27 words I'll read it. 
-XXXJ
The elevator gets me up to his floor. The door is an iron gate. It stands wide open, lending a frame to a man on a chair further into the room. The light through the window sets him off like a nobleman. He sits there, expecting me.
As I approach he stands. The deserted chair dwarfs into child size. He is a very tall man, with the features of a Roman Emperor, or of Bacchus. A gentle giant.
The room I enter is enormous, like a mantle for his mind. Through the windows, in the far distance, a miniature world against the sky, with those unpredictable April clouds.
Look, he says, pointing to a long wall with shelves. Twenty iPods are playing, each its own music of water.
This is The Waters of Panama, he screams above the noise, having cranked up the volume. I will be exhibiting it in a gallery. Don't you think the computer should be larger?
The noise, both familiar and not, is a concert of events. Everything water does. You know it, and yet it has never been put together, collected into one overwhelming, Wagnerian opus. The pending drama of a future, with the scarcity of it.
Yes, I scream. Larger computers. I am drowning.
The table, the size of two billiard greens, holds a garden of kitsch and toys. Robots. Dolls. Cars. Pinups. A child's toyland. A garden of earthly delights by Hieronymus Bosch. The tall walls are hung with African paintings of edible quality. Sofas for ten. Chairs made from thousands of beads which have escaped from the Ivory Coast.
He whisks me out of this room. We walk into the dining room. Gurgling sounds, more water music. A giant copula lamp above the round table.
Ingo Maurer, he says.

I nod: I ate here once, when your friend invited me.
He points at another wall, with a board, and now I know where the noise is coming from. Here, in another row of iPads. It is him, swimming underwater, totally enjoying his element, with the same joy as a fish, or a walrus, or an otter; and yet I sense a desperation to come up for air, for life.
XXXJ is introducing himself to me, not with a litany of words, but with pictures, through his objects. These are the ingredients that transform his personality into a feast. They are his flesh and bone.
We stroll along a hallway. Cabinets, wood panels. I am breathing in the manifold of design.
Ettore Sottsas, my friend, did the apartment for me. We had so much fun.
I can tell. The joy is obvious. The alternation of play and necessity, the boundless affluence of unrestrained love. A thousand designs of wood commanding joy and function, one and the same.
We go upstairs, through a tunnel of Sottsas' woods, rounded walls, like a crinolined ball gown. Then bedrooms, bathrooms, shelves with pinup statuettes, walls along corridors lined with tennis shoes, sneakers of every style and color. One hundred pairs? Three hundred? Sweaters and t-shirts, piled and stacked on chairs, on dressers, on beds.
An oval glass room, with an oval table. Computers are monitoring the world, the stars, firmament, galaxies. The toyland of a child king. The latest and greatest, only a button push away. It defines an existence. The sender revealing a clue to the content. The delight of possession is in the mind.
There is a whole apartment filled with unopened boxes.
I am reliving a childhood I never had. 
He sits down on a small highchair, in front of a small board. The leftovers of a bachelor's breakfast, next to his bedroom.
He puts on the belt he just found between the rows of forgotten jackets. Fifty? One hundred and fifty?
He laughs: Nothing can be removed. My parents were not very nice people ...
Did he ever cling to his mother's arm? That tree-branch of reassurance? Did his father show him the crickets in the meadows, or, faced with a gigantic primal man, did he cling to a nanny?
You are a hoarder, I say. I know one already. Yes, I am a hoarder. He laughs.
We pass another wall of African art, another chain of sneakers, shelves of robots, objects of incredible beauty.
I am enchanted by his lightness of being. I collect friends.
And women?
Yes, that too.
I know he emerged into his enchanted forest from the thicket of despair. Sottsas' wood panels, from mint-leaved trees throughout the world.
XXXJ reminds me of the museum at the Castle in Prague. A library of books, each bound with the bark of a different tree species. When you open them, they are revealed as boxes. There are no written words on ancient paper. No, the boxes are filled with the trees' bark, seeds, leaves, hulls, rings, fruits. A child's history of nature morte, of a life, seventeenth- century, to be sung, visited, marveled at, as children do when they look at some species they very well understand without a word being said.
XXXJ, will you read my 993 words, a collection of thoughts, the beginning of anything, the opening of a gate, of your Panamanian water symphony. A fearless gesture of intimacy, a weighty door into a drama, and all together and above, the wide open doors of laughter.
No mothers, no daughters, no sons. Only lovers, and loves and beloved. A somnambulist of symbols. What it is. What it symbolizes.
Where is the truth, in reality? It is replaceable, but cannot replace the spot in the heart of a man-child.