The 3 Hearts & 2 Long Legs of Cassandra Rosebeetle
hair JEROME CULTRERA at SEE MANAGEMENT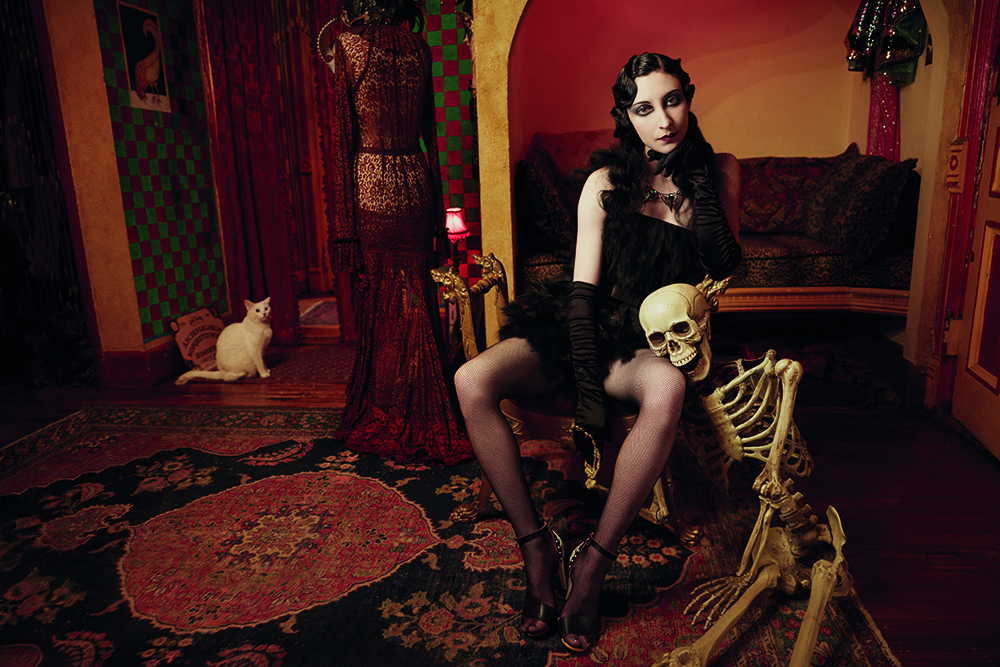 Above: Cassandra awaits the kettle to boil in an apartment at the Chelsea Hotel, in the loving company of her cat Coco and Aleister The Third (the skeleton) wearing a belted organza mini dress with feathers by FENDI, while Aleister's cheek gleefully lies on her black sheet tights by FALKE. The black leather sandals with coconut strap and rhinestones are also by FENDI. The look is further distinguished by Cassandra's black satin gloves and an edgy necklace adorned by hematite and green crystals by IOSSELLIANI.
The perfect rounds of a pearlescent white buttocks flash from beneath eight shimmering tentacles. My gaze is helplessly drawn from the floor, where they dance around a pair of equally pale legs, equine in their musculature perfection, up to a strikingly beautiful female form. Her hair—long, dark—rolls up at the ends in the same manner as those glittering tentacles with which she glides around the stage. I look around. Above the bar rows of various stemware hang upside down like skirts. A man in the audience gives the woman next to him an affectionate if somewhat creepy one-handed shoulder massage. A barely noticeable disco ball spins cat-eye globes of light across the darkened room.
Onstage, swirling in the underwater tide of red velvet curtains, is Cassandra Rosebeetle, unexpectedly graceful and absolutely, astonishingly enchanting for a woman dressed as an octopus. She simultaneously embodies and teases the costume as she glides across the stage with it, revealing, like the pearl within the oyster, several layers of equally eye-catching undergarments. The second layer reveals swathes of dark ombre silk fabric, a la princess Leia, and two fans of the same silk fluttering like ink towards the captivated yet modest cold-evening crowd. And, finally, she reveals an utterly superfluous web of rhinestones wrapped around her pale white form, and (the punctum of any burlesque act in my opinion) two glowing golden pasties. I'm hooked.

The next day I find myself drinking black tea steeped with honey and steamed milk while sitting on a Victorian velvet couch located in one of the few withstanding apartments in that old legend, the Chelsea Hotel. The air is titillated by a woodsy amber incense, and a white cat, Coco (notoriously camera-friendly), poses for me. The room is a virtual museum of time-lost artifacts: feathers, bottles, books, fringe on couches and lampshades and curtains, an animal skull, a wall of empty frames, a jade-green Jesus hanging from wire clips while other saints sit beside candles, and an unmounted chandelier on the floor rug while golden snake sconces guard an alcove devoted to a larger-than-life statue of the Buddha. Red walls in the hallway lead to red lights in the living room.
Cassandra, soft-spoken offstage, sips her tea and tells me about her childhood as a figure skater (she began at five years old after throwing the solo tantrum of her childhood to be allowed to take classes at such a tender age), and the broken heel at age ten forcing her transition into ice dancing. Her red lips are rouged in the heart shape of a 1920s film star. I ask her why she chose an octopus for this bizarre burlesque act. "For the octopus act I wanted a large costume. I really love filling up the space on larger stages and I was trying to think of what I most wanted to be or do, and it is just kind of popped into my head: 'I want to be an octopus.' When I was really little I did an ice skating piece to [octopus' garden] as a mermaid and my mother made me this giant plush octopus that was my prop. That's also where I get my theatrical background because a lot of the pieces I was doing ice skating were very theatrical. I did a piece skating to whale sounds—no music, just whale sounds—and my costume was this black and white body suit with petals hanging off, so when I move it really flowed . . . pretty strange." I ask about a line in the song she performs to—I have three hearts and one's for you—and she informs me that octopi have three hearts but explains that, like the silk fans representing its ink, she doesn't expect most people to pick up on these subtleties in her act, though she doesn't mind.
Similarly, Cassandra seems uninterested in defining her work as neo (more concept-, identity-, politically-driven) or classical-burlesque. "For me it's about interpreting the song. I don't put too many boundaries on what I do, I just go with what I feel like expressing and what interests me." What interests her ranges from gigantic sea-creatures to routines that include making love to a skeleton or walking on glass. In addition to ice skating and burlesque, Cassandra performs with Desert Sin dance company, a Middle Eastern-influenced troupe whose work is equally difficult to categorize. At this point we are interrupted by the clanging and murmuring of the pipes of this old building, now ravaged by construction, which she makes a motherly shushing face at. The pipes quiet down somewhat and we continue, as Coco remains diligently posted at my feet.
We talk about New York, how it's changed, how people question it as the artistic mecca it once was. She says, "I don't think New York is dead—the same way as this hotel—even though it's under construction and it's like a skeleton of what it used to be. The energy of it is still just as present, it's just changing." And it's true that the hotel, despite tarp-covered walls and the signs and sounds of construction throughout, still emanates a palpable charm, still feels like it belongs on an album cover, as do the tenants one passes in the halls.

On the topic of change, I can't help but ask the most obvious question of a beautiful young dancer, someone blessed with the kind of legs you'd see in a Guy Bourdin swimming pool: what's going to happen when that physical beauty begins to fade? Because quite frankly, she's stunning. And it's difficult to decipher whether that beauty is just a physical attribute—oversized blue eyes and milky skin, the trained gracefulness of a body that is her tool for expression—or something else: the way those eyes look out at you from across the couch or on the stage, offering something. Cassandra isn't worried about losing that je ne sai quoi. "Some of the people I admire the most in the New York scene are these performers who have been performing their whole lives and look amazing. They're so incredible and so inspiring, and when I wonder what am I going to do when I'm sixty, I think I'm going to try and be like them and still be coming up with new work and putting my soul out there. Burlesque is one thing I do, I don't expect I'll do it my entire life. There are people who are still doing it and they are so fucking fabulous, you would never say you should have quit twenty years ago . . . I think it's a mindset. I know people in their seventies and eighties who are more fabulous than me. I think it's about how you treat yourself; how much you respect yourself as a person who goes through the aging process as opposed to thinking you reach a point and it's all downhill from there."

This challenges the concept of burlesque I didn't realize I had—that the intention of burlesque is simply sexual. To Cassandra, burlesque, dance, ice skating are all simply vehicles for telling a narrative or expressing feeling, which can mean anything from carefree, I'm-out-here-shaking-my-breasts happiness, to much more complicated emotions. She recalls one of her favorite performances, at a Shanghai Mermaid party themed after Weimar-era Berlin, which was "such a lush art scene at that time, short-lived but where people needed to express themselves, and even though it was a big party it was a reminder of [the issues we are] dealing with in our everyday lives, and trying to express them . . .  I think that at times sexuality is there and sometimes it's not, just like in other dance pieces I've done throughout my life. Even when I'm fully clothed there are aspects of sexuality that come up that I'm working on or exploring, and other times the piece is not about sex at all but about something else—it's about grief . . . I look at it from the perspective that I started art modeling when I was twenty and I was always very comfortable with my body so I've spent half my life just being naked and everything else I do is dance and performance related. Your body is not just a sexual thing. [People think] that once you take off your clothes it's sex, but it's about presentation and there's ways of using your form to create art. Removing your clothes on stage sometimes is about creating a sexy piece and sexy strip tease and other times I think it' s just about the imagery and how you can use the lines of your body and the contrast of these elaborate costumes and the nude form. I'm into using my body in whatever way I can to create something, and the nude body is part of that. That's fabulous."
I think about the almost hallucinogenic quality of her performance—the fluttering silk, bizarre and meticulous costumes, long limbs, the Mona Lisa smirk that seems to be staring at you, and I think that there's something in the transformation and not merely disrobing, in the vulnerability and not merely the nudity of her acts that has reeled me in, and I hope for her sake, for New York's sake, that there will always be an audience for this kind of peep show.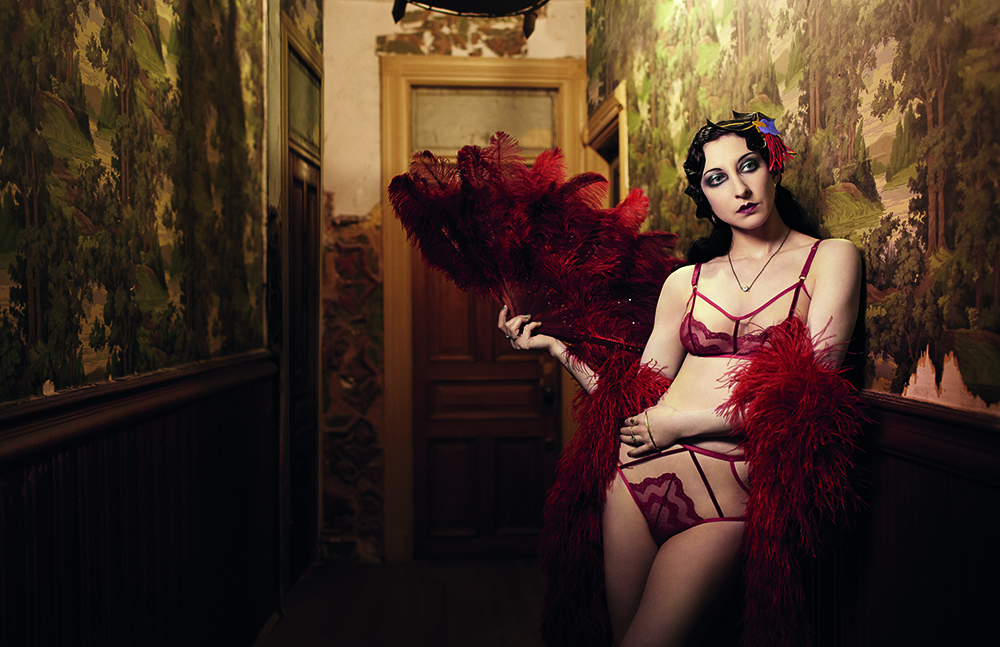 Above: Resembling an exotic plumed creature from a distant island depicted on the wallpaper, Cassandra mesmerizes the Chelsea wearing a French silk tulle and lace satin bralette, with matching highlight knickers by CORPORELLE LINGERIE. The multicolored "Croccotail" headpiece by FENDI complements her style, while the gold handlet by BIJULES and necklace by MONO & ME embellish the idyllic landscape.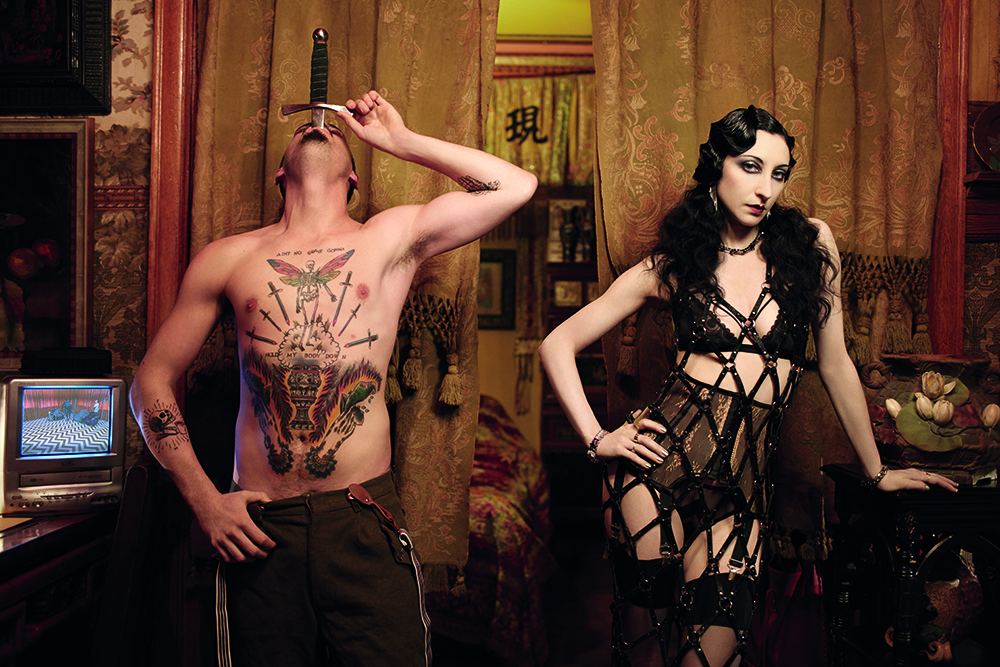 Above: The show goes on as Stitch The Geek swallows a sword and Cassandra is captured in a leather cage by ZANA BAYNE, wearing a triangle French viscose and tulle lace bra and matching knickers by CORPORELLE LINGERIE. The moderately tight girdle belongs to Cassandra and leads to a long pair of stockings by FALKE, while her dark magnetism shines brighter combined with the IOSSELLIANI line of jewelry.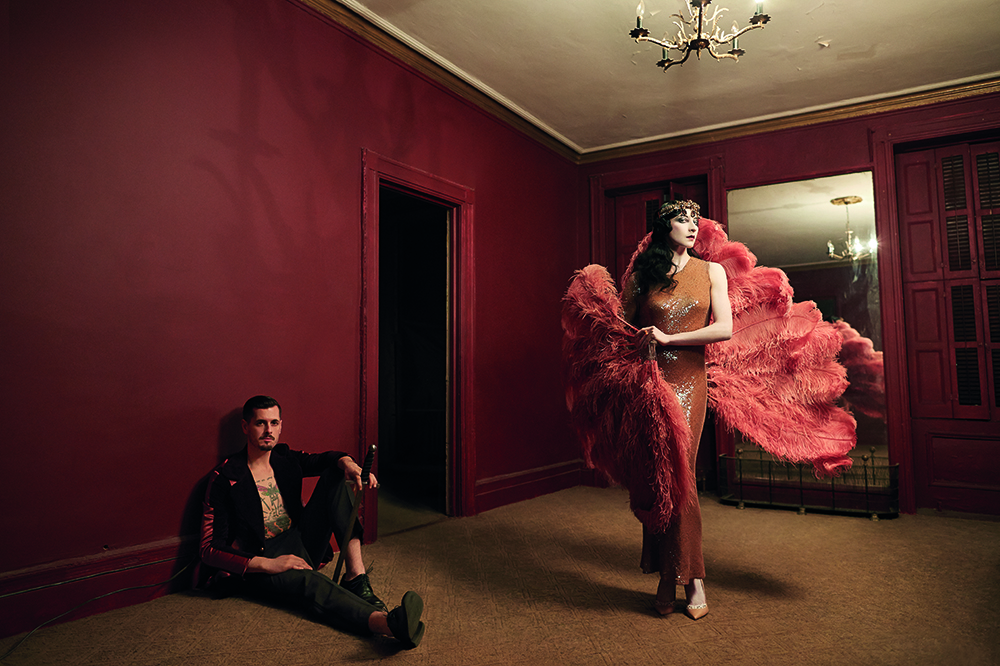 Above: One of the rooms at the Chelsea Hotel is a time machine from which Cassandra emerges like a dancer from a mystic kingdom, holding two feather fans measuring up to her statuesque figure. She wears a sleeveless sequin dress by ASHISH and a choker with rhinestones (worn as a crown) by GIVENCHY BY RICCARDO TISCI. The look is suspended by a pair of nude pumps with embroidery details by NICHOLAS KIRKWOOD.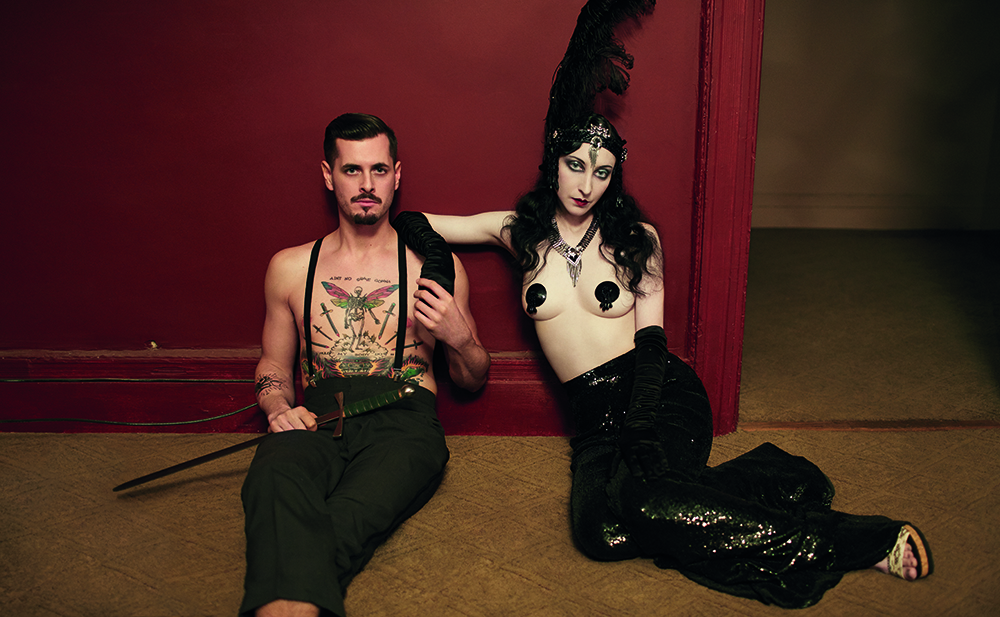 Above: The dark tones of the Chelsea's walls and shabby carpet glorify Cassandra's pearlescent white skin. Her glamorously dark look is fashioned by her own feathered headpiece, evening gloves, and glowing pasties—combined with flared sequined black trousers by ASHISH and a V-shaped necklace by IOSSELLIANI. Lying flat on the floor the platform sandals by SANTONI complete the ensemble, while Stitch The Geek stands guard holding his sword by the blade.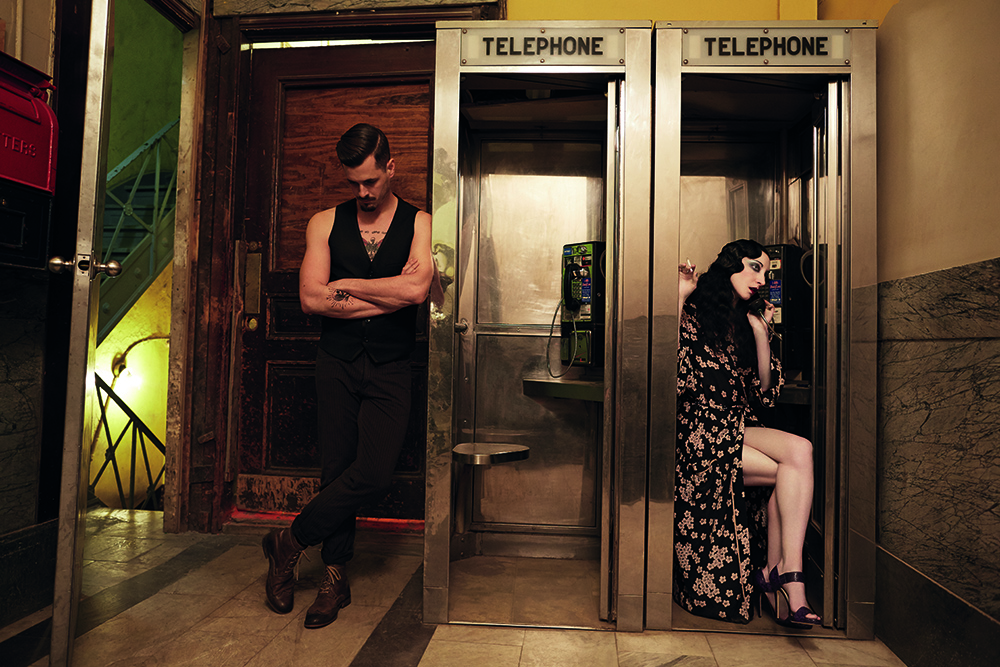 Above: Cassandra makes one last call on the soon to be removed phone booth at the Chelsea, while Stitch waits patiently on this page. Standing like a diva, legs crossed and cigarette in hand, she takes her time enveloped in a rose piped robe by LONELY LABEL, worn with violet elaphe sandals by JIMMY CHOO.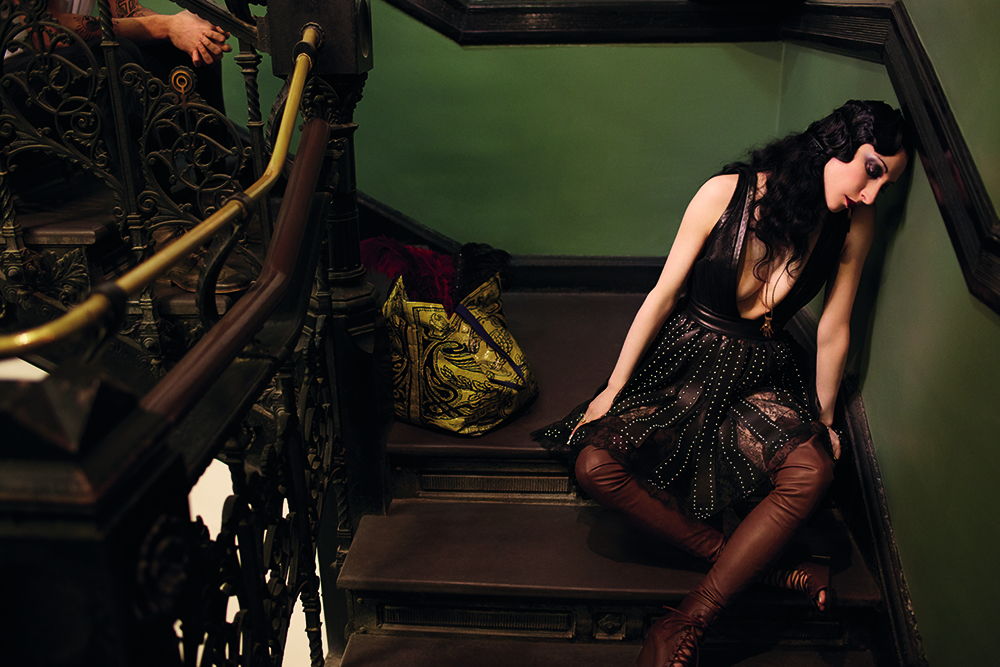 Above: Listening to the staircase of the Chelsea on her way out, Cassandra is absorbed by melancholia. She was about to leave the hotel wearing an exquisite black Chantilly dress with plunging neckline and studded leather stripes, combined with knee-high brown nappa leather boots. All by GIVENCHY BY RICCARDO TISCI. Gracing her décolleté an opera necklace by SUSAN ALEXANDRA. Instead, she might just stay home.