by MONIKA NORWID
photography TERRY MUNSON
1.3
There is a Marrakech that writers claim and proclaim, wrapping words around it like arms around shoulders. As the corpse went past, the flies left the restaurant table in a cloud and rushed after it, but they came back a few minutes later. George Orwell's scathing, blistering, self-skewering diatribe against the inhumanity of colonialism, but more specifically, about the sheer incomprehensibility of its inherent racism, exists in an essay titled, just like this one, "Marrakech." The essay begins with a darkly humorous, and therefore all the more devastating, description of a funeral passing as he's eating lunch.
That is Orwell's Marrakech. There is also the Marrakech that foreigners buy up, renovating riads like it's going out of style (and it may be; best to invest in the outskirts, says Jade Jagger), calling them a second home, a boutique hotel, an airbnb. There is the one that designers claim to discover, with the colors and textures that they take back to the West and build fashion empires upon. There is the one that belongs to a country in Africa, geographically pinned at the north end like the brow of the continent, beaten or crowned, or just frowning in defiance, depending on what political shore you're looking from. There is the one that belongs to Islam, heard in the aching song of the minarets and seen in the blatant shrouds of the women. There is the one that belongs to commerce, older by millennia than Islam but equally impassioned, mysterious and mundane. There is the one that belongs to the king, the longest uninterrupted royal line still in existence. And there is the Marrakech that belongs to the voters of a democratic country, grappling with the same extreme currents, from revolutionary to reactionary, that are tearing through the rest of the Arab world.
All these ownerships are mere delusions. In fact, no one owns Marrakech but the city's ancient thieves, and not even they pretend to own anything but the goods of which they've robbed the travelers, by hiding in the palm trees along the sides of the caravan route that runs through the imperial city. They still exist, these bandits, in feeling. Everyone here is robbed of something they may not even realize they have: a false identity, a false sense of orientation, false gods. Marrakech is a town that belongs to no one but itself, and attracts those that belong to nothing and nowhere but their own inventive minds.
I had come to Marrakech without any expectations, and for the least committal of reasons: to cover the Marrakech International Film Festival, which has infused the town with a glint of movie glamour, but more importantly, which has helped market Morocco's film production industry into the largest in the Middle East. I would be covering staged events about fictional stories. I would be interviewing prepped actors with publicists and makeup teams. In other words, I would be made immune to any delusions of attachment by the very real artifice of the proceedings and products before me. Even when a fellow writer, there to cover films for Indiewire, had dropped a tantilizing cue into my brain, I barely mustered a shrug. "If you're writing for Grey," she gushed, "You absolutely have to go to this one gallery. If it's the only thing you see, you must see this place. It's insane." I barely made an effort to remember the name of the gallery, as much as "insane" is normally an endorsement I can't pass up.
Then one night, I walked into the medina. The old town section of Marrakech is a cluster of alleys with the infinite complexity of a knot of fine hair. There is no way of finding your way without a guide. The nameless streets curl and fold onto themselves, and will quickly lead back to the same oblique intersections, like an architectural equivalent of madness, if you don't know your way around. At night, the medina belongs to the locals—I was the only tourist, and seemed invisible at that. My guide, a good half-foot shorter than me, walked so fast I almost jogged to keep up. The evening was picking up steam as we walked: scooters that brushed past my skirt or sleeve seemed to be increasing in number and speed the deeper we got into the core. The fluorescent tubes that hung over the alleys and stalls spilled a surprisingly warm glow into our path, the harsh light diffusing off the green or blue tiles in two-table restaurants, off the carmine-dyed wools at the textile vendors, off the silver and copper kettles hanging at the metalsmiths'. Teenagers in tight clutches moved around me in a cloud of insular chatter, while harried young men and women with impossibly long, swift strides charged past me on the left and right. The scents that collided in my nose and mouth shifted dominance with each curve of the alley, from a subtle ribbon of saffron to a dank treacle of tannery leather, to the cozy coating of toasted almonds, to a stab of coffee between the eyes. In all that momentum of bodies and scents, there was a choreography that felt worn into a supple smoothness of improvised habit.
Above, left: Walking in the shadows of Marrakech's old medina walls. Above, right: When commercial pressures threatened to destroy the organic culture of Jamaa El-Fnaa's, the city's main square, residents fought on an international level to protect it, resulting in 2001 in the creation of an entirely new UNESCO designation, protecting this and other "Masterpieces of the Oral and Intangible Heritage of Humanity" around the world. It also has a dark side: a jail is located underneath, where reports say that political activists are imprisoned.
Above and following: Vendors in the medina sell traditional scimitars and oil lamps. Crafts employ a significant percentage of the population in Marrakech, and are sold mainly to tourists.
Very tall doors with very little doors cut into them led to Le Jardin, a vast courtyard restaurant filled to the upper floors with lush, leafy plants. Tiled all over in an emerald green, and lit with candles, the place felt like the bottom of a lagoon by night, aglow with phosphorescent plankton. Maybe this could be my Marrakech, at least this evening. I ate my lamb tagine giddily, comically exalted. Robbed of my defenses, my indifference, my jaded eyes, I was curious for the first time, not about Marrakech the city, but about my Marrakech, this experience. What was that gallery the writer had mentioned? I would find it the next day; I would take her cue along these curlicues of streets and knock on some doors.
By the time Alessandra Lippini opened the door to her gallery, Ministero del Gusto, the next day, I was an hour late. Without a guide, I had found my way to her only by a small miracle. No problem, she said in a thick paste of an Italian accent as my eyes adjusted to the holy grail —a cavernous space molded as if by a giant's hands into a mid-century-meets-Gaudí temple to design. Lippini is Italian, from an era when Italy ruled fashion and gave women like her—editors, creative directors, designers—the keys to the world. As I worked through the rack of her decades'-long collection of clothes (Alaïa, Gaultier, Saint Laurent, Rabanne), I learned what powerful keys those were. She had arrived in Marrakech at the peak of her career, in 1990, for a fashion shoot. For all intents and purposes, she never left. By the time Lippini had bought her house (at the insistence of her friend, Romeo Gigli) and built her labyrinth-within-a-labyrinth, even she was shocked at the illustrious crowd that had gathered around her for the opening party, as if anointing both her and her new hometown as the center of the universe.
Lippini is the epitome of a new kind of expatriate community, one that doesn't merely exploit Marrakech as inspiration for their lives back home, but makes a home and life here, creating completely original experiences from the interaction of cultures—making Marrakech the final destination. Lippini had originally come here to escape the fashion industry forever, designing interiors and furniture for a growing number of famous clients. But today, she's bringing the fashion back into her life, by bringing it to Marrakech. She is launching her own photography agency and, ultimately, production company, focused on Marrakech both as location and source of talent, in order to replace the shallow helicopter fashion with work that results from deep knowledge and collaboration.
Leaving Lippini's, I made my way back to the source of my search: not the restaurant of the night before specifically, but its owner, a beautiful young woman barely out of her 20s who, with her husband Kamal Laftimi, is building a small empire that's changing the cultural landscape of Marrakech. Laila Hida is a millennial from Morocco. She left Marrakech over a decade ago to study in Paris, as many young Moroccans do, and realizing she had more opportunities back at home, returned to Marrakech a few years later. Many young Moroccans are following her back. They are members of a new generation, a kind of post-expat, that's converging all over the world. I call them "the returnees": young people who leave to educate themselves in the cosmopolitan centers of the world (New York, Los Angeles, London, Paris) and then come back to their roots, applying their lessons of sophistication, marketing and personal visions to their home towns, where their ideas find more room and real necessity—and where lower rents, cheaper labor costs and easier access to resources make those ideas eminently doable.
Hida and her husband own three restaurants (so far)—the bubbling hub of the Marrakech new wave—with two of the spots literally across from one another, overlooking Rahma Kedima, the picturesque spice market in the heart of the medina. Nomad, the newer spot, is three floors of geometric cement tiles in grey, black and white. The food is a locavore's delight, dipping into spice stalls, wineries and butchers within word-of-mouth earshot of what's considered the best in the region. And the view from every seat, but particularly from the dreamy rooftop, takes some thrilling getting used to. (Your food will go cold for all the staring.)
Although Hida has the air of an understated heiress, born to oversee and lead, it is partly a testament to the city that she and her husband have been able to work their way to this rooftop the hard way. Laftimi is a "medina boy"—born and raised in a working class family, he was a tour guide just like the one who'd first guided me through the medina to Le Jardin. His skills both socially and in business were so keen that he was soon building a network of people from around the world who were willing to help with advice and support. Before he and Hida ever met, he'd bought a building. Hida stayed in one of the rooms on a break from Paris and they fell in love. With her encouragement, Laftimi turned it into the first of his restaurants, Café Des Épices. The two others followed swiftly, each more successful than the next. Today, Hida is focused on building her own enterprise, Riad 18, a gallery and studio space dedicated to nurturing up-and-coming artists from Morocco—or, as is the case more and more frequently, artists returning to Morocco from abroad.
Both Lippini and Hida are wary of exploitation—the phenomenon of culture being made to turn tricks for tourism or in get-rich-quick schemes. Lippini, in classic editor persona, is shy, remote and watchful until she feels truly comfortable with her companions. Hida, the younger of the two and therefore far savvier in social media, is even more controlling of exposure. She says no to interviews. She doesn't want to attract a scene that will burn out too soon. Things need to have time to grow, she says, to find roots and develop, before they should be exposed. One of the ironic lessons of a culture of instant gratification and immediate exposure and digital cameras is the awareness of the consequences of such rapid consumption—the new wave wants more than ever what the old school represents: legacy, posterity, a meaningful impact on their time and place.
Meeting the two women back to back had been accidental, but proved significant in giving a fuller, emphatic picture of the new Marrakech. Lippini and Hida are the unofficial queens of the medina, ruling side by side over a new wave, and a new way, of urban transformation. Or perhaps not so new after all, but harking far back to an ancient tradition that has been long overdue for revival. Marrakech, it turns out, has a rich history of incorporating, absorbing, and appropriating cultures from abroad, turning them into amalgams that become, in turn, new ideas for the world to use. For instance, El Badi Palace, built in 1578, was a replica of Spain's Alhambra Palace, and consisted of rare materials including marble from Italy, porphyry from India, gold dust from Sudan, and jade from China. (It is no small coincidence that El Badi Palace is currently the temporary space for the Marrakech Museum for Photography and Visual Art, soon to be the largest photography museum in the world; designed by David Chipperfield, the actual museum is slated to open in 2016.) Even labor was once imported: Andalusian craftsmen from Cordoba and Seville in Spain built and decorated palaces throughout the city, creating the Umayyad style that is characterized by cusped arches and carved domes. This Andalusian influence was combined with designs from the Sahara and West Africa to create a wholly original style of architecture which was fully integrated into the Marrakech landscape.
Such cultural integration is important to experience today, and more-so to experience in a city that is fundamentally Arabic. In a time when people are owned by their banks and their brands, their religions and their ideologies, their schools and their jobs, their assumptions and their causes, Marrakech is an example of a sustainable independence of spirit and imagination within a system that remains, inherently, traditional and rigid. While it's still a city whose Islamic faith is palpable, not just aesthetically but practically and personally —intimate relationships out of wedlock between foreigners and Moroccans are punishable by time in prison for the Moroccan—it is also the second city in Morocco to elect a woman as Mayor: the 37-year-old Fatima-Zahra Mansouri, who just recently landed the honors of the top slot on Forbes' "Most Powerful Women in Africa" list.
The success of entrepreneurs like Hida and Lippini, and the mayorship of Mansouri, are not just a sign of change, but a proof that change has never been, and can never be, co-opted. Marrakech stands defiant in spite of our claims on it, and serves as a reminder that the world at large cannot be owned, only invented over and over again. Marrakech stands defiant even in the face of Orwell's own searing portrayal of colonialism. All people who work with their hands are partly invisible, and the more important the work they do, the less visible they are. And yet he spends a few thousand words trying his damndest to describe those very people, in unforgettable detail.
If people built mind palaces as a memory aide, then my Marrakech is the inverse—memory and creativity made manifest in a physical place. My Marrakech looks like what the brain would feel like if you could walk through it: the maze that seems circular like ingrained bad habits, but surprises with outlets and squares, like visions of ideas that promise salvation and freedom. Pockets of creativity bursting with potential behind vaulted doors.
Can you change your life? Just like that? Marrakech will tell you yes and show you how, literally paving the way for a new way of thinking by the steps you take. The intelligent person will tell you: Change starts in you, in your mind. Yes, it does. And I tell you: A city that is built like a mind willing to change is the best place to start.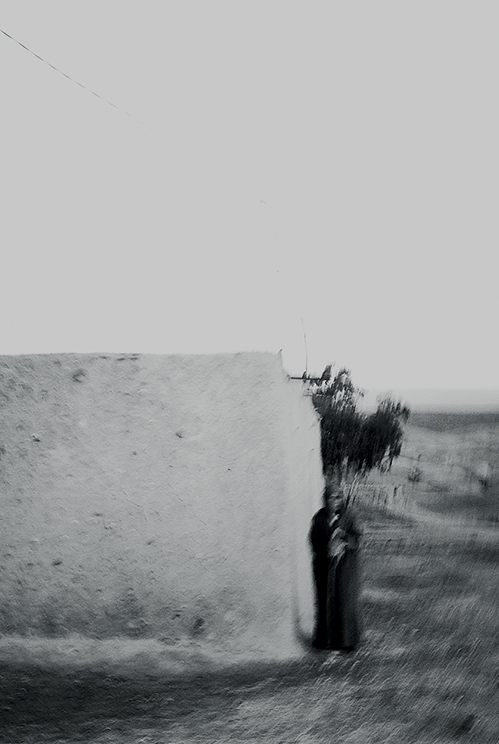 A Moroccan woman stands outside of the city walls of Marrakech.