by MARIA ROSSI
photography FEDERICA FIORAVANTI
When Pat "Pops" Newman was a teenager in the fifties, he used to go into rock 'n roll clubs a lot. Of those years, he also remembers the thriving energy of post-war London, especially of his own East End borough, where he was born and raised.
The war had just ended and that meant progress coming into people lives in the form of television, jukeboxes and the fashion—the teddy boys and girls. This imagery stuck with Pat, and, when the occasion to run his own fish and chips restaurant— along with just the right place in Spitalfields—came up, he couldn't say no to the opportunity, knowing in his heart exactly how he would want his own restaurant to be.
Indeed at Poppies, Pat's vintage memorabilia collection—which includes among other objects a jukebox, newspaper clippings, old vinyl records—fills up every corner and available space on the walls. The assortment of British kitsch is a mix of pieces hand-picked by the owner and of donations from affectionate clients. Pat has indeed termed his Spitalfields eatery "a work in process," built on suggestions collected from customers—when it comes to decor, service and food—that has been almost "perfected" by now. 
The famous "chippie"—British slang for fish and chips—is located in a touristic neighborhood but on a nearly secluded street. In an area that's showing concern among locals about its increasing gentrification—which causes each street to look faintly similar to the next—Poppies is a refreshing exception. Indeed, in addition to the tourists in the area, it draws in families with kids and the younger local crowd.
The service by the Poppettes—Poppies' waitresses, all donning retro fifties costumes and head scarves—is unpretentious yet polite, which adds to the easygoing atmosphere. One can also practice the local vernacular by trying to read and understand the rhyming phrases in cockney on the walls.
But it's the food that really sets this place apart, since a lifetime in the business has also "perfected" Pat's cooking technique. You can hardly get a fresher fish and better batter in town. The menu also offers jellied eels and other fish plates in addition to traditional cod and haddock. In honest British tradition, plates are accompanied by mushy peas and the meals are completed with desserts like sticky toffee pudding and apple pie. For takeout, the fish and chips are, of course, served in the traditional—albeit simulated—newspaper with war headlines.
Rather than nostalgia, the deal at Poppies is love and respect: Pops, now in his 70s, still goes to work every day and he truly is the soul of the place: he is a firm believer that things change only if you let them, and from where he's standing, his own little place hasn't been affected by the passing of time. Poppies has recently doubled with a second venue in the Camden Town neighborhood. The new "Poppies" will also have its own character, which Pat will build together with his coworkers and clientele, day after day, to the point of perfection.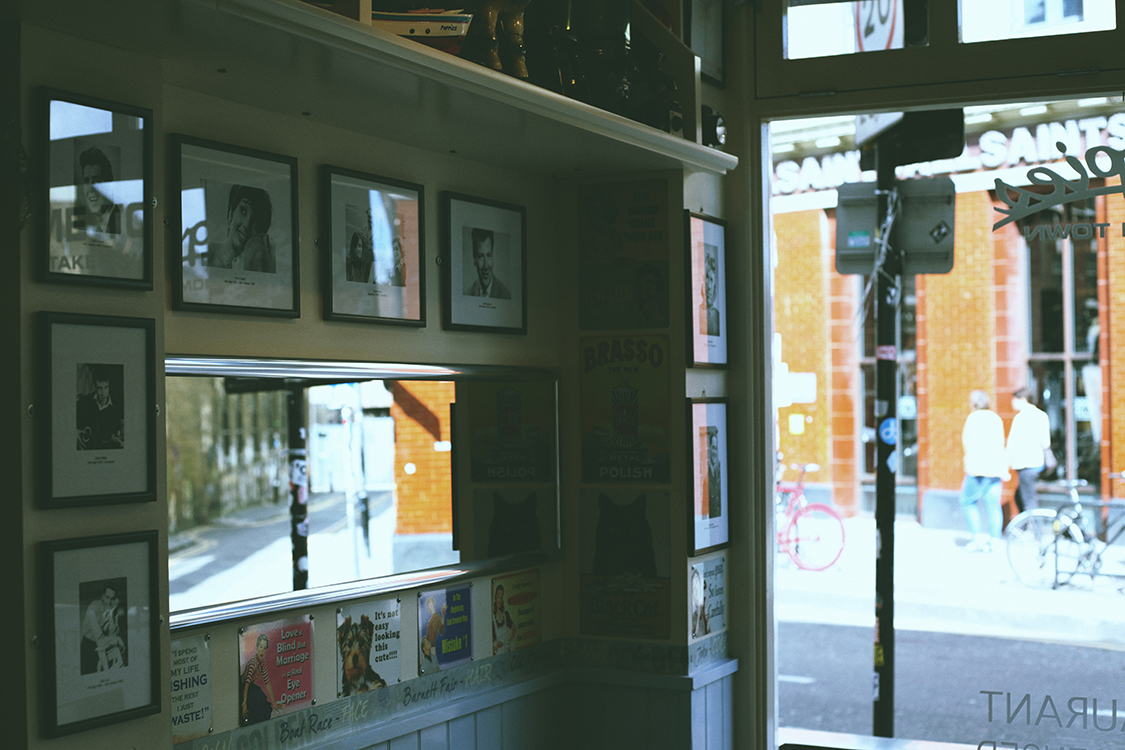 Poppies is located at 6-8 Hanbury Street, London.