Tucson Gem Show
26 May 2014
"Time Spent in Finding"
I have been making jewelry for ten years. It is my life, my soul, and my passion. The search for something better is constant. In pursuit of happiness, I travelled to Tucson, Arizona with my dear friend and fellow jewelry designer, Bliss Lau, to search for inspiration.
Tucson is world-renowned for hosting a two-week-long gem, mineral, and fossil show. There are no 4-inch stilettoed editors or bloggers milling around. The gem world comes from something else. They are, for the most part, family-operated businesses with earth-given materials to sell from around the globe. I encountered Carl, a jolly Australian miner from Lightning Ridge. The opal fields in the Outback of New South Wales produce a valuable asset for the region. Along with the opal gemstones I bought from Carl, I received an open invitation to come to Lightning Ridge and mine for myself. I pictured my dirty hands carving an opal from its place after thousands or millions of years and I realized the value of my own digging. The search for something better is fascinating.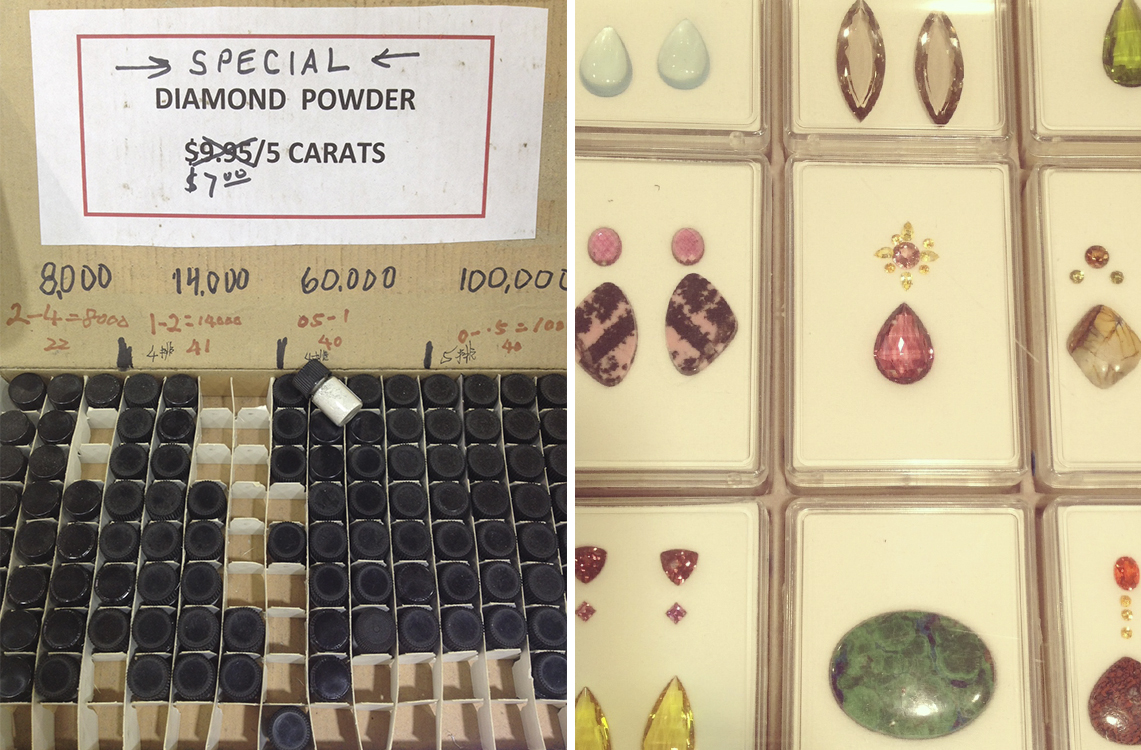 My clients value a piece of jewelry that exists uniquely for them. In sourcing my own stones, I am able to weave a story around each find, each fancy cut, and each vendor's passion. These gems will never be set in a piece intended for the masses; in fact, the origin of their existence will fuel a creation so unique that it is unfathomable to reproduce. I am crafting jewelry to fit the gem, not the person. 
On the second day of a four day round-up, Bliss and I approached a hotel room filled with lights, curated gemstones, and a lovely husband and wife. During Tucson Gem Show, the same vendors rent blocks of hotel rooms annually in order to secure an unforgettable address "forever" (40 years seems like forever). Most vendors have been in business for a minimum of 35 years and travel around the world religiously, slinging gems in 10 to 40 shows per year. And I thought I was a hustler.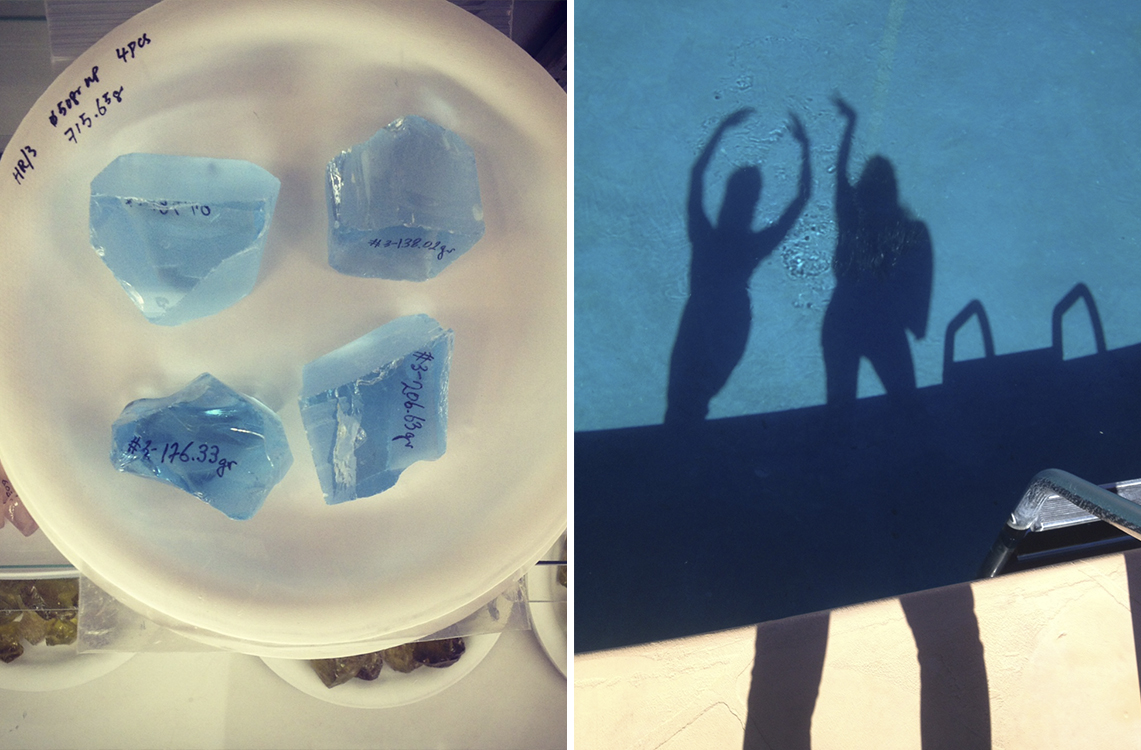 James and his wife explained their magic number of years in business was indeed 40. Their gemstones were unique in their presentation and each displayed paired calibrated black onyx with brilliant cut pink tourmalines or color-change alexandrite with white sapphires—the combinations were infinite.
I bought a handful of calibrated stones from the Algers, and in turn will produce a generation of newly inspired bar rings. Though I made my first of these iconic silhouettes in 2004, this jewelry concept, in line with many others on the Bijules roster, can be revisited and explored.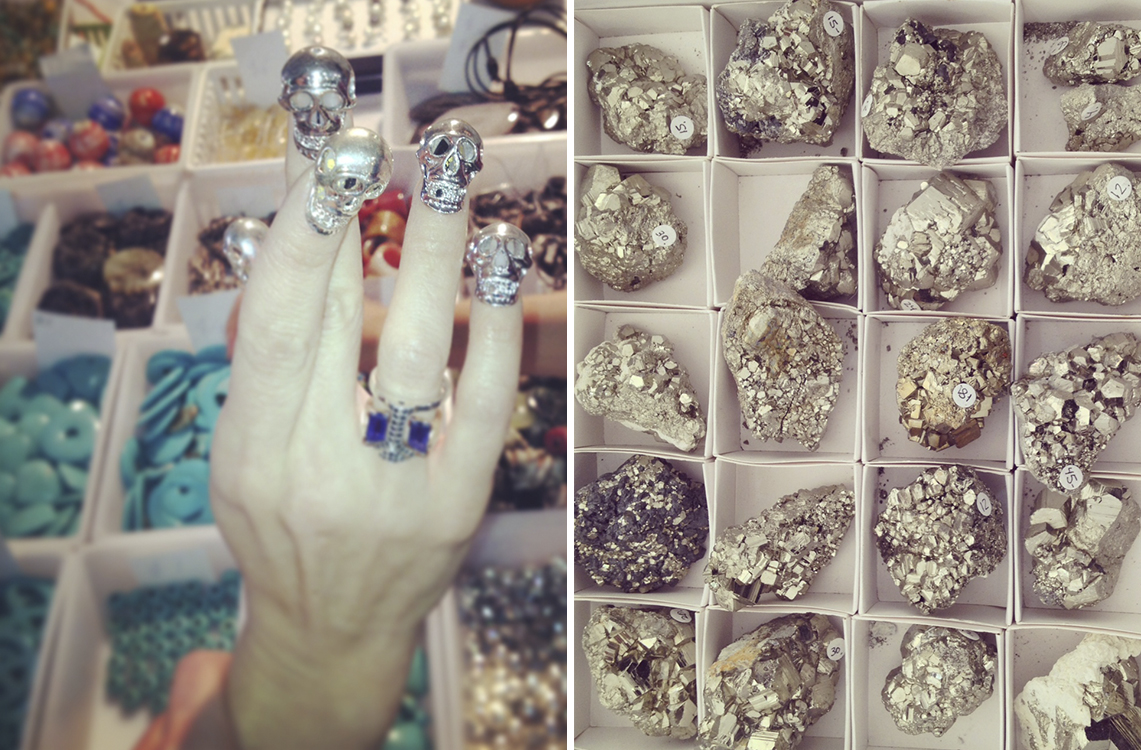 Driving up and down the Gem Show strip, Bliss and I discussed the time spent in discovery versus the time spent in execution. In New York City most effort is placed on executing an idea. As a creative, I have never lacked ideas, but time to develop and propagate the original concept has always been an issue.
The gem oasis in Tucson will, for better or worse, become a watering hole for many in the fashion industry. For the time being, I am happy to reach this source of unlimited ideas at the peak of my career, and only hope I can match the lucky number of 40.