We Will Riot, by Romas Zabarauskas
14 October 2013
Director Romas Zabarauskas is on the road promoting his latest feature film, We Will Riot. We caught up with him at the US premiere of the movie during the 6th Annual Bushwick Film Festival.
Can you give us a brief synopsis of We Will Riot?
Luke is an up-and-coming DJ from an affluent New York family, with a Lithuanian father and an African-American mother. When Luke hears from an estranged grandmother in Lithuania, he defies his parents and decides to visit this far-away country, flying straight to the capital city Vilnius. He falls in love with the city, a rebellious girl called Marta, and the local music scene—the beat-makers—promoted by an aggressive gay manager, Andy. Luke's grandma's connections get him a deal with the municipality to become the manager of a new nightclub, and he takes up the challenge... but the deal turns out to be poisoned, forcing Luke to rebel in ways he never imagined.
Most of the movie has been shot in Lithuania even though you started it in New York and were living in the US at the time. What was the reasoning behind this decision?
I graduated from Paris 8 Saint-Denis University last year, after a year of exchange at Hunter, New York. However, throughout the years studying abroad, I remained active within the Lithuanian context, where I'm originally from. I regularly write articles supporting LGBT rights, and came back to shoot my debut short, Porno Melodrama. This is the context I know best and I want to continue working with it. Furthermore, I think that today, to work in a small country isn't a disadvantage in any way—local is the new global. It's important to work with what you know best, and it's possible to distribute it to the whole world from your laptop anywhere.
What were you able to draw from Lithuania's artistic scene that helped shape the movie?
I drew a lot from it. I am an outsider to the beat-making scene. However, as Vilnius is a small city, creative people are mixed, and while there I was hanging out at some of these parties myself. I'm fascinated by the beat-makers in a way that I'm very different from them—they are all "masculine" grungy guys, and I'm this rather eccentric LGBT rights activist always making some noise in the media... Although I'm also simply impressed by how these guys from very different backgrounds are creating music that deserves the world's attention–all they need are laptops and creativity. For the film, I set up interviews with leaders of this scene before writing the script, and kept consulting with our music supervisor Mark Splinter from the very beginning. I got a lot more than just the music from these beat-makers, but at the same time I didn't try to be accurate with real facts.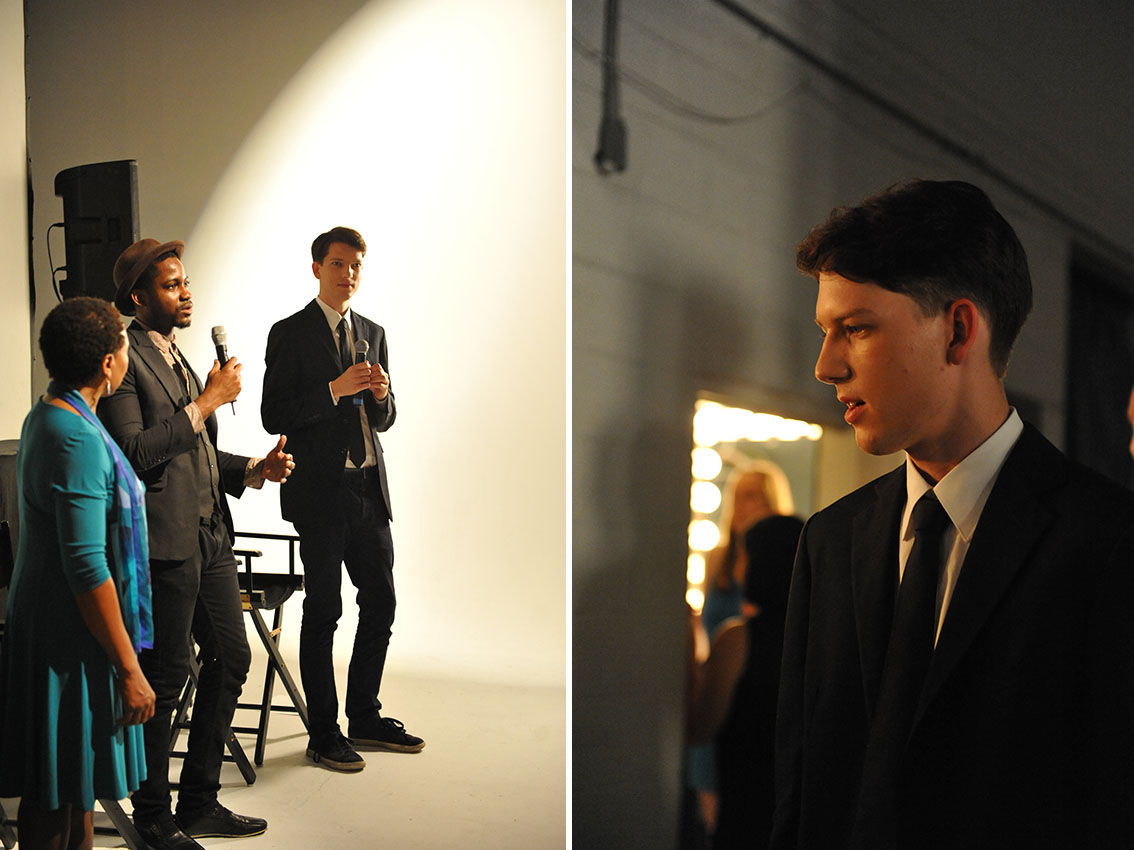 Above: Romas Zabarauskas and lead actor Ebeneezer Nii Sowah at the Bushwick Film Festival. 
The choice of addressing social issues in your films so early on in your career is audacious, although you do so with composure. What compels you about giving this reading to your stories, and to do so in your home country?
It's very difficult to answer this question for me, because I think it's only natural that art addresses social, political issues. I am very inspired by Greek tragedies like Oedipus the King, Antigone, Medea, and already these were in fact talking about social issues such as immigration status, gender roles, corrupt power structures. For me, it's weirder when a dramatic work doesn't tackle any social issues than the opposite.
You are very active in promoting LGBT rights, both in Lithuania and abroad. Porno Melodrama and We Will Riot both address issues of LGBT rights. You recently screened We Will Riot in Russia¬—for the Moscow Film Festival "Film Around the World"—soon after anti-gay laws were passed. Do you see movie making as an indiscernible part of your activism?
Here's the thing: my movies and my activism are motivated by two very different things. I don't do any artistic compromises when I write a script. At this instance, political issues become a material to work with. However, as a public person in Lithuania, I am all for supporting LGBT rights in the most accessible ways possible—therefore I'm going to talk shows to talk about myself, trying to involve celebrities, encouraging coming outs, all in order to change the Lithuanian public sphere. This gets confusing sometimes, because people then expect my films to be very educational and activist as well, which is not necessary the case.
The main character in the movie also deals with race equality issues, again in Lithuania. How do you think this adds to the story and message of the movie?
My film explores a recent trend of social science: "intersectionality." The social problems of racism, homophobia and sexism are all linked together because of an overall issue: a corrupt political system. While the film itself ends in a very ambiguous way, this linking between the different struggles is the main message of We Will Riot.
The film's headline is "A film about beats, love, friendship, and the system that destroys it all." What do you refer to when speaking about a "system"?
As a leftist, I see the Western capitalist system not as a free community based on the laws of nature, but as an artificial process governed by corrupt politicians and sociopathic, unlawful corporations. Global warming, exploitation, financial speculations are few important things to mention from the menu of this system we live in. However, We Will Riot is an ambiguous film. It shows both socialist and libertarian points of view with good arguments from both sides—and it doesn't give simple answers.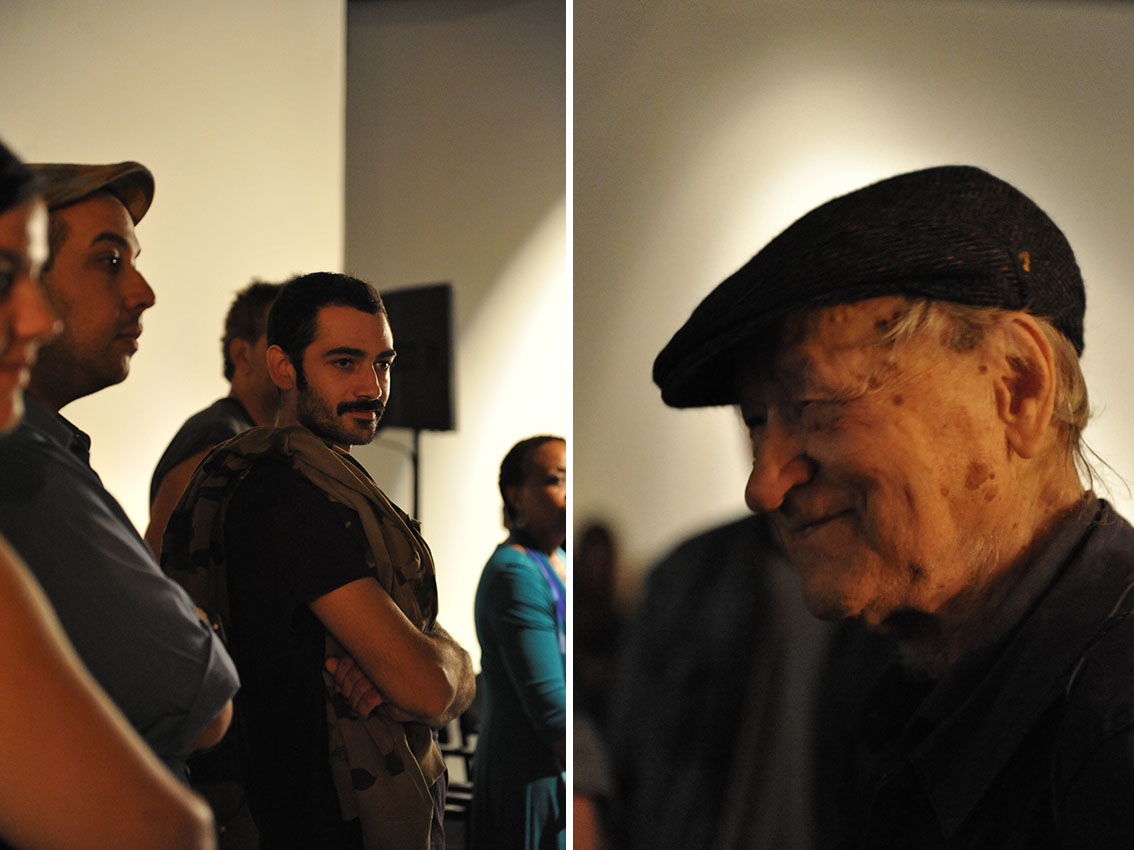 On the left: Jason Ryan Yamas, associate producer of We Will Riot. On the right: Jonas Mekas.
You received praise and support from Gus Van Sant and Jonas Mekas, both of which were instrumental in giving legitimacy and visibility to your work. Are there aspects of the movie that reveal your nod to artists you admire?
They both agreed—together with John Cameron Mitchell, Marie Loisier and Bruce LaBruce—to help boost my Kickstarter crowd-funding campaign, signing one of their DVDs for the most generous backers. My film is definitely inspired by campy and experimental style of New Queer Cinema, of which Gus Van Sant's "Mala Noche" was a part of. As for Jonas Mekas, in an unexpected way, there are direct similarities between his biography and the evil grandma's character in my film. Also, I would say that Marta's character in the film represents Mekas' philosophy of living in the moment, the "here and now."
A large portion of We Will Riot evolves around music, "beats," and the underground electronic scene in Lithuania, giving prominence to the film's soundtrack. Music is a character in its own right in the story. Tell me a bit about this aspect of the film.
It all started with music. Our music supervisor Mark Splinter gave me this idea when we were partying at the underground club Satta—now closed because of similar problems that the beat-makers club faces in the film... It's just amazing how much talent we have in Lithuania, and I'm glad I had a chance to use it and represent it. Also, I personally hate the use of music in contemporary Hollywood—it's used only as a supplement to make emotions work right. We took an exactly opposite approach and, in many scenes, made everything else work by the rhythm of music. I learned a lot from this collaboration and will keep using electronic music in my future films, regardless of their subject.
Who are some of the artists and musicians involved in the project?
Eleven Tigers is probably the most famous one (here are reviews by Pitchfork: Clouds Are Mountains, and Stableface). The soundtrack contains his unreleased draft version of the single "Stableface." Boyfriend, whose untitled track was used for the sex scene, won the Alternative Eurovision prize at FACT magazine, and collaborated with Zebra Katz. 96wrld recently released his EP, Private Language. And many more... You can find all of their Soundclouds on We Will Riot's website.
The film was crowd-sourced through Kickstarter, like many projects lately. What was the experience like, and what is the key to a successful campaign?
If you keep in mind you have to have a good idea, and to be stubborn. You can't just launch it and expect it to work. It will only work if you'll facebook, email, call everyone personally and ask to give you some money. After your friends do, it can catch up. There is no way it will catch up and get funded without your friends backing it up first.
The movie has a rather open ending, far from suggesting a solution to the issues it brings up. What made you decide on this style of storytelling?
To end the film this way was crucial for me. I wanted to show the tragic impossibility of a meaningful political action today, and so I did.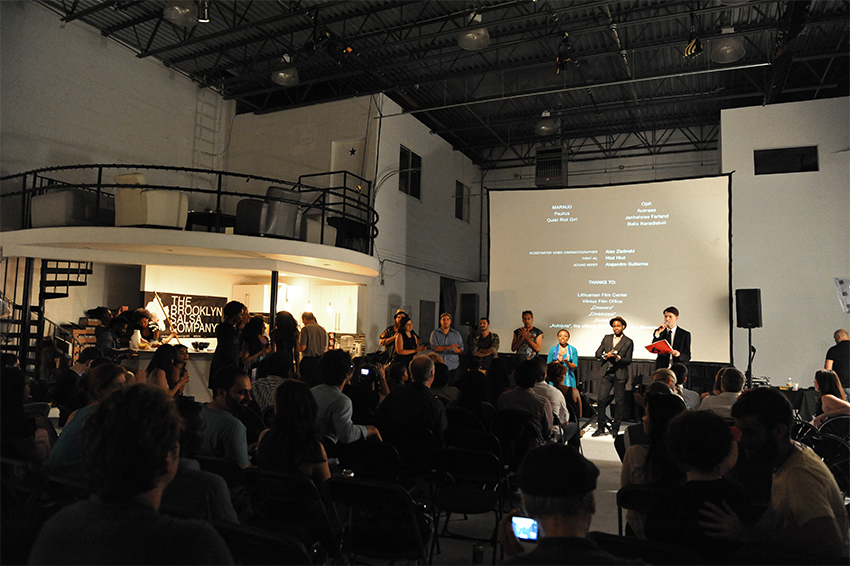 We Will Riot is now available to watch on demand.