The Bush – My heart is a forest
by CONCETTA D'ANGELO
photography PEPPE TORTORA
The Bush is an independent musical project combining music and storytelling. The brainchild of Diego Buongiorno, it comes with a visual counterpart in the form of an illustrated book, which narrates the story of a little girl named Ava, and is driven by three keywords: Innocence, Courage and Imagination. To accompany and expand on the narration, Buongiorno developed music and videos in collaboration with international artists.

Written, arranged and produced by Diego Buongiorno, The Bush involves more than 20 musicians—among them Högni Egilsson and Stephan Stephensen of the Icelandic band GusGus, Tanya Tagaq, and Craig Walker of Archive. The album was recorded between 2010 and 2012, mixed in Reykjavík by Addi 800, and mastered in London by Mandy Parnell. My Heart is a Forest the live performance of the album, was premiered at Teatro Palladium in Rome. All parts of the project came together on stage with the participation of performers, visual artists, directors, photographers and set designers.
My Heart is a Forest exclusive backstage video
Buongiorno himself is unstoppable, evident even when he talks. Jumping from a memory to a new idea incessantly, he seems to channel a perpetual flow of images and experiences. Buongiorno is currently traveling Europe working on new projects, but he took time to guide us through his journey, which began more than three years ago.
How did the project of The Bush begin?
The idea came to me in South Africa, while I was sitting on the back of a battered minibus returning from Victoria Falls. I was listening to Bon Iver's Blindsided as I looked outside the window and saw village people who looked like creatures from the woods, appearing and disappearing behind branches and chunks of forest alongside the bumpy road.
I remember reaching for a piece of paper and writing some of the names I wanted to have on the album; I wanted this to be an important piece of work. Then the title: The Bush. Needless to say, of those notes only the title remained, since in three and a half years those names became ten times bigger, while the concept of the woods remained the same.
Back in Rome I began writing the first track, whose name became the album title and was sung in Iceland by GusGus' Högni Egilsson. Since then I haven't stopped: a tale of ten chapters narrated through twenty five original tracks, more than sixty international artists involved door-to-door around the world, from L.A. to Reykjavik, from Greenland to Paris. From Africa, not a bongo.
It's an independent, self-produced album I wrote and arranged in three and a half years. Meanwhile I also had to work writing music on commission in order to afford the recording studios and all the traveling. The first year was an incredible struggle to reach the ears of a nice audience, and spontaneously get the attention of specialized magazines.
Can you expand on the idea of My Heart is a Forest?
My Heart is a Forest is the live version of The Bush. I wrote this show for the RomaEuropa Festival, one of the most important festivals we have in Italy, and I didn't want it to be composed of only music. I was more interested in conserving and communicating the human aspect by inviting on the stage artists from around the world whom I had travelled with.
It was precisely this kind of evolution that I had in mind since the beginning of The Bush: live shows in large venues and theaters where music has the leading role, changing its interpreters, set design and acts, according to the space itself, like a visual and auditory forest.
I believe that music is the greatest form of communication we have, since forever, and is the latent unexplainable emotion, which I look for in this show and with which I would like to reach the public spontaneously, through sounds and images, so that the public may always own it, not only during the concert.
There's an incredible amount of contributors to this project. How did you get all of them to participate?
For the album, I wanted some of the musicians I always listened to become part of my work. I loved Amiina since their first albums until their tour with Sigur Rós, and also Tanya Tagaq on Björk's Medulla, Sabina Sciubba from Brazilian Girls, The Irrepressibles with their song In this Shirt, the voice of Dorian Wood on Pianos and Bricks, the magic of Eivør on Trøllabundin, the delicacy of Clare & the Reasons, the elegance of Jo Hamilton, and the songs of Archive such as Goodbye and Again sung by Craig Walker, and so on.
And so I armed myself with a flight ticket, or a backstage pass for a festival. Sometimes I was kicked out from a dressing room and later returned from the back door with a demo and a mood board under my arm. I sent more than a thousand emails. I don't think it was magic. I believe that if we're gifted with some intelligence, we can choose who is right for a good project, especially from abroad; it's all about intuitions. Sometimes the answer is immediate, in a dressing room. Sometimes it takes months.
Addi 800 and Mandy Parnell were the icing on the cake, respectively for the mixing and mastering. Working and receiving such honest consensus from professionals of this caliber—Grammy nominees who work daily with my number ones such as Björk, Blur and Sigur Rós—gave me very much, on a professional level, as well as private. Today there's something indissoluble that binds us beyond plain work.
The album shaped up through numerous recording sessions in Rome, London, Berlin, Paris, Nunavut, San Diego, Los Angeles, Reykjavík, Fær Øer Islands and Dublin. What do you think these wandering sessions added to the album?
All this has given the album a sense of uniqueness and internationality in the true sense of the word. I don't think there have been works of this kind in Italy until today, written and produced independently, which managed to fuse in a single sound so many nations and different people. I wish I knew about their existence, also abroad. Besides all this, the added value for me was meeting and collaborating with artists of very high level, with whom I was able to confront, experimenting every kind of idea I had in mind and obtaining powerful answers every time.
The Bush is a self-produced project. Did this represent a limit to what you could do with it?
We could talk for hours in order to establish a definition for the word "limit," and what could have been done in a different scenario, but why should we? It'd be mental masturbation. What is done is done, and I'm entirely satisfied.
What has been the most positive aspect of this journey?
To expect from myself the most I could achieve, and that which I have given and taken from all the artists who gave me their willingness to become part of the project; and everyday accomplish it, and defend it. I learned this, not only regarding work.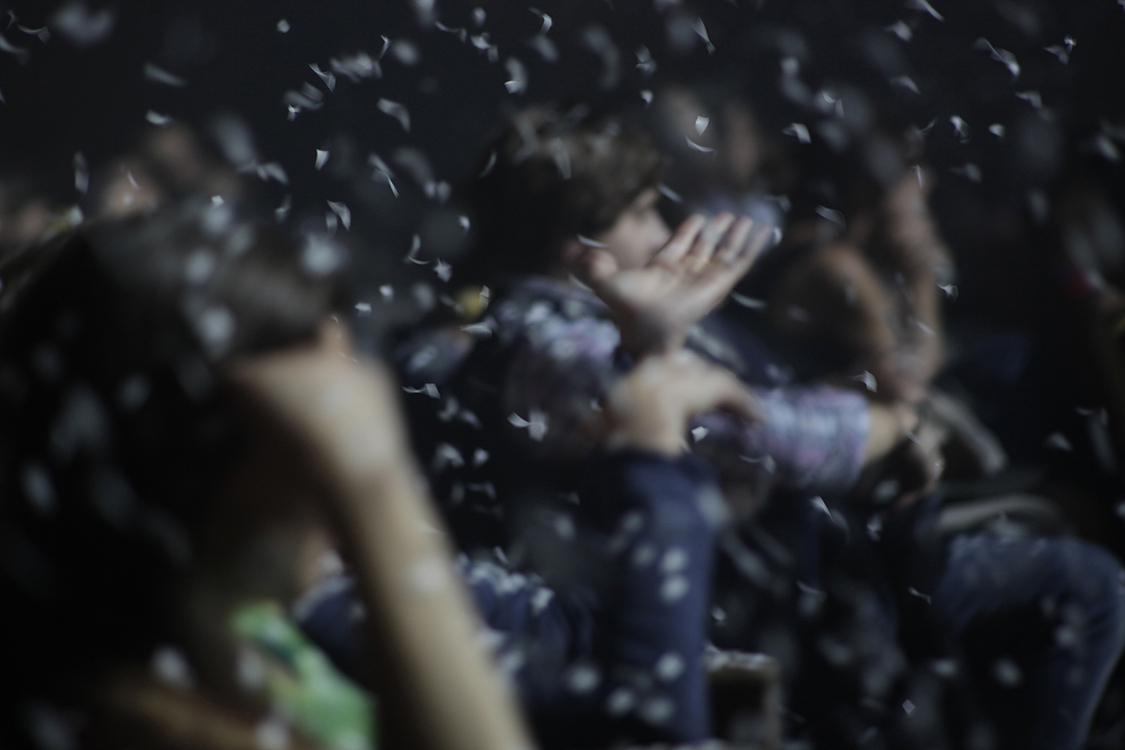 The Deluxe edition of the album is available on your website, and can be downloaded for free. You're also adopting a "guerrilla" promotional campaign, leaving free copies of the album in music stores, available for anyone to take. I was touched by this choice; why did you do it this way?
The level of culture that's made available in Italy is getting so low, despite the fact that people deserve better. We have a smart population, but we aren't treated as such by the media. Giving the album out for free comes from these observations.
I don't see it as a "promotion" or a presumptuous act. It is more about the game of leaving a few copies of the album hidden in some shops and bookstores here in Rome, unbeknownst to those who worked there. People would read my posts on Facebook and go get it, without telling anyone. You said you liked that idea, right?
You see, I want to have fun with "my" music, which materially belongs to me, which I can decide what to do with at any moment, unlike so many realities which declare themselves independent, but are completely dependent. In this case it doesn't mean that I'm undervaluing it; I do it with great attention because I know there's a much deeper and coherent sense. For me to donate my music in this historic moment is like giving a long hug to someone I don't know, but whom I feel I can trust. It's an act of intuition, like all of life.
How do you see the project evolve from here?
I'm always asked this question, how curious. Usually when an album is finished it'd be normal to talk about the next gigs and that's it. Here, on the other hand, we're always talking about "evolution", and that's the beauty of this project: always take new forms, like in a human relationships. Right now the album is transiting around the world of contemporary dance for the first time. I always thought that if music is the gift of Fantasy, dance is the gift of Elegance. I'd love to write a show The Bush only for the body and the movement, and I will try something soon, but I already did a collaboration with with Modulo Project, a great dance company in Milan. They have choreographed some tracks of my album in their dance show.
On the other hand at the Amsterdam Dance Centre, they are using some of the album tracks for the contemporary dance classes, and I look forward to seeing the results as soon as possible; I will be there next month to talk to them about some ideas I have. I'm very curious. But I was informed that they are also doing the same thing in Florence. If I remain in the context of dance and movement, I tell you that one of my dreams would be to work with Denna Thomsen. She has recently worked with Shia LaBeouf in the video for Fjogur Piano by Sigur Rós—one of my favorites directed by Alma Har'el, and on David Bowie's latest video The Next Day. She has her own dance company, Axiom, which incorporates theatrical elements and contemporary dance, and is known for her intense character development. I love her, and her work. We are in touch, but on a day which for me was quite hard she had beautiful things to say about my music. You know, I usually don't need that, as I believe in what I do, but at times it is so important to share thoughts about art, about what we do or what we are. She told me, "In order to create something good, you have to have the bad to compare it to." It really soothed me at the time.
Regarding My Heart is a Forest, I'm awaiting an answer this week for another show, slightly different from the one at Palladium Theatre. It's more complex and involves the partecipation of almost everybody featured on the record, but also new entry vocals. I hope it will take place soon, if not now, then sometime in the future, also because I've already written it!
I'd like to leave you with this thought from Bruce Barton, and wish you the best, for everything that you're doing.
"Nothing splendid has ever been achieved except by those who dared believe that something inside them was superior to circumstance."
Now I am going to listen to the new Banks album. Jillian Banks has a strong vibe and mind, she is psycho-talented; and John Michael Andersson did great music direction, as only a great musician can do. Great taste.