Appearances Can Be Deceiving: The Dresses of Frida Kahlo
17 October 2013
Frida Khalo's style is examined once again with an exhibition of her clothes, accessories, jewelry and orthopedic garments at her former home, Casa Azul, in Mexico City. The artist's wardrobe was rediscovered in 2004 after more then 50 years of storage specifically requested by Diego Rivera, Frida Kahlo's husband. 
The exhibition, curated by Circe Henestrosa, explores the personal belongings and garments that shaped Frida Kahlo's identity as an artist and a woman. Appearances Can Be Deceiving puts the influence of the painter's style in perspective by presenting the original ensembles together with contemporary designs.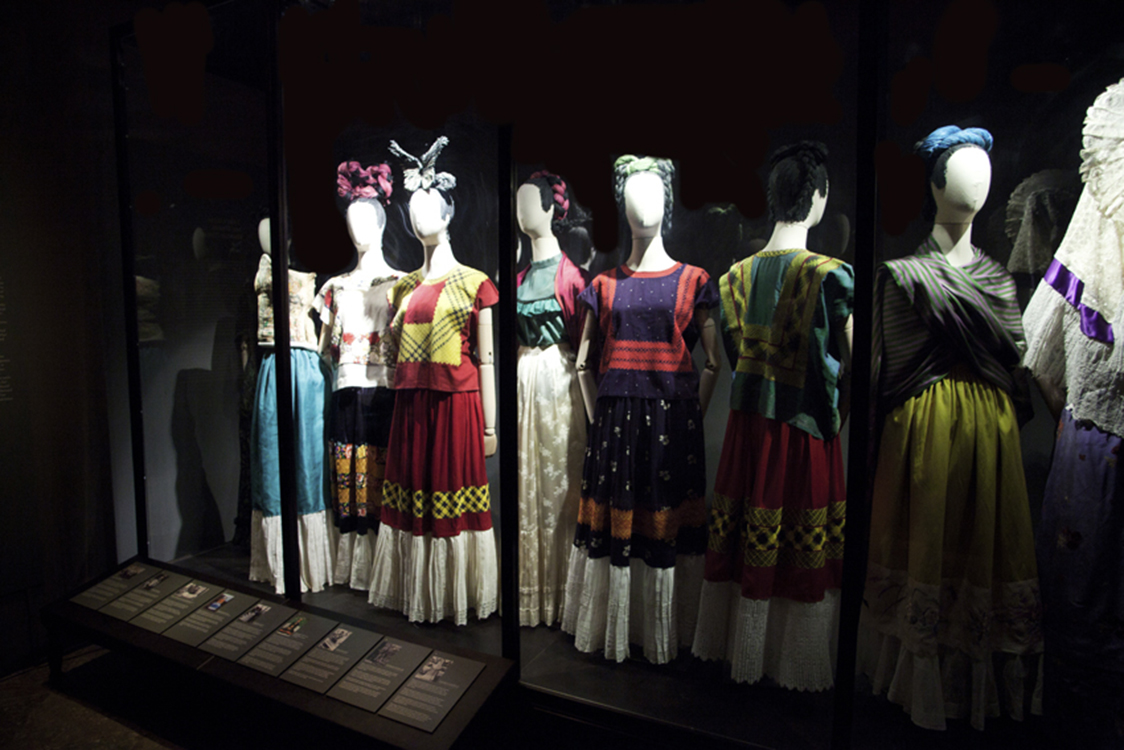 Above: the Tehuana dress originated in Oaxaca, a southeastern region of Mexico. This typical attire came to be a symbol for female power in a matriarchal society, becoming, for Kahlo, material to work with. She molded and fashioned the garment over time to reflect her own narrative of identity, heritage and personal history.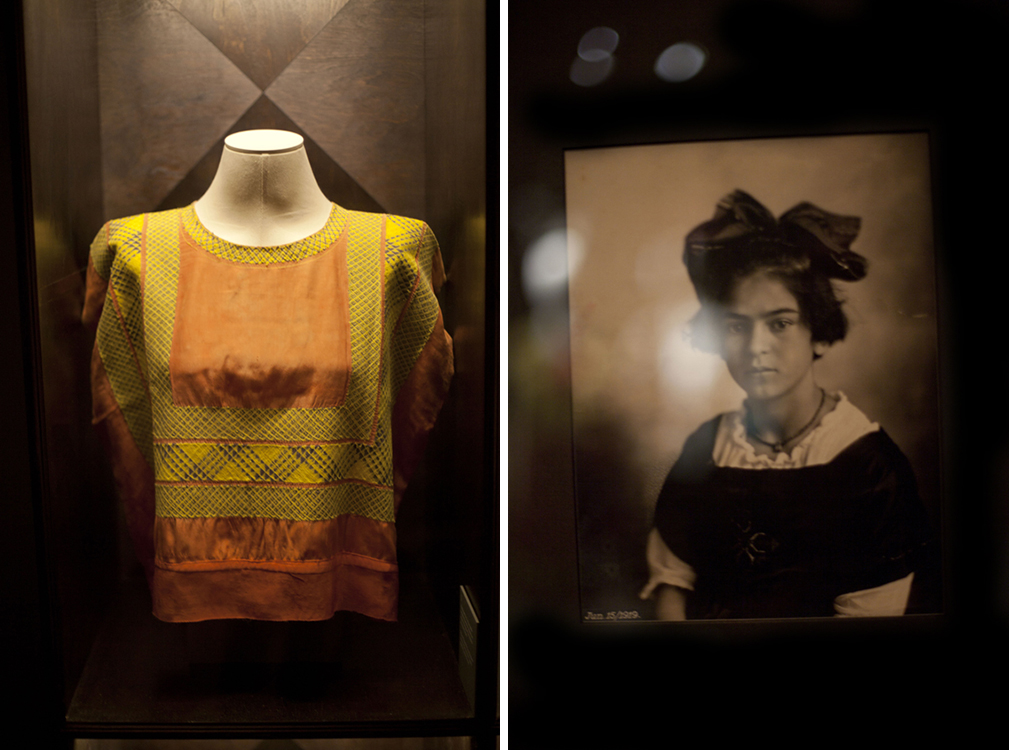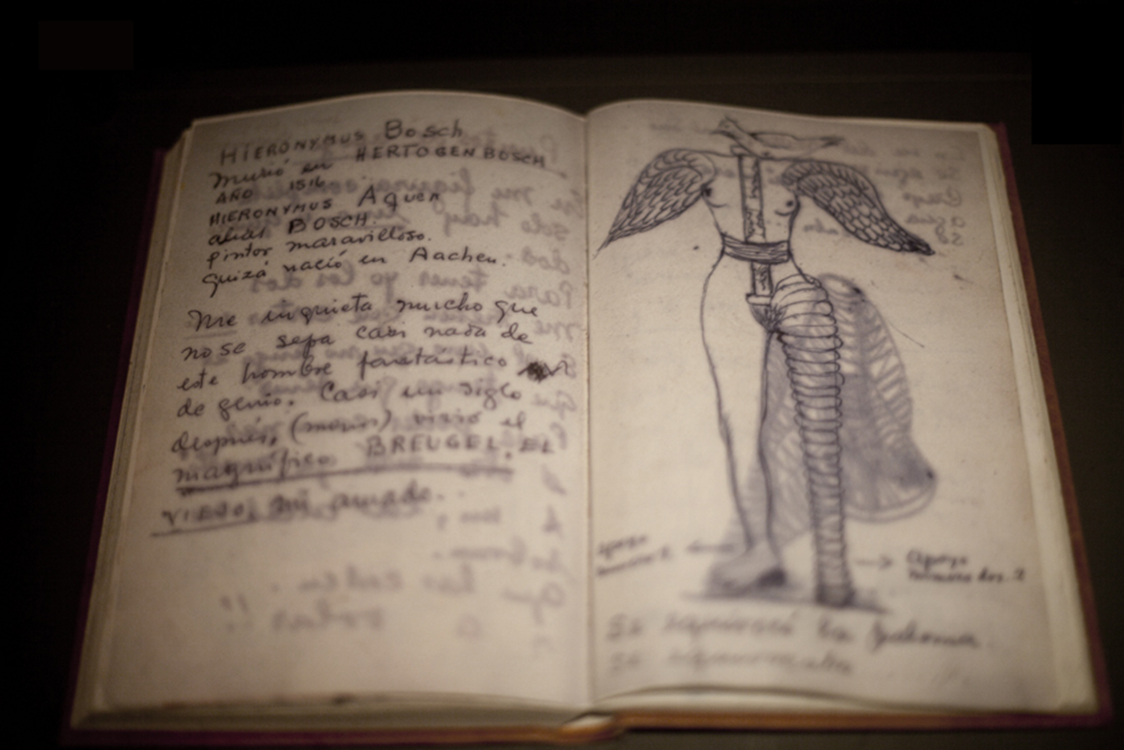 Above: The dove made a mistake, she used to make mistakes, 1953. In this drawing Kahlo replaces her head and arms with the head and wings of a dove. The series of drawings in this diary illustrate her trauma and resignation during a period of her life that left her restless and disturbed. Along the botton of the drawing are lines from Rafael Alberti's poem, 'The dove made a mistake.'
After suffering from polio at an early age, and incurring an accident at the age of 18, Frida Kahlo's physical condition confined her for long periods of time to a bed or wheelchair. The effort to conceal her imperfections and overcome the resulting trauma had a direct impact on her style and self-awareness.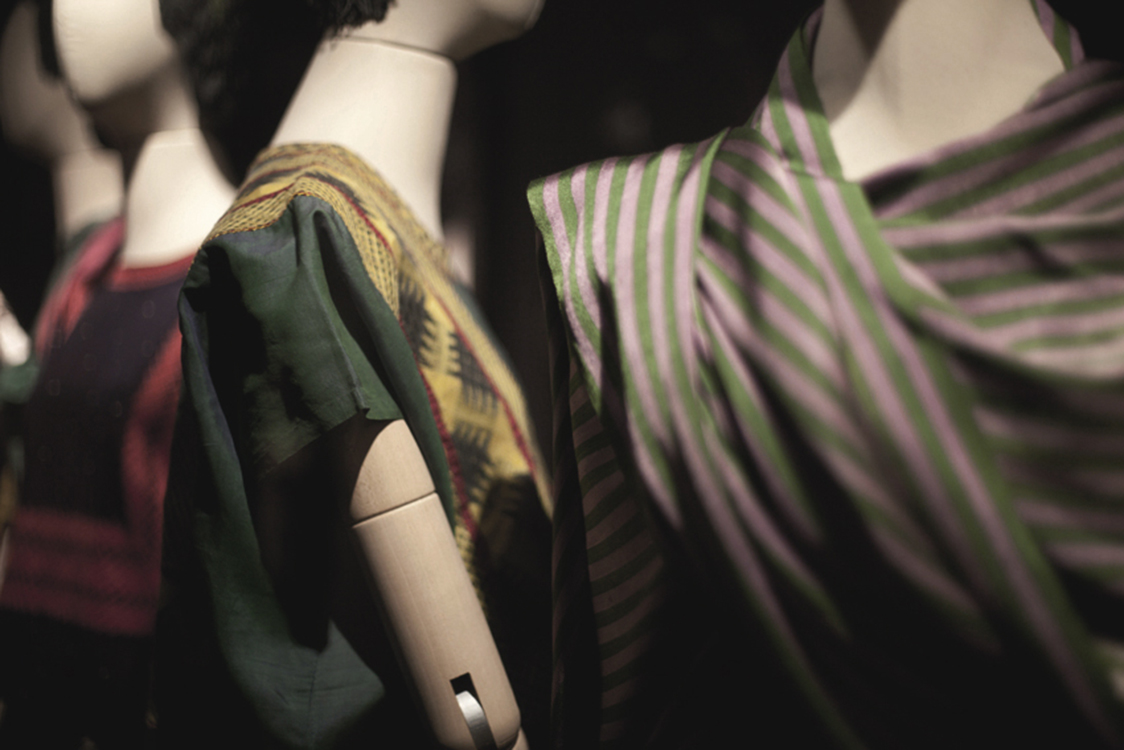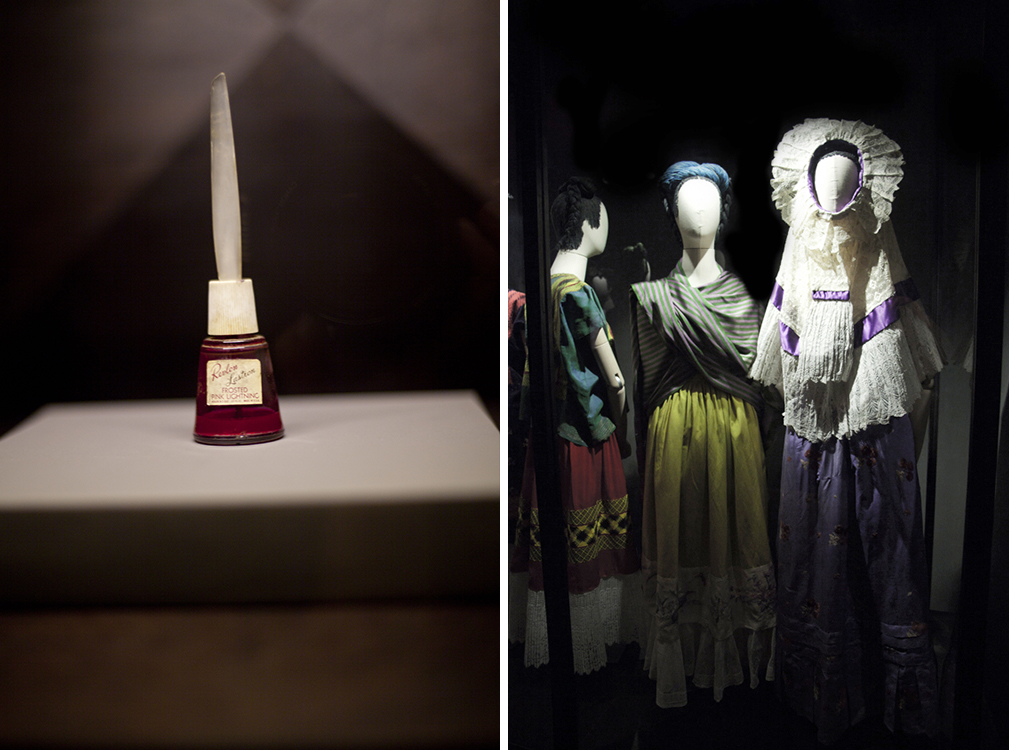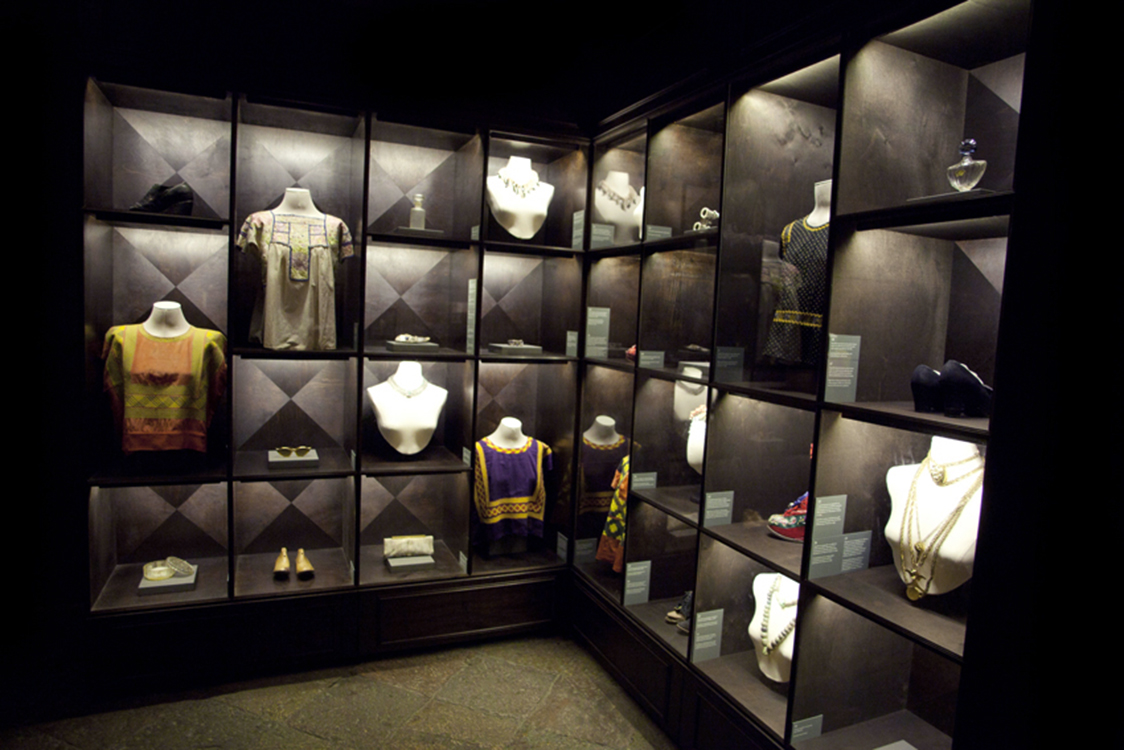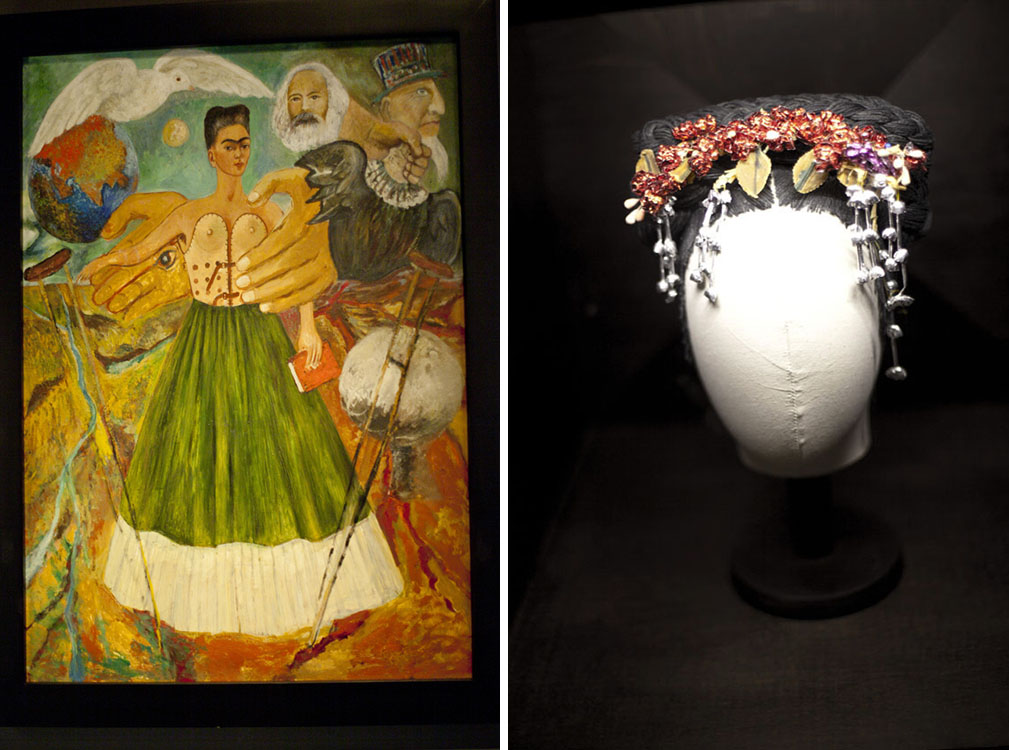 On the left: Marxism will bring health to the sick, ca. 1954. In this painting Kahlo depicts herself wearing her leather corset and a Tehuana skirt, representing her disabilities, cultural heritage and political beliefs. In this piece she appears miraculously cured and liberated from her trauma as she casts off her crutches and holds her red book. On the right: headdress with Castilian roses in aluminium and leaves made of green cloth.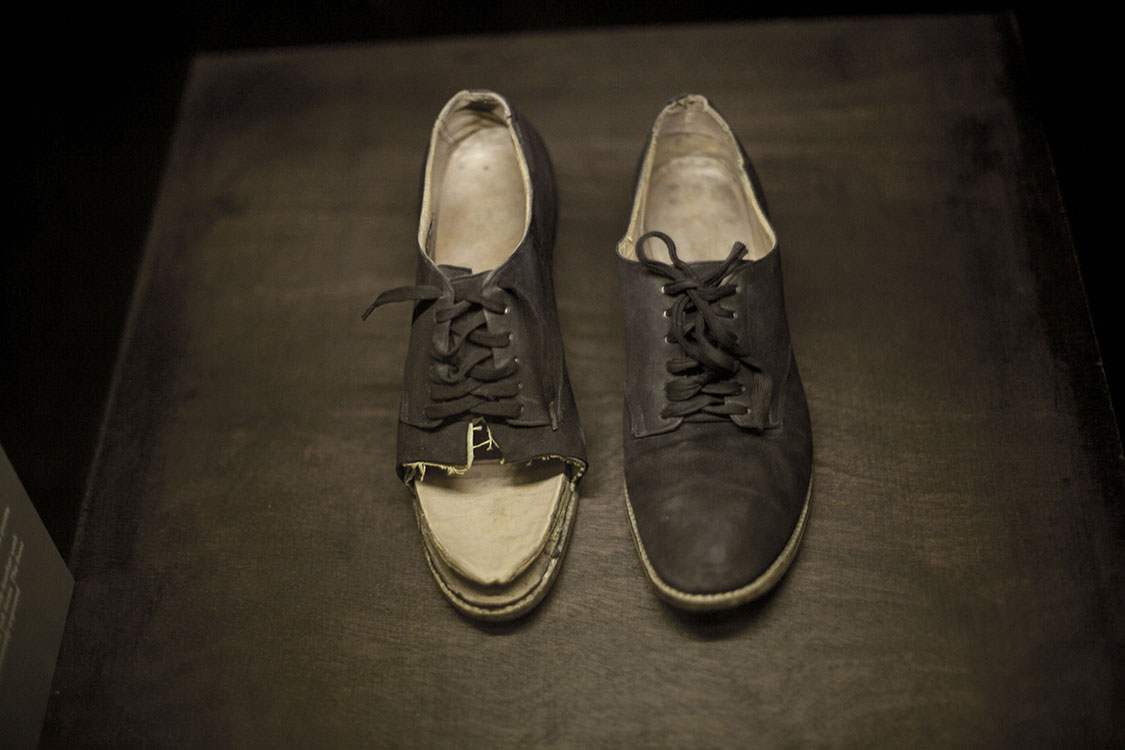 Above: black suede leather shoes with wide heel and black silk laces. The front of the right shoe was intentionally exposed.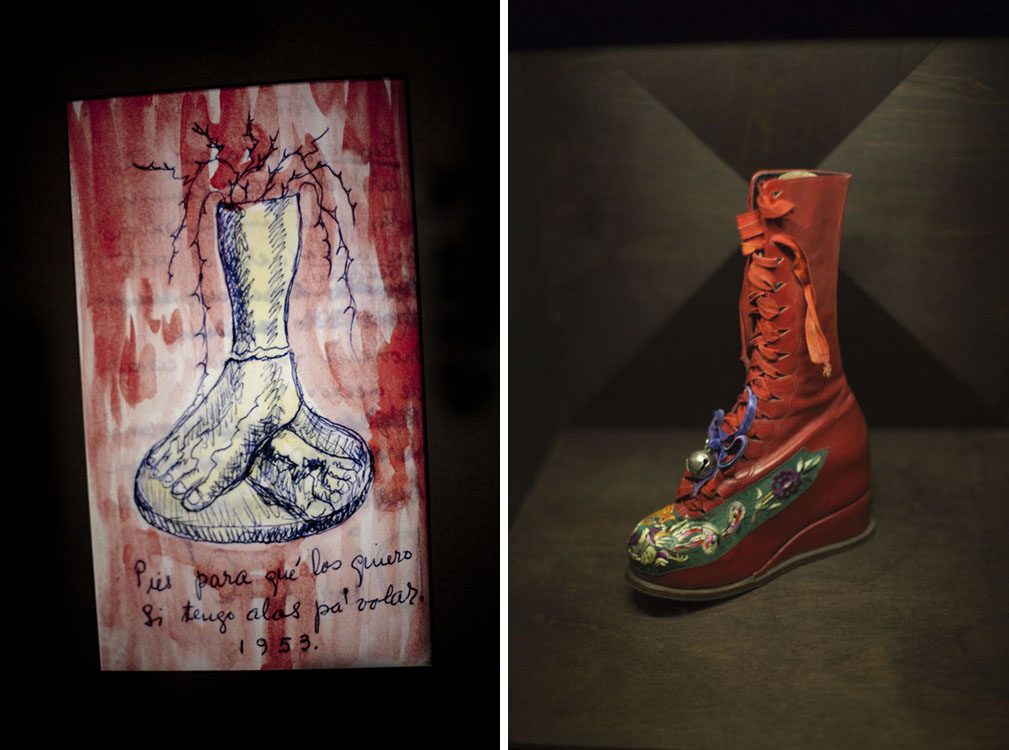 On the left: Feet, what do I want them for when I have wings to fly?, 1953. In August 1953, doctors had to amputate Frida's right leg due to gangrene. This drawing from her diary could possibly reference amulets or votive offerings known as 'Milagros.' On the right: right metal prosthetic leg lined in leather with red leather boot embroidered with Chinese motifs worked in silk thread. Two metal bells hang on a salmon colored ribbon, 1953.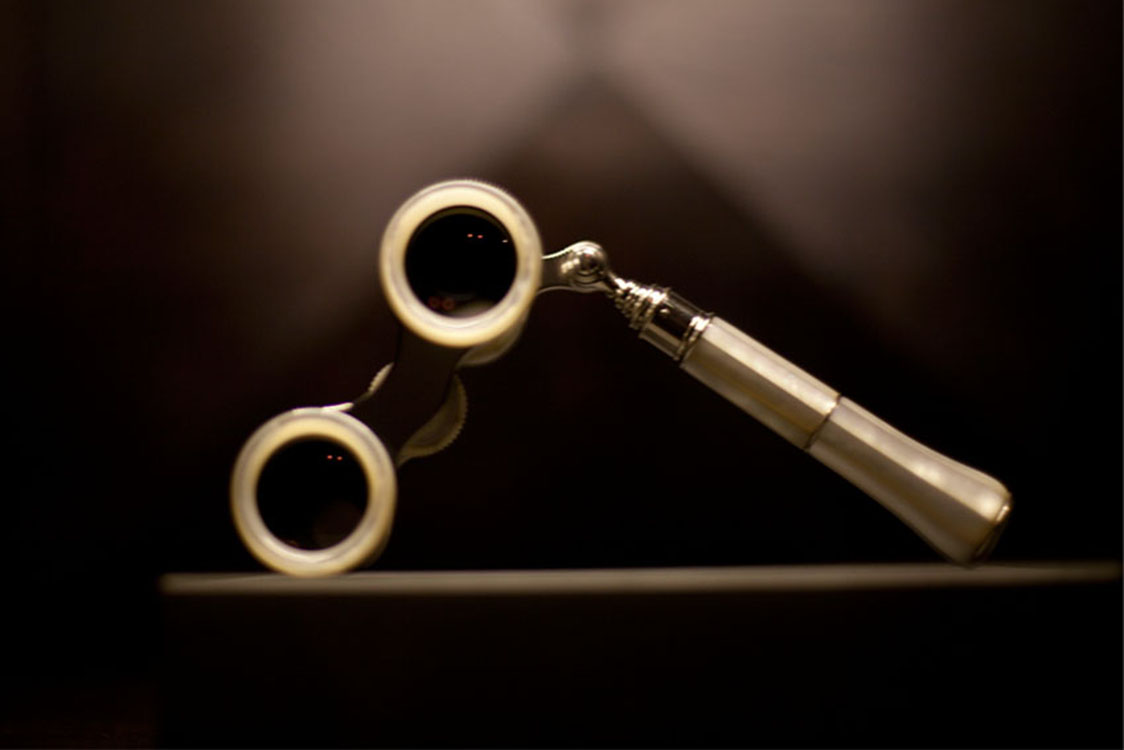 Above: binoculars in conch shell.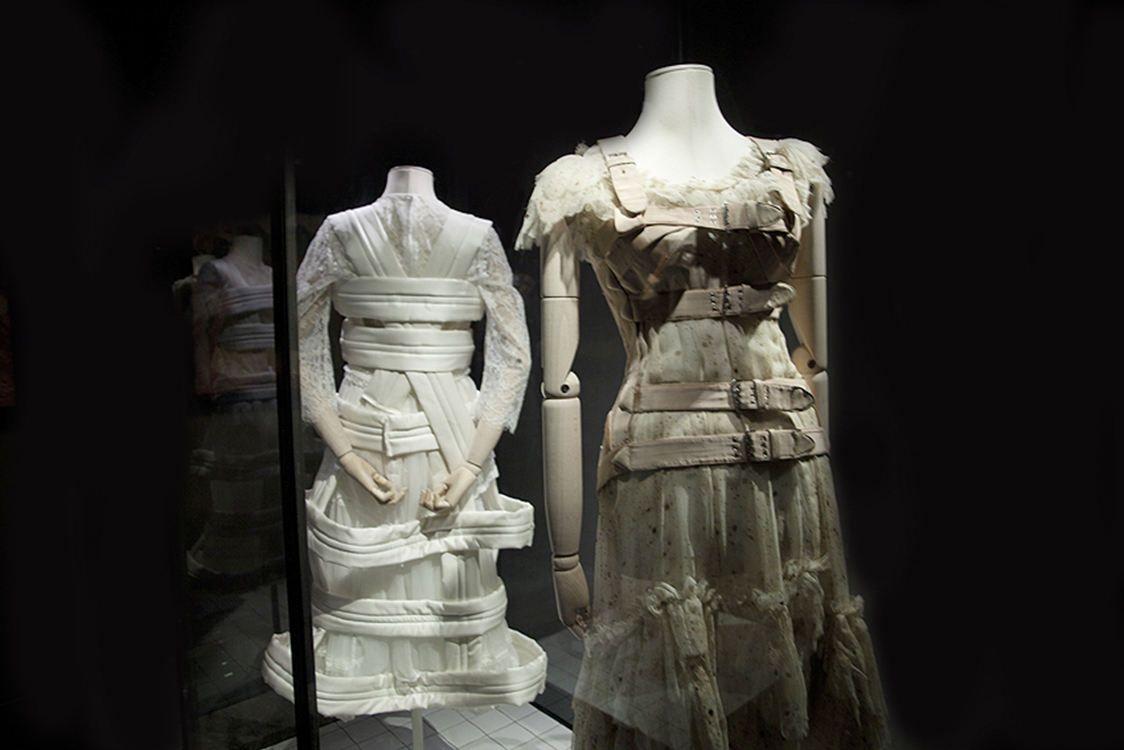 From left to right: Comme des Garçons by Rei Kawakubo spring/summer 2012 blouse and skirt in tetron lace and silk satin rayon, worn with a birdcage skirt and corset in nylon tricot. Jean Paul Gaultier spring/summer 2004, 'The Freckels' orthopaedic corset in salmon worn over a short dress with a flesh colored silk ruffle, printed with brown freckels.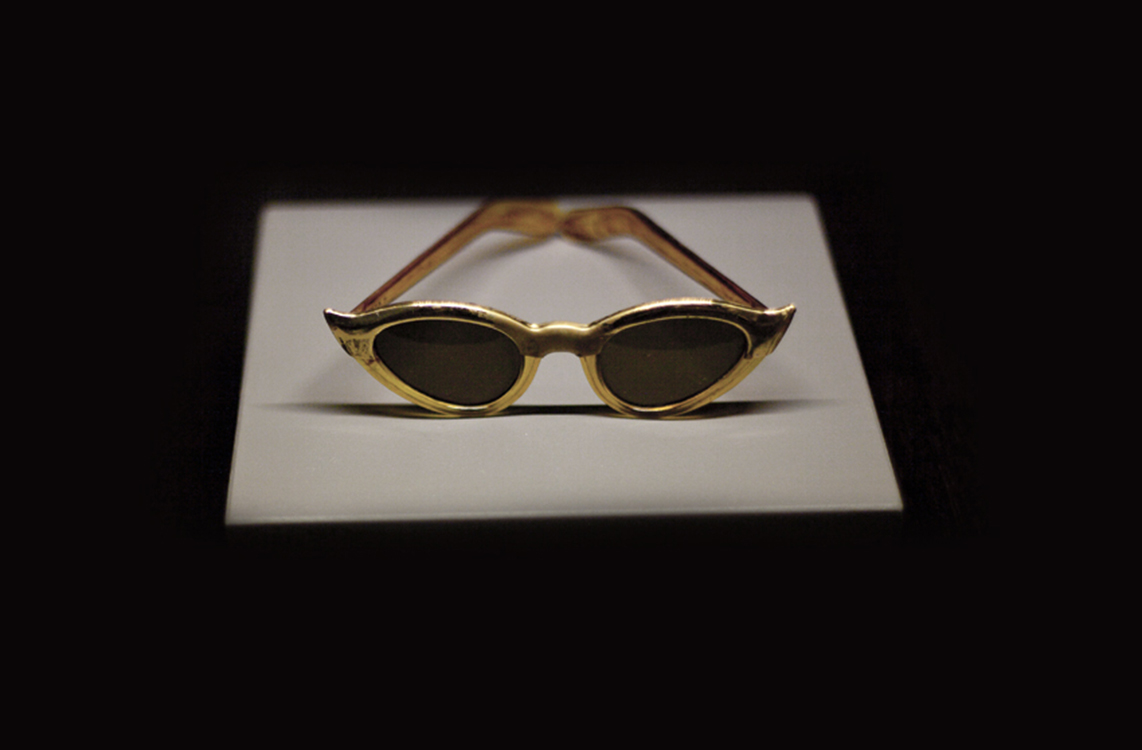 Above: sunglasses, ca. 1950.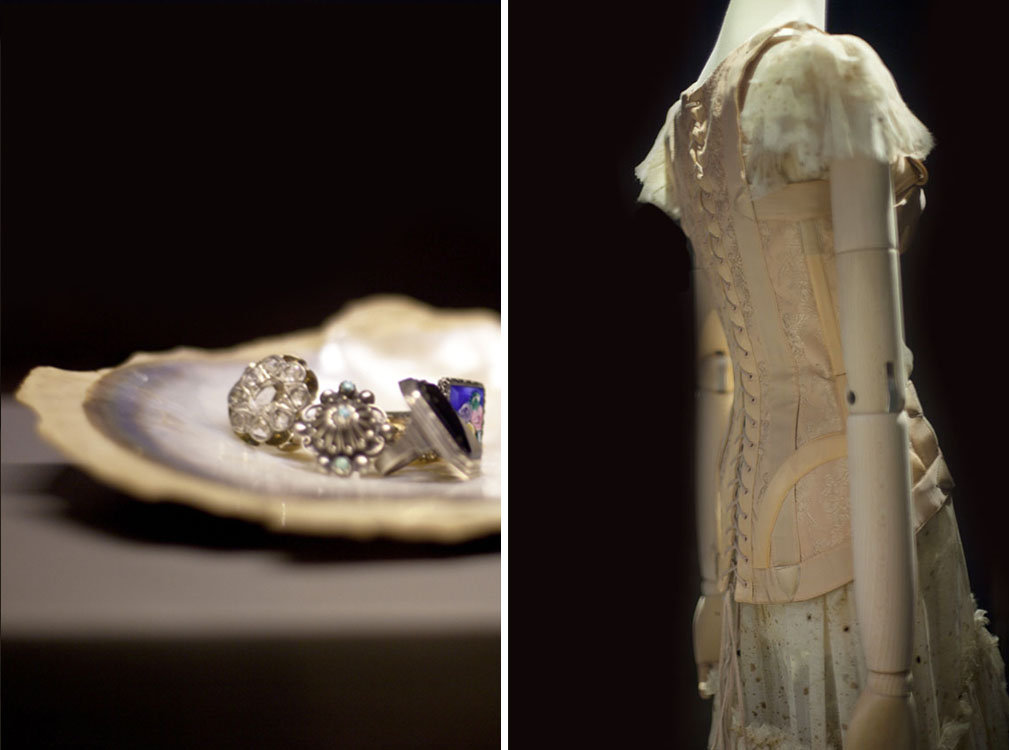 On the left: silver ring set with rectangular blue glass adorned with three floral motifs. On the right: Jean Paul Gaultier spring/summer 2004.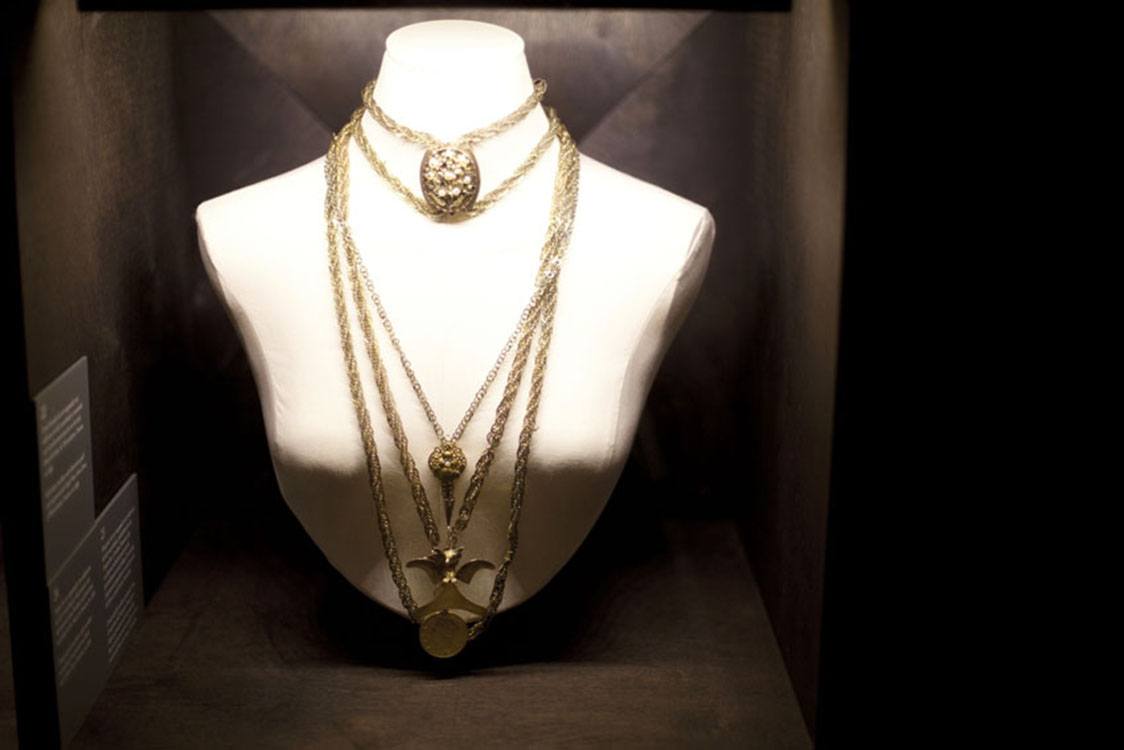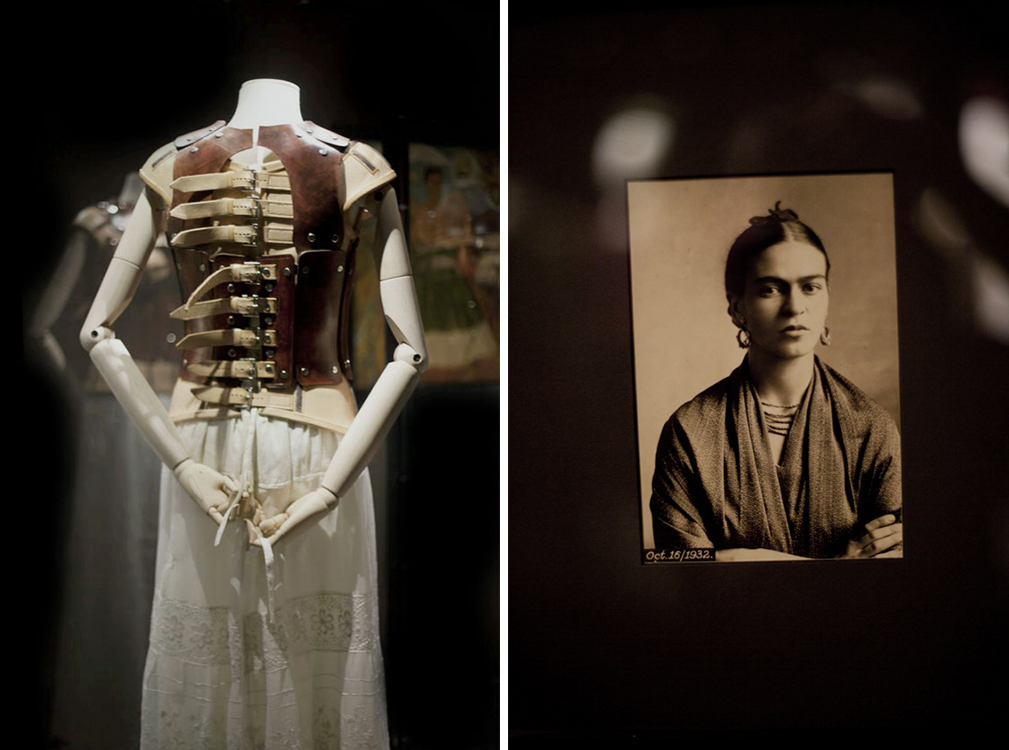 On the left: Dai Rees corset bodice in natural tanned leather and waxed cotton constructed from a flat pattern and hand shaped wet moulding (cuir bouilli), 2012. Organza skirt with pin tucks and embroidered floral borders in white rayon thread. Totonac piece from Papantla, Veracruz.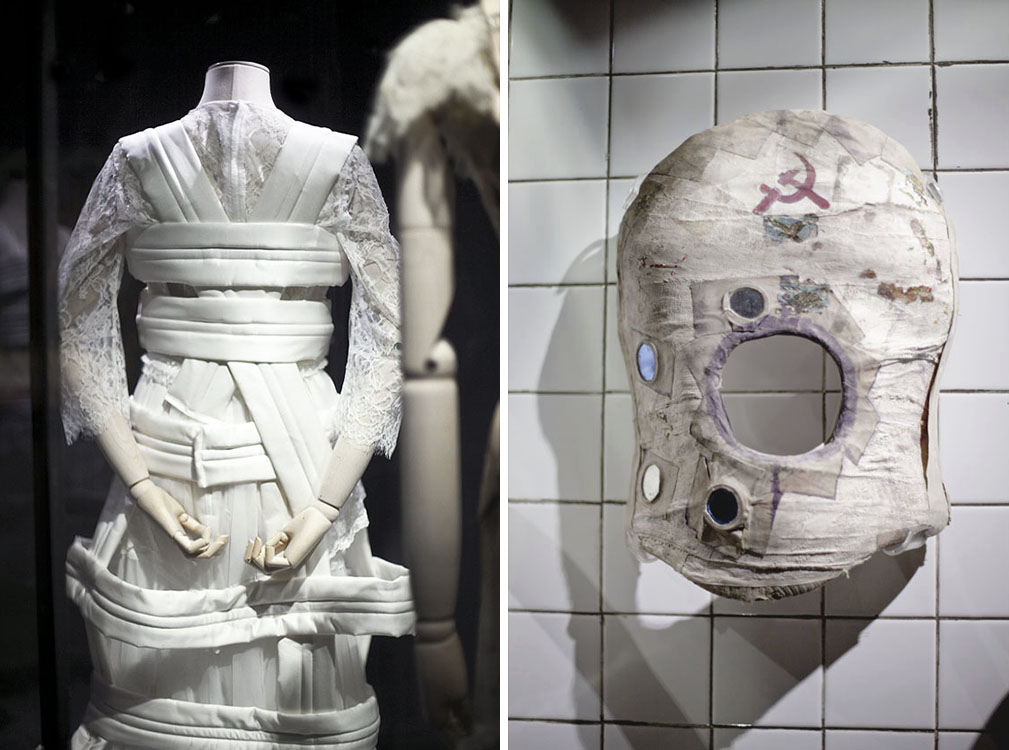 On the left: Comme des Garçons by Rei Kawakubo spring/summer 2012. On the right: corset made of plaster, decorated by Frida Kahlo, ca. 1941.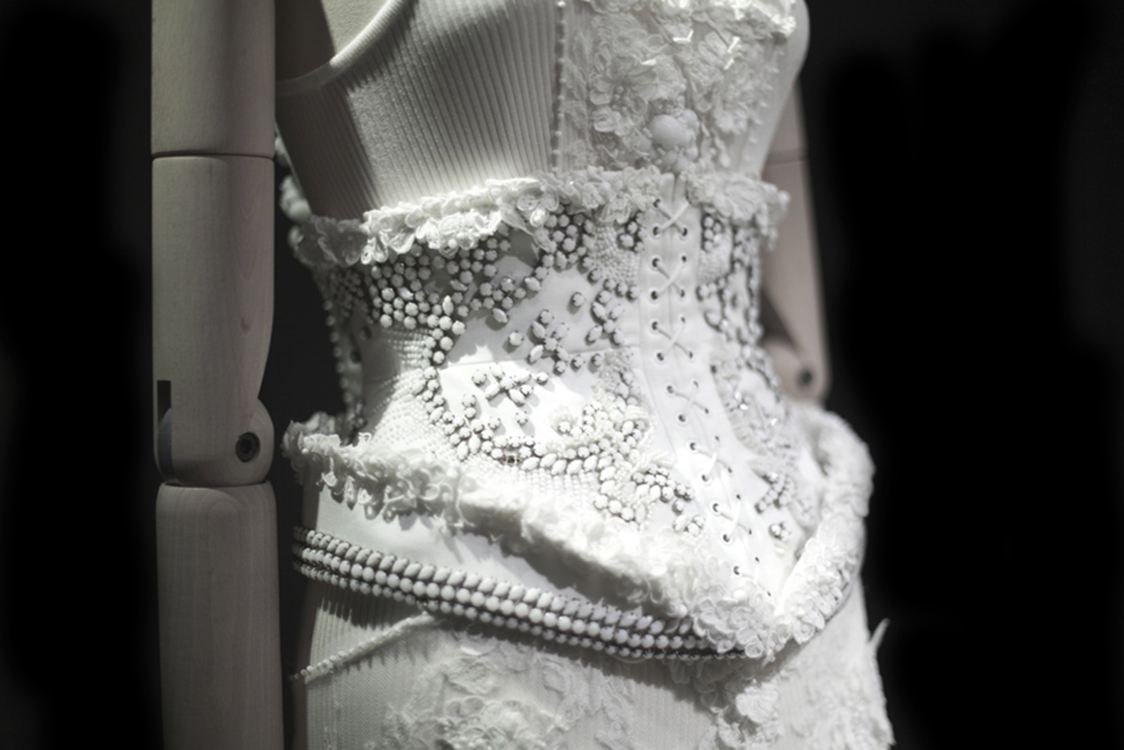 Above: Givenchy Haute Couture by Riccardo Tisci, autumn/winter 2010, 'Flor de Muerto' long dress in bone white tulle embroidered with three dimensional porcelain coated lace motifs, alabaster stones, crystals and pearls woven into the tulle and worn with a knitted bodysuit in fine ribbed silk.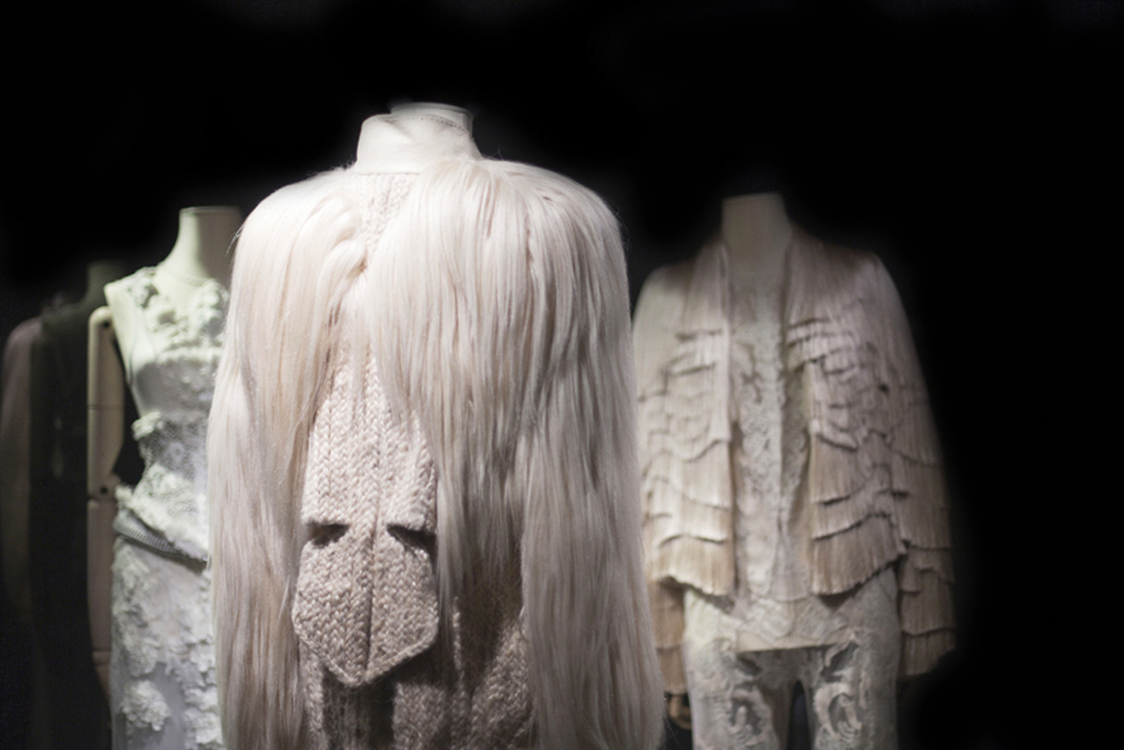 Above: Givenchy Haute Couture by Riccardo Tisci, autumn/winter 2010, 'Los Angelitos' long dress in blush colored tulle embroidered with cut out lace and hand braided silk georgette motifs worn with a flesh colored tulle bodysuit embroidered with cut-out lace and with a matching hand woven goat fur jacket.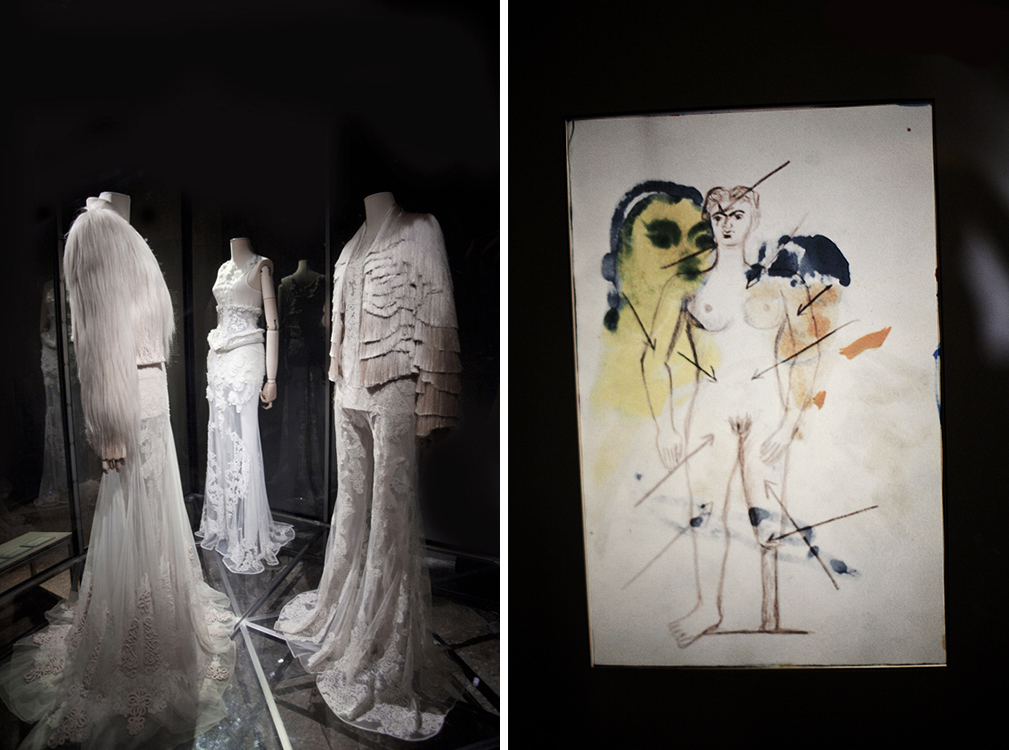 On the left: Givenchy Haute Couture by Riccardo Tisci, autumn/winter 2010. On the right: Self-portrait, 1953. This drawing from her diary shows the parts of her body affected by her accident in 1925. The eleven arrows point to the injured areas where she continually underwent surgery: a total of 22 throughout her life.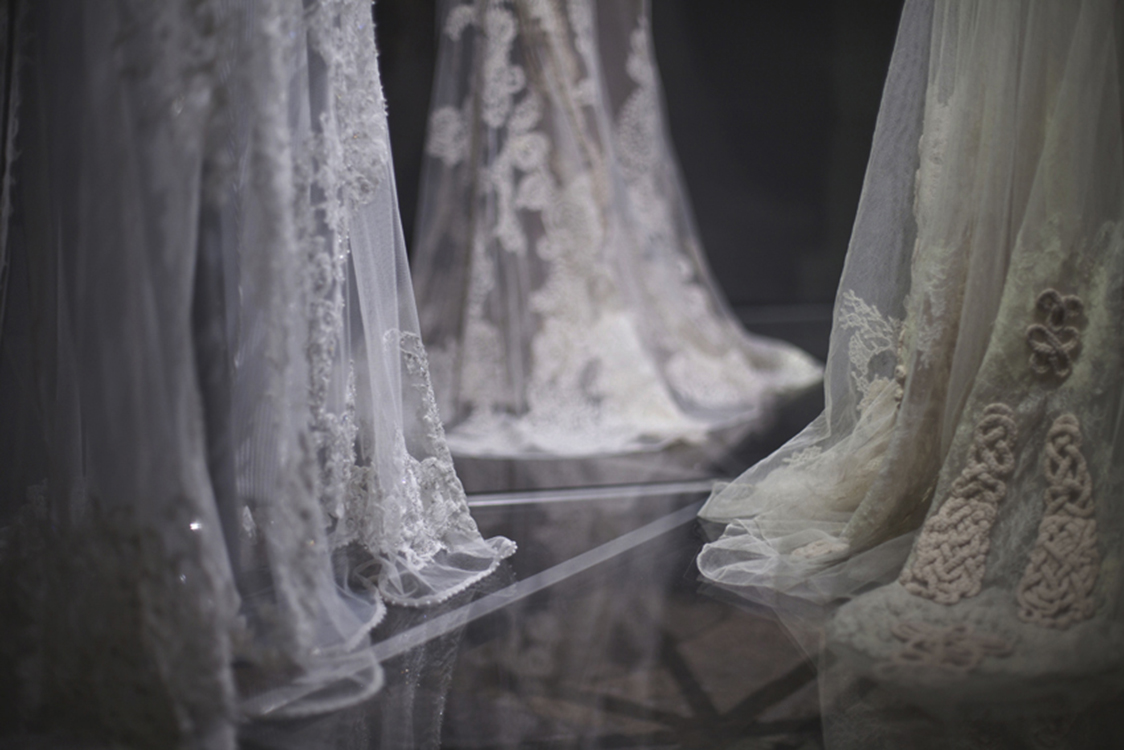 Appearences Can Be Deceiving: The Dresses of Frida Kahlo is on view until
January 31, 2014.
La Casa Azul, Museo Frida Kahlo is located at Londres 247, Del Carmen,
Coyoacán, Mexico City.