Chai
20 May 2015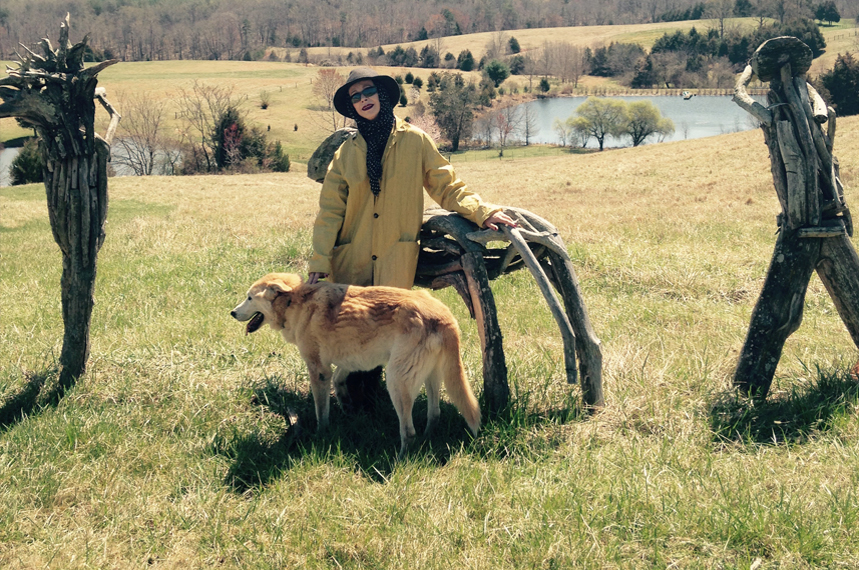 In human years he is one hundred and twelve
He is a king, really. He is terribly aware of it.
Everything in his world stands under his command. Still does. I am amazed by him. When I started getting small hints, two years ago, that there was at times a gesture of hesitation, a contemplative second,
        God's EKG, a base electric message, crackling across his brain,
I went to a friend who had a litter of pups, a mix of hunter and? … I adopted two of them, brother and sister, to give him some disciples, but really also just to keep him going. They were three months old.
I was told to drive to a barn, go inside to the right, to a little corner, and pick them up there.
After a celebratory greeting, they just followed me. The car door stood open and they hopped in, simply, just like that. This is how adoption works. It comes from adoptio, choose, wish, desire for oneself.
My king Chai was not happy: too much nonsense. Too much constant kissing, pulling, rumbling. Good God, come on, kids, let me teach you something. In this house we go into the park to shit. In front of the house is a no-no. She will be so upset with you. Everybody goes where the trees are, and no one walks. Are you kidding? Apparently you have not been told anything.
They learned quickly. He was harsh, demanding, pushed them, bit at them. To him respect comes before love.
Chai is an example of how to go about life. Don't overdo it. Be philosophical about all its aspects. There is an easier, more profound way for everything. He would chase after a rabbit for a few paces, then, in a flash of inspiration, realize: that beast is faster.
In fall one should stay outside a lot in the cold, to grow one's fur into a heavy winter pelt.
*
 * * *
Now his glances are long. He is contemplating. Neither food nor smell. Not
his alpha-dog-hood. Not sex. It is all other, deeper, an analogue of wealth.
His eyes glide like poems, slowly, along the periphery of knowledge. He is unaware of change. He is a visitor in this moment and he knows it.
One small sound enters the bubble. One ear perks up. His head leans into a blue note. His eyelids shut, his mouth opens. Short breaths escape in rhythm. The tongue falls into a dim corridor of awareness, where there are small memories.
With a long sigh his head sinks like a branch from the last thought. A sea of dense sounds fills the space he finds himself in. All too familiar, unheard. He forgets to inhale, so still is it. His body becomes dark.
I bend down to touch his nose. Black, and moist. Ageless, really. He is a Trojan Horse, I think. He pretends he will die soon. That silence.
When I get up he makes a small, decisive gesture. He is awake, like a clock. I put on my shoes. Let's go Gassi, I say.
He stands up like a hero. The other two dogs, Dorje and Maitri, dervish- dance around him. They cannot spend a single minute inside. They crowd at the door.
I hold Chai's tail on the way down the steps, to make it easier for him. He seems desolate to me. The others push up against him as if elbowing through a crowd, but it is love. The newest adventure. Something they do a thousand times, only to forget it. Like churchbells in a small town: without a clock, one wouldn't know.
It is Sunday. We go on a walk. Chai bites my hand lightly, like a ceremony of love.
In the hills we stroll slowly, deliberately downwards. Sunlight falls upon the five of us. I walk with him so he will not have to feel his inadequacies when he falls. I wait. He needs his dignity, like my father when he had MS. My mother admired the landscape, or a building, or a woman's hat, to give
him room. To catch his breath he needed to stand still for a moment; she made it blissful, made him an undistinguishable part of bliss.
I cannot send Chai back. He would not go without me. So we stroll slowly. These are the moments for me to grow.
The other two are fast players, racing after a hare; or they are inventors, digging for something. They live in their make-believe, their tongues a pink flutter.
One of them, Maitri, swims in the ponds. Dorje barks at her, so she will not forget him in the water, which to him is opaque.
I sit down twice. One gazebo is built over a fallen tree, which was never uprooted and grew into a gigantic snake. Chai lies down outside it, his eyes gliding over the periphery of thoughts, the bend in the hill he will never forget. Do they exist, the rows of symmetrically arranged trees? They bend uphill in exhaustion. The green silence, and the shrill meadows, humming in the heat. He remembers races.
Dorje and Maitri lick my hands and climb up next to me in the shade. It's an idyll.
Our second stop is by the lotus pond. I sit down on a bench, beneath a wicker awning woven from tree limbs. We find a language we understand, that chatter of a crowded world, depersonalized, a larger meaning surrounding us, that of fulfillment, a rhapsody of possibilities. And the plan, the inevitable. Extreme fatigue of life itself.
That love.