Compagnie des Vins Surnaturels Seven Dials - London
24 October 2014
Compagnie des Vins Surnaturels Seven Dials opened in the Fall of 2013 with the help of desginer Dorothée Meilichzon. The restaurant's London outpost came after an initial experiment in Paris set in motion by restaurateurs Romée de Goriainoff, Olivier Bon, Pierre-Charles Cros, and Xavier Padovani.
Below, we discuss wine bar culture with Romée de Goriainoff, and wine bar design with Dorothée Meilichzon.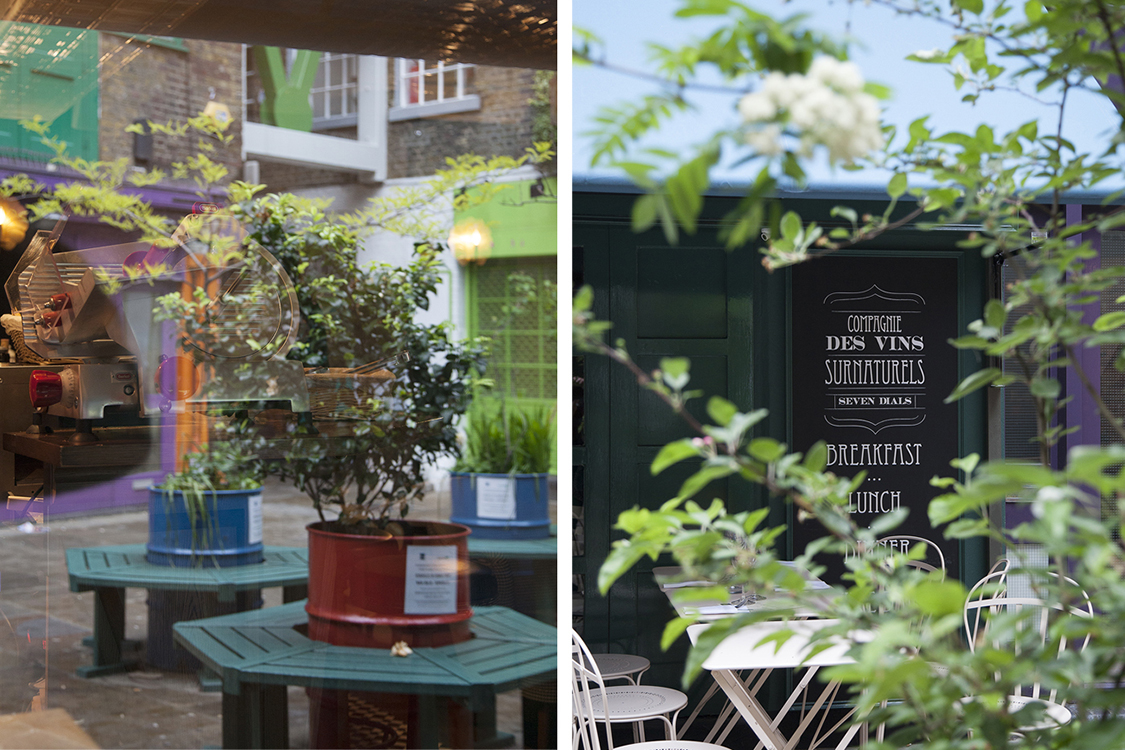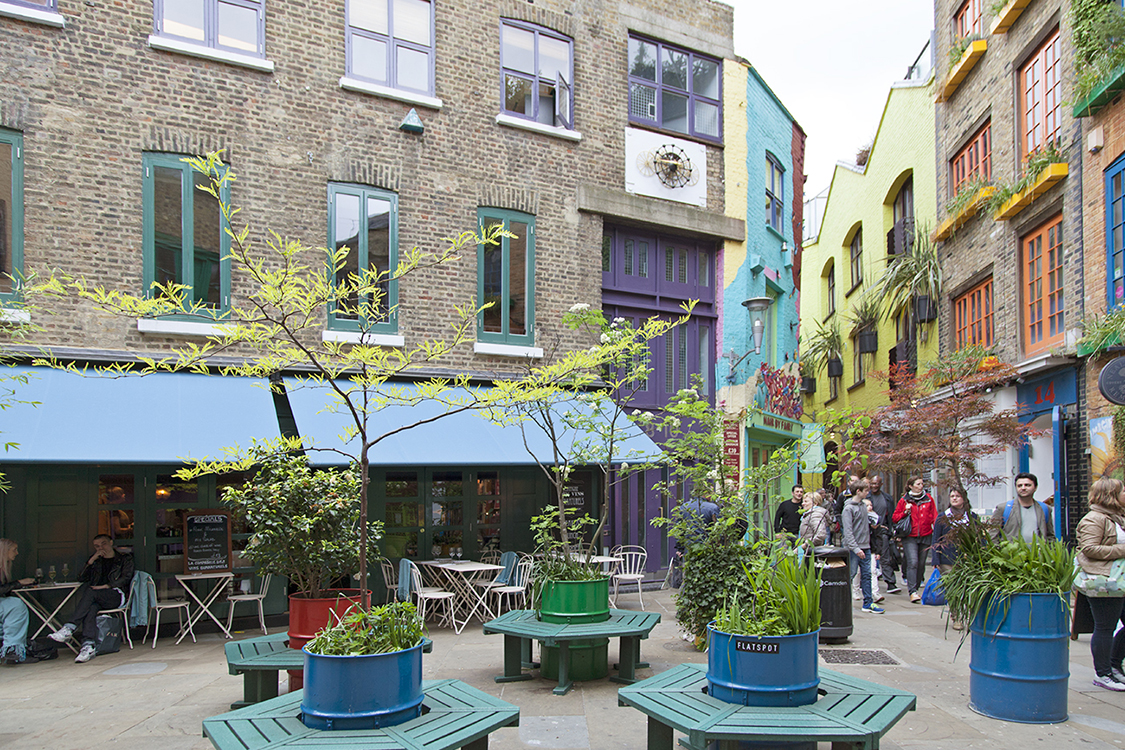 When and how was Compagnie des Vins Surnaturels born?
Our first Compagnie des Vins Surnaturels was born in Paris in September 2011. We then opened in London in December 2013. When we set up our first bar in Paris—Experimental Cocktail Club in 2007—we knew that was only the starting point. 
We always wanted to expand beyond just a cocktail bar, and go into wine bars, restaurants and now hotels. For us, Compagnie des Vins Surnaturels was a natural progression of what we set out to do seven years ago. 
What's the main idea behind Compagnie des Vins Surnaturels?
Most simply, our concept is to source the best wine from around the world and create a list that you can't find anywhere else. Surnaturels, or "super natural," is a play on the natural wine movement, and while we don't ignore natural wine, our focus is to have a list of wines that is out-of-this-world amazing. 
We also wanted to put back the word "bar" into "wine bar," so our our atmosphere—which includes lower seating and smaller tables—evokes the feeling of actually being at a bar, rather than at a restaurant with a long wine list.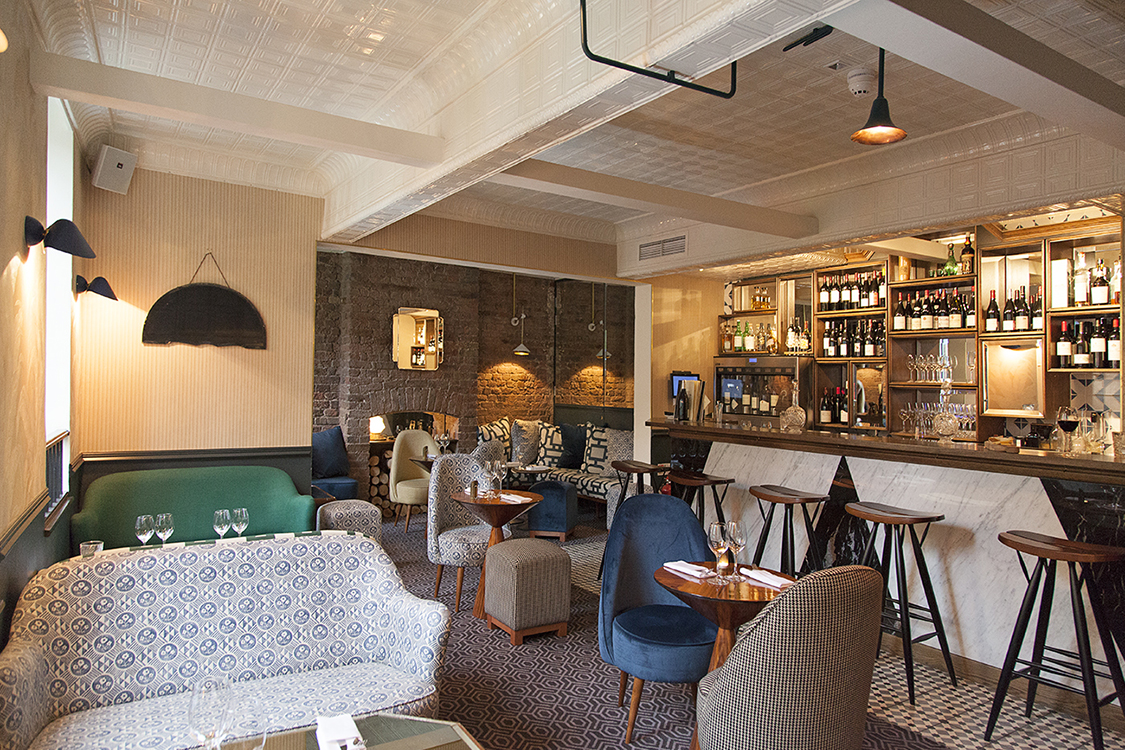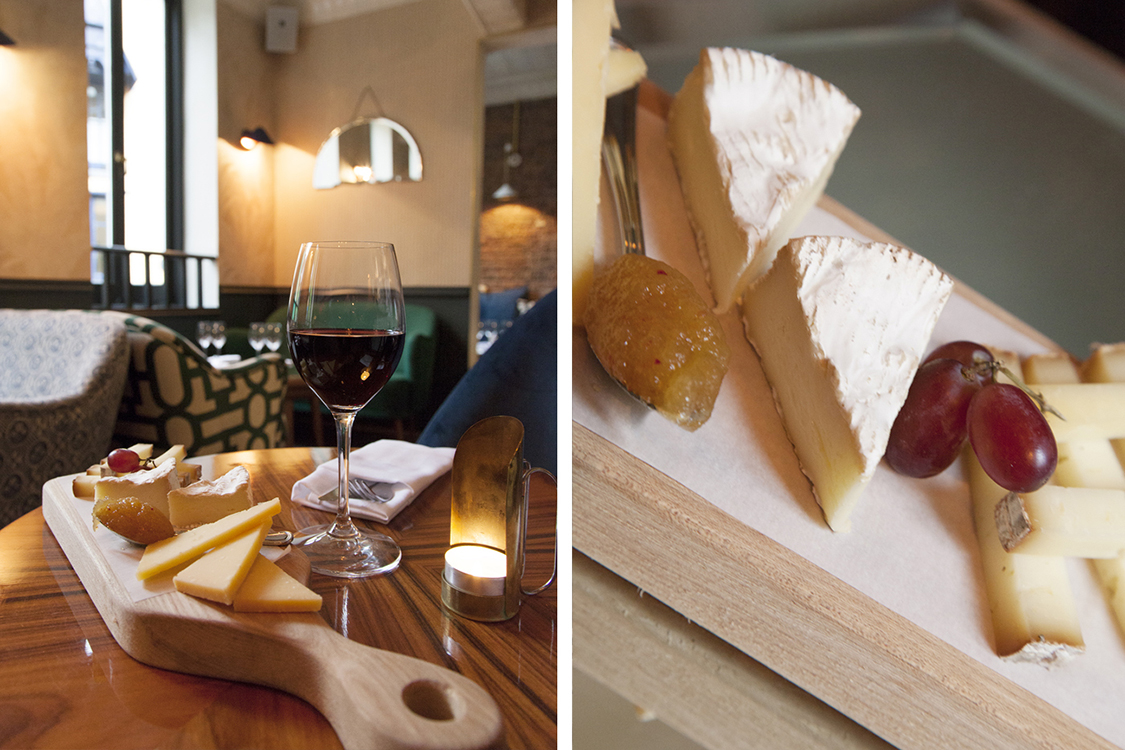 Talking about atmosphere, how did you build on the existing "wine bar" model?
Unlike a traditional restaurant—where you feel obliged to order a starter, a main, and a dessert—at Compagnie des Vins Surnaturels we've created a more casual and welcoming atmosphere where one can certainly enjoy a full meal or just a few nibbles with a stunning bottle of wine. 
In terms of our wine, we wanted a list that is big but accessible. Instead of lengthy tasting notes and pairings, we work with some of the best young sommeliers in the world to actually tell each guest about the wine. Our head sommelier in London, Julia Oudill, takes time with each guest to talk about the wines and choose the perfect glass or bottle for them. Choosing a wine should be an adventure in finding something new and interesting, not simply pointing and selecting something based on a few key words. Wine shouldn't be intimidating. Our goal is to break down barriers and give people a good time out, with amazing wines and great food, in a place where you can actually relax.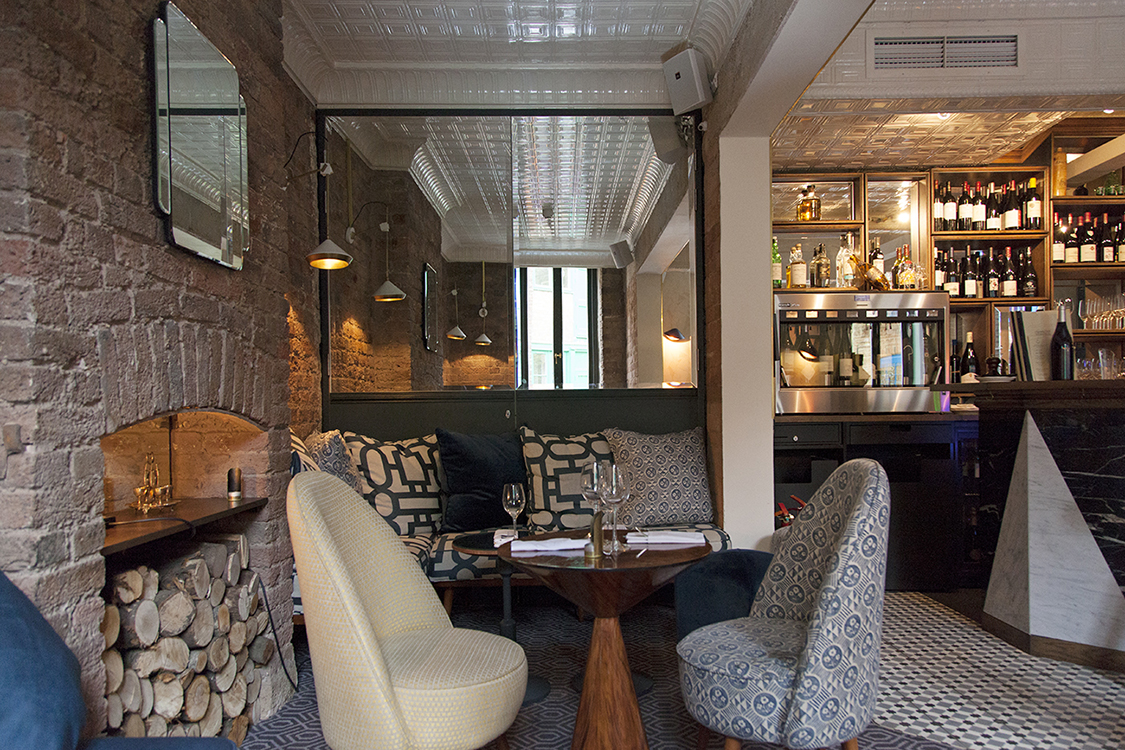 Dorothée, will you tell us more about what's key when designing a wine bar?
The neighborhood Neal's Yard in London is well known for its colorful buildings, so it became an inspiration for the aesthetic of the space—wallpapers, fabrics, floor tiles... Also, the color blue, cork wallpaper, and brass lights are a link the Parisian venue. 
I'm a big fan of graphic elements, so I have played with the triangular shape of the yard on several patterns—black and white marble, cement tiles, carpets, and wood panels. All of the furniture were custom made and designed by me, as we wanted to ensure a cosy and friendly atmosphere.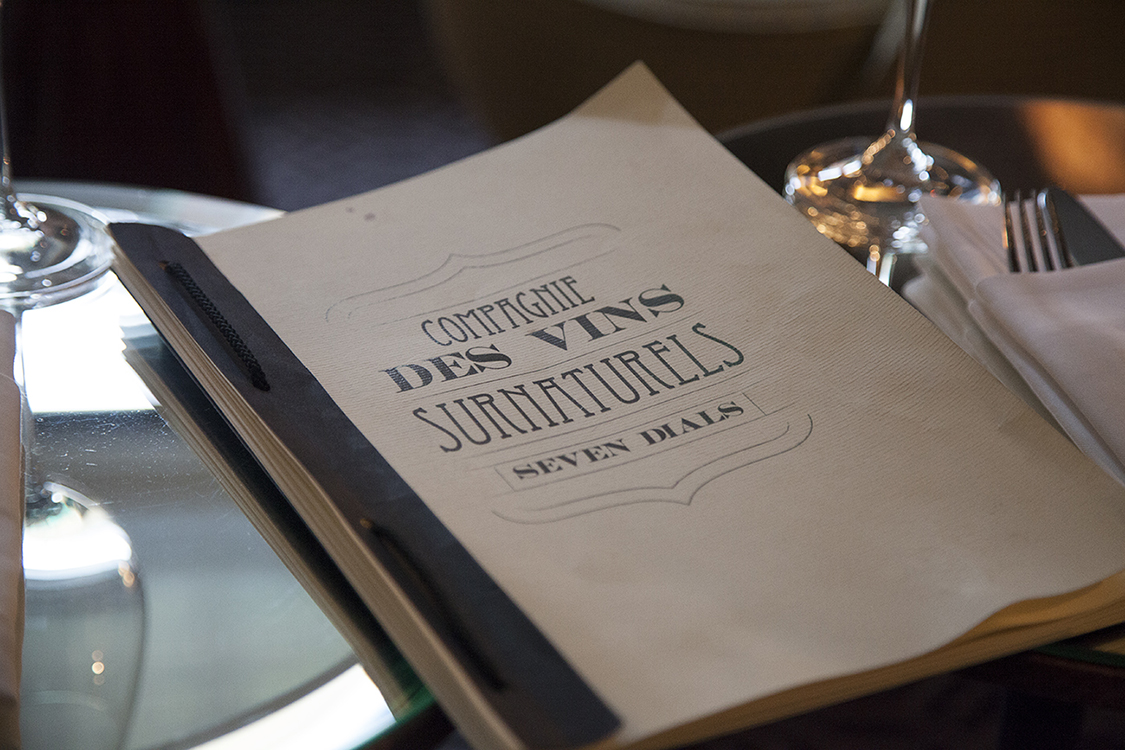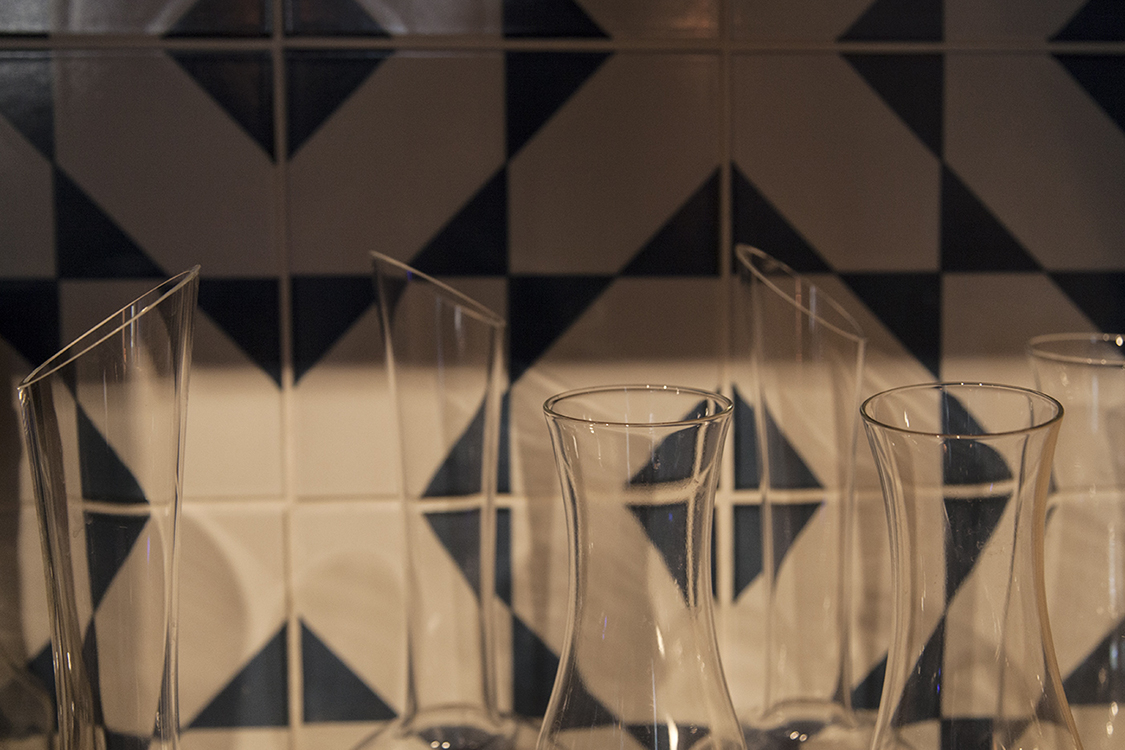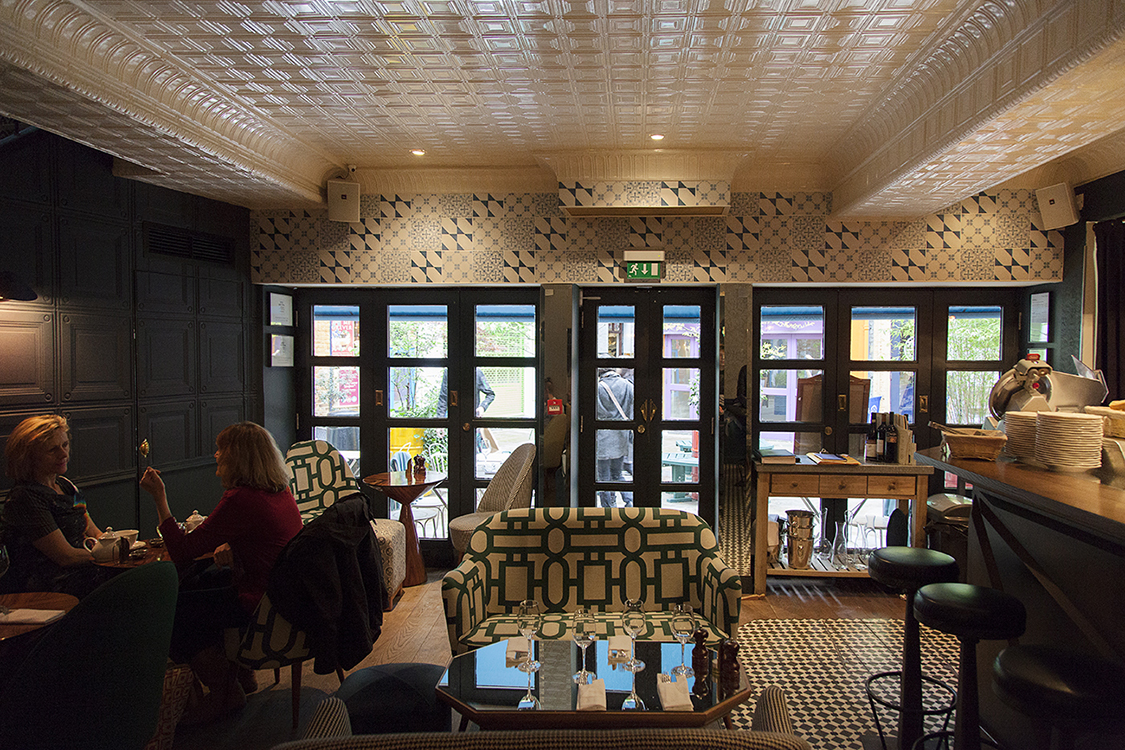 When opening your doors for service everyday, what type of customer do you look forward to?
Our ideal eater is someone who comes in with an open mind, hoping to try something new from our menu and our wine list. 
We have a lot of decadent dishes which most other places in London don't serve—Foie Gras à la Plancha; Posh Madame, which is a croque madame with béchamel, truffle seasoned ham, and quail egg; Mountain Chicken, a.k.a. buttermilk fried frog's legs; Burrata with Casanova Olive Oil; Pata Negra by Joselito. Like our wine, we wanted our menu to be something that we truly love and believe in. We spent countless hours sourcing the best products to create a menu that could stand up to a wine list with 450 references.
Are there other services or activities you work on?
Wine is a subject that one can study for years and years—there is always something more to learn—so we host wine tastings at the restaurant and at our wine boutique, La Compagnie Delicatessen, in our atelier and garden spaces. We host one or two classes with Julia Oudill each month, as well as private tastings and masterclasses. 
We also host private events and dinners both at Compagnie des Vins Surnaturels and La Compagnie Delicatessen. Often we have clients who request very rare wines—Petrus, Romanée—and as long as we have a few days lead time, we are able to pull the reference from our inventory in Paris. Though it's not something we have to do all the time—we usually already have it at Compagnie des Vins in London!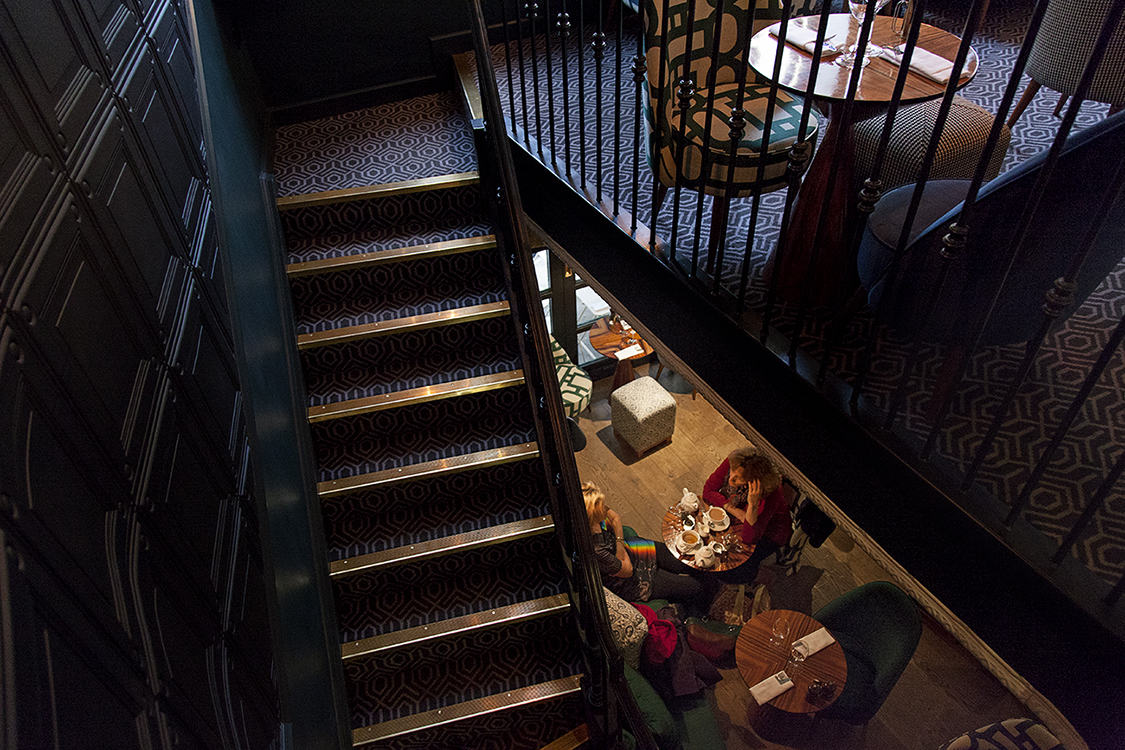 Compagnie des Vins Surnaturels Seven Dials is located at 8-10 Neal's, London.