Donostia - New York
3 June 2014
Donostia opened in the Fall of 2013, bringing Basque cuisine to the East Village. Owners Marissa Miller and Jorge de Yarza explain their take on Basque food and the journey that led them to the opening of Donostia.
What prompted you to open Donostia?
Jorge's father's side of the family is Basque and several generations of the family still reside in the town of Ermua which is about half an hour from Donostia-San Sebastian. After spending time in the Basque country, we'd return home to the U.S. and wonder why there wasn't a true Basque pintxos taverna anywhere here like the many out there which line the streets and dominate much of the local lifestyle. After a number of years of waiting for someone else to make it happen, we finally decided to take it on ourselves. In no small part because we wanted to have this food available to us year round. Donostia is our attempt to bring the Basque pintxos taverna experience to the U.S.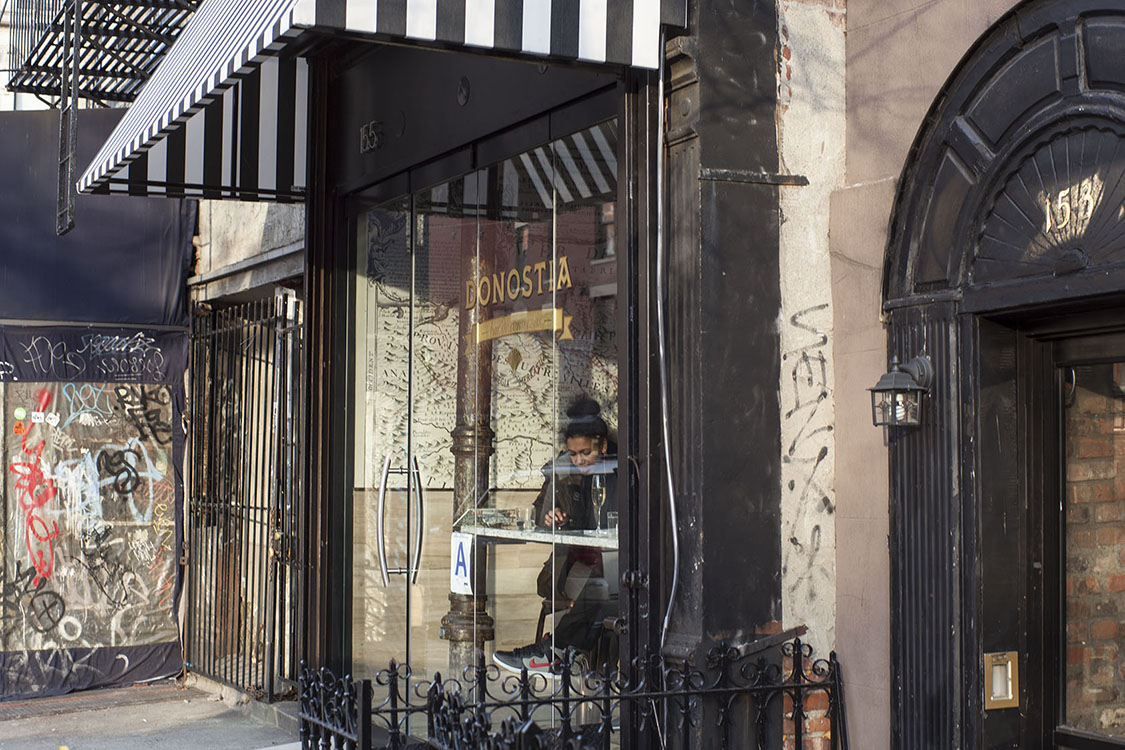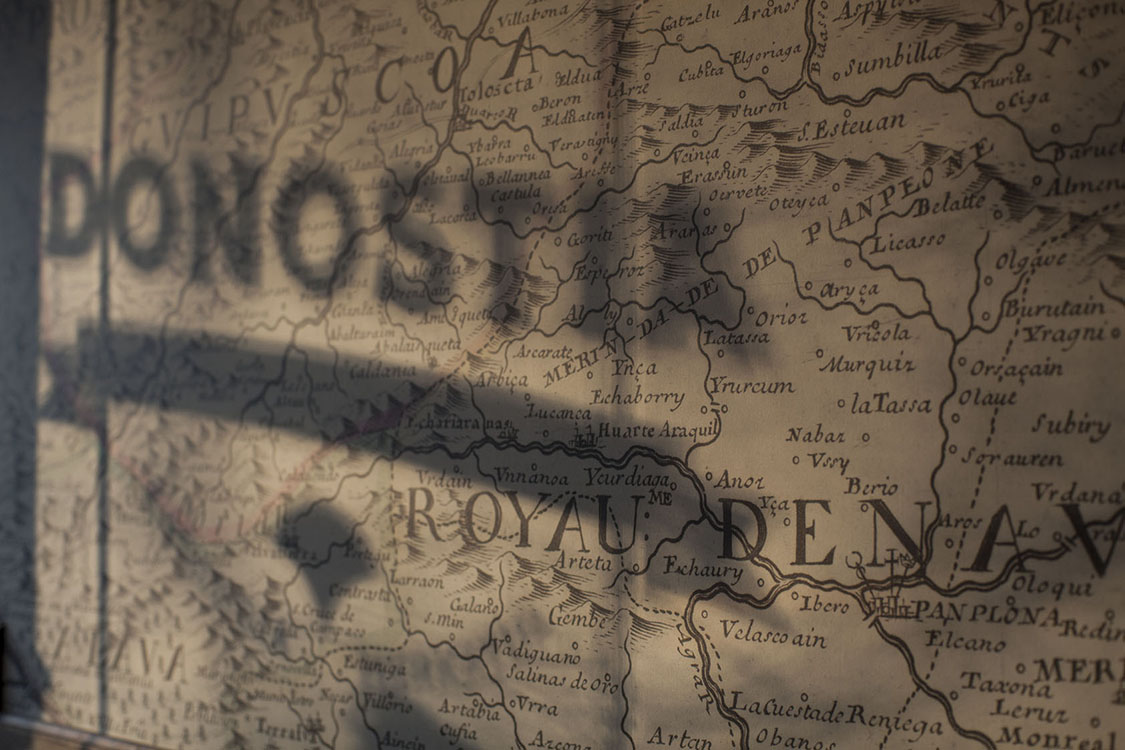 Give us a crash course in Basque cuisine—what are the main ingredients, flavors and traditions?
Our offerings are really just one slice of the big pie-chart that is Basque cuisine. The most heralded pieces of Basque cuisine these days are the high-end and modern expressions of the cuisine, "the new Basque," which often involves some molecular gastronomy practices and a flare for the dramatic and unusual on the plate. These dishes are often very beautiful, complicated and satisfying—not unlike the Basque culture itself. Another portion of the cuisine is seen in the family-run neighborhood restaurants, specializing in classic dishes that every Basque citizen has likely grown up with at home. Given that much of the region is coastal and hugs the Bay of Biscay, seafood is a specialty. "Txipirones en su tinta," baby squid in its ink, and "bacalao al pil-pil," cod simmered in olive oil and finished with a labor intensive thickened emulsion of that same olive oil and cod oil, are staple items.
Our focus is that of the storied world of the Basque pintxo. These are small Basque "tapas" for lack of a better term. Pintxo translates to toothpick or skewer, and originally these elegant morsels were stabbed with one prior to being displayed or served to a guest. The skewering also provided a method by which to charge for these items. The barkeep would literally count the number of toothpicks left on a guest's empty plate to tally up the bill. Though this billing method is now rare, the term "pintxo" still remains and is applied to an entire genre of small Basque bites. 
Pintxos have several subcategories, such as montaditos (pintxos mounted on slices of bread), banderillas (pintxos neatly skewered on a toothpick, normally consisting of of wonderful local pickled or cured products), tartaletas (small savory tart shells filled usually with seafood mousses) and bocadillos (small sandwiches). 
All in all, these pintxos share the common traits of being consumed in a few bites, displayed on the bar in great numbers, and being ridiculously delicious and beautiful. Montaditos in particular have been heralded as the "Basque sushi," not for any focus on raw fish or rice, but for their similar size and color.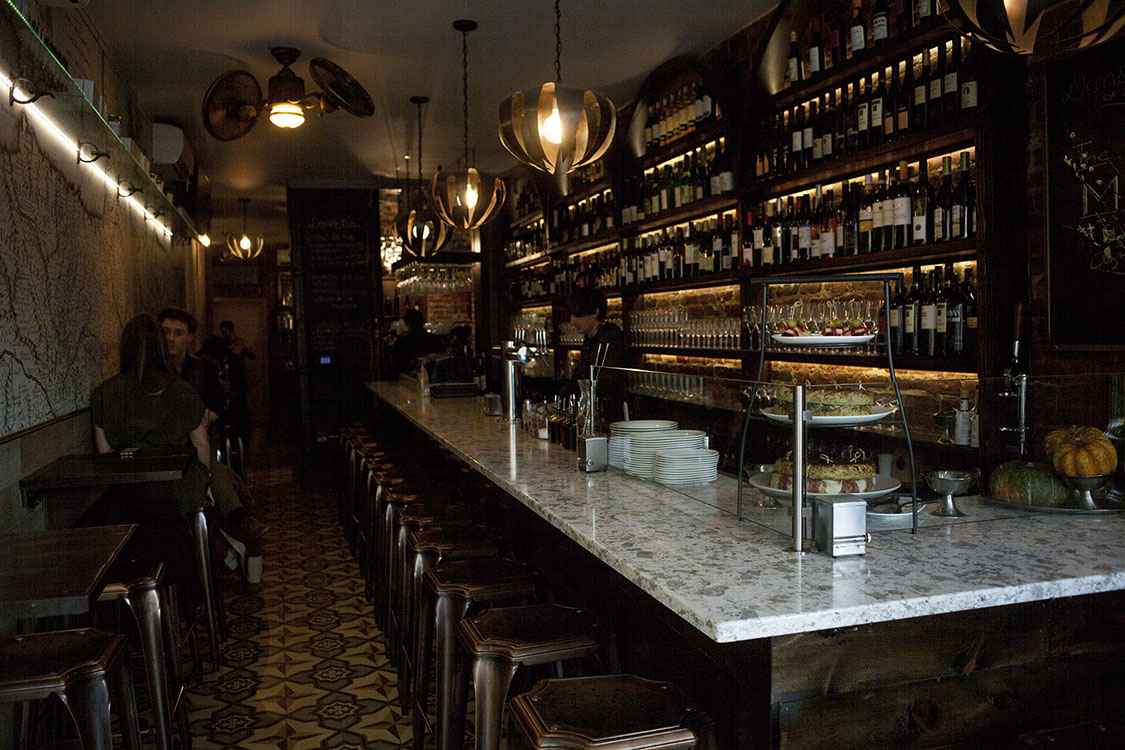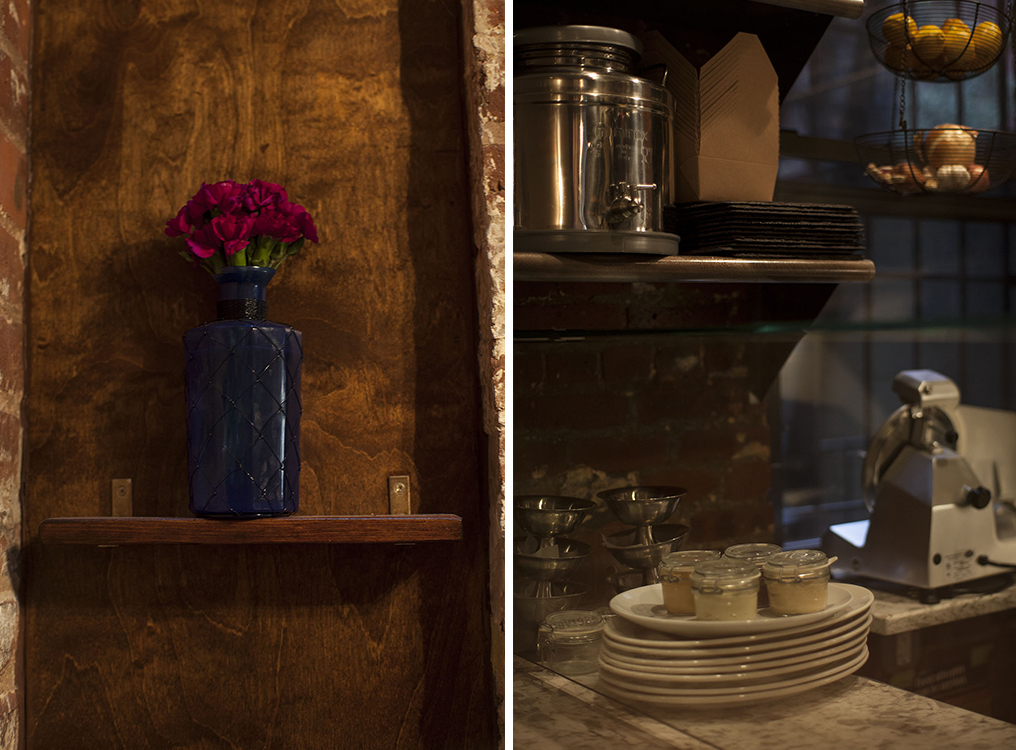 Does your menu offer original interpretations on classic items? Can you tell us a couple you are particularly proud of?
Much of our menu consists of a collection of our favorite pintxos from the Basque tavernas most influential to us, fine-tuned to make sure that all flavor and texture traits are able to shine in three bites. There are however items that are original, and the ones we're most boastful of are a couple of the montaditos. 
"Mejillones en Escabeche" features Spanish mussels in escabeche over a white bean puree, with a piquillo pepper relish and reserva pedro jimenez sherry vinegar. "Damasco con Queso" features a preserved apricot half as the base, filled with fresh whipped cheese, topped with a Cantabrian anchovy, and finished with arrope (a special grape must reduction). We think these could line any taverna's bar in San Sebastian and fit right in.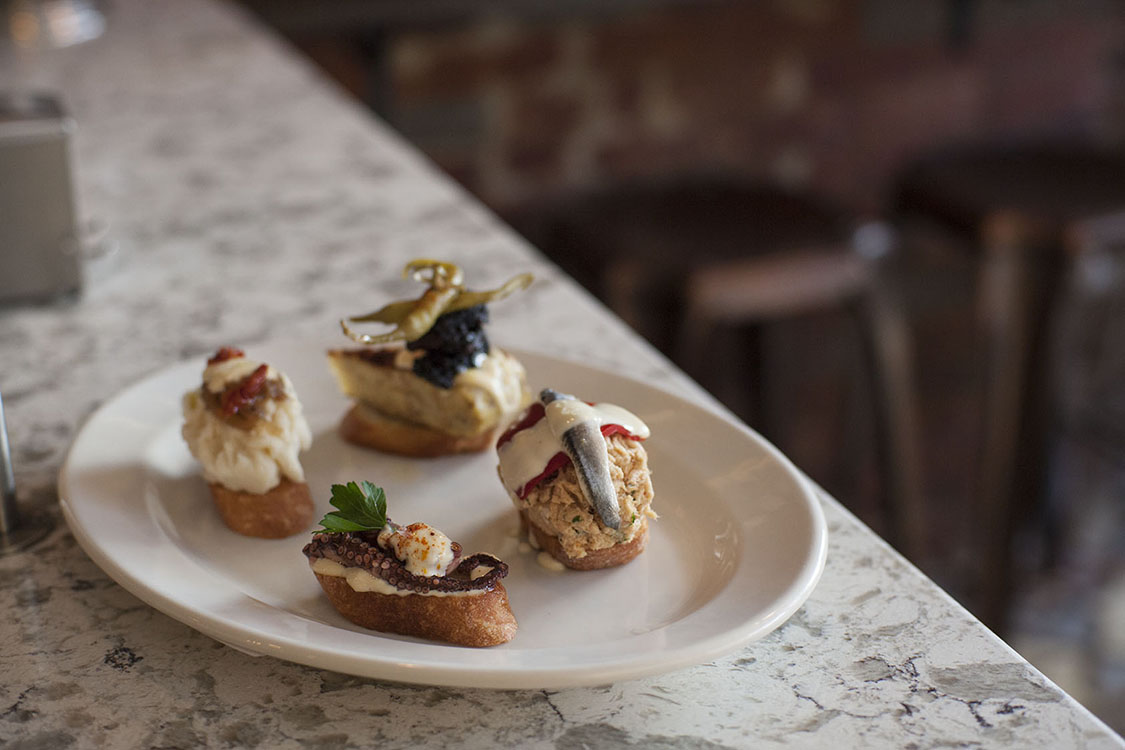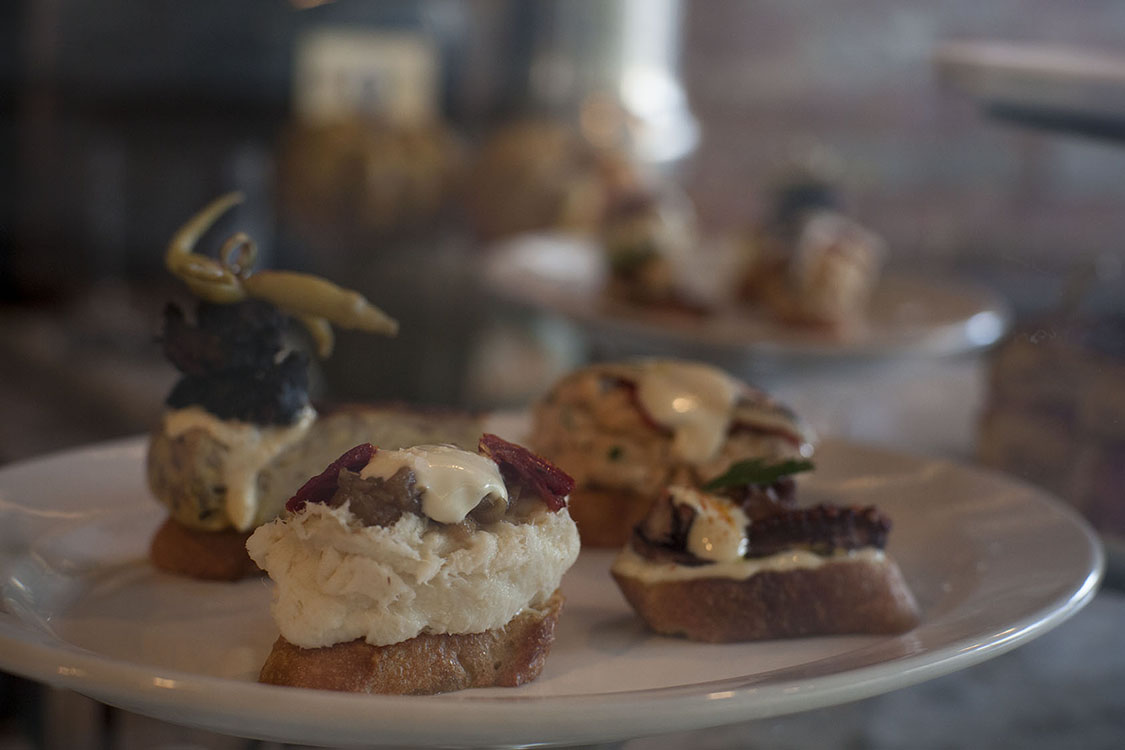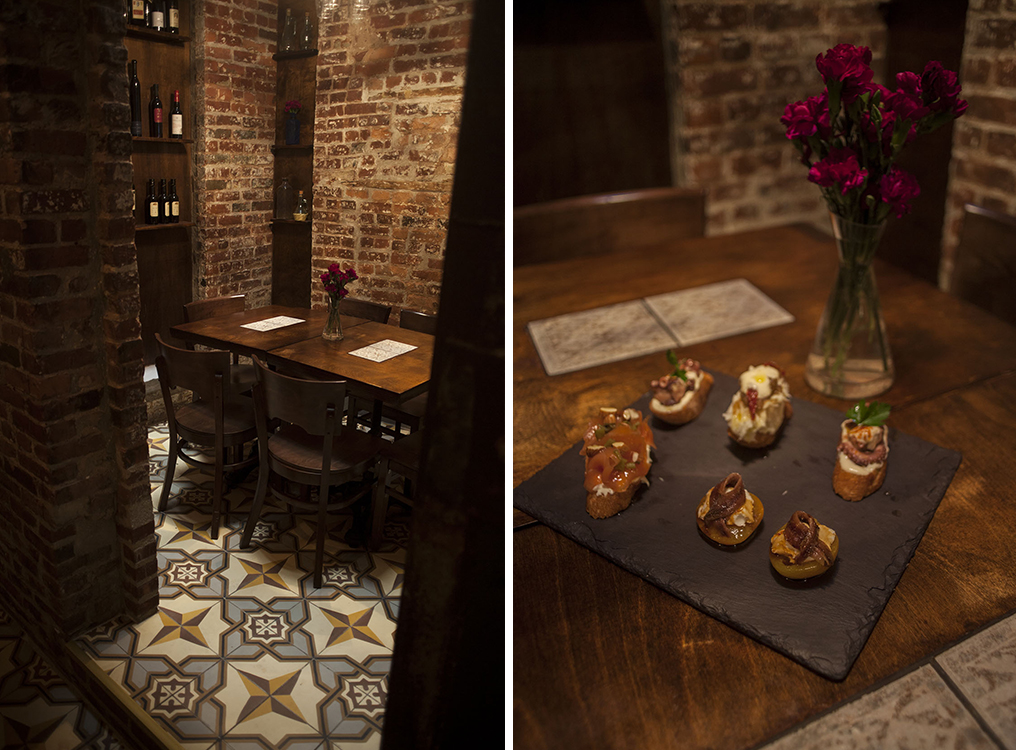 You conducted extensive research before opening Donostia. Where did you travel, and what did you discover? Which parts of the operation has that helped you with, and how?
Both of us had already spent a good chunk of time in Spain, but we knew we had to go back and see it from behind the lens of this project. We started off outside the Basque country in order to truly appreciate its cuisine's differences from that of the other regions of Spain...and because we couldn't resist. We ate our way through Madrid, which is particularly close to Marissa's heart having lived there, and the southern region of Andalucía, before spending a month traveling through Portugal and experiencing its entire coastline.  
Portugal was influential as the cuisine relies on incredibly wholesome and local products. Being there helped us develop a better sense for sourcing the absolute best and freshest products. We learned the Portuguese are known for demanding the ultimate in fresh seafood, to the point where restaurants' customers will notice any fish that isn't from that day's catch and send it back. 
It was Portugal's conservas—seafood caught at its peak and preserved at its freshest which overtime takes on complexity and unctuousness from melding with the olive oil or brine its packed in—that became a staple of our daily life and a bit of an obsession. We continued sampling conservas up the coastline of Portugal and then across the coast of Northern Spain, where we found producers we'd later utilize in New York. In Galicia, we visited with a number of wine producers we'd later feature. After time in Asturias and Cantabria we settled in the Basque region for most of what would end up being a five month trip altogether.
In the Basque country we attacked all our favorite eateries as well as every other restaurant, private home or eating society we were invited to or stumbled upon during our search. A number of places—especially our top tavernas in Donostia-San Sebastian—we visited so frequently, and documented so many of their menu items that they'd greet us by bellowing in Euskera, "Which recipe will you be stealing today?" 
The time in Basque Country refined what was already a pretty detailed outline of a concept. We were reminded that we would not be reinventing the wheel with our concept, but rather importing an existing and celebrated model. We learned that these places had been open for decades because they only served what they had already perfected over time, and avoided reaching outside their comfort zone. In short, consistency.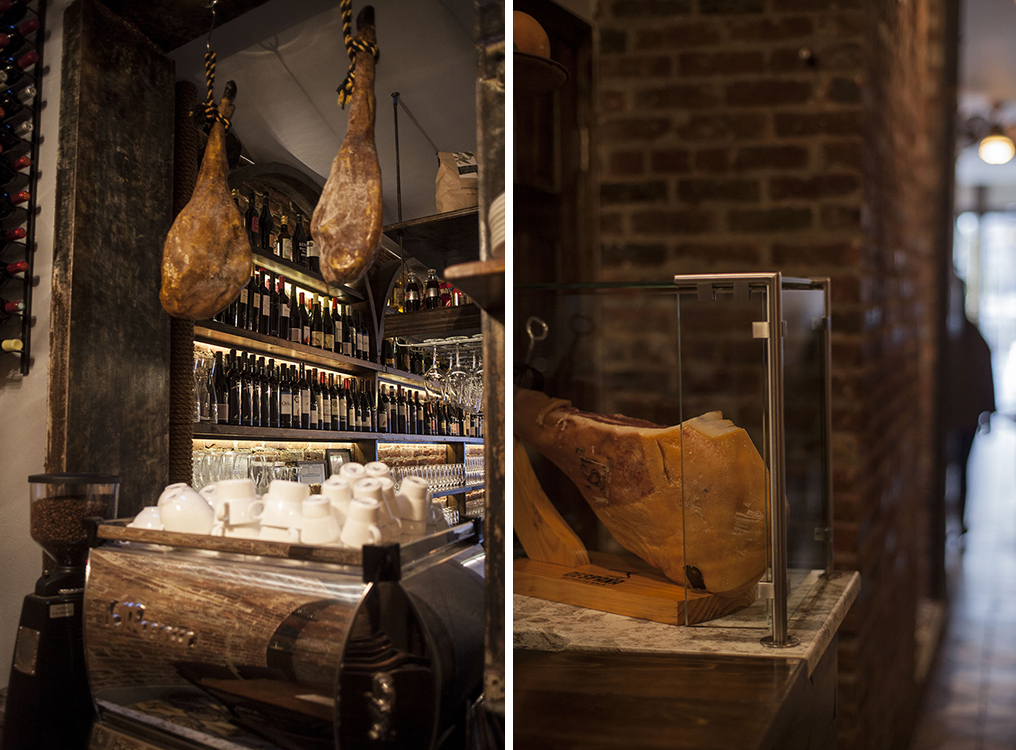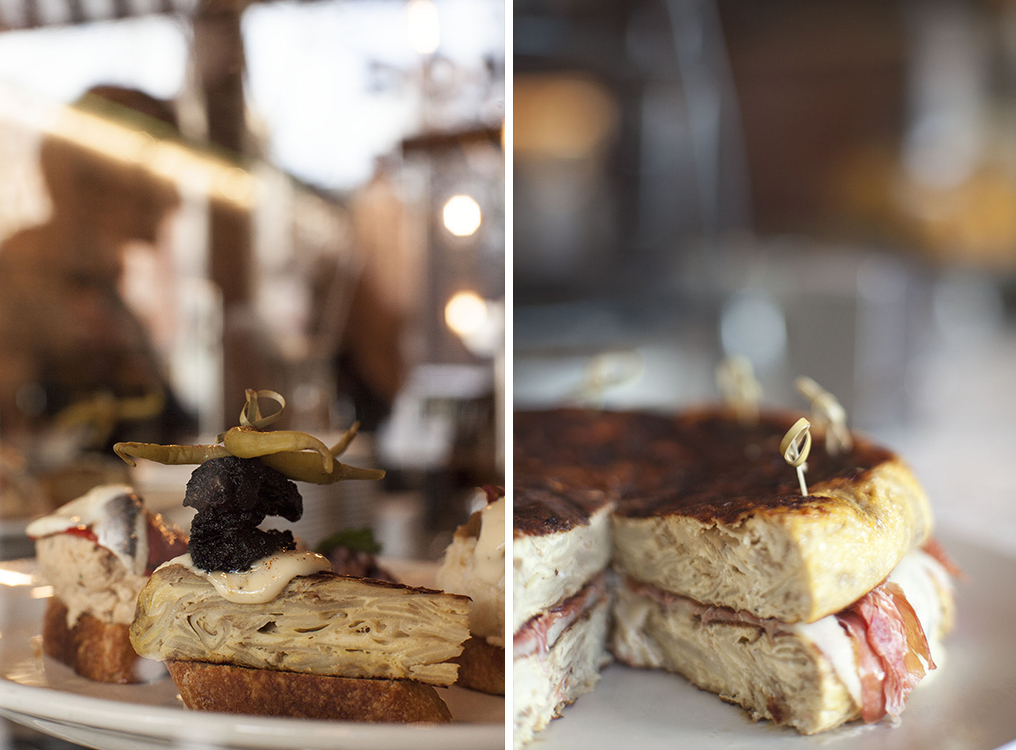 Where do you source your fresh produce? 
Nearly all of our base product is sourced directly from Northern Spain. We found that this would be integral to the project—since we were in the replication game we had to ensure that our flavors mirrored those of the homeland precisely. Thankfully, Northern Spain's vast and rich conservas trade allowed for us to attain the same product as our favorite Basque tavernas without sacrificing any quality. 
At Donostia, everything from the seafood selection, to the meats and even many of the vegetables are select conservas imported from Spain.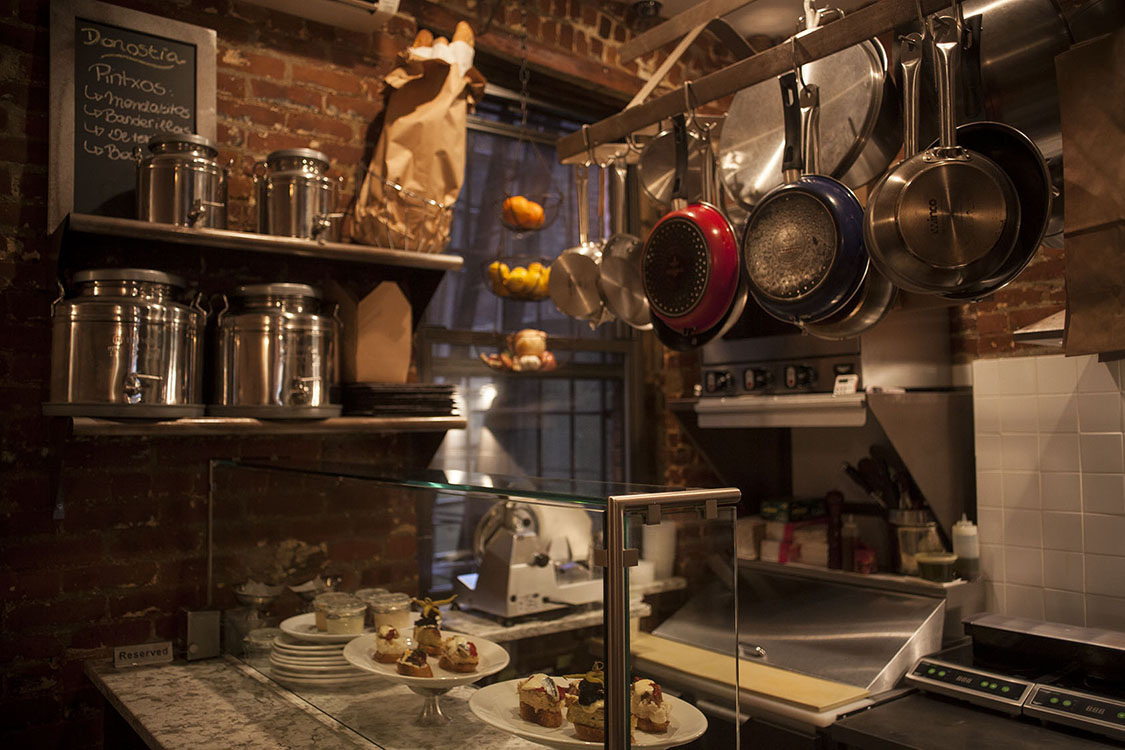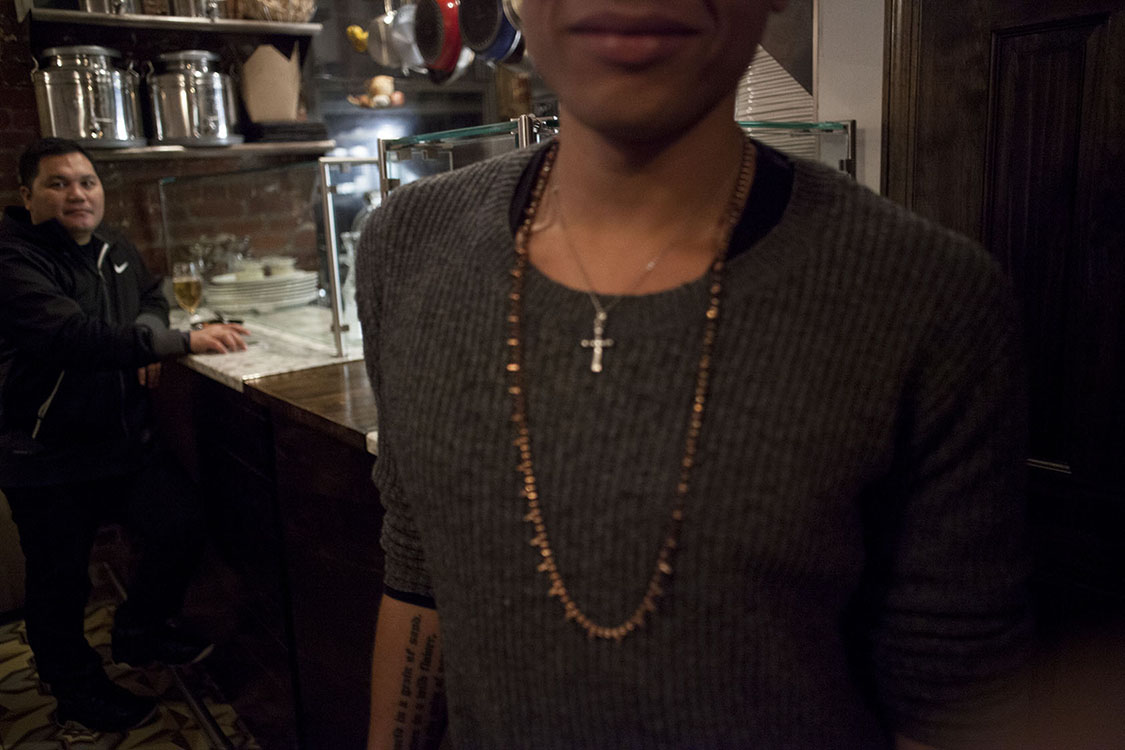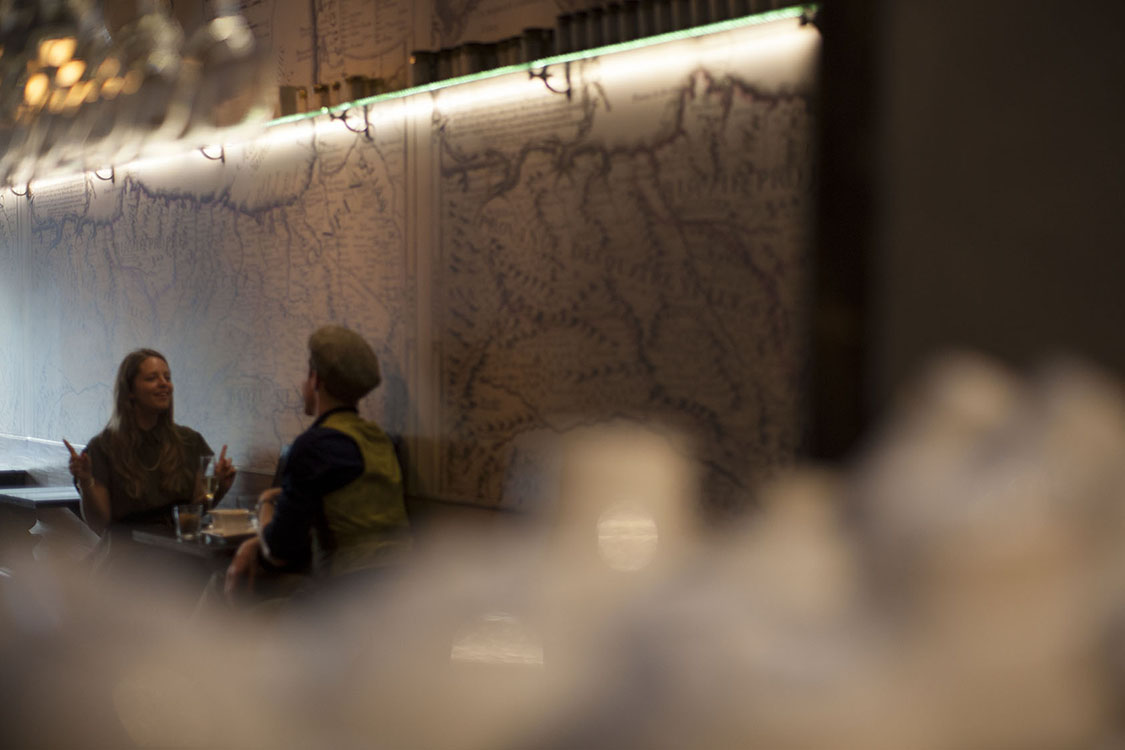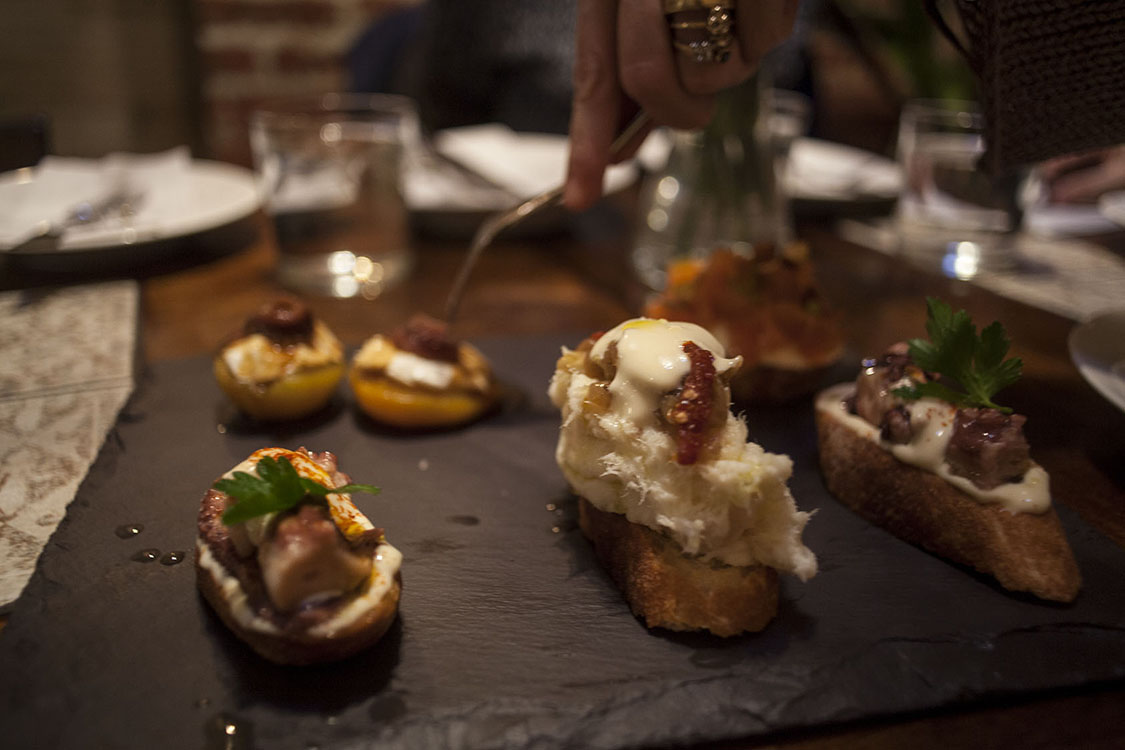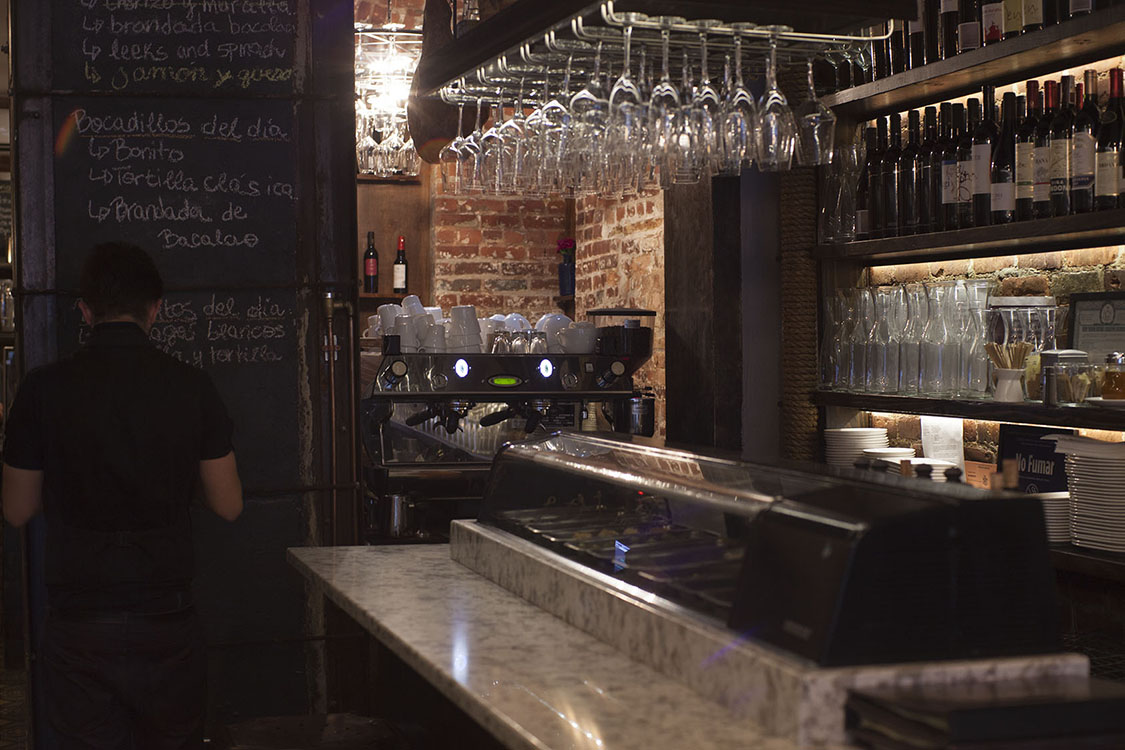 The menu includes an extensive wine list, how did you select them?
We visited a number of bodegas in Spain that we were already familiar with, but what really added most of the weight to our list was our initial round of tasting locally with importers and distributors. We opened an unusually high number of accounts—we're over thirty now—and tasted product over the course of four months before printing our opening list. This helped us discover virtually every worthwhile Spanish wine shipped to the U.S. We kept very detailed tasting notes through that process, which accounted for a log of over 500 wines.  
On the left: Marissa Miller and Jorge de Yarza.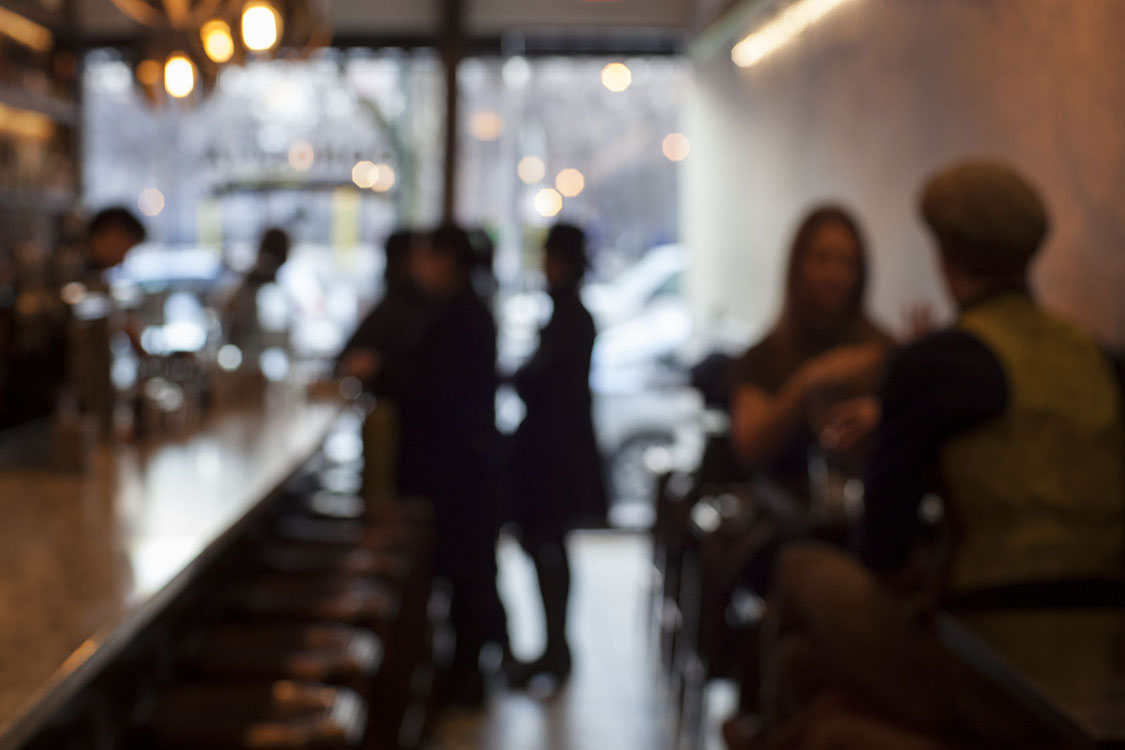 In addition to being open from breakfast to dinner, you also offer an eponymous line of food products.
This specific line is an example of some of the many conservas we have in circulation. These products are actually imported by a father and son team who share our passion for Basque conservas. They fortuitously chose to name this line Donostia, and we are happy to embrace it. Some of our favorite producers supply this line, and thus it's responsible for some of our benchmark products such as our "Bonito del Norte"—premium Bonito tuna from the basque country, and our quintessential guindilla peppers—green, pickled Basque peppers.
If you had to recommend a meal and a glass of wine to get the best first taste of Donostia, what would that be?
Talk about a loaded question, given the size of our menu and wine list! We'd have to go utterly classic, and recommend first sampling our "Gilda" banderilla alongside one of our many Txakolis by the glass. The combination screams the city of Donostia.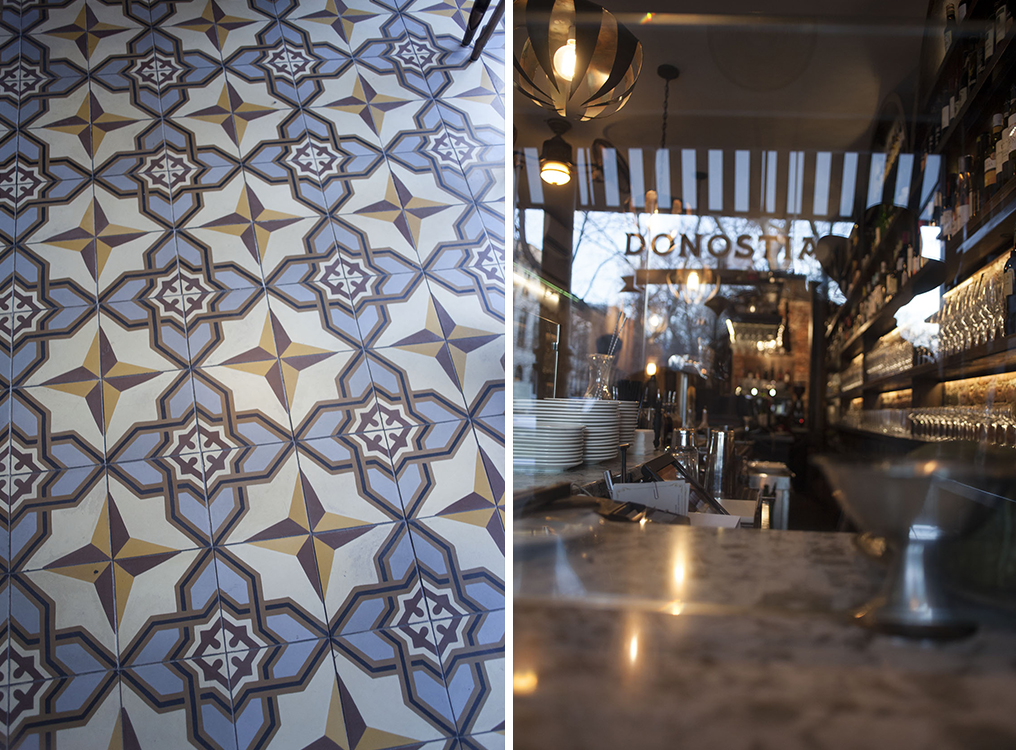 Donostia is located at 155 Avenue B, New York.