Filetti di Baccalà - Rome
20 October 2013
"Ahò: nnamose a fa' du filetti a Santa Barbara." C'è la fila in Largo dei Librari, in questa piazzetta vicino a Campo dei Fiori. Marcello ha rilevato il locale nel 1978, ma i filetti di baccalà qui si fanno dal 1913. Nulla è cambiato e il lavoro è tanto, alla faccia della crisi.
"Magno, bevo e tifo Roma" è scritto sulla parete: qualche domanda in fretta che tra poco comincia la partita.
Qual è la ricetta dei vostri filetti di baccalà?
Marcello: "Me dispiace, ma nun gliela posso dì. È segreta: nun se scappa. Qui si fa tutto con ingredienti naturali: baccalà di qualità primissima, pastella fatta da noi—niente di chimico, niente birra, niente uovo, pure il lievito lo facciamo noi. Quello che ti posso dire è che fu il cuoco dell'ultimo re d'Italia a insegnare la ricetta al proprietario."
Marcello nasconde un po' l'accento, ma dal tono romano non si scappa. "Ahò', vedi de abbassa' un po' la musica, nanetto!" dice un cameriere al nipote.
È un ristorante di famiglia?
Marcello: "Ah sì, anche mia figlia e mia sorella, che fa la cuoca, lavorano qui: je piace tanto."
Cosa le piace di più di quello che fa?
Cuoca Loredana: "Cucinare i filetti e il contatto con la gente: sono qui da 25 anni."
Qual è il segreto del vostro costante successo negli anni? 
Cuoca Loredana: "Il segreto è che non cambiamo nulla, dal menù alla pittura sulle pareti: altro che aggiungere la pizza o aprire un altro locale in America!" 
Chi sono i vostri clienti?
Marcello: "C'è di tutto: romani, non romani, stranieri, ragazzini, donne di corsa, nonni e nipotini, cene d'affari e pranzi di famiglia."
E la crisi l'avete sentita?
Marcello: "Ma quale crisi! Qui è stato un continuo crescendo, forse proprio perché la gente smette di andare in locali costosi e torna in posti economici e genuini, come da noi."
C'è un incontro che ti è rimasto impresso, in questi 35 anni qui?
Conclude Marcello, un attimo prima che inizi la partita: "Beh, Papa Pacelli mandava il segretario a prende du' filetti tutti i venerdì."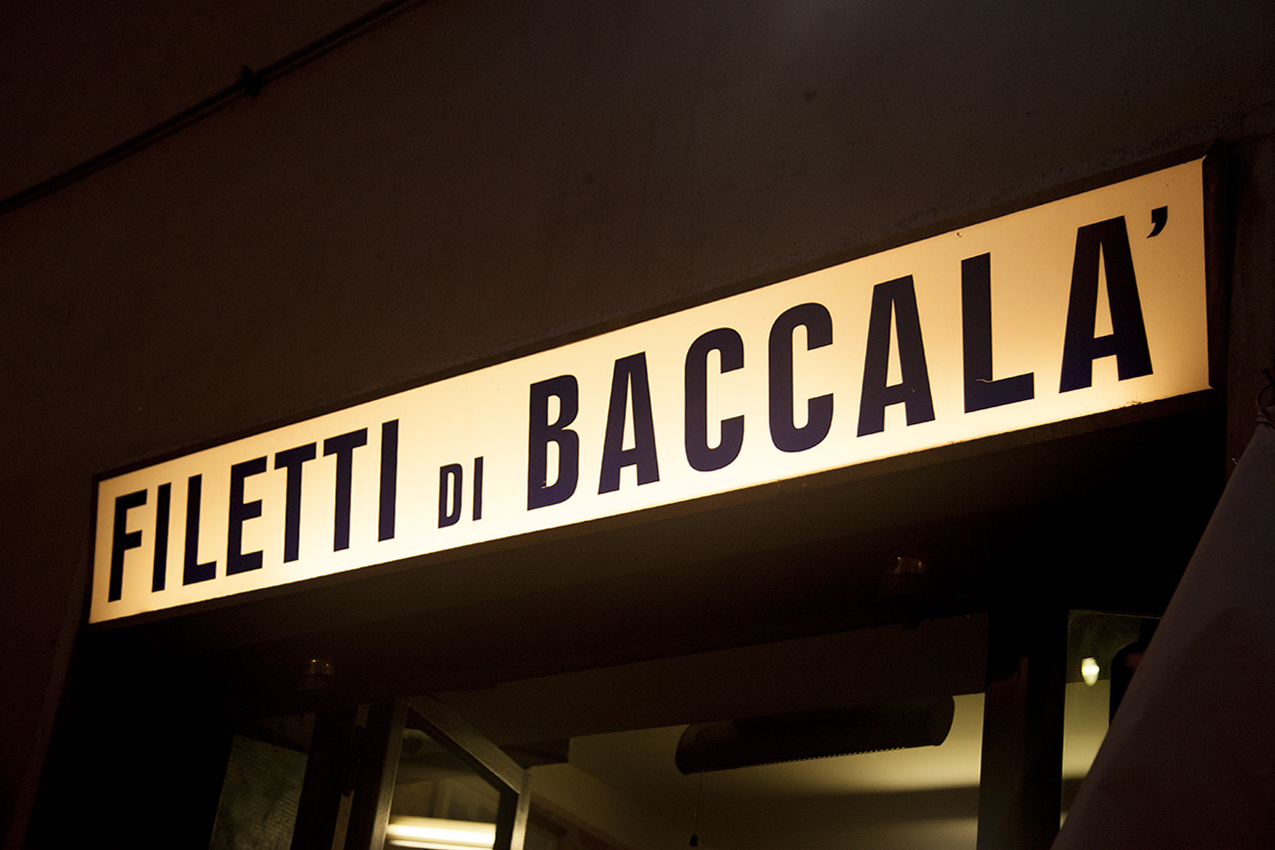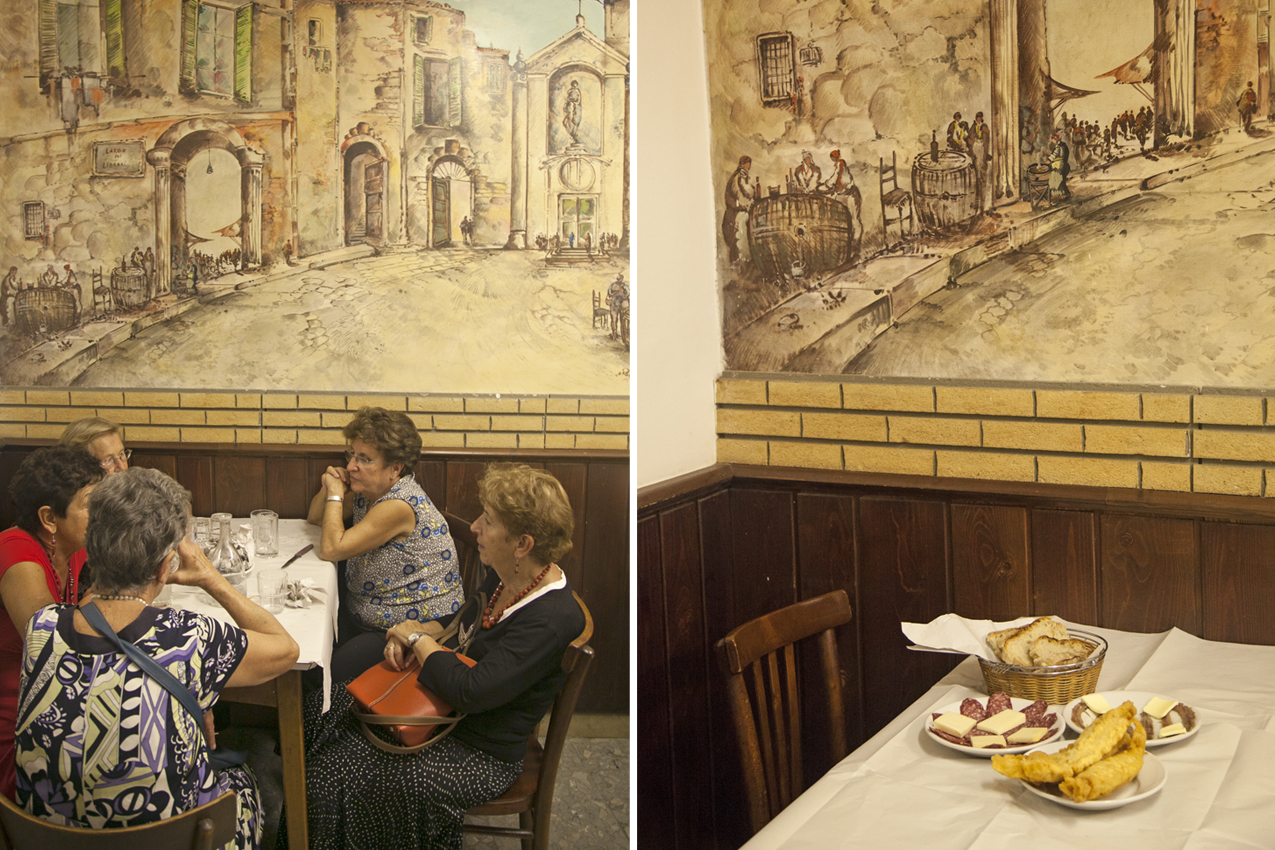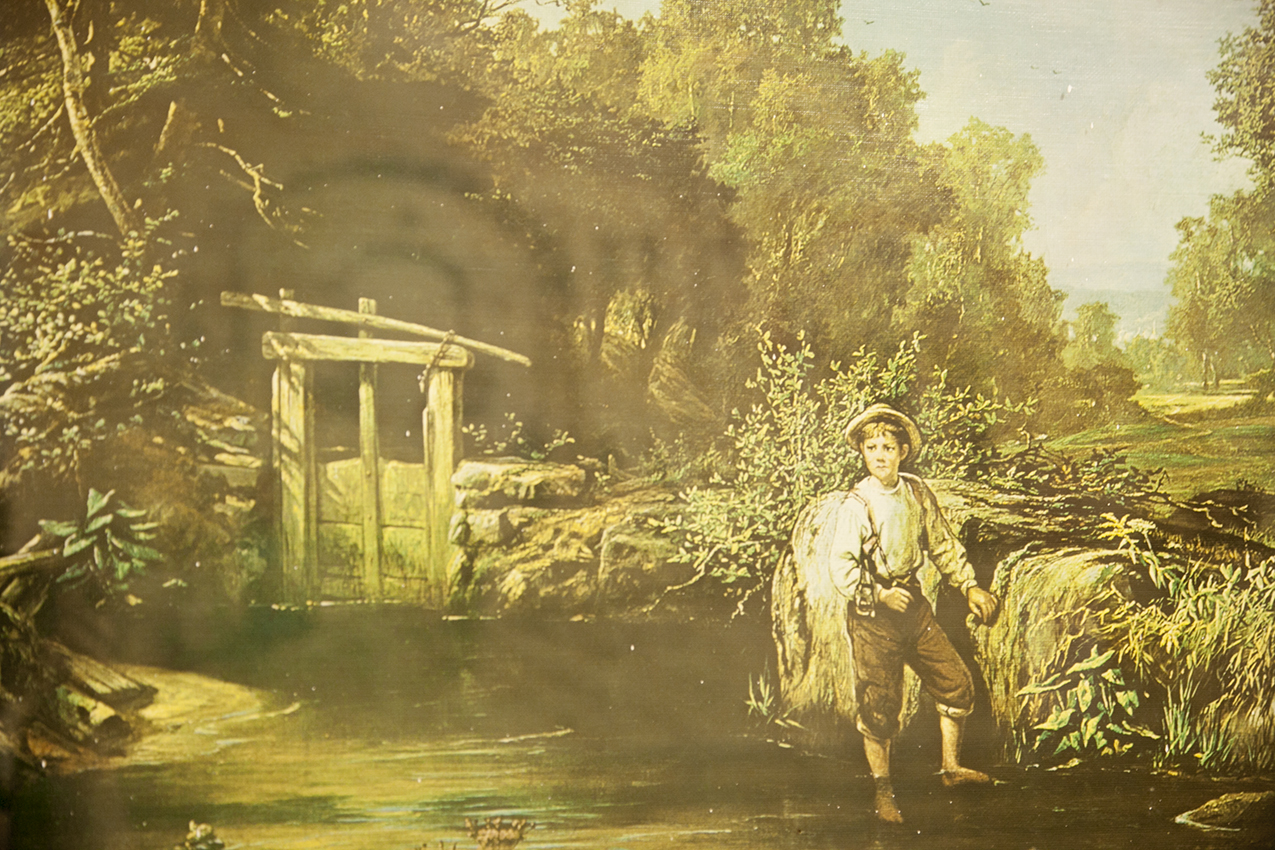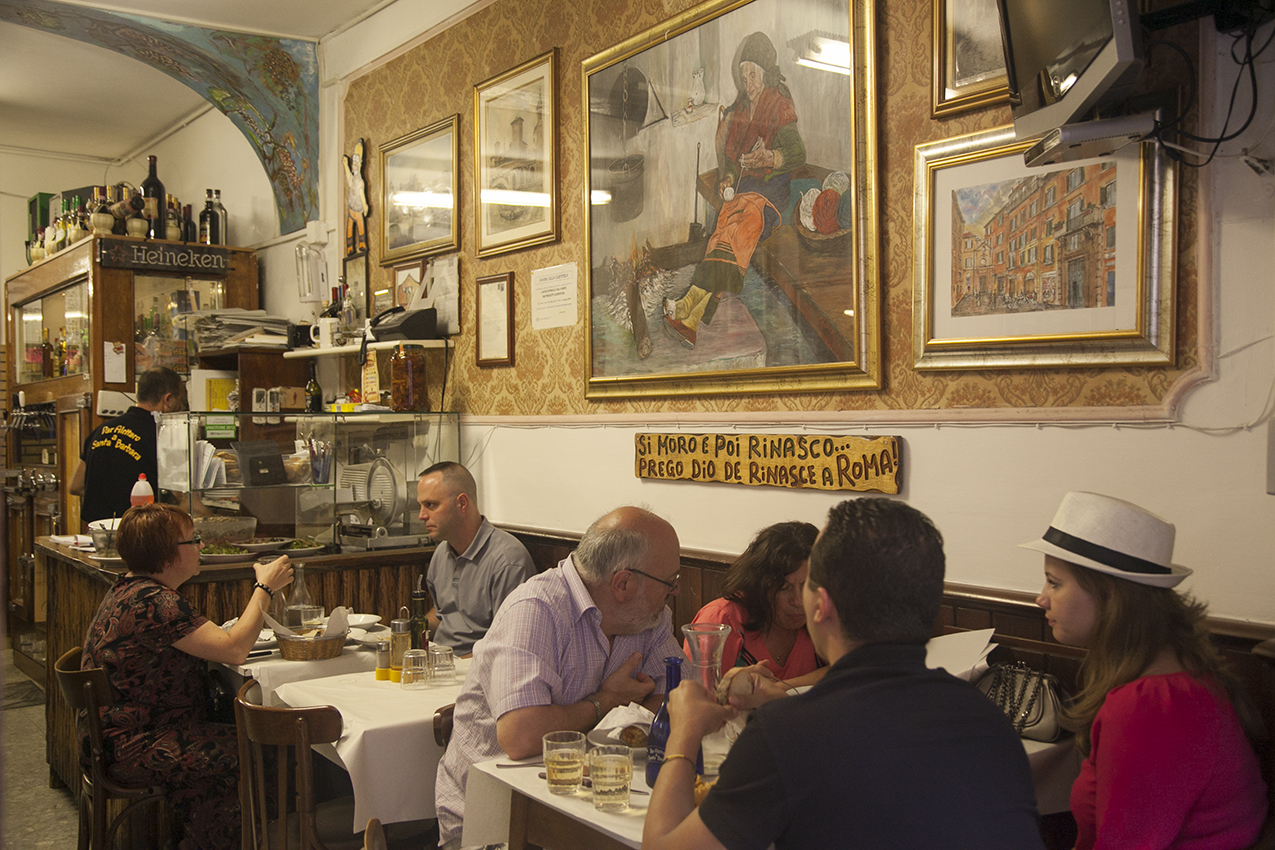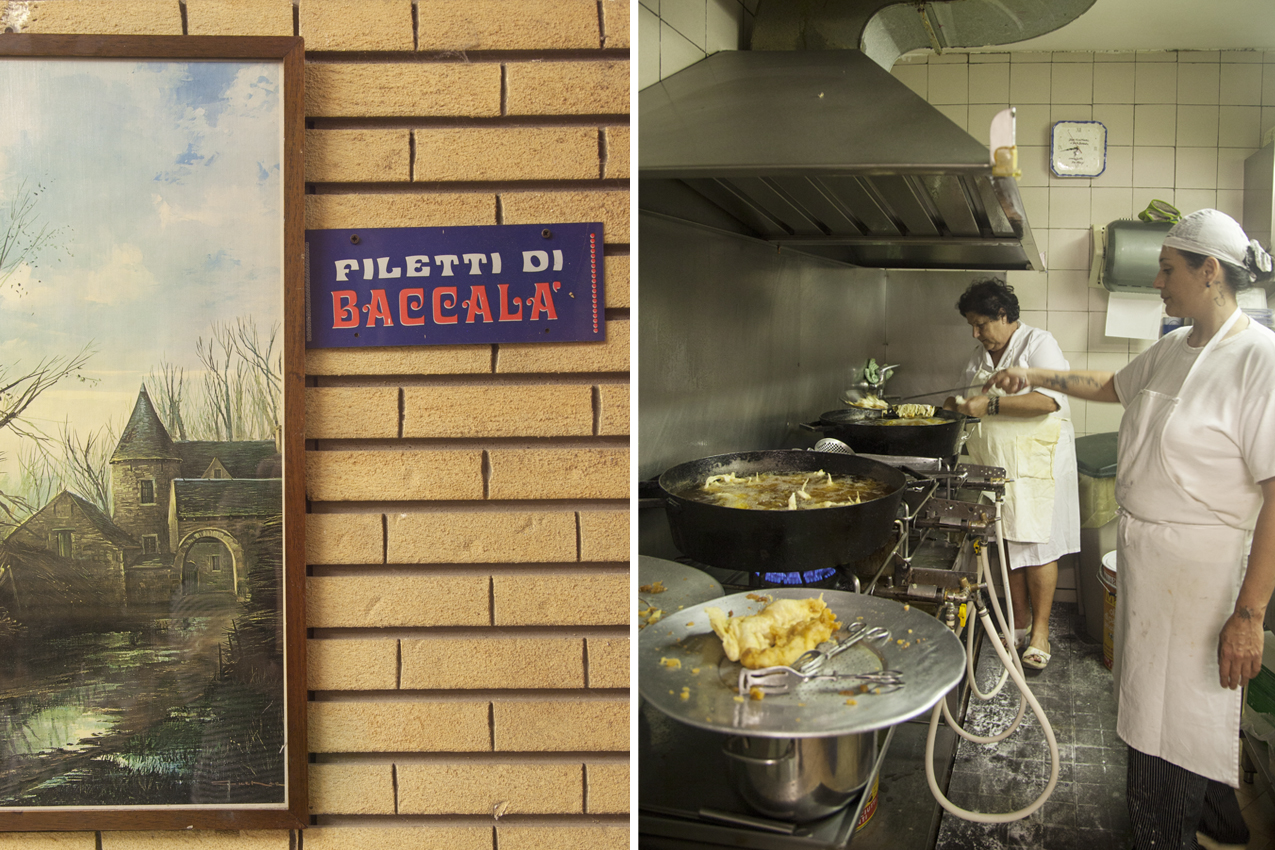 "Ahò: let's get some fried fish at Santa Barbara." There's a line forming in Largo dei Librari, a small square by Campo dei Fiori. Marcello bought out the restaurant in 1978, but this place has been frying codfish since 1913. Not much has changed since, with a steady workload despite the economical crisis.
A panel on the wall reads, "I eat, drink and root for Roma." We asked a few questions to Marcello and the cook Loredana on one condition: be brief, the soccer game is about to start on TV.
What is the recipe for your fried codfish filet?
Marcello: "I'm sorry, but I can't give it to you. It's a secret: no exceptions. Here, we cook everything with organic ingredients: the best selection of codfish, home-made batter—nothing chemical, no beer, no eggs, we even make our own yeast. What I can tell you is that it was the cook of Italy's last standing king to teach the original owner the recipe."
Marcello tries to hide his roman dialect when speaking, but he can't hold it too long. "Ahò, lower the music, nanetto!" says a waiter to his nephew.
It this a family restaurant?
Marcello: "Ah yes, my daughter and my sister, who's a cook, both work here: they like it a lot."
What part of your job do you like best?
Loredana: "To cook the fish, and the interaction with people: I've been working here for 25 years."
What's the secret of your constant success over the years?
Loredana: "The secret is that we don't change anything, from the menu to the paint on the walls: far from adding pizza or opening shop in America!"
Who are your clients?
Marcello: "A bit of everything: people from Rome, people not from Rome, foreigners, kids, women in a hurry, grandpas and nephews, business dinners and family meals."
Were you affected by the economical crisis?
Marcello: "What crisis! We keep growing here, maybe precisely because people stop going to pricy restaurants and get back to more genuine and inexpensive ones, like we are."
Was there an encounter that stuck with you in 35 years here?
Marcello, just before the game starts: "Well, Pope Pacelli used to send his secretary here every Friday to get a couple filets."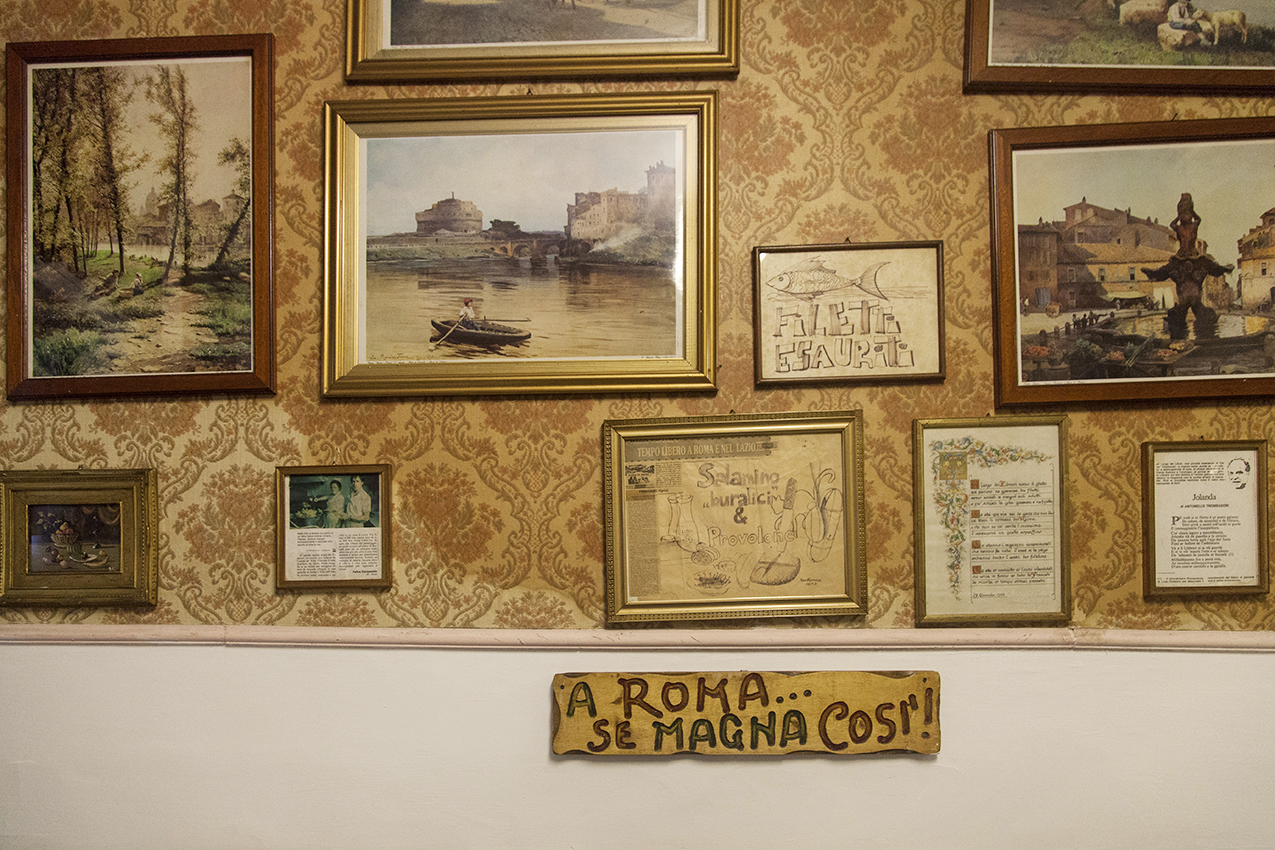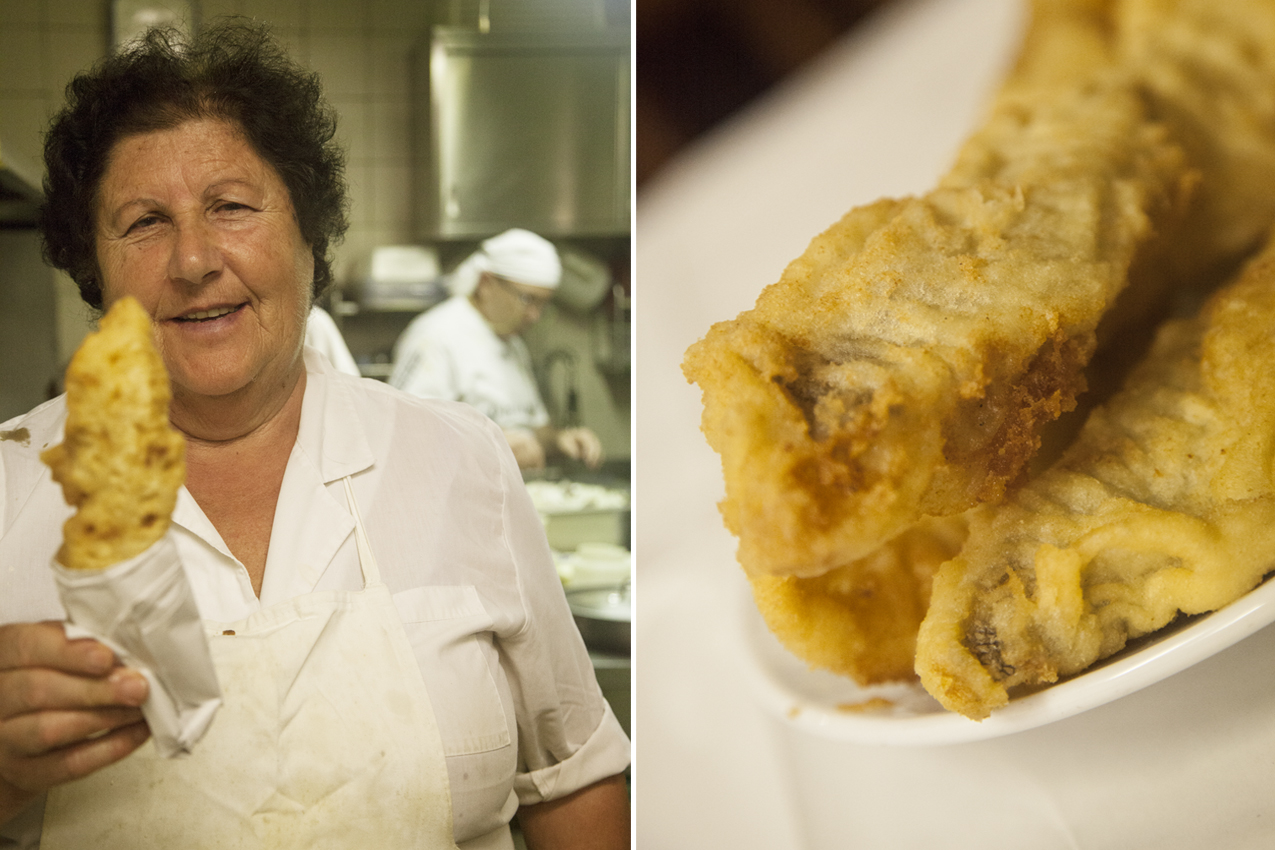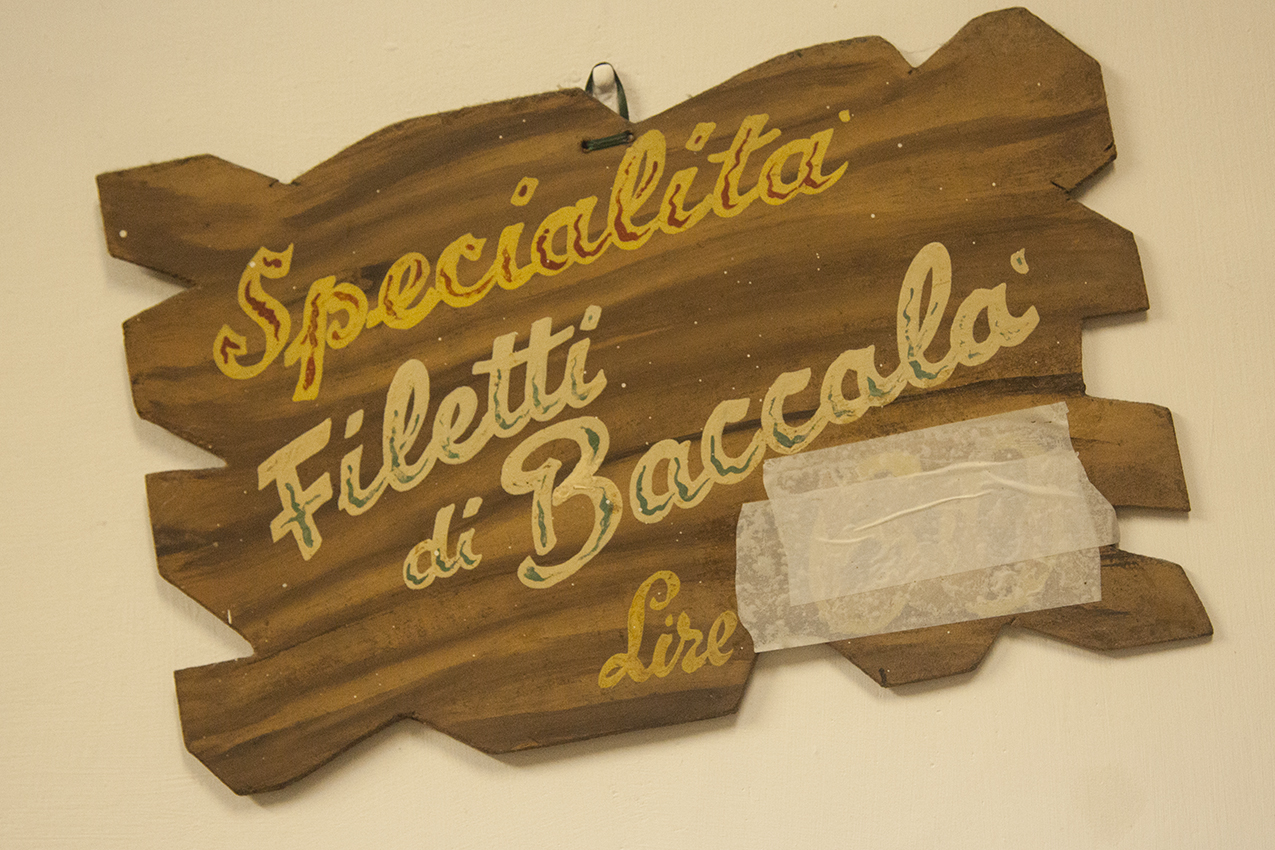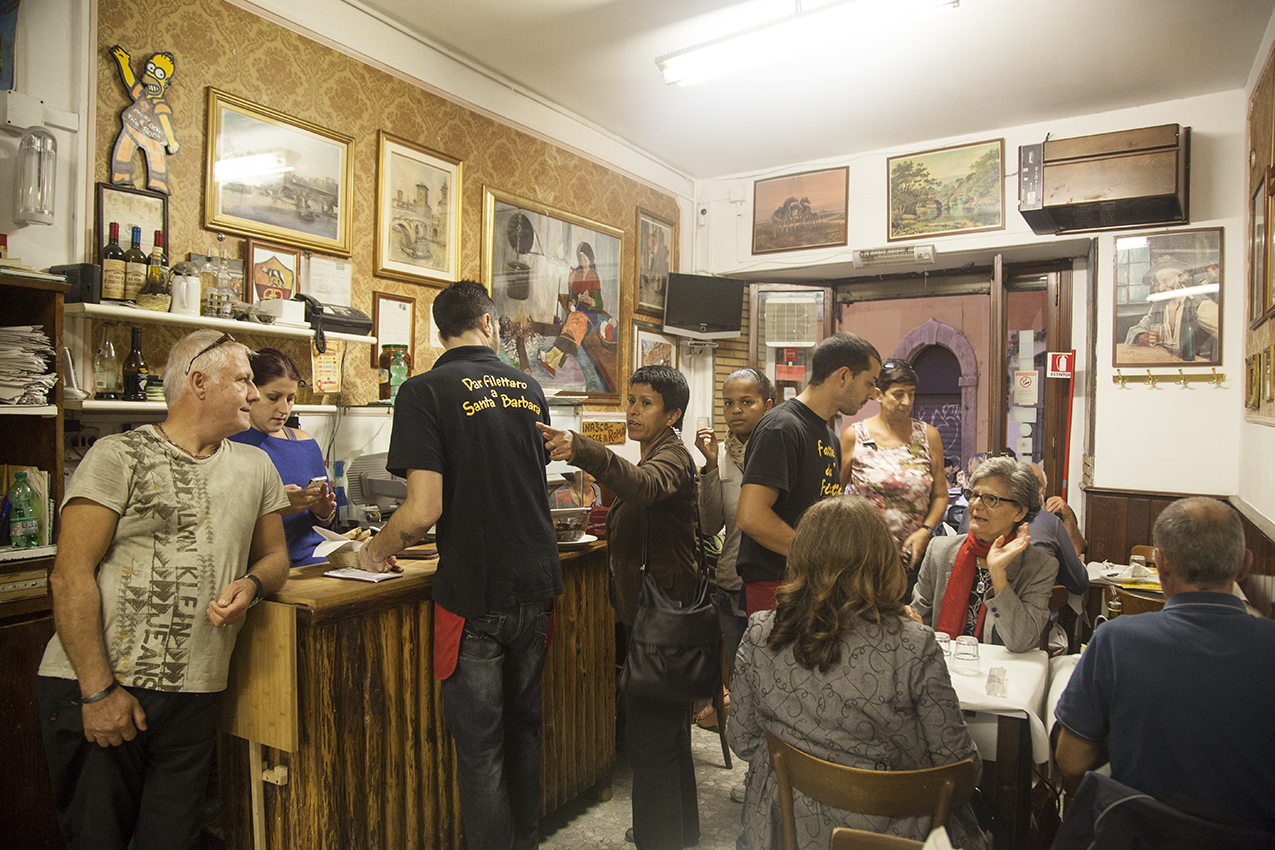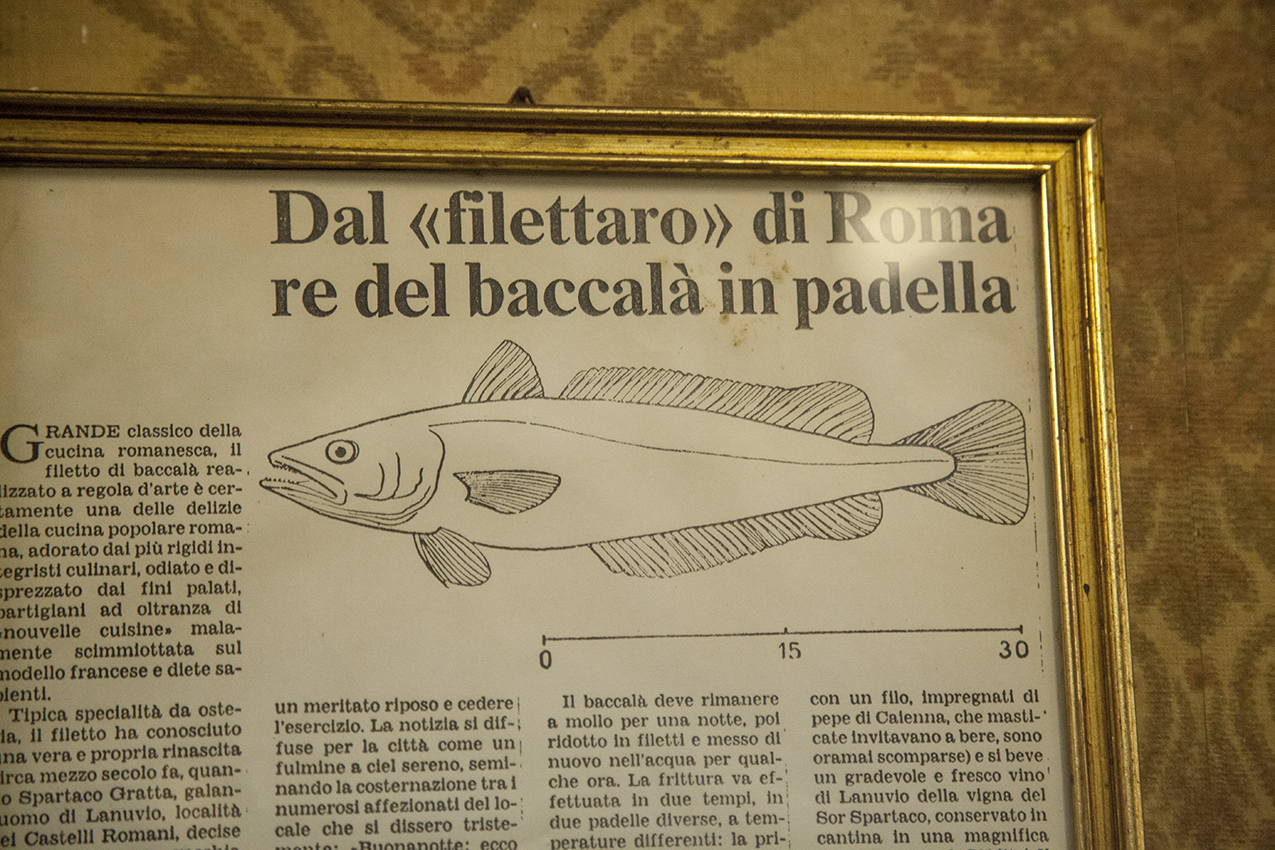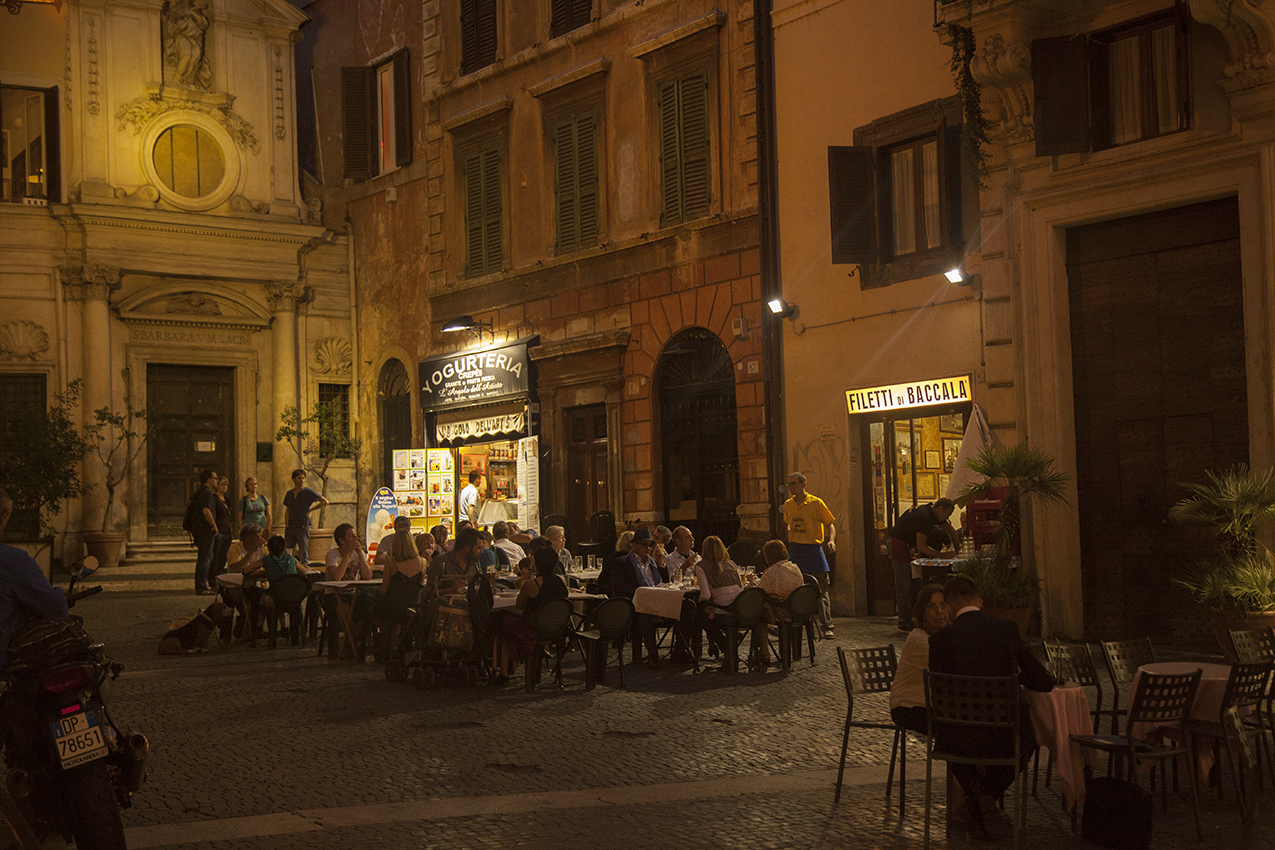 Filetti di Baccalà is located at Largo dei Librari 88, Rome.