Lyn Slater
interview ARI SETH COHEN
hair MELISANDE PAGE
makeup ALLIE SMITH at SARAH LAIRD & GOOD COMPANY
post production IMAG'IN PRODUCTIONS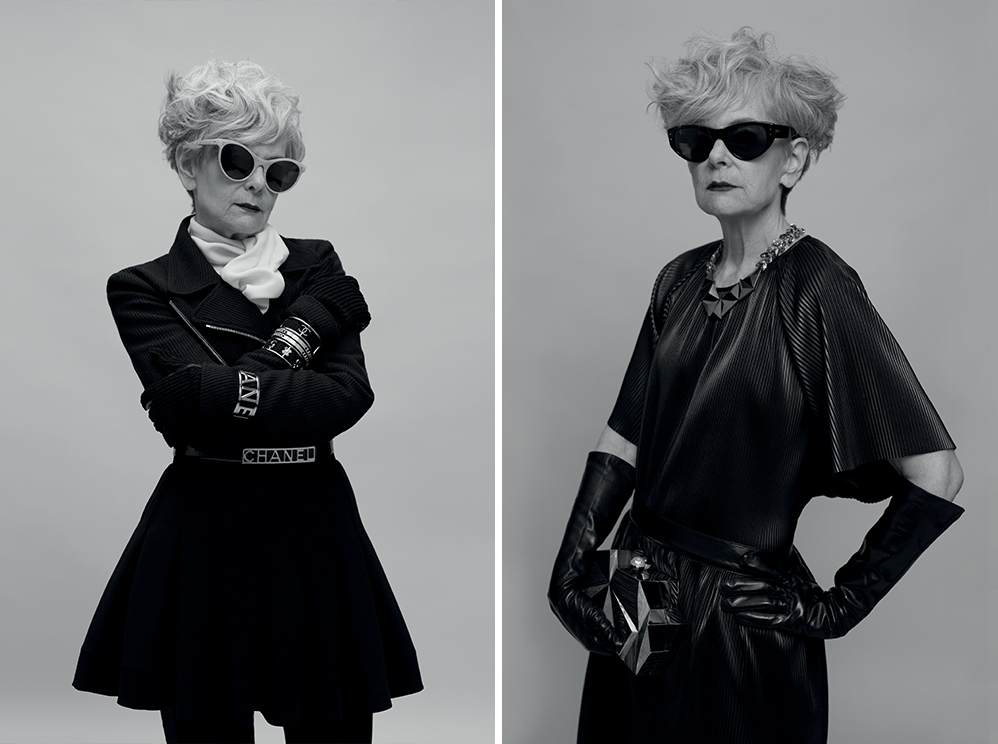 On the left: A confident Lyn wears CHANEL as if it were a uniform. The ivory silk crêpe dress with integrated scarf and contrasting black pleats is badged with belt and cuffs carrying the unmistakable letters of the Maison. The look is AC-resistant with a cropped biker jacket by EDITH A. MILLER and leather gloves by HESTRA. The retro frames by ILLESTEVA strengthen her fashion police authority. On the right: The "rock-cool" batgirl wears a dark plissé dress with wide sleeves and matching skirt, both by RODEBJER. Her necklace by IOSSELLIANI is composed of hematite and floral shaped rhinestones, while her favorite RAY-BAN sunglasses keep her identity secret. The long leather gloves by HESTRA and the hammer and oyster clutch by EMM KUO finish the evening look.
So Lyn, I have been following your blog, The Accidental Icon, ever since someone tagged me on one of your photos from Instagram. How and why did you start this gorgeous project?
My "performance" as Accidental Icon really had three catalysts. The first was becoming frustrated with the split that was occurring between my creative and academic life and the limits of how you are allowed to express yourself in academia. I felt a need to find a vehicle that would allow me to write in more expressive and personal ways. The second was coming to acceptance of the aging process and realizing that fashion could offer a solution to the invisibility that often accompanies aging. Being rebellious, I started to risk more in my style, almost like a dare. It got to the point where everyday I was being stopped and asked about my clothes, most of the time by young people. Several of them encouraged me to start a blog. The third was having a life partner who is a photographer and who is always willing to go on new, creative adventures with me. Up until I started Accidental Icon the only social media I was involved in was LinkedIn and so designing my own website and getting up and starting on social media allowed me to develop skills in a new arena, which cognitive science tells me will keep my brain from aging. 

You have spoken about your grandmother's adventurous spirit being an influence on your style. Can you tell me a bit more about her?
My grandmother was raised as a very creative, cosmopolitan and intellectual woman. Her father was an inventor and entrepreneur and encouraged his three daughters to explore passions, ideas and the world. As a young woman, my grandmother was a talented cellist, mentored by Walter Damrosch. She married my grandfather who was born in the Netherlands and they spent the first year of married life traveling around Europe. Stunned by the Great Depression, she became trapped for a time in the expectations society had for women in the 1940s and 1950s living a suburban life in Wilton, Connecticut. No matter what the occasion I always remember her as beautifully made up, styled and groomed, though during this time there was always a whiff of sadness in the air. She insisted on impeccable manners at all times and that we call her Ma Mere, not grandmother. She was always giving me books, clothes, hats and shoes in that order. When my grandfather died, she was 62. She shocked her children by selling her property and moving to Dallas to live with her two sisters, also widows. Returning to the life of their girlhood, the three spent the next 15 years traveling all over the world returning often to Hong Kong, to have clothing made, and Japan because they loved the grace of that country. I remember her during this time as being full of life, seductive and beautiful. To me she was and is still, a fascinating creature.

What are the defining attributes of an Accidental Icon?
Nonchalant, provocative, optimistic, quirky, timeless, inventive, direct and rebellious.

What are your hopes for the future of this project?
What has been interesting about this project is that I have entered into it without any expectations or specific outcomes in mind. I have been trying to stay in the process and allow myself to feel pleasure in the "doing" of this, not in the end result. This is very new for me as I have always been very goal and outcome oriented. This different approach to work has resulted in surprises and serendipitous occurrences that I never could have predicted. I am meeting creative and inventive people from all over the world. I am interacting with a number of emerging designers and this I find exciting, inspiring and stimulating. I really enjoy telling the designers' stories as well as stories about women wearing clothes. I decided to take another course at FIT on branding and have found that it is all about understanding neuroscience now which allows me to see how much of what I already know from academia can be applied to this work. I am being very intuitive and open about it and part of the adventure is seeing where this is going to take "Accidental Icon" and what this new chapter of her story might be.

How do you feel about aging?
I guess the honest answer is ambivalent. I do not like some of the physical changes that come with it and by that I mean more things that limit my energy or activity level, not how I look physically. Ironically I am much more confident in my physical appearance now than when I was younger with long beautiful auburn hair and flawless complexion. On the other side I feel an enormous freedom of expression and even more of a desire to reject the status quo and be rebellious. This gives me a different kind of energy and feels similar to when I was an adolescent albeit a wiser and less self-destructive version. Life becomes more urgent, in a good way. All things are put in perspective and living in the moment becomes imperative. I probably like it more than not like it. I can still be crazy but I am more in control of it if that makes sense.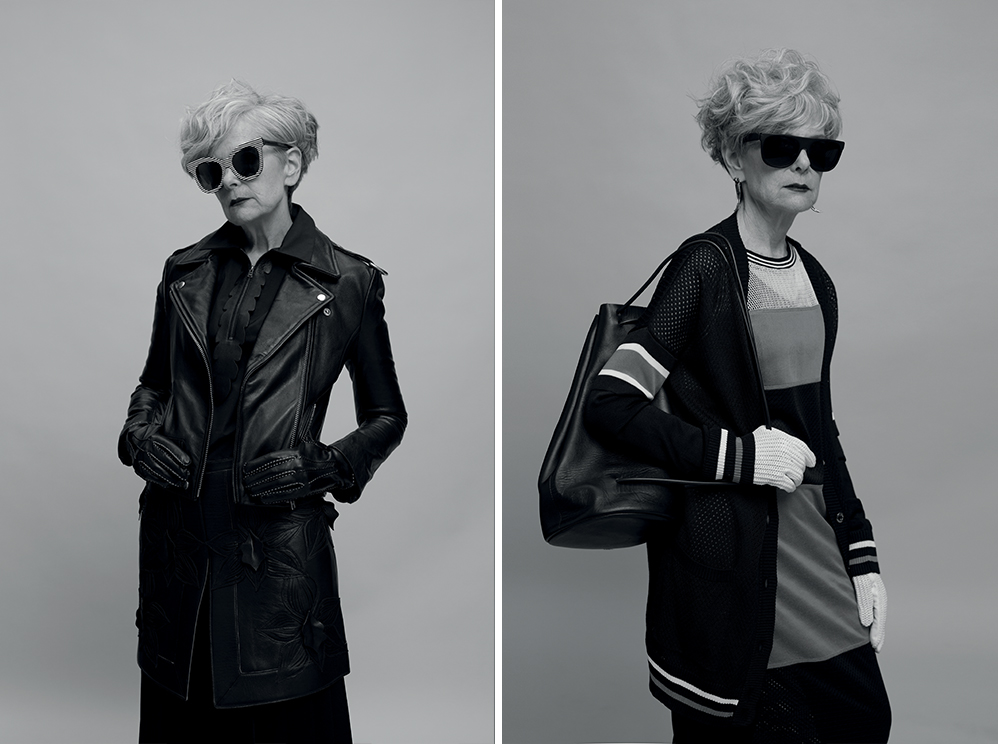 On the left: The leather perfecto by OAK sets the biker attitude for this bad girl look by FENDI, comprised of a cotton top and a mini skirt complicated by exquisite nappa leather inserts. The look would be incoherent without leather gloves with contrasting stitches by HESTRA and striped sunglasses by ILLESTEVA. On the right: Ready for another tournament, Lyn wears layers of stripes and nets by DIESEL, characterizing both the jersey maxi-dress and the mesh cardigan worn over it. Timidly appearing under her dress, a stretch bodysuit by BASERANGE completes the outfit. Lyn is equipped for the city with a leather backpack by BUILDING BLOCK, knitted hairsheep leather gloves by HESTRA and dark shades by OAK. The golden earrings designed by Pamela Love for RODEBJER add a final touch of timeless style.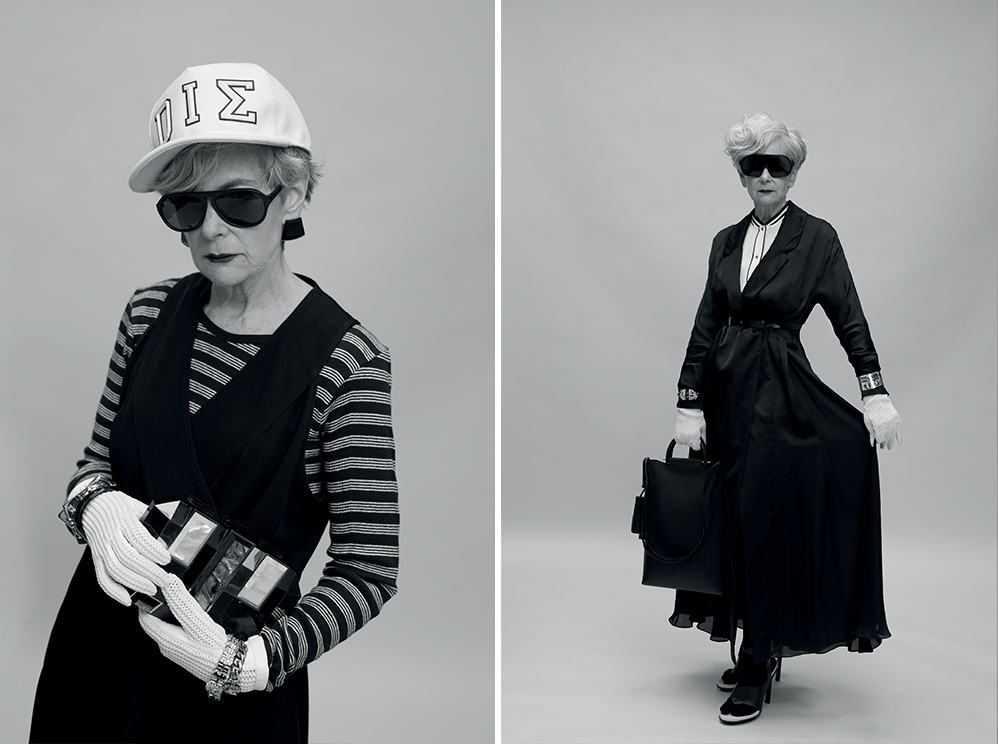 On the left: The neighborhood bows down to Lyn's style. A draped dress by RODEBJER meets a cotton top by EDITH A. MILLER. A cap by DIESEL combined with shades by OAK, and the gloves by HESTRA complement the streetwise elegance, adorned with bangles and chain bracelets by IOSSELLIANI. The earrings by WOUTERS & HENDRIX and the clutch by EMM KUO nail the look. On the right: The silk coat dress designed by JASON WU is cinched by its own belt and paired with black and white sandals. A silk shirt by DIESEL is worn underneath, and combined with immaculate gloves by HESTRA. The two silver-plated cuffs by IOSSELLIANI adorn her wrists, while the leather bag by BUILDING BLOCK, the frames by OAK and the bamboo socks by BASERANGE, emphasize the superiority of black.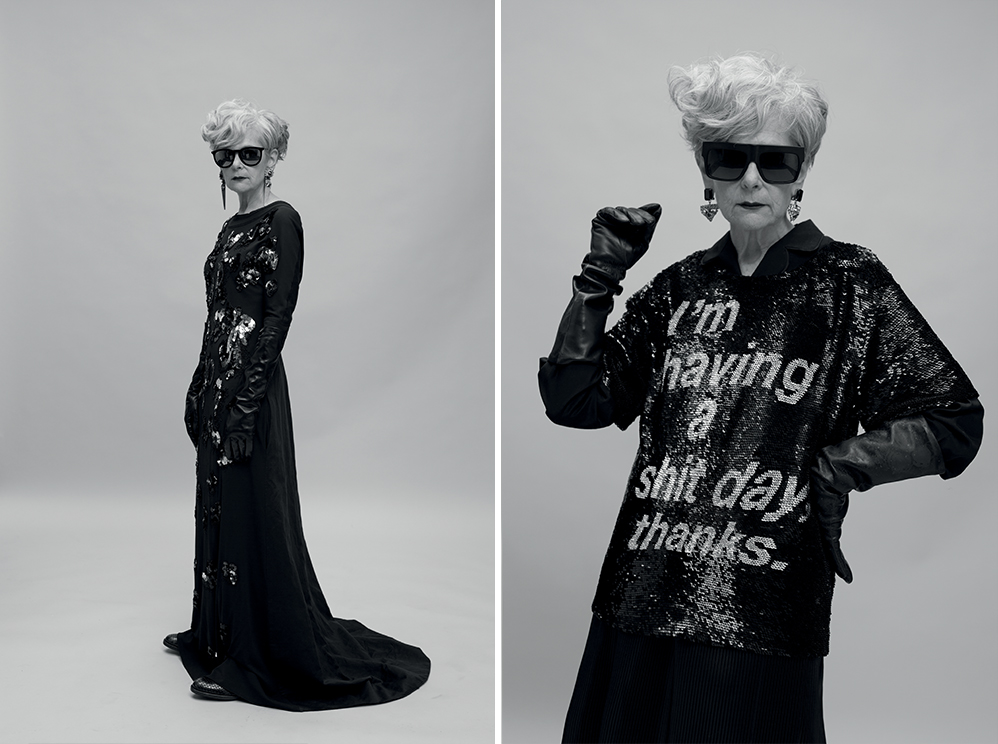 On the left: An effortless prima donna wears a BOTTEGA VENETA navy silk gown embroidered with dark beads, falling over perforated leather shoes by DIESEL. The long leather gloves by HESTRA and the velvet sunglasses by RAY-BAN accentuate Lyn's majesty, complemented by the silver-plated earrings adorned by stars and rhinestones by IOSSELLIANI. On the right: It's never too late to wear a sequined shirt by ASHISH that admits it, with style. Under the truth, a cotton and silk-piped pyjama top by LONELY LABEL meets the dark watercolored gloves by HESTRA. The acetate frames by OAK and the "Full Metal Jewels" earrings with rhinestones by IOSSELLIANI adorn Lyn's straight face.