MUSIC: Lydia Ainsworth
"So many of my melodies came walking that bridge."

hair MELISANDE PAGE
makeup JEFFREY BAUM at ATELIER MANAGEMENT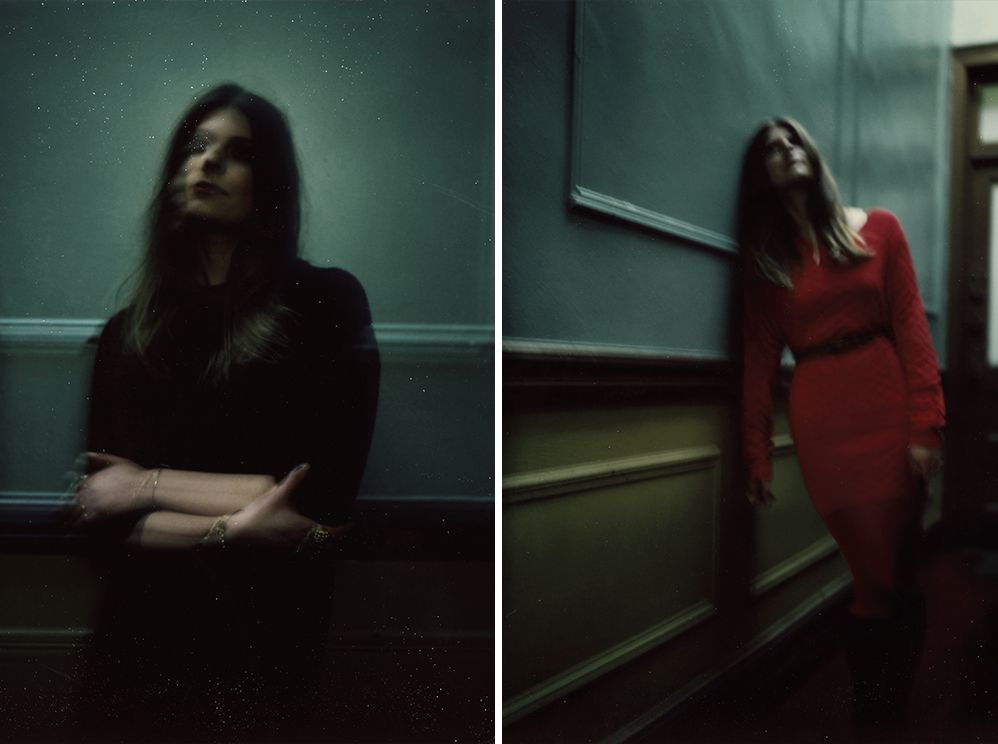 Above, left: The set of gold rings together with the cuffs from AESA give character to Lydia's own sweater. Above, right: Lydia leans against the wall in a RODEBJER padded "boor-red" top and skirt, constricted by a black leather belt.
The Williamsburg Bridge: it is 132 feet tall at the center, with two structures from which it is almost completely suspended, but for a trussed system that makes it unusual and extra efficient.

Lydia Ainsworth is a Canadian film score composer who studied composition in Montreal's McGill University and film scoring at NYU, and with the release of her first album, is finding herself on the brink of another career as a gifted and highly original singer-songwriter.
Lydia Ainsworth and the Williamsburg Bridge met over a year ago. The result of their brief but intense affair is a first collection of songs which, upon hearing one of them on my iPhone while driving in my car, was so spooky (and hooky) that I became a danger to myself and to others while repeatedly negotiating the reload icon.

"I would walk it every day whenever I could find the time, night or morning," Lydia says of her architectural muse. "So many of my melodies came walking that bridge. It's a really inspiring bridge to walk. There's such an array of people—all different walks of life are crossing that bridge from Manhattan to Williamsburg. The people watching, the city scape, and just the meditative process of walking in itself, of doing that forty minute walk, there and back, really allowed me to give myself space to accept melodies. And as soon as I got them, I'd come home and record them right away."

Of course, picking up melodies from bridges requires some powerful cosmic priming. Her bridge sessions had been preceded by a very different kind of passage—to the proverbial "other side," in a near-death experience related to having her appendix removed. Most of us live our lives blissfully ignorant of some of the farther frontiers of our existence, but there's nothing like an out-of-body experience to open those horizons right up. Lydia's experience brought her to a state so intense and so vivid that she refuses to describe it, saying only that "it was traumatic."

That trauma seems to have given her an other-worldly, fresh-eyed vantage point from which to work. Unlike many of her peers, who have found comfort zones on one bank of the cultural mainstream or another—be it the R&B singer Jesse Ware sitting pretty on a rock of sultriness, Lydia's label-mate Grimes, pigeonholed into a pixie-voiced infantilism, or Lorde's unaccountable melodrama—Lydia Ainsworth doesn't let a bar go by without an adventurous shift of vocal gears, as if she were furiously navigating this suspended space between, behind, and beneath the literal world. Her curiosity makes for a thrilling chase and an ultimately transformative journey: she pauses to take in the new sights and her own responses to them, but her next move, and next emotion, is informed by the rush of that brand new knowledge.

The difference in her approach is also a practical one, as she's willing to make a leap of faith into herself that few other women today seem willing to do in popular music. Rather than taking the culture-sponge approach, creating (or perhaps "curating") work based on what already exists, rehashing trends and twisting her sound to catch the latest wave, Lydia began writing from the most elemental physical state of creativity: that of not knowing—not knowing, in her case, whether she would literally live or die. It is no surprise, then, that the bridge became the necessary springboard for her musical ideas—free of a specific location, it mimicked a state of mind that was open not merely to influence, but to self-invention. Even a cover that she performed during a show—of the Chris Isaac perennial "Wicked Games"—sounded so original, it took me a few beats to realize where I knew the song from (at first, I actually thought I recognized it as one of her own songs). The performance illustrated the originality of a voice that can channel two separate, battling characters, or perhaps two sides of the same person: a bright, crystalline, elegiac alto for the chorus, countered by the verse, sung in a terrifying sneer—demonic, withering, and chillingly deep.
*

The timing of her record could not be more apt. Taylor Swift has released a record ostensibly influenced by New York. But unlike Lydia, she appears to contain no contradictions, no inner conflict or divergent points of view. In some ways, Taylor Swift's use of New York as a branding tactic couldn't be more fitting, considering how much the city has become a symbol of unfettered greed, mediocrity, and hunger for power. But New York is still, defiantly, as diverse and vibrant and empowering as ever to that part of society which has consistently, over the centuries, contributed to making it so brand-worthy—the underdogs. Lydia Ainsworth reminds us that her New York is, in many ways, still the antithesis of Taylor Swift's New York.

And Lydia is, in every way, the anti-Taylor. Instead of merely referencing New York, she has absorbed it body and soul, taking the melodies from the bridge back to her room on Graham Avenue, where recording had to be synchronized around the ambient noise of traffic ("The bus would go by every fifteen minutes and I'd have to time it out") and the angry thuds of neighbors  ("I'd have to make sure my neighbor upstairs would be gone because she could hear everything and she'd be knocking on the floor").  But don't get her confused with some marginal musical martyr; once possessed of making the album, she was hellbent on doing it right: "I thought, 'I really have to finish these songs properly in a studio,' so I went to Toronto. They have a beautiful Neve console, we used a Neumann vintage mic." Her efforts have been greatly rewarded, with high praise from every major music outlet (Pitchfork, Dazed, Gorilla vs. Bear), and as I conduct the interview, she reveals that she's just been asked to fly to L.A. to open for Connan Mockasin at the newly refurbished Regent Theater.
*
But how to translate that freshly unnerved, unknowing, suspended quality, so gorgeously captured in her bedroom on Graham and polished in the studio, to a live setting? Tellingly, Lydia's approach is to start from scratch, again. For her live shows, she handed the central role of percussion to Dirty Projectors drummer Brian McComber, whose interpretation of her album is so visceral and intuitive, it entirely erases the usual self-conscious awkwardness that can distort a new act's live show (the one I saw was, in fact, the first CMJ showcase Lydia would play, of eight shows total that week). Instead of stress, Lydia and Brian quickly settled themselves likes pros into a tense pendulum of power, voice and beat rolling over each other like overlapping swells of sea. "I've just met him in the past month," Lydia says to my surprise, when I ask her about their relationship. "I was introduced to him through Damian Taylor, who's a recording mixer and engineer, and worked with Björk. I just met with Brian a few days before my Pop Montreal show and we put it together within a matter of days, and we opened for Owen Pallett together."
A further testament to her fearless and inventive approach, Lydia added a score for strings to her live sets, having to employ, over the span of her weeklong stint in New York, possibly half the cellist population of the city. "I had to figure out three different cellists because some couldn't make it to all of the shows. Now I know every single cellist in New York." The community is so small, in fact, that the musicians would "write little notes to each other on the music. They all know each other, so they'd write 'Hi, So-and-So' because they know who's gonna be playing my next show." Instead of making her own life easier, or at least more manageable, by working with a drum machine or computer, Lydia chose to throw herself a curve ball and bring in challenging new elements, and in so doing, revisit that place of the unknown from which her album had first originated. "It's been really rewarding to have these live elements, to have drums, to have live strings, in a performance setting, as opposed to me being behind my computer with my sample libraries, kind of doing everything myself. It's a totally new experience and an exciting experience for me." And for us.

The Williamsburg bridge might not be the longest suspension bridge in the world. But with her first album, Lydia Ainsworth has made it the largest manmade muse in the world.